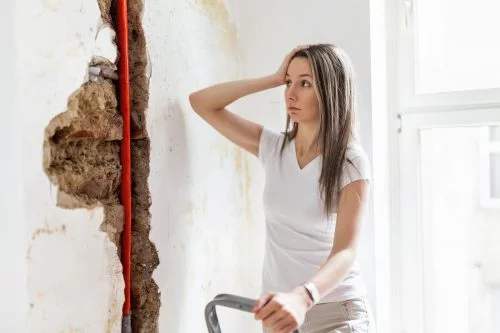 Did you know that nearly a quarter of all home insurance payouts are for water damage claims? That's over $10 billion per year! Water damage is the 2nd most common type of claim. It's expected that 1 in 4 homeowners will file a water damage claim during the life of their policy.
It may be surprising to consider, but a house fire can also lead to a water damage claim. Fire events that require a response by the fire department will inevitably involve some water damage, smoke damage and create an air quality problem.
Fire damage doesn't happen as often, but when it does, it causes significant damage. The average claim for fire damage in 2017 was nearly $45,000. Since water is used to put out your fire, it can also cause water damage in your home.
Whether you have water damage or fire damage, It's likely you'll need to bring in a professional to manage the cleanup. If it happens to you, will you know what to do?
Planning for Emergencies Before They Happen
Many families have a plan for how to get out of the house safely during a fire, but most don't have a plan for what happens after.
That lack of planning can result in panic, unnecessary expense, delays in restoration, and a general disruption of life for days or even weeks.
What makes these events doubly stressful is they are emergencies and require immediate action on your part. That's particularly true of flooding events. The longer water is allowed to sit, the more damage it can do. The longer it sits, the greater the risk of mold forming.
You can avoid additional damages by doing a little research and identifying the resources you can reach out to if/when one of these events pays a visit to your house. It's still going to be an unpleasant experience, but at least you have a plan.
Ideally, you can identify a professional firm that handles both water mitigation and insurance restoration work. When you start your search, you'll find there are far more water mitigation firms than restoration companies simply because there are far more water damage events than fire damage claims. Your focus should be finding a reputable firm that can do it all.
How to Pick a Water Mitigation/ Restoration Company
The easiest way to find a reputable restoration company is to call your insurance company.
You can count on your agent to refer companies that have a relationship with your insurance company and who have delivered at least satisfactory services to the agent's other clients who have filed water or fire damage claims. That existing relationship with your insurance company can often translate into an expedited claims process.
Even with the agent's recommendation, you should check for the following:
Is the business licensed and insured? Most states will have statewide contractor licensing requirements for companies in the building trades. Many municipalities have specific licenses for water mitigation companies. If your contractor is not licensed, don't do business with them.
Are technicians certified? This is particularly important in water mitigation. True mitigation requires more than just vacuuming up the water. Understanding dry-out strategies and the ability to accurately monitor progress is a skillset. Those who know it are typically certified by the Institute of Inspecting, Cleaning, and Restoration. Both water mitigation and restoration companies operate using the industry standards set by ANSI/IICRC Standard and Reference Guide for Professional Water Damage Restoration and the ANSI/IICRC Standard and Reference Guide for Professional Mold Remediation. Many carpet cleaning companies also do water mitigation as a sideline because of the equipment they use in their everyday work. Unfortunately, their technicians are expert in cleaning rugs, not water mitigation and their equipment will typically not include state of the art equipment for the water extraction, drying and dehumidification processes.
Do they provide a written contract? Make certain you are presented with a written contract outlining all work to be performed and the price before any work commences. Some companies will charge by the hour, others by the project. Because of the nature of the work, unexpected remediation issues like mold removal may crop up. Make sure you sign off on these "change orders"before the work is done.
Do they have 24/7 response time? Obviously, you want a firm that can dispatch a crew at any time of the day or night. Response time for a qualified team shouldn't exceed two hours from the time of notification.
Once you go through this vetting process, choose two companies and keep their emergency numbers on your phone along with your insurance agent's number. On the off chance that calamity strikes, you'll have the peace of mind that help is on the way.