UPDATED: JUNE 01, 2023 | 3 MIN READ
Homeowners insurance in Iowa is ideal for protecting your belongings and property from damage or theft. Insurance policy costs vary by state, depending on the number and value of claims. Below is all there is to know about home insurance in Iowa, including the best companies for value, coverage, and service.
Best Iowa Home Insurance Companies
Some of the best home and renters insurance companies in terms of overall price, coverage, and customer service, include Farmers Insurance, Nationwide, IMT, and West Bend Mutual Insurance.
Cheaper home insurance rates do not necessarily always offer the best coverage, so it is important to compare providers and determine the coverage you need for your policy.
Overall Best Iowa Homeowners Insurance Company
The best homeowners insurance company in Iowa is Farmers insurance. With an average cost of approximately $850 per year, the affordability and coverage make Farmers stand out among the rest. You can upgrade your policy and customize it to add more coverage and increase your limits easily.
Farmers' homeowners insurance policies also come with declining deductibles for every year you keep your policy. They offer multiple other discounts when you qualify:
Bundling
Home renovations
No claims for three years
No smoking in the home
Reinforcing your roof
Owning a newer home (less than 12 years old)
Protective and home security devices
Best Value Homeowners Insurance Company in Iowa
Affordability is a critical factor in choosing your home insurance. The best overall value for the state of Iowa is found with IMT insurance. The average price is around $683 annually, with Liberty Mutual close behind at around $811 per year. The cost could be even less with a newer home, reinforced roof, excellent credit, or bundling with other policies.
Iowa Home Insurance Company With the Best Customer Service
Customer service is another essential factor when choosing your homeowners insurance. The highest-rated companies in Iowa for customer service include USAA, State Farm, and Auto-Owners insurance, with USAA's policies being the cheapest. State Farm insurance company has the highest customer satisfaction rating, with a 4 out of 5 by J.D. Power.
Iowa Home Insurance Company Best For Bundling
Bundling can offer more discounts and encourages homeowners to have more coverage. The best company for bundling in Iowa is West Bend Mutual Insurance Company, costing an average $1,061 yearly. Their Home and Highway bundle offers better value when adding your car and home together.
Iowa Homeowners Insurance Company With the Best Coverage Options
The state of Iowa has encountered multiple occurrences of hail and tornadoes. Many homeowner's policies include hail as a covered peril, but tornadoes may require more coverage.
Farmer's Insurance, IMT Insurance, and West Bend Insurance offer numerous additional coverage options. When choosing your policy, you should discuss all available coverage options with an agent.
Local and Regional Home Insurance Carriers In Iowa
West Bend Insurance
The policy offers protections, including Guaranteed Replacement Cost, Blanket Coverage, and $5,000 for jewelry. West Bend Insurance even features an Inflation Guard, which adjusts your insurance limits, meeting the increase in building materials and labor.
The insurer features other packages with coverage for Hobby or Sports Equipment, Freezer/Fridge Power Loss, and much more. Home and Highway policyholders access a variety of discounts, including savings for new and updated homes.
Grinnell Mutual Insurance
Since 1909, Grinnell Mutual Insurance has been synonymous with quality insurance for Iowans. It doesn't matter if you own your home or rent; they offer a home insurance product for you.
The Home-Guard policy covers the dwelling, Other structures, Personal property, and Additional Living Expenses. Grinnell Mutual Insurance features additional coverages for equipment breakdown, rental properties, and anything a homeowner or renter needs.
Identity Theft insurance comes with your homeowner insurance too so you're protected inside your home and on the web. You save when you make a home-auto bundle with Grinnell Mutual Insurance.
IMT Insurance
IMT Insurance's history is a rich part of Iowa, and it offers a range of home insurance products for Iowa residents. They feature insurance for homes, rentals, condos, and townhomes, plus options for landlords.
IMT Insurance offers enhanced coverage with Dwelling, Garage, and Other Structures, Additional Living Expenses, Equipment Breakdown, Medical Payments, and Legal Fees.
If your home features a replacement cost of $175,000 or more, you can opt for the high-value home insurance policy, Gem Homeowners. Discounts apply to the age of home/components, claims-free, hail-resistant roofs, and loyal customers.
Demographics
Pricing your policy depends on several factors, including location, home age, and the likelihood of theft or disaster damage. Below are the average amounts across the state of Iowa's home insurance demographics.
Average Home Value: The average home value in Iowa is around $180,000. The average mortgage payment is around $900 per month.
Crime Rates: The crime rate per 1,000 residents in Iowa for a property is around 16.84%. The number of annual crimes is close to 54,000.
Average Household Income: The average household income for Iowa is approximately $80,000. Around 5% of households in Iowa are considered high-income, meaning they make over $200,000 per year.
Median Age Range: The median age range of residents in Iowa is around 38 or 39 years old.
Education: About 43% of people in the state of Iowa have an associate's degree or higher, with 28% having obtained a bachelor's degree or higher. Many Iowa secondary schools rank 95% and above.
Is Iowa Home Insurance Required?
Homeowner's insurance is not legally required in the state of Iowa. However, many mortgage lenders require homeowners to have minimal insurance to obtain a loan.
What Does Iowa Home Insurance Cover?
Homeowner's insurance in the state of Iowa is intended to help you cover expenses related to any damage, loss, and liability of your property. The three levels of coverage include the actual cash value, replacement cost for damaged, lost, or stolen items, and extended replacement cost value.
Common Home Risk Factors In Iowa
Natural disasters like windstorms, hailstorms, thunderstorms, and snowstorms are common risks in Iowa. Tornadoes are also a significant risk. While your homeowners insurance policy may cover damage to your home's structure and belongings, you must be aware of the limits.
What Type of Homeowner's Insurance Coverages Are Recommended?
Basic home insurance policies cover damage to the interior or exterior of your home and personal liability and come highly recommended in Iowa. While adding additional coverage e homeowner's coverage can be ideal for most scenarios when losses occur due to extensive storms within the state.
Flood Insurance Coverage
Many storms tend to bring torrential rains and can cause flooding in Iowa. A standard homeowner's policy does not cover damage from floods, so you must obtain a separate flood insurance policy to protect your home and belongings.
Personal Umbrella Liability Coverage
Personal Umbrella Liability coverage is another recommendation, particularly if you have concerns for your safety. For example, suppose you become injured or someone within your household is injured during a natural disaster or property damage. The liability coverage extends beyond your policy limits to help pay for bodily injuries.
Loss of Use Coverage
If this is not included in your homeowner's policy, it is worth the additional expense. Loss of Use Coverage helps cover other living expenses in case of extensive home repair, which may be necessary for a natural disaster such as a tornado, hail, or flood.
How Much Does Home Insurance In Iowa Cost?
The average cost for homeowners insurance in Iowa is approximately $1,502 yearly, with a monthly rate of $125. Not every city in Iowa has equal costs, and the policy depends on city-specific variables like how many claims are filed. Here is a quick breakdown of some of the cities for homeowner's insurance in Iowa.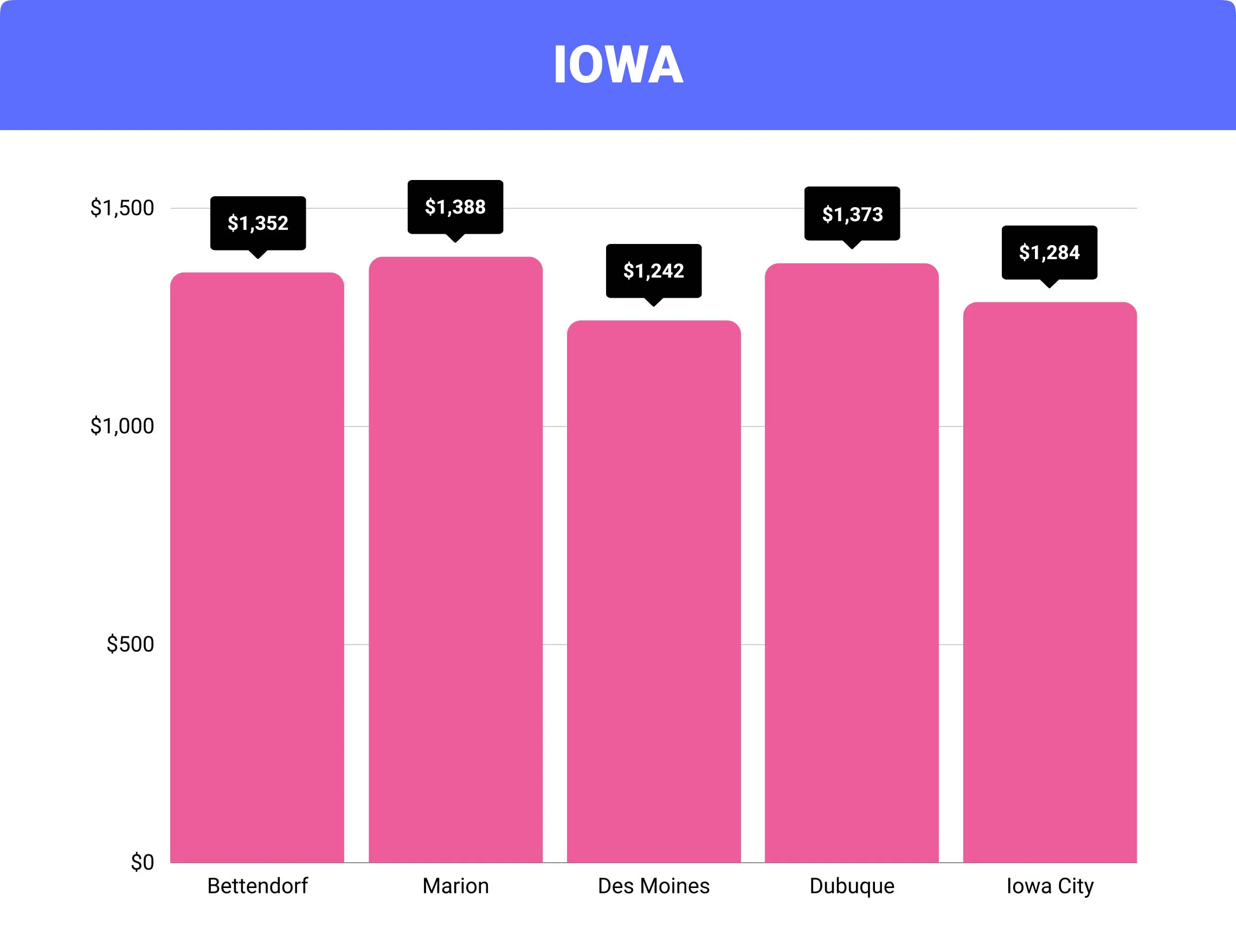 Cost of Home Insurance In Iowa By City
| | | |
| --- | --- | --- |
| City | Average Iowa Home Insurance Cost | Difference From Iowa Average |
| Bettendorf | $1,352 | $150 |
| Marion | $1,388 | $114 |
| Des Moines | $1,242 | $260 |
| Dubuque | $1,373 | $129 |
| Iowa City | $1,284 | $218 |
FAQs
How much is the average homeowner's insurance in Iowa?
The average annual homeowner's insurance rate in Iowa is $1,502. Your policy rate can vary depending on your location, age of the home, and other additional factors.
How much is homeowner's insurance per month in Iowa?
The average monthly cost for homeowner's insurance in Iowa is nearly $140. Again, the price per month can depend on varying factors.
What is the cheapest home insurance in Iowa?
The cheapest homeowner's insurance policy for Iowa is with IMT Insurance, which has an average price of $683 annually.
How much is homeowners insurance in Des Moines?
The average annual premium on a home valued at $250,000 in Des Moines, Iowa, is approximately $1,267.
Is homeowner's insurance required in Iowa?
Homeowner's insurance is optional in Iowa, but many mortgage lenders require a policy with minimum coverage to obtain a home loan.
How To Purchase Homeowners Insurance in Iowa
Homeowner's insurance in Iowa is a vital investment and one that can be tailored to fit your specific needs. By understanding the average homeowner's insurance rates in Iowa and what each company offers in terms of coverage and service, you are better equipped to make an informed decision about which policy is right for you. Please complete our rate comparison form today if you are ready to compare home insurance rates.