UPDATED: JUNE 01, 2023 | 1 MIN READ
If you're looking for North Dakota homeowners insurance, you have numerous options. Comparing all of your choices can get a bit tedious. Instead, we've created this guide to inform you about the best home insurance companies in North Dakota.
Best North Dakota Home Insurance Companies
North Dakota has above-average insurance premiums compared to the rest of the country. While the average North Dakota homeowner pays over $1,900 annually for home insurance, the national average is closer to $1,700.
Finding the best North Dakota home insurance company can help you secure the most affordable rate while maintaining adequate coverage.
Here are the best house insurance companies in North Dakota ranked by value, customer service, coverage options, and more.
Overall Best North Dakota Home Insurance Company
Amica Mutual is the best North Dakota home insurance company overall. This insurer received the #1 rating from the J.D. Power 2021 Home Insurance Study. It gained 854 customer satisfaction points out of 1,000, beating the second-place recipient by 14 points.
Best Value North Dakota Homeowners Insurance Company
The most affordable homeowner's insurance company in North Dakota is AAA. This company has an average yearly rate of $1,154, well below the statewide average of $1,900.
If you don't qualify for AAA, you can also consider Safeco, which has an average yearly rate of $1,428 across North Dakota.
North Dakota Home Insurance Company With the Best Customer Service
USAA consistently receives the top customer service ratings among consumers. You can chat with a representative in real-time on the USAA website or reach a representative by phone. USAA also has a guide on its website with phone tips and shortcuts to help you quickly navigate its phone system.
North Dakota Home Insurance Company is Best For Bundling
You can save money on your North Dakota homeowners insurance policy by bundling your policy with auto insurance. We recommend American Family as the best company for bundling.
Customers save an average of $929 per year, or 23% of their total homeowners insurance premium, when bundling with American Family.
North Dakota Home Insurance Company With the Best Coverage Options
State Farm offers the best coverage options overall for North Dakota homeowners. You can add flood coverage to your policy to protect your belongings from flooding and downpours. You can also customize your coverage based on your unique needs.
Local and Regional Home Insurance Carriers For North Dakota
Nodak Insurance
Nodak's Insurance Company's basic homeowners policy covers your home, personal property, and the structures on your land. The policy pays for liability and medical payments for damage or injury that occurs because of your negligence.
Fargo and Bismark homeowners can add coverage for "basic perils." They include fire or lightning, windstorm or hail, explosion, smoke damage, vandalism, theft, or equipment breakdown.
You can also add coverage for "broad perils," like falling objects, the weight of ice or snow, building collapse, freezing, and water damage. You're eligible for additional discounts if you are a mature homeowner or someone with multiple insurance policies with Nodak.
Auto-Owners Insurance
Auto-Owners Insurance company North Carolina homeowners every coverage they need for the unpredictable weather of the Old North State.
These include Dwelling (for home), Other Structures (for structures not attached to the house), Personal Property (for your possessions), Personal Liability (for lawsuits), Medical Payments to Others (for injuries at the residence), and Additional Living Expenses (if forced from home).
Auto-Owners Insurance is familiar with important issues facing North Dakota homeowners, so they offer Inland Flood Coverage (for homes in low-to-moderate flood zones) and Ordinance or Law Coverage (for laws that mandate demolition, construction, or repairs).
Auto-Owners Insurance offers discounts such as savings for maintaining an automobile or a life insurance policy with the Company.
Grinnell Mutual Insurance
Grinnell Mutual Insurance has been a trusted purveyor of home insurance since 1909. North Dakota families can protect their homes with a Home-Guard Home Insurance policy, which covers your property and personal liability, including the dwelling, attached and unattached structures, personal injury, and personal liability.
North Dakota homeowners who need extra protection can choose Home-Guard Plus, which adds coverage for Water Backup, and Residential Rental Property.
The Company also gives homeowners the option of buying equipment breakdown coverage. You are eligible for discounts when you buy more than one policy with Grinnel Mutual.
North Dakota Insurance Demographics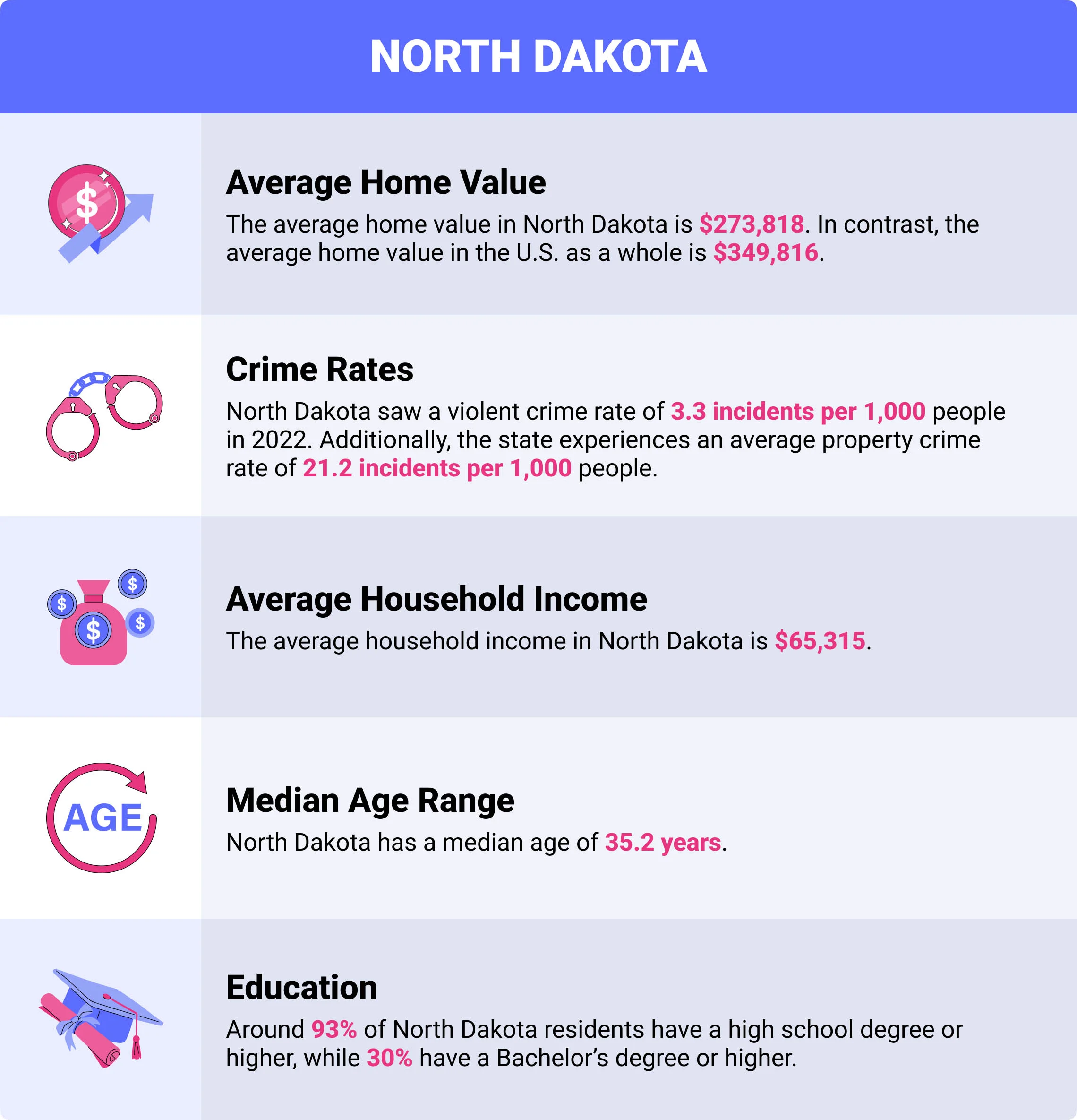 Numerous factors can affect homeowners insurance costs in each state. Here are a few demographic factors that impact the cost of insurance in North Dakota:
Average Home Value: The average home value in North Dakota is $273,818. In contrast, the average home value in the U.S. as a whole is $349,816.
Crime Rates: North Dakota saw a violent crime rate of 3.3 incidents per 1,000 people in 2022. Additionally, the state experiences an average property crime rate of 21.2 incidents per 1,000 people.
Average Household Income: The average household income in North Dakota is $65,315.
Median Age Range: North Dakota has a median age of 35.2 years.
Education: Around 93% of North Dakota residents have a high school degree or higher, while 30% have a Bachelor's degree or higher.
Is North Dakota Home Insurance Required?
North Dakota law does not require homeowners to purchase home insurance. However, many lenders throughout the state require borrowers to hold home insurance throughout their mortgage terms. Some Homeowners Associations also require residents to carry home insurance.
What Does North Dakota Home Insurance Cover?
The exact coverage your North Dakota homeowner's insurance policy includes depends on your insurance company and the coverage elements you pay for.
However, the most basic homeowner's insurance covers the following:
Damage from natural disasters
Losses from theft or vandalism
Liability claims from visitors who become injured on your property
Homeowners insurance typically protects your home's physical structure and the contents within your home.
When you submit a claim that falls into one of these categories, your insurer will determine the cost to repair or replace the damaged structure or missing items. They will then send you a check for this amount, minus your deductible.
Common Home Risk Factors In North Dakota
Different states face different risks from natural disasters. Unfortunately, North Dakota experiences drastic weather patterns each year, and homes often become damaged through these events.
In North Dakota, your home insurance can protect you against damage from common natural disasters throughout the state, such as:
Floods
Storms
Tornadoes
Wildfires
Landslides
Heat and drought
Power outages
Winter storms
What Type of Homeowner's Insurance Coverages Are Recommended?
As a North Dakota resident, you may benefit from certain types of coverage that residents in other states do not need. Here are the types of home insurance coverage we recommend for North Dakota residents.
Flood Insurance
North Dakota experiences 13 to 20 inches of precipitation each year, and flooding is common. However, most homeowner's insurance policies do not include flood coverage. We recommend adding this coverage to protect your belongings in case of flooding.
Scheduled Personal Property Insurance
North Dakota's property crime rates have increased slightly in the past few years. To protect your property against break-ins, we recommend carrying scheduled personal property insurance. This coverage can insure specific high-value items in your home, such as jewelry, artwork, or electronics.
Loss of Use Coverage
Loss of Use coverage can allow you to stay in a hotel room while your home is inhabitable due to a natural disaster. We recommend obtaining this coverage as a North Dakota resident. Natural disasters happen frequently, and you don't want to be without a place to stay.
How Much Does Home Insurance In North Dakota Cost?
The cost of insurance in North Dakota can vary depending on your location. Larger cities, such as Fargo and Bismarck, tend to have higher rates due to their higher costs of living.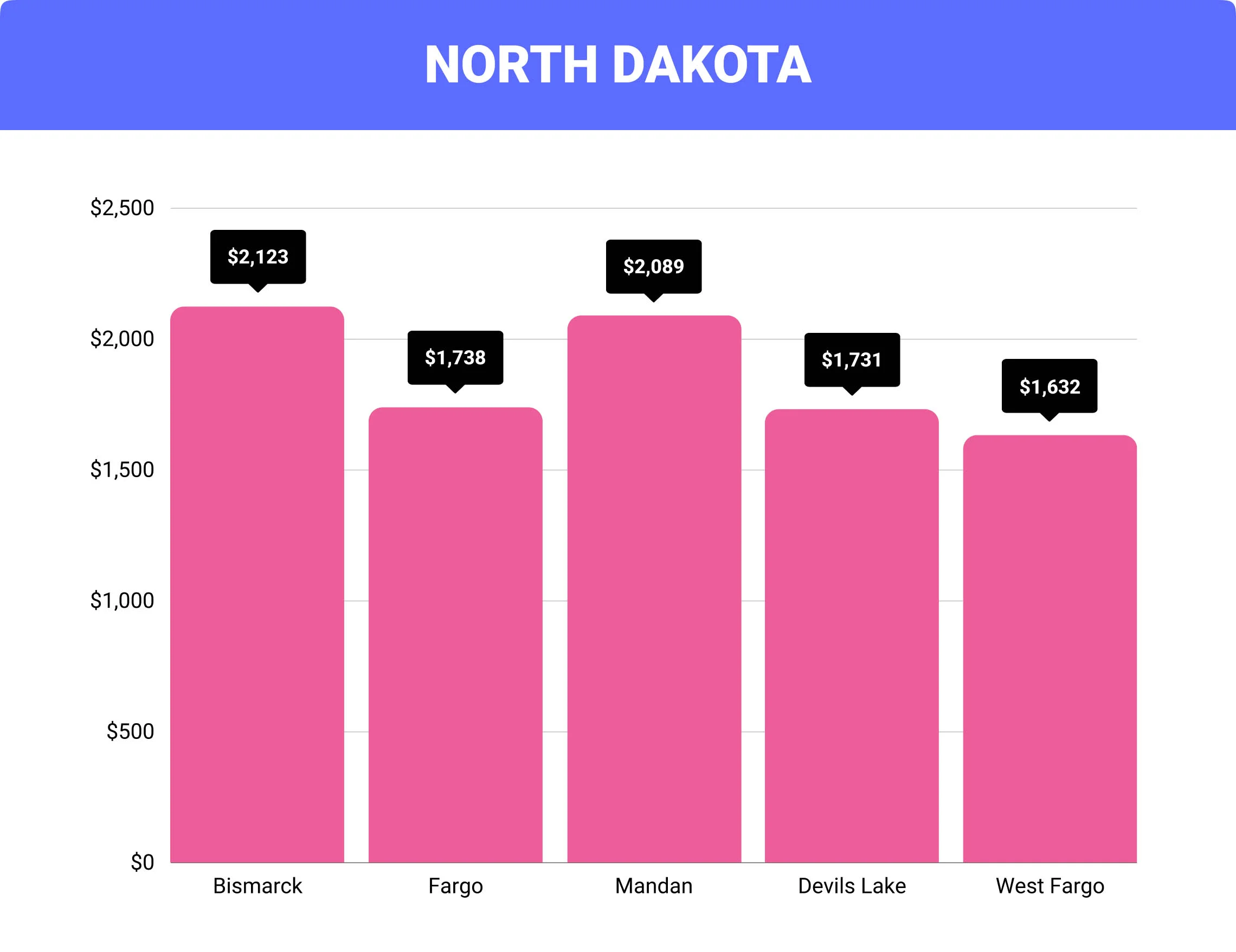 Cost of Home Insurance In North Dakota By City
| | | |
| --- | --- | --- |
| City | Average North Dakota Home Insurance Cost | Difference From North Dakota Average |
| Bismarck | $2,123 | +11.7% |
| Fargo | $1,738 | -8.5% |
| Mandan | $2,089 | +9.9% |
| Devils Lake | $1,731 | -8.8% |
| West Fargo | $1,632 | -14.1 |
FAQs
How much is homeowner's insurance in North Dakota?
The average annual cost of homeowner's insurance in North Dakota is $1,900.
Do you have to have home insurance in North Dakota?
You do not legally need to carry homeowner's insurance in North Dakota.
How much is homeowners insurance in Bismarck, ND?
The average cost of homeowner's insurance in Bismarck, ND, is $2,123 annually.
How much does homeowner's insurance cost in Fargo, ND?
The average cost of homeowner's insurance in Fargo, ND, is $1,738 annually.
Do you need flood insurance in North Dakota?
Flood insurance is not required in North Dakota, but it can be a life-saver if your home experiences flooding from frequent storms.
How To Purchase North Dakota Home Insurance?
Now that you know about the best home insurance companies in North Dakota, it's time for you to get a quote. These companies are happy to provide you with a free quote, so don't hesitate to reach out. We also encourage you to compare rates and find the best company that fits your needs. Be sure to complete our rate form so we can help connect you with the right provider.