UPDATED: JUNE 01, 2023 | 3 MIN READ
As a homeowner in South Carolina, you can expect to pay more than the national average for your homeowners insurance. South Carolina home insurance rates have reached $1,562—approximately 4.5% more than the country's average.
Below, you'll find in-depth information on pricing comparisons, ratings, customer service, coverage options, and more to help you determine the best homeowner's insurance for you.
Best South Carolina Home Insurance Companies
Living in South Carolina has its perks, but it also has a higher-than-average home insurance cost. According to recent analyses by ValuePenguin, the five most affordable and reliable homeowner's insurance policies belong to Allstate, State Farm, Nationwide, USAA, and UPC Insurance.
You'll want to research different home insurance companies, compare policies and rankings, and evaluate insurance rates to determine which plan works best for you and your home.
Overall Best South Carolina Homeowners Insurance Company
Allstate has the lowest homeowner's insurance costs in South Carolina, offering about 19% cheaper rates than the second-best option (State Farm).
That number doesn't include Allstate's incredible variety of discounts through features like policy bundles, switching with a claim-free history, and verifying your new policy at least seven days early.
If you live in South Carolina, Allstate offers you the cheapest standard house insurance policy. They also provide coverage for water, sewer, and home security.
Best Value South Carolina Home Insurance Company
Your South Carolina homeowners insurance rates will depend on which company you choose. With Allstate, you get the most affordable option at $976 per year or $81 a month, $586 less than the state average. Keep in mind, too, that Allstate offers plenty of discounts in addition to their homeowner's insurance premium rates.
South Carolina Home Insurance Company With the Best Customer Service
Allstate is your number one option to save money on homeowner's insurance in South Carolina. However, you should consider USAA if you want the best balance of quality and customer service.
USAA has the highest comprehensive insurance rating based on J.D. Power's customer service survey, analysis from the NAIC, and ValuePenguin's editorial research.
USAA is exclusively for military families. If you don't qualify, your next best option for overall service is State Farm.
South Carolina Home Insurance Company Best for Bundling
Homeowners can save a ton of money by bundling insurance policies. For example, you could save up to 25% when you bundle home and auto policies. Allstate provides the best discounts for bundling, besides offering the lowest costs for South Carolina homeowner's insurance.
South Carolina Home Insurance Company With the Best Coverage Options
Hurricanes and flooding are the biggest threat to your South Carolina home. As you look for the right home insurance company, choose one that also provides coverage for things like:
Flooding
Roof replacement
Water backup
Earthquakes
For the most comprehensive single-policy homeowners insurance in South Carolina, go with Nationwide. They offer the broadest selection of coverage options with affordable pricing.
Local and Regional Home Insurance Carriers In South Carolina
American National Insurance
American National Insurance focuses on building solid relationships with its customers.
It addresses various risks and potential for damages with coverages such as dwelling, possessions, and other structures, plus personal liability and medical payments.
Discounts from American National Insurance include bundle savings and a check for three years claim-free.
Allstate Auto Insurance
Home is more than just a place to Allstate. It's at the center of your life, and Allstate treats your home as well as its own.
Their coverages offer a variety of home protection, including dwelling, liability, personal property, and guest medical protection.
That's not all, as Allstate provides additional coverage for your yard, garden, and equipment backup. Multiple policy discounts and other savings make Allstate's rates even more affordable.
Southern Farm Bureau
Southern Farm Bureau is a regional carrier with service in South Carolina. Your home's protection is their only concern, and they offer a wide variety of home coverage from the standard to the premium.
Their menu includes dwelling, other structures, personal property, loss of use, and personal liability. Umbrella, earthquake, and flood insurance offer comprehensive protection for nearly any event.
Discounts for five or more loss-free years, protective devices, and bundles help save on your rates.
South Carolina Insurance Demographics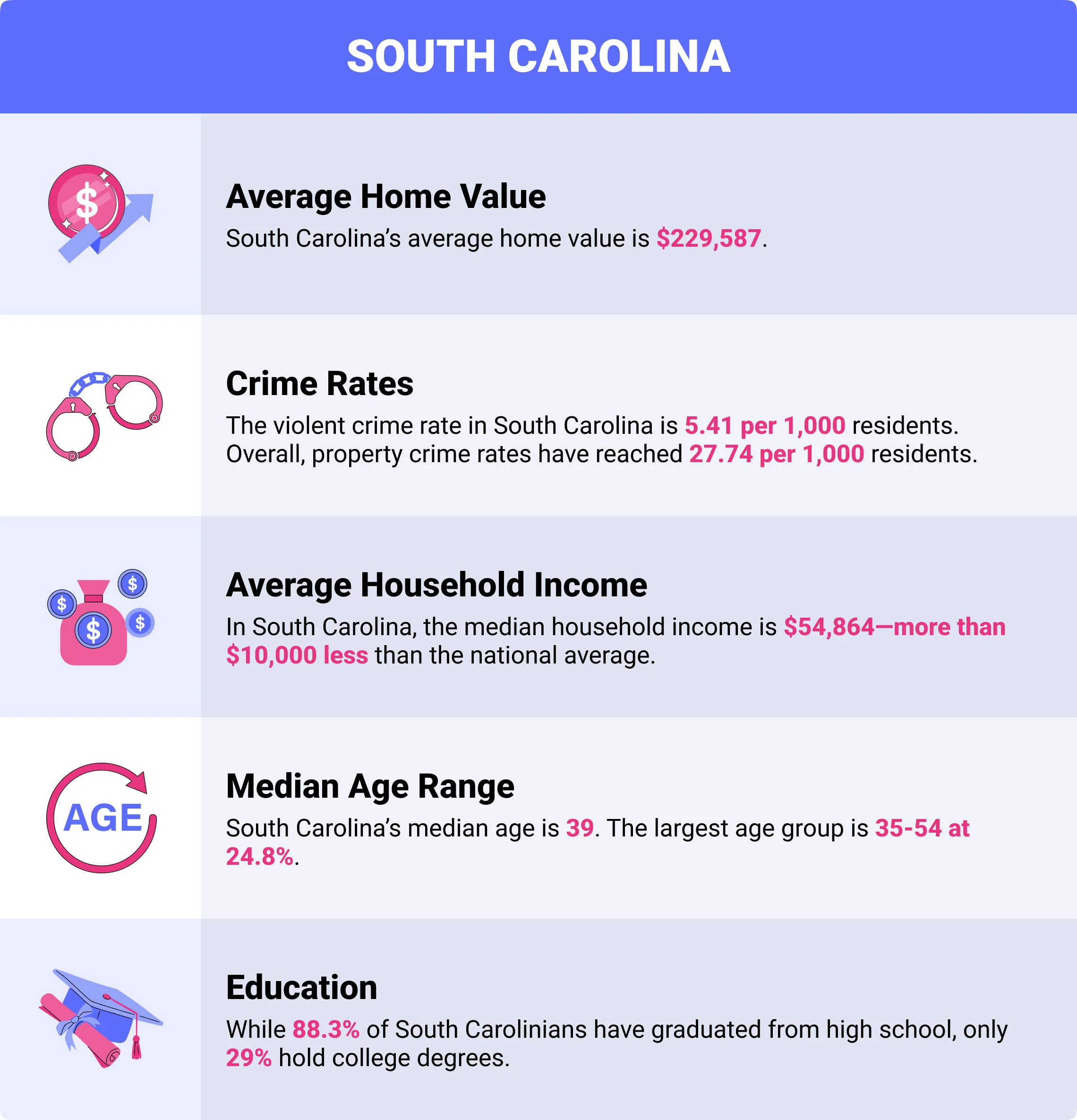 What you'll pay for a homeowner's insurance policy in South Carolina depends on where you live. For instance, house insurance costs will be higher for hurricane-prone areas. Specific demographics may also affect your insurance rates, such as:
Average home value: South Carolina's average home value is $229,587.
Crime rates: The violent crime rate in South Carolina is 5.41 per 1,000 residents. Overall, property crime rates have reached 27.74 per 1,000 residents.
Average household income: In South Carolina, the median household income is $54,864—more than $10,000 less than the national average.
Median age range: South Carolina's median age is 39. The largest age group is 35-54 at 24.8%.
Education: While 88.3% of South Carolinians have graduated from high school, only 29% hold college degrees.
Is South Carolina Home Insurance Required?
Although home insurance in South Carolina isn't mandatory, your mortgage lender may require it. It's a good idea to protect your home, your family, and your possessions regardless.
What Does South Carolina Home Insurance Cover?
Different insurance companies provide varying coverages. Most South Carolina homeowner's insurance policies don't include coverage for water backup, flood damage, or earthquakes. You'll want to discuss coverage options with each company to see what they offer.
Common Home Risk Factors in South Carolina
Hurricanes and flooding are the most significant threats to your South Carolina home. Since you live near the coast, we recommend choosing an insurance plan with various coverage options to protect your home.
What Types of Homeowner's Insurance Coverage Are Recommended?
Your basic South Carolina home insurance policy should cover calamities like fire damage, break-ins, and theft. However, you'll want to consider add-ons that include additional coverage options. These extensions to your standard policy may include flood insurance, earthquake insurance, and water backup coverage.
Flood Insurance
Due to hurricane seasons and heavy rains, flood damage is a major concern for many South Carolina homeowners. Most standard policies don't provide flood insurance, so you'll want to add this to your home insurance plan.
Earthquake Insurance
South Carolina doesn't experience earthquakes often. But when it does, you could face severe damage to your home. Stay protected by adding earthquake insurance to your standard policy.
Water Backup Coverage
Hurricanes, heavy rains, and flooding can quickly back up your drain and sewer lines. Consider adding water backup coverage as part of your homeowner's policy for extra protection.
How Much Does Home Insurance in South Carolina Cost?
How much can you expect to pay for home insurance in South Carolina? It depends on several factors, such as:
Your city/region
Natural disaster risks
Number of claims
Crime rates
If you live in Briarcliffe Acres, SC, you'll face the highest insurance rates in the state at $3,163 per year on average. The lowest insurance costs are available in Pickens, where the average yearly rate is $1,022.
Below, you'll find city-by-city information on insurance rates in South Carolina.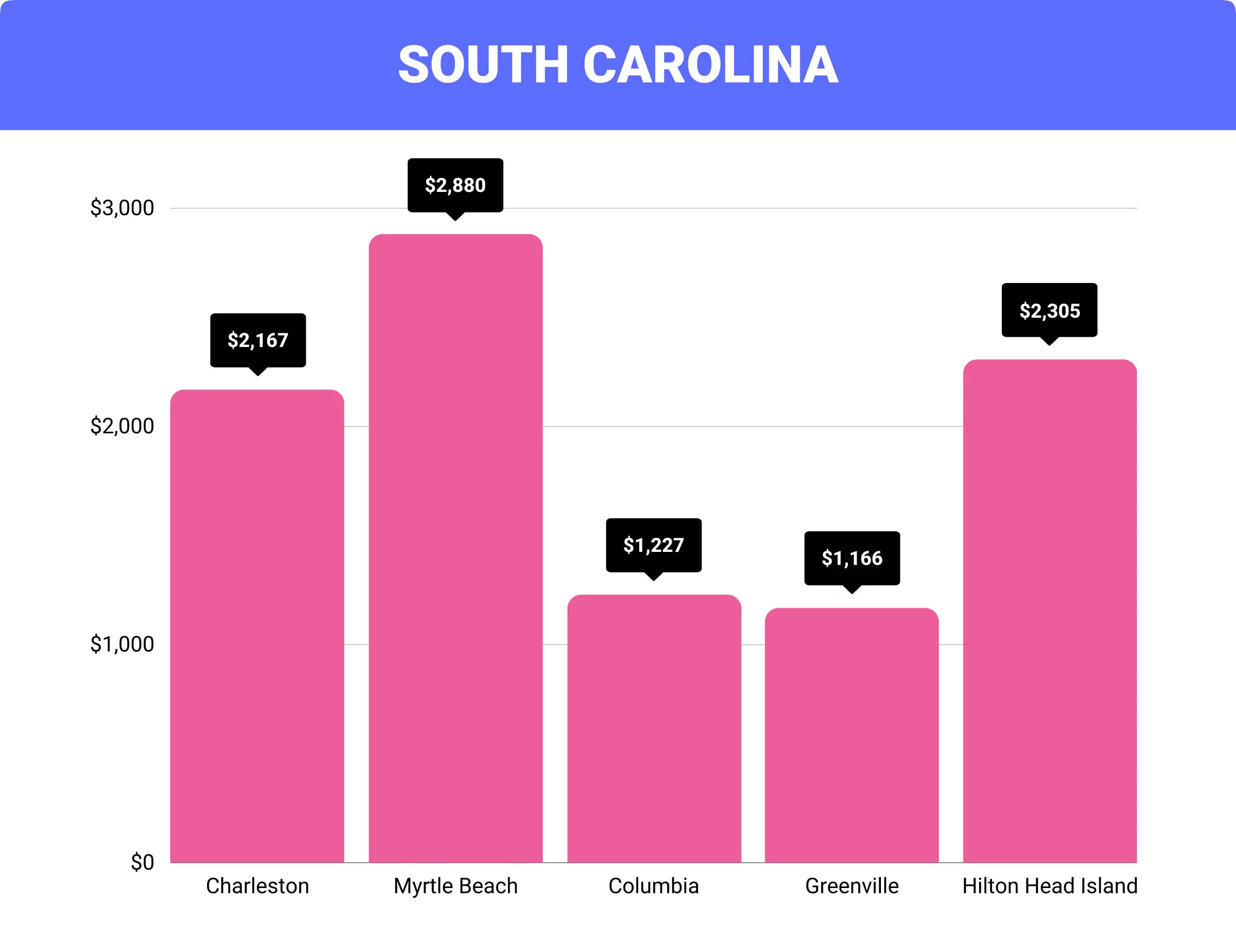 Cost of Home Insurance in South Carolina by City
| | | |
| --- | --- | --- |
| City | Average South Carolina Home Insurance Cost | Difference From South Carolina Average |
| Charleston | $2,167 | +39% |
| Myrtle Beach | $2,880 | +84% |
| Columbia | $1,227 | -21% |
| Greenville | $1,166 | -25% |
| Hilton Head Island | $2,305 | +48% |
FAQs
What's the average cost of homeowners insurance in South Carolina?
South Carolina's average home insurance costs about $1,562 per year.
How much is homeowners insurance per month in SC?
On average, homeowner's insurance in South Carolina costs $130 per month.
Who has the best homeowner's insurance in South Carolina?
Allstate offers the most affordable homeowner's insurance in South Carolina at $976 annually. They also provide a wide selection of policy discounts.
Is homeowners insurance expensive in South Carolina?
Homeowner's insurance in South Carolina is more expensive than the national average. Your insurance policy costs depend on high-risk factors like hurricanes, wildfires, and flooding.
How much is home insurance in Charleston, SC?
In Charleston, SC, the average home insurance costs $2,167 per year. Those rates are 39% higher than the state's average.
How To Purchase South Carolina Home Insurance
When you're ready to compare rates and find the best option for your needs, our team is here to help. We can provide quotes from a variety of providers so that you can find the plan that fits your budget and lifestyle. All you need to do is complete our rate comparison form, and we'll take care of the rest.