UPDATED: JUNE 01, 2023 | 2 MIN READ
Living in South Dakota means you have access to lower-than-average homeowners insurance costs. The average South Dakota home insurance rate is $1,326 per year—about 11% lower than the national average. Keep reading to learn about insurance companies in South Dakota and how to pick the right one based on pricing options, coverage add-ons, customer service, and more.
Best South Dakota Home Insurance Companies
Besides offering high-quality life and a strong economy, South Dakota provides home insurance costs lower than the national average. Insurance rates may vary from company to company—you'll want to do some digging.
Compare different insurance companies and their policies, compare coverage options, and consider customer service ratings to pick the best homeowners insurance plan.
Overall Best South Dakota Homeowners Insurance Company
Auto-Owners offers the lowest average homeowners insurance costs in South Dakota at $730 per year—45% less than the state average. You could save even more money when you bundle multiple insurance policies, switch to paperless billing, pay annual rates up front, and request an Auto-Owners Insurance quote in advance.
Choose Auto-Owners if you want to save money and still get top-quality homeowners insurance in South Dakota. You can also add extensions to your homeowners insurance policy for more protection.
Best Value South Dakota Home Insurance Company
Insurance companies in South Dakota offer a wide range of prices depending on your needs. For the most affordable option, go with Auto-Owners and pay $61 per month or $730 per year. In addition, you have many ways to save on your homeowners insurance premium rates.
South Dakota Home Insurance Company With the Best Customer Service
State Farm is your go-to option if you value customer service and savings. While Auto-Owners provides the lowest prices, State Farm provides the highest customer service for South Dakota residents.
Data from the National Association of Insurance Commissioners (NAIC) show that State Farm receives exceptionally few complaints and provides consistent quality.
Many South Dakota homeowners choose State Farm for its reputable track record and financial stability. Overall, State Farm offers the best customer service in the state.
South Dakota Home Insurance Company Best for Bundling
Bundling home and auto insurance policies can lead to significant savings. According to J.D. Power's most recent survey, Auto-Owners Insurance leads the way in overall satisfaction. Auto-Owners offers the homeowner's insurance you need in South Dakota and the best discounts when you bundle.
Local and Regional Home Insurance Carriers
Farmers Mutual of Nebraska
Over 130 years of dedication and service set Farmers Mutual of Nebraska apart from other South Dakota insurance providers. While their name says Nebraska, they offer South Dakota homeowners peace of mind with home insurance.
Insurance products from Farmers Mutual of Nebraska include dwelling and personal property liability, as well as other possible options for events. Coverages include earthquake coverage, equipment breakdown, service line coverage, sewers and drains backup, and more.
They don't skimp on discounts either, even offering savings for mortgage-free homes. Other discounts apply to homes less than 15 years old, security devices, certain roof surfaces, and having an auto policy from Farmers Mutual of Nebraska.
Western National Insurance
Western National Insurance is a 130-year-old company that offers premiere protection to homeowners, condo owners, and renters.
Coverages include residence, personal liability, personal property, additional living expenses, and medical payments to others. Basically, everything you need to protect your home and assets.
Western National Insurance also has valuable discounts, including a customer loyalty discount. You even get a discount to match the rate of your family member, plus the company's Penalty-Free Promise means they won't raise rates when you make a claim.
American Family Insurance
Covering homes since 1958, American Family Insurance offers home insurance policies for South Dakotans in Rapid City, Sioux City, and beyond.
Forbes names the insurer one of the best insurance companies in North America, and you'll quickly see why.
They boast coverage options that help you ensure your home against disaster, with standard homeowner policies, plus additional coverage for sump pump backup, equipment breakdown, and hidden water damage coverage.
When something goes wrong with your home, trust American Family Insurance has your back.
South Dakota Homeowners Insurance Company With the Best Coverage Options
Tornadoes, winter storms, and hail can severely damage your South Dakota house. As you compare insurance companies and check annual rates, look for policies that can also cover:
Roof replacement
Equipment breakdown
Food loss
Flooding
Choose Auto-Owners if you're looking for the widest selection of house insurance coverage on a single policy. They allow you to easily add coverage and package policies to protect your home better.
South Dakota Insurance Demographics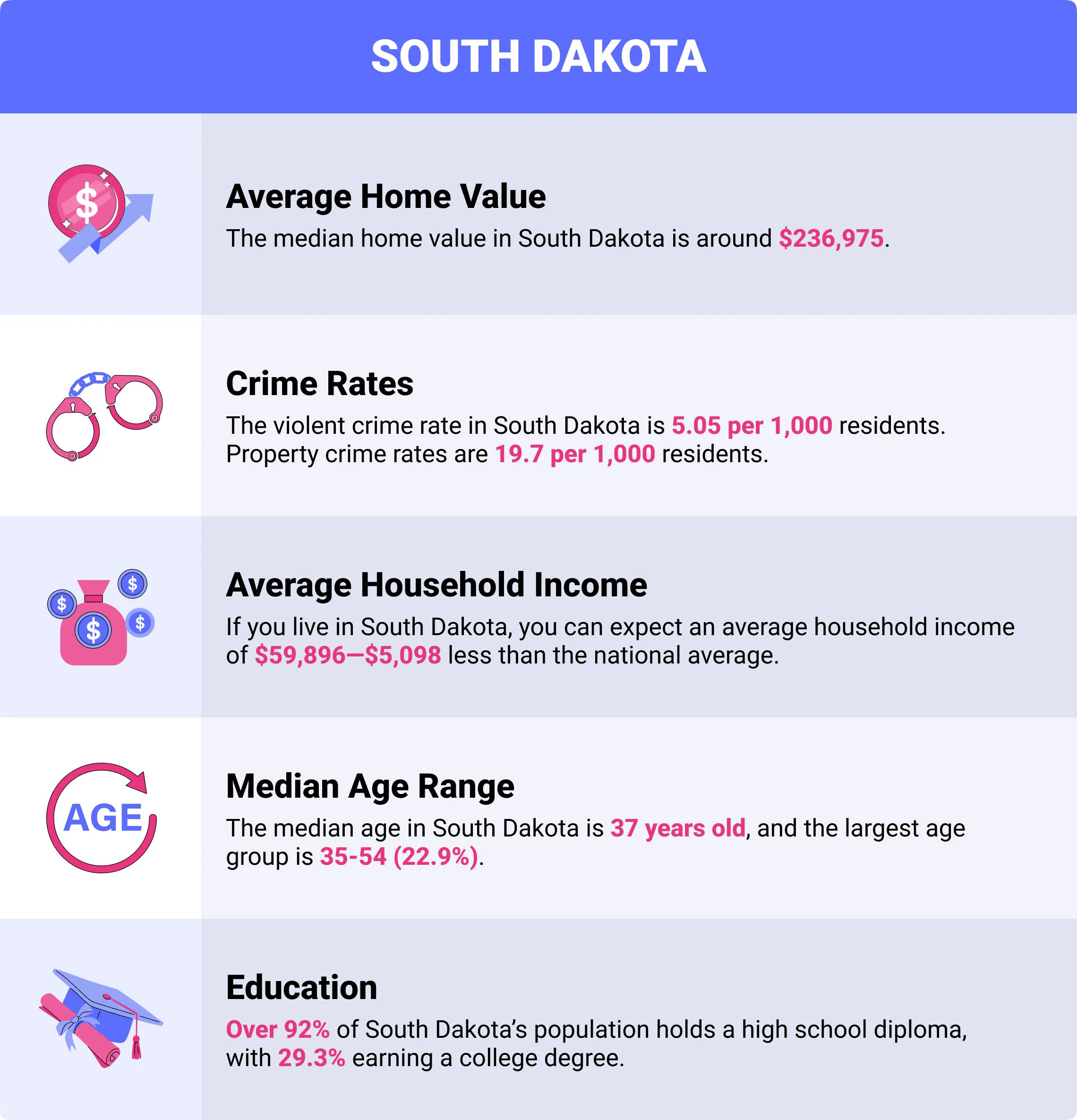 South Dakota's home insurance rates depend on several factors. For example, your rates will be higher if you live in areas more prone to tornadoes. Many demographics also affect your overall home insurance premium, including:
Average home value: The median home value in South Dakota is around $236,975.
Crime rates: The violent crime rate in South Dakota is 5.05 per 1,000 residents. Property crime rates are 19.7 per 1,000 residents.
Average household income: If you live in South Dakota, you can expect an average household income of $59,896—$5,098 less than the national average.
Median age range: The median age in South Dakota is 37 years old, and the largest age group is 35-54 (22.9%).
Education: Over 92% of South Dakota's population holds a high school diploma, with 29.3% earning a college degree.
Is South Dakota Home Insurance Required?
It's not required to have homeowners insurance in South Dakota. However, your mortgage lender may require it as part of the agreement.
What Does South Dakota Home Insurance Cover?
Homeowners insurance coverage in South Dakota depends mainly on the insurance company. Although standard policies typically cover hail damage, they won't cover flood damage, food spoilage from losing electricity, or equipment failure from power surges. You'll want to ask each insurance provider about available coverage options.
Common Home Risk Factors in South Dakota
The most severe threats to your South Dakota home are hail, lightning, and tornadoes. To thoroughly protect your home and avoid significant expenses down the road, consider an insurance company that offers a variety of coverage.
What Types of Homeowner's Insurance Coverage Are Recommended?
Most standard home insurance policies in South Dakota cover fire damage, theft, and hail damage. However, you can ensure better protection for you, your family, and your property with policy add-ons. These add-ons can cover food spoilage, equipment breakdown, and replacement.
Food Spoilage Coverage
With frequent lightning storms, power outages are not uncommon for South Dakota homeowners. If the power goes out in your home, your refrigerator and freezer won't preserve your food properly. Adding food spoilage protection can save you during such a catastrophe.
Equipment Breakdown Coverage
Lightning storms can cause power outages as well as electrical surges. A power surge could fry your home's appliances and cause equipment failures. You should consider equipment breakdown coverage to avoid paying out of pocket if this happens.
Replacement Coverage
Harsh winters, tornadoes, and lightning storms can severely damage your property. You'll want to cover the costs of replacement. Adding replacement coverage will guarantee this.
How Much Does Home Insurance in South Dakota Cost?
South Dakota's home insurance costs vary depending on the company, where you live, and what risks you may face. If you live in Belle Fourche, you can expect to pay $1,449 annually for home insurance. However, the average yearly premium in Aberdeen is $1,213.
In the chart below, you'll see insurance costs in several South Dakota cities.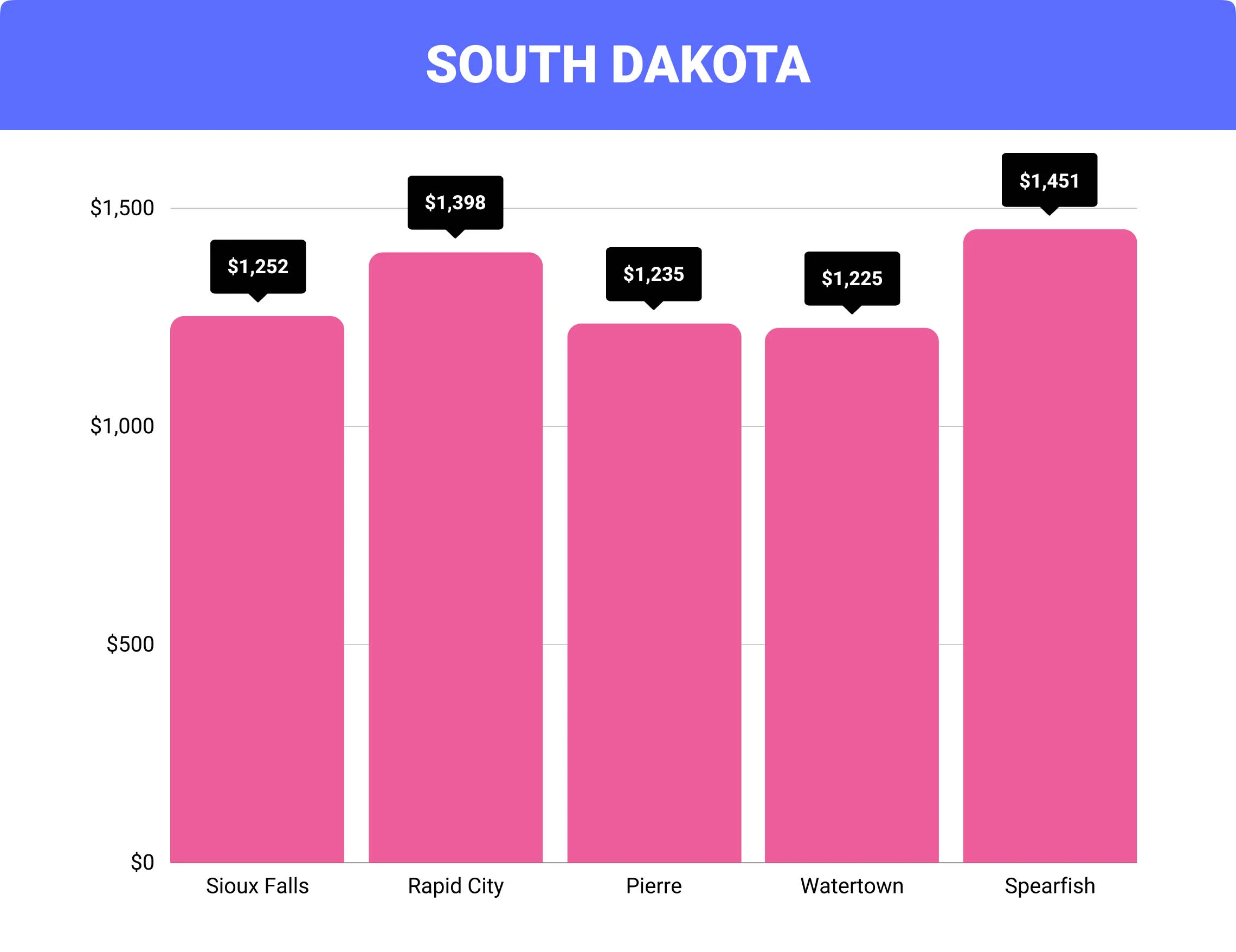 Cost of Home Insurance in South Dakota by City
| | | |
| --- | --- | --- |
| City | Average South Dakota Home Insurance Cost | Difference From South Dakota Average |
| Sioux Falls | $1,252 | -6% |
| Rapid City | $1,398 | +5% |
| Pierre | $1,235 | -7% |
| Watertown | $1,225 | -8% |
| Spearfish | $1,451 | +9% |
FAQs
How much is home insurance in South Dakota?
Home insurance in South Dakota costs $1,326 on average.
Is home insurance required in South Dakota?
South Dakota doesn't require home insurance, but most mortgage lenders do.
How much is home insurance monthly in South Dakota?
The average monthly home insurance rate in South Dakota is $110.50.
Who has the cheapest home insurance in South Dakota?
Auto-Owners offers the cheapest South Dakota home insurance at $730 annually.
What types of home insurance do you recommend for South Dakota?
We recommend including food spoilage, equipment failure, and replacement to your home insurance policy.
How To Purchase South Dakota Home Insurance
Visit insurance company websites and request a quote before purchasing your home insurance. You'll want to compare at least three policies to help you make an informed decision. We recommend contacting a licensed insurance agent for professional guidance during this process.