UPDATED: JULY 05, 2023 | 3 MIN READ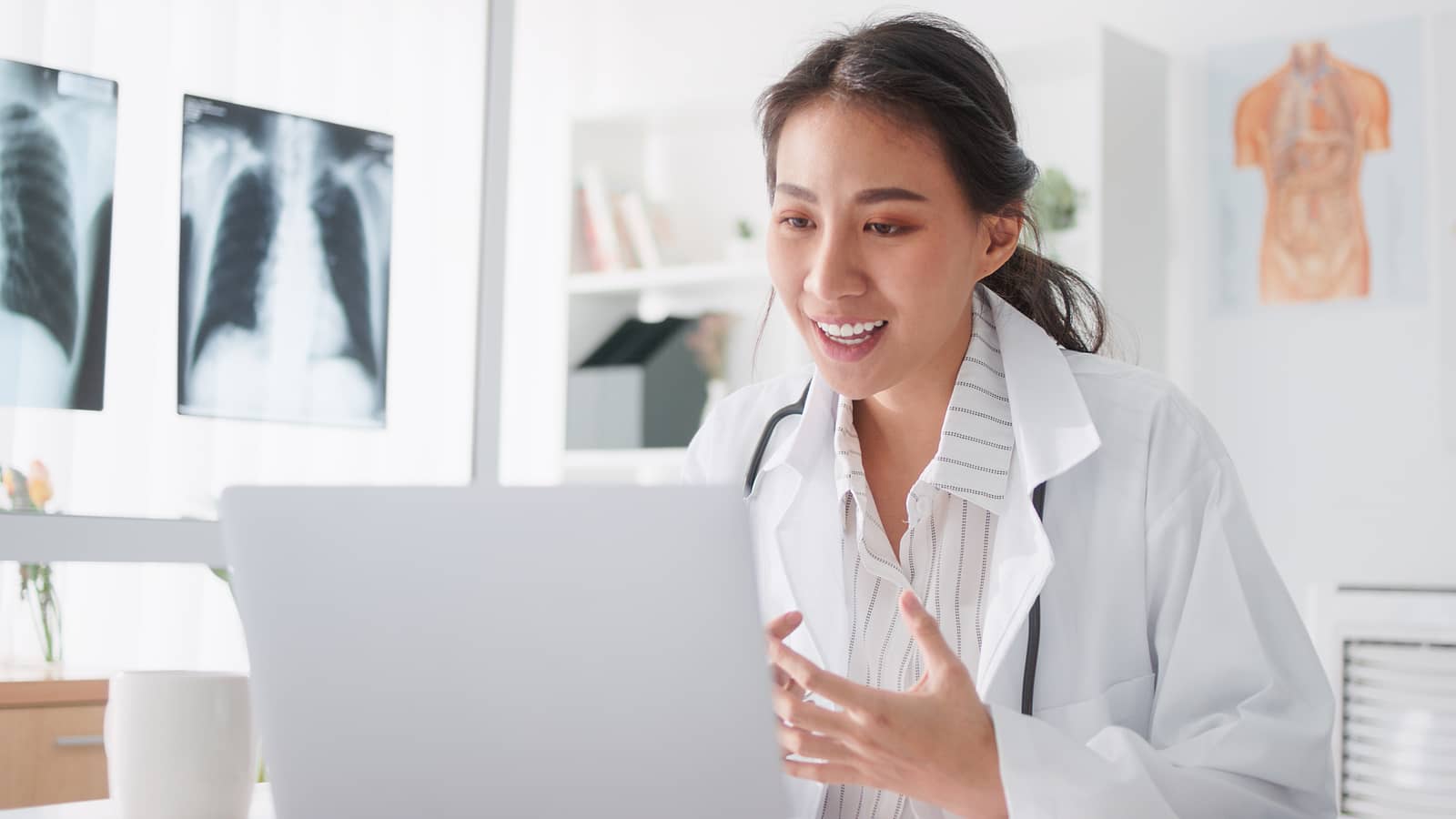 Telehealth usage surged during the COVID-19 pandemic as people sought safer ways to access and deliver care. But are telehealth and telemedicine here to stay? Learn more about the specifics of telehealth, what is offered, and coverage options for digital care.
Telehealth services quicklinks
What is telehealth services and how does it work?
The AAFP defines telehealth as a broad collection of electronic and telecommunications technologies and services that support at-a-distance healthcare delivery. Telehealth services allow patients to communicate with providers instead of receiving face-to-face care digitally.
How do virtual visits work?
Virtual visits take place through your computer, tablet, or smartphone through several options:
Talking to your doctor live (via phone or video chat)
Sending and receiving messages using email, secure file exchange, or secure messaging
Using remote monitoring so your doctor can check your progress or vitals at home
What are examples of telehealth?
Four main categories of telehealth exist in today's healthcare industry: Live Video-Conferencing, Asynchronous Video, Remote Patient Monitoring, and Mobile Health. Here are examples of each:
Live video-conferencing: Inspecting incision sites for signs and symptoms of infection
Asynchronous video (store-and-forward): Physical therapy exercise sharing via video
Remote patient monitoring (RPM): Checking a patient's Bluetooth blood pressure cuff
Mobile health (mHealth): Monitoring a diabetic patient's blood sugar level via a mobile app
Are there telehealth services for mental health?
Mental health treatment typically doesn't require a physical exam, so telehealth services for mental health is a flexible model for professionals and patients. Per the Telehealth government website, there are three types of telehealth services for mental health: 
Individual teletherapy: online and digital mental health tools to deliver one-on-one therapy
Group teletherapy: offers added mental health benefits, including reduced feelings of isolation and new perspectives
Substance abuse telehealth treatment: an integrated approach to treating substance use disorders
Does my health insurance cover telehealth services?
Many major health insurance companies, including Blue Cross Blue Shield and UnitedHealthcare, offer coverage for telehealth services. The amount of coverage and cost depends on the individual's plan. Check with your healthcare provider about your plan's telehealth services and copays.
Does Medicaid cover telehealth services?
Because telehealth services are a cost-effective alternative to face-to-face care, states can choose to cover these services under Medicaid. Many states are allowing:
Services via telephone, electronic, and virtual means
Services coverage and pay parity
Asynchronous services
Read the National Policy Center – Center for Connected Health Policy's COVID-19-related state actions for the latest information on state-specific billing and reimbursements.
Does Medicare cover telehealth services?
Certain telehealth services are covered under Medicare Part B (Medical Insurance). After you meet the Part B deductible, you will pay 20% of the Medicare-approved amount for your services. Remember that you'll pay the same amount if you get the services in person.
Do private health insurance companies cover telehealth services?
Most insurance providers will cover at least some form of telehealth. When exploring coverage options, including high-deductible health plans, check with providers to see if they cover reimbursement for these services.
Telehealth pros and cons
Telehealth can be a convenient option for those that live in a remote area or do not have the time or desire to make an in-person office visit. However, like any other healthcare option, it's not a perfect fit for every patient or medical condition.
Telehealth benefits
Telehealth offers many advantages, including:
Virtual visits deliver health care wherever you are at home, in the office, or even in your car.
You'll experience faster access to care — there's no need to take a day off work, schedule child care, or endure a long commute.
Virtual care tools shorten your wait time and increase your schedule flexibility.
You'll have better access to specialists, regardless of physical location.
There's no physical contact, which reduces COVID exposure.
Disadvantages of telehealth
Considering scheduling a telehealth visit? First, consider the following:
Your insurance may not cover it — check with your provider.
Without a physical assessment, you may have limited capabilities.
You may encounter diagnosis errors if your reason for care is best for an in-person visit.
You need high-speed access to a laptop or smartphone.
Is telehealth right for you?
It depends on your symptoms and medical issues. You may benefit from a virtual visit if you're experiencing the following situations or conditions.
Cold, cough, or sore throat
Skin conditions and issues
Prescription refill
Nausea, vomiting, diarrhea
Migraines
Anxiety, depression, and other mental health concerns
What's the difference between telehealth and telemedicine?
While they sound very similar, telehealth differs from telemedicine because it refers to a broader scope of remote healthcare services. Telemedicine refers to clinical services, while telehealth can refer to clinical and non-clinical services. 
What exactly is telehealth?
Telehealth is using technology to provide health care services to an individual in a different physical location than the provider. These services help support patients who may have trouble receiving medical or supportive care due to location or mobility limitations.
What's telemedicine?
Telemedicine is defined by the Federation of State Medical Boards as the practice of medicine using electronic communication, information technology, or other means between a physician in one location and a patient in another location, with or without an intervening health care provider. Telemedicine has a narrower scope than telehealth — these services only benefit those needing remote medical care. 
What are some examples of telemedicine activities?
Telemedicine refers to education over a distance and providing health care services through telecommunications technology. This service provides remote clinical services to patients, including:
Digital transmission of medical imaging
Remote medical diagnosis and evaluations
Video consultations with specialists
FAQs
What do telehealth services include?
As outlined above, there are four main categories of telehealth: Live Video-Conferencing, Asynchronous Video, Remote Patient Monitoring, and Mobile Health.
Are telehealth services by phone or video?
Both. These services are on your smartphone, tablet, or computer. But you can also speak to your doctor via telephone or send and receive messages using secure messaging, email, and secure file exchange.
Does a phone call count as a telehealth service?
Phone calls are now considered telehealth, but only for the Covid public health emergency (PHE) duration. This may change once the PHE has ended.
Are telehealthcare services cheaper?
Not necessarily. Telehealthcare services may cost more, the same, or less than an in-person visit. It just depends on your coverage. Check with your healthcare provider to learn more about the costs associated with your telehealthcare plan.
How do I find telehealth service options?
Your healthcare provider will help locate doctors and companies that provide virtual visits. Many of these options are through web-based portals or mobile apps. Check your insurance company's website, search for their apps on your phone, or call them to learn more.
How does telehealth help to combat access to care issues related to the shortage of healthcare workers?
Telehealth provides additional options for people that live in rural areas or states hit the hardest by the healthcare worker shortage. It helps to provide quality healthcare even in areas where it's more difficult to get to a doctor.
Telehealth services: A review
Whether in a rural community, working a busy schedule, or struggling to connect with a specialist, telehealth and virtual care can be a great alternative to in-person visits. However, you'll want to ensure that a virtual visit is the best option for your care and that your insurance provider offers coverage. Be sure to compare the best plans in your area to know you're getting the best coverage for the best rates available.