UPDATED: JULY 06, 2023 | 3 MIN READ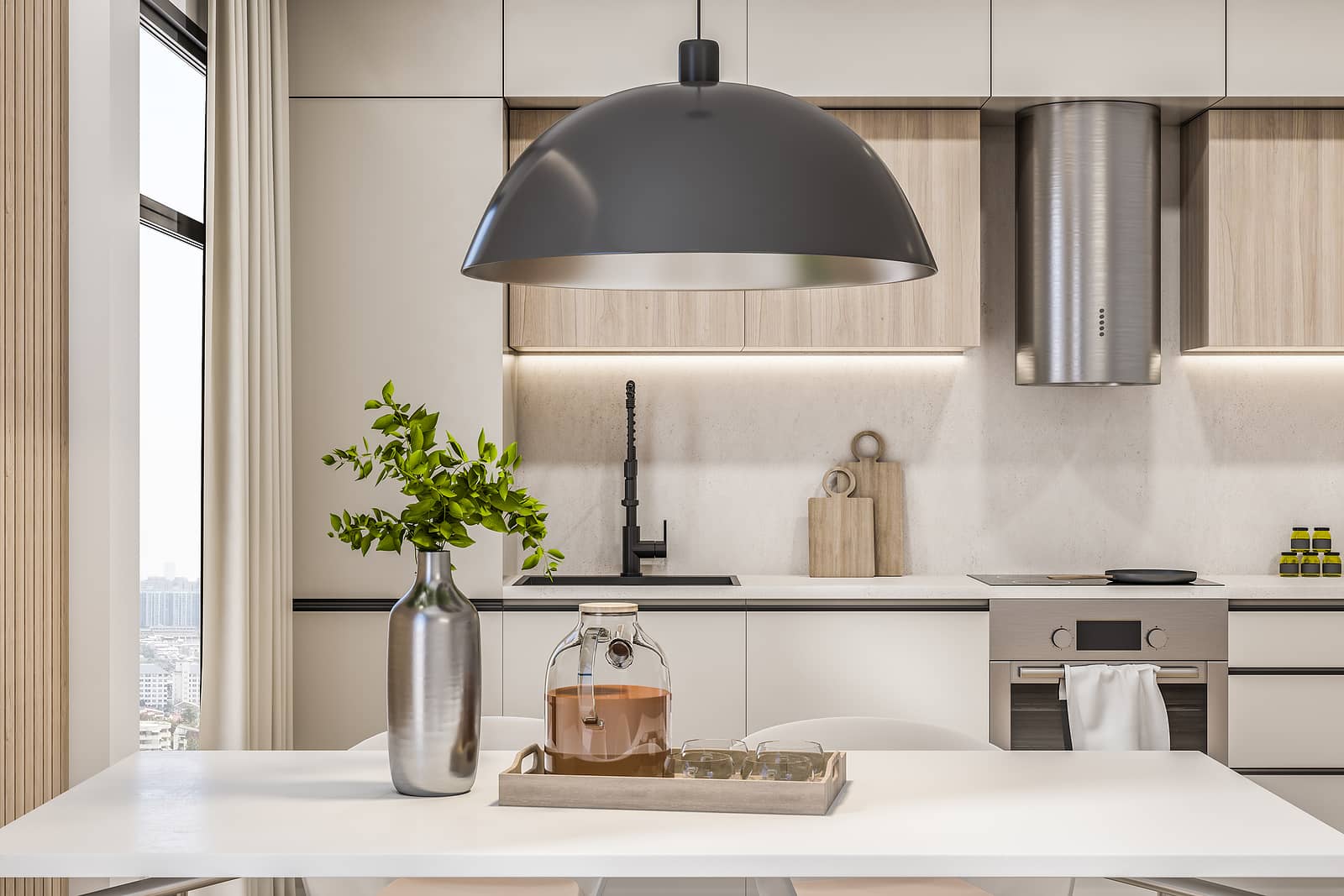 Kitchen renovations are a great way to add value to your home. When you invest in kitchen renovations, you're not only improving your kitchen to make it more functional but also getting a return on your investment. You can also get creative with the design and make it your own.
Ready to create your dream kitchen?
Creating your dream kitchen doesn't have to be a major project. Check out these kitchen renovation ideas to modernize your home and increase its value.
1. Update the lighting
When it comes to designing a kitchen, homeowners should think about lighting. Kitchen lighting can be used to create a sense of warmth and comfort. It can also help with the ambiance of the room.
The best place to start is by looking at the natural light in your kitchen. If you don't have a lot of windows, you might want to consider adding some light fixtures or even using lamps. You could also add some pendant lights over your kitchen island or breakfast bar for an extra layer of light and ambiance.
2. Add a fresh backsplash
Choose between ceramic tile, glass tiles, or natural stone. All three offer a range of colors and patterns that can add depth and variety to your kitchen backsplash.
Ceramic tile is a smooth surface that works well in wet and dry spaces. Glass tiles are ideal for kitchens with a lot of natural light, which can provide dramatic dimensions.
Natural stone offers richness of color and character to your kitchen backsplash while being easily maintained and repaired.
3. Paint the walls
Painting the walls of your kitchen is not only an easy and affordable way to get your kitchen looking like new, but it can also make a big difference in how much your home is worth.
4. Create or update a kitchen island
Kitchen islands can be an important part of a kitchen. They provide a lot of benefits to the homeowner, and can be used for more than just cooking and entertaining. They can also be used as a bar, workstation, or pantry. A kitchen island is an investment that will increase the value of your home and make it more enjoyable to live in.
5. Revamp the cabinets
Kitchen cabinets are one of the most important aspects of a kitchen. They provide storage space for your dishes and cookware and can add to your home's aesthetic appeal.
If you have outdated cabinets, you might wonder if there is any way to update them without replacing them entirely.
There are many ways that you can update your kitchen cabinets without replacing them. You may be able to update the doors or install new hardware on them. You could also paint or refinish the cabinet doors, impacting how they look in your kitchen.
6. Change the doorknobs
Another simple and inexpensive way to modernize your kitchen and add value to the home is to change the doorknobs. You can completely change the room's look by updating the doorknobs or handles on your cabinets.
7. Install energy-efficient appliances
Kitchen appliances are one of the most important features of a home. They determine energy efficiency, which is an important factor in determining the home's value.
The kitchen is also one of the most expensive rooms to renovate, so it's important to ensure that you're getting your money's worth and investing in appliances that will last a long time.
It is best to replace or update your kitchen appliances every five to ten years, depending on how often you use them. It's also a good idea to install energy-efficient appliances because they can save you money on utility bills over time and increase your home's value when you sell them.
8. Update the flooring
Kitchen flooring can make a big difference in the appearance of your kitchen. The right type of flooring can completely change the look and feel of your kitchen.
There are many different flooring materials to choose from that come in various colors, styles, textures, and patterns.
FAQs
What adds the most value to a kitchen remodel project?
Surprisingly, smaller remodels add the most value to a home. According to industry trade publication Remodeling Magazine, minor kitchen remodels are likely to add 78% of the cost as opposed to a major remodel, which only adds 58% of the cost to the home's value.
What home projects add the most value?
According to industry trade publication Remodeling Magazine, adding a manufactured stone veneer to your property could see you recoup 96% of the cost. This is followed by 94% from a garage door replacement.
Do custom cabinets increase home value?
Custom cabinets can increase the value of a home. They are a sign of luxury and quality, and in recent years they have become more popular as homeowners place more importance on their kitchens.
However, it is important to note that not all custom cabinets are worth the investment. It is essential to consider important factors such as the quality of craftsmanship, price, and longevity of materials before investing in custom cabinets.
How much should you spend on a kitchen remodel?
The cost of a kitchen remodel can vary greatly depending on what you want. The average cost of a kitchen remodel in the U.S. is $25,000-$30,000; this price can go up or down depending on what features you want to add and what upgrades you choose.
Can you redo a kitchen for $5,000
It is a common misconception that you need to spend a lot of money to improve the value of your home. In reality, many small kitchen renovation projects can be done for less than $1,000 each and still make a big difference in the value of your home.
If you manage to increase the value of your home through renovations and remodels, make sure your home insurance covers the new value. Be sure to get several home insurance quotes to get coverage that suits your needs.