UPDATED: APRIL 19, 2023 | 2 MIN READ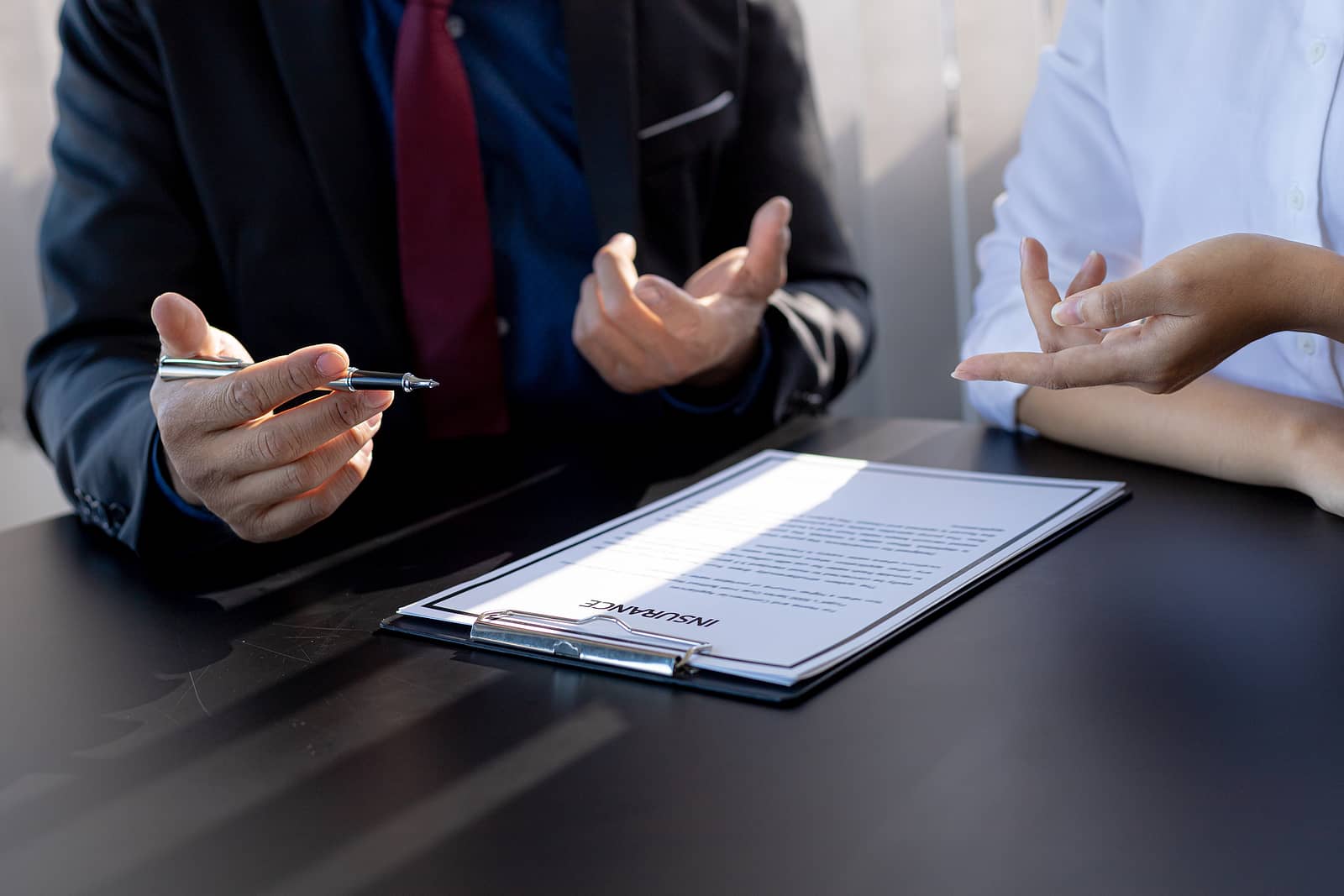 Denied insurance claims are common, but it doesn't have to be a disaster. Here are some tips on how to handle denied claims. The key is to be informed and prepared for this type of situation. With the help of this article, you'll understand how and why insurers deny insurance claims, what you can do about it, and what your rights are in these situations.
Why Was My Home Insurance Claim Denied?
The insurance company denies your claim, and you aren't given a reason. The first step would be to contact your agent or insurer and ask for clarification on what happened to cause their denial. If you still don't know, it's time for some research! You can find out what other companies have done in similar situations.
There Was a Clerical Error
Insurance claims might be denied if the homeowners insurance provider did not follow their own prescribed guidelines. They might not have followed the right steps, or they might have made mistakes in their documentation.
You Missed the Filing Deadline
Insurance companies require that all claims be submitted within a certain time after an incident. If this requirement is not met, then the claim will be rejected. Unless you have a valid reason for missing this deadline, you're likely out of luck.
You Didn't Pay Your Premium
It may be obvious, but some policyholders don't realize that if they stop paying their premiums, their claims won't be progressed.
Insurance companies have a right to deny claims that aren't paid for, which is why ensuring that you're paying your premiums on time is important.
If the insurance company denies your claim because of this, then it's best to contact them and find out what can be done about this issue.
You Misrepresented the Facts
Insurance claims can be denied for several reasons. One of the common reasons is when you mischaracterize the facts. If you're being denied an insurance claim, it's important to know what went wrong and how to fix it.
Insurance companies have a lot of discretion in denying claims and must follow certain guidelines set by state laws. Sometimes, they might deny your claim because you misrepresented the facts or didn't follow their guidelines properly.
Your Homeowners Insurance Claim is An Excluded Peril
When you file a claim with your insurance company, you hope they will cover your damages' costs. Unfortunately, not all claims are covered, and it's important to understand the exclusions so that you can file a more likely accepted claim.
If you have been denied an insurance claim, it may be because your policy did not cover the claim. Below are some of the most common exclusions that could have caused your denial.
Typical exclusions for standard homeowners insurance policies include:
natural disasters such as earthquakes, floods, hurricanes, tornados, and tsunamis, in areas where there are frequent occurrences
war or civil unrest (e.g., terrorist attack)
nuclear incident or accident
damage caused by neglect
You Failed to Provide Enough Documentation
Insurance companies have strict guidelines for what they will and won't pay out on claims. This makes it difficult for consumers to get their insurance claims approved.
The most common reason for denying insurance claims is if the customer does not provide enough documentation. Documentation includes receipts, bills, invoices, and other supporting documents that prove the claim is legitimate.
What to Do After Your Home Insurance Claim Denial
Insurance claims are often denied for various reasons. If a claim is denied, you may have to go through a long process of appealing it before getting your money back.
This process can be time-consuming and frustrating, especially if you've been denied because they didn't believe your claim was valid or because they said it was outside their scope of coverage.
After a home insurance claim is denied, the homeowner must take certain steps. These are some of the most important things after a denied claim.
Contact your insurance agent as soon as possible and get information about what you need to do next.
Contact your homeowners insurance company's claims department to find out what happened and why the claim was denied.
Follow up with your agent and ask them for advice on what you can do now that you know more about the cause of the denial.
Review Your Coverage
If you have been denied your home insurance claim, reviewing and understanding your policy is important. You can do this by contacting your insurance company or by using a third-party provider.
If you're denied a claim, it's important to know your coverage to make the best decision for yourself and your family and get your claim settlement sorted out as soon as possible.
Build a Case
One thing you can do is talk to the adjuster and try to find out what happened. If you're unsatisfied with the claims adjuster's answer, you may want to contact your state's insurance department or call your agent or broker.
You'll want to gather evidence to support your case. Details such as dates, damages, and anything you put into place that would have lowered the risk of the damage occurring should be recorded. For example,
File an Appeal
If you were denied a home insurance claim, you have the right to file an appeal. This is important because it can help you get your claim and money back.
When filing an appeal, it's important to remember that the insurance company has a limited time frame to respond. So, if they don't respond within 30 days or so, depending on the state, then the appeal may be automatically approved.
Hire a Professional for Assistance
If your insurance company has already denied you, then you can still seek the advice of a licensed public insurance adjuster. A public adjuster can tell you if the insurer makes any errors, devise an appropriate strategy to make your case, and prepare for the next steps.
Hiring an independent appraiser can also help you gather the evidence needed to support your claim as you go back through the claims process. Having this second opinion can be invaluable.
If you think you have unfairly received a denial letter, you can even go as far as to file a complaint with your state's insurance commissioner.
FAQs
How do I fight a rejected home insurance claim?
A few options are available if you feel your claim was unfairly rejected. Initially, you could file an appeal with your home insurance company against the rejected claim. You could also hire a public adjuster to support your claims process.
If an appeal is denied and you believe that your claim was grossly mishandled, you can file a complaint with your State Department of Insurance. The final option would be to hire a lawyer and take the insurance company to court. This process will likely cost you a significant amount.
How do I respond to a denied insurance claim?
If your insurance claim is denied, you might wonder what to do next. The first step is to understand why your claim was denied. Check the policy document for details about the reason for denial and what you can do next.
If the reason for denial was not listed in the denial letter, contact your insurance company to find out more information about why the claim was denied and what steps to take next.
If you're still unsure how to proceed, consider contacting an attorney or an expert in insurance law who can help guide you through this process.
Does home insurance go up if a claim is denied?
Claims on your records may increase your premium rates, as the insurance company could consider you more likely to file future claims. Home insurance providers have different ways to determine the risk and rates of premiums.
If you're looking for a new homeowners policy with a claim on your record, compare multiple policies and providers to find your best coverage.
What happens when a home insurance claim is denied?
A home insurance claim may be denied if the policyholder does not have enough coverage or the policy does not cover the claim.
If your home insurance is denied, you may be able to get an appeal from the insurance company and get a new decision. Another option is to get a second opinion from an independent third party.
What is a denied insurance claim?
A denied insurance claim is when a homeowners claim is declined by the insurance company. Denied claims are typically due to errors in paperwork, invalid policies, or non-compliance with policy terms and conditions.
When a homeowners claim is denied, they have the option of seeking legal help in an attempt to appeal the decision.
How do I get my home insurance claim approved?
Make sure you have the necessary documents and information for your insurance company. This would include your policy information, details of the incident, and an inventory of lost or damaged items.
Keep a log of any interactions you have with the insurance adjuster. You can also hire your insurance adjuster to help with the claims process.
What are the possible outcomes of a denied insurance claim?
In case of a denied claim, you should be provided with why the claim was denied. Some of the most common reasons a claim is declined are; policy exclusions, missed deadlines when filing, insufficient coverage, or missing information in the claim.
You can choose to appeal the decision. You would need to gather evidence to support your appeal request. It's also important to note that there is a chance that your request will be denied again.
How To Get Help After A Denied Home Insurance Claim
If your insurance carrier denies your claim, it's important to know what you can do next. For starters, ask the insurer for a reconsideration of the decision or appeal to an outside agency. If that doesn't work, there are other options in which you may be able to recover some of your losses.
Hopefully, by following the tips outlined in this article, you'll be able to secure your settlement offer and repair any property damage caused by whatever event happened.
It's important to compare home insurance policies when it comes to renewal time to ensure you have the appropriate insurance coverage for your home should you ever need to make a property insurance claim. You can review rates from the top insurance companies in your area by completing our online rate form.