UPDATED: APRIL 19, 2023 | 3 MIN READ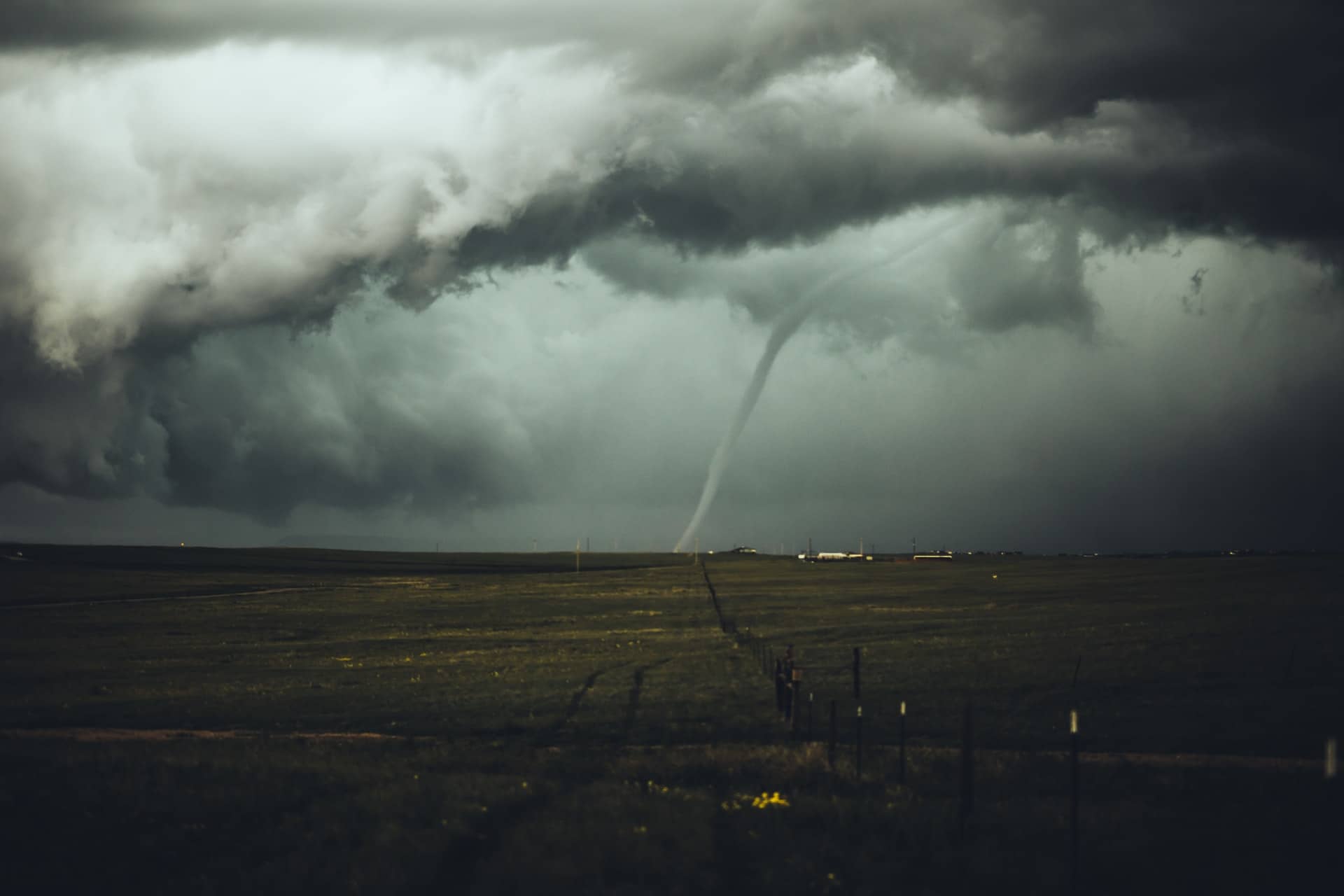 If you live in an area prone to tornadoes, you might wonder if your home insurance covers tornado damage. The answer is maybe. In some cases, you need a specific endorsement for tornado damage to be covered. Learn what tornado insurance is, why it's separate from your standard home insurance policy, and whether you need it.
Does Home Insurance Cover Tornado Damage?
Tornado insurance covers any wind damage that comes from an actual tornado. Sometimes home insurance policies cover windstorms, high winds, and hail, but no tornados. Because of this, it's important to review the named and excluded perils on your home insurance policy.
If tornados are listed as an excluded peril or not included as a named peril, depending on your policy, you aren't covered. You need to add an endorsement to your current coverage to get coverage.
What happens if a tornado destroys your house?
If a tornado destroys your home and you have tornado coverage on your insurance policy, you must file a claim with your insurance company. Filing a claim begins the claims process, which helps you get your home repaired as soon as possible.
Deductibles and limits on tornado insurance
When you file a claim after a tornado, you must pay the deductible before the insurance company pays anything. The deductible amount is agreed upon when you first signed up for the policy. Most policies also have maximum payout amounts.
Replacing your belongings happens in one of two ways:
Replacement cost coverage – helps reimburse you for the replacement of destroyed belongings with similar items
Actual cash value – pays you the cash value of contents insured, but it factors in depreciation.
Does my personal property coverage apply to tornado damage?
Personal property insurance. Replaces the belongings in your home in the event of a loss. If a tornado is a covered loss, your insurance will pay to replace any damaged items.
Personal property coverage is typically set at a percentage of the dwelling coverage. For example, if you're insured for $300,000 and have a personal property percentage of 70%, you will be covered for $210,000 for your personal belongings.
However, your belongings are divided into different categories, and these categories typically have maximum payout amounts. You must ensure you have enough coverage within each category so your personal property is completely covered.
What Doesn't Tornado Insurance Cover?
This insurance typically covers:
Dwelling coverage – The physical structure of your home, sheds, barns, or decks.
Personal property coverage – Personal belongings that were damaged or destroyed.
Loss of use coverage – If your home is destroyed, it covers the costs of hotels, food, laundromats, etc.
This type of insurance is typically covered under your home insurance, but you may need extra coverage if you live in an area with many tornados. Therefore, it's always important to check your policy or speak with an agent about any add-ins you need on your insurance to protect you against tornado damage.
Does my Loss of Use coverage apply to power outages from bad weather?
The Loss of Use portion of your tornado insurance helps with the costs involved if you can't live in your home due to a tornado.
If the only thing that you are experiencing is power outages without any other physical damage to your home, that will not be covered under tornado insurance. Power outages are widespread in the United States due to bad weather, so it's not something that is covered under insurance.
Does tornado insurance cover damage caused by flooding?
Flooding can occur due to a tornado, but it's important to know that your insurance generally does not cover flood damage. Your policy protects against wind damage from the tornado but not flooding. If that's a concern for you, purchasing separate flood insurance through the National Flood Insurance Program is possible.
Your tornado insurance may offer some protection if water gets into your home because the wind damaged your roof, but that's something you have to check with your policy.
Does tornado insurance cover damage caused by falling trees?
Whether damage from fallen trees is covered under your insurance depends on your policy. Unfortunately, not all policies cover this damage, so you must check with your provider. For example, if the tree fell on your car because it was already rotting, it's unlikely that the damage would be covered by.
Choosing the Right Tornado Insurance
Homeowner's insurance generally includes damage from the wind as part of your coverage. But there are steps to take to ensure that you have the coverage you need:
Read your policy – Reading your policy and knowing your coverage will ensure that you don't get in any sticky situations.
Talk to an agent – If you are unsure whether your policy covers tornado damage, talk to an agent.
Add extra coverage – Extra covers such as flood damage might be something you want to add to your coverage to cover your bases.
How to choose the right home insurance coverage for tornado damage
You need to read your policy to ensure your home insurance covers tornado damage. Your policy covers tornado damage if you see Tornado listed as a named peril. If it isn't listed or under Excluded Perils, tornado damage isn't covered, and you should start getting quotes for tornado insurance.
How much does tornado insurance cost?
Tornado insurance is typically part of your homeowners insurance, so the cost depends on the amount of home insurance you currently carry.
Factors that determine the cost of insurance are the cost of your home, how much property coverage you need, and whether you live in a tornado-prone area. Extra costs will be involved if you're required to add this insurance to your existing policy.
How to prepare your home for possible tornado damage
There are steps to protect your home if you live in a tornado-prone area. By securing your home ahead of time, you can prevent damage from a tornado.
Reinforce your roof
Replace/reinforce your windows
Secure cabinet doors
Attach large pieces of furniture like bookshelves to the wall
Tornado Insurance FAQs
Does renter's insurance cover tornado damage?
If you don't own the property, your insurance will not cover the physical structure (that falls on the landlord). Your insurance would, however, cover personal property that was damaged or destroyed.
Does homeowners insurance cover tornado damage?
Typically, yes. It's important to check your policy to make sure you have enough coverage for tornado damage.
Is insurance more expensive in Tornado Alley?
Many factors come into play that determines how expensive your tornado insurance is. If you live in Tornado Ally, you're likely to pay a higher premium because you are at a greater risk of catastrophic weather events.
Does my state require tornado insurance?
There is no state-by-state requirement for tornado insurance. But if you live in a tornado-prone area, you want to protect your home and belongings.
Does tornado insurance cover flooding from rain?
No. Flooding is not covered under tornado insurance. You can, however, get extra flood coverage added to your policy.
Finding the Best Tornado Insurance
It's important to have the proper coverage when living in tornado-prone areas. Get multiple home insurance quotes to find the coverage you need for a great price.