UPDATED: AUGUST 07, 2023 | 3 MIN READ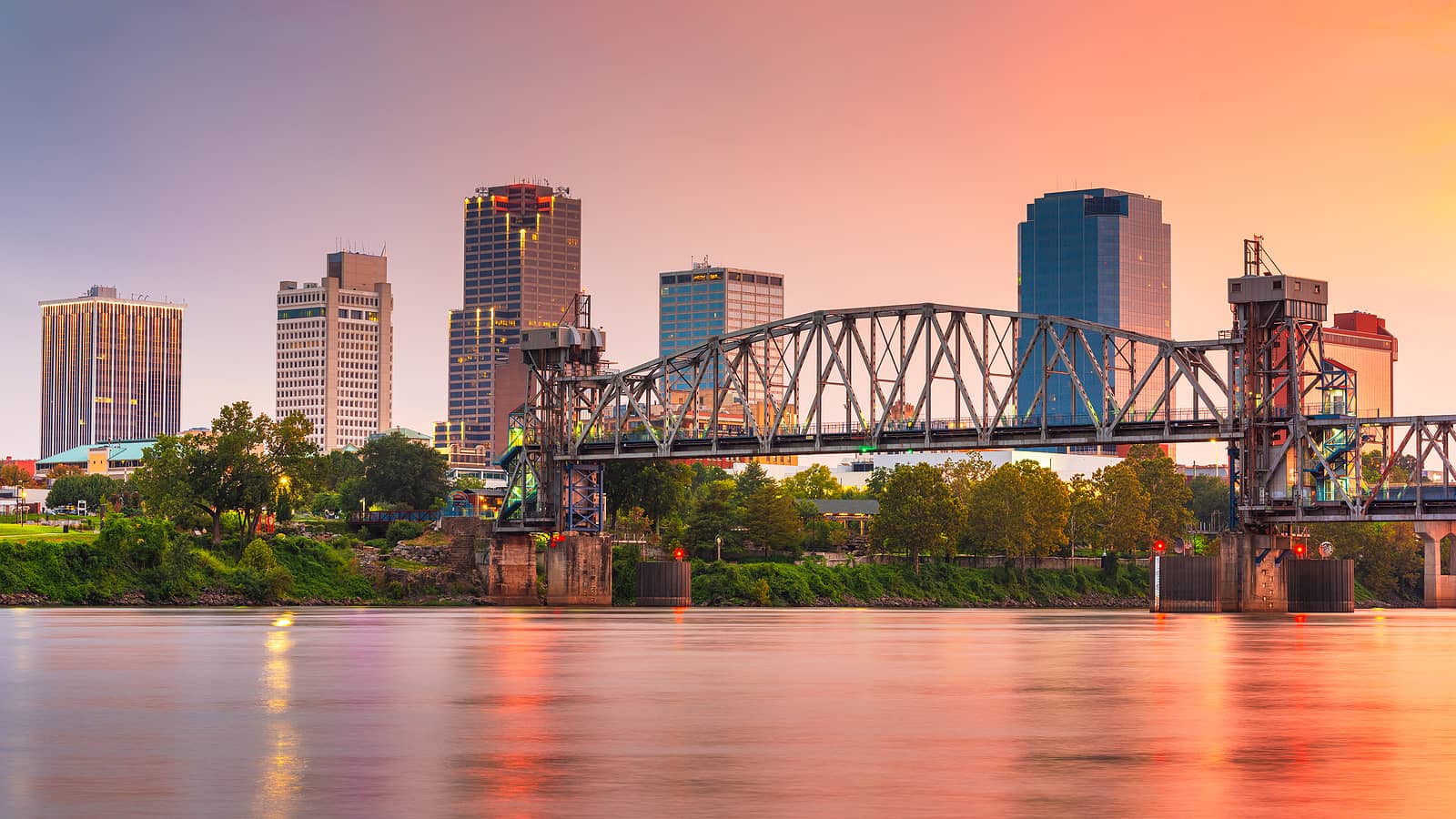 Automobile insurance in Arkansas can be expensive. Monthly premiums factor in many aspects, such as driving history, credit rating, age, etc. Below is all you need to know about car insurance in Arkansas to help you find the best option.
Best Arkansas Car Insurance Companies
Since so many factors determine your rate, exploring and comparing multiple car insurance quotes is helpful. Here are some of the best Arkansas car insurance companies based on price, customer service, and discounts.
Cheapest Arkansas Car Insurance Company,
The average cost of car insurance in Arkansas is $556 yearly or $46 monthly for the minimum liability. Arkansas's cheapest car insurance companies are Farm Bureau, GEICO, and State Farm. The quotes average 31% less than the state average annually, at $361, $380, and $410, respectively. Farm Bureau has the most affordable rates with full coverage.
Arkansas Car Insurance Company With the Best Customer Service
The top-rated car company for customer service In Arkansas is Shelter. Next in line is State Farm, then Farm Bureau. All have high scores with J.D. Power and A.M Best if you value service. The shelter has local agents and numerous options for products.
Arkansas Car Insurance With the Best Premium-Reducing Programs
Look for premium-reducing programs if you prefer bundling your home and auto insurance for one monthly payment. Geico offers various bundling discounts for combining your car insurance with other coverage in Arkansas. They also provide lower premiums if your car has an anti-theft system or airbags.
Arkansas Car Insurance Company With the Discounts
USAA car insurance offers some of the best and cheapest rates in Arkansas. It is more exclusive for military members and their families. There are multiple discounts USAA offers, which include:
Rideshare insurance
Multiple car discounts
Mileage discount
Younger drivers can find more discount advantages with Allstate car insurance. They offer good student discounts, defensive driving course completion discounts, and distant student discounts.
Local and Regional Car Insurance Carriers In Arkansas
Cameron Mutual
Cameron Mutual Insurance provides automobile insurance options for Arkansas drivers. Its standard coverages include comprehensive, collision, property damage, and personal injury. The company has a variety of discounts that will help Little Rock drivers lower their automobile insurance premiums.
These discounts include a loyalty discount of up to 15% and a multi-car discount for motorists with more than one policy with Cameron. A companion policy for drivers who also buy homeowners insurance, and an umbrella policy discount for umbrella policyholders.
Columbia Insurance
Arkansas drivers who need broad automobile insurance may find the coverage they need with Columbia Insurance. Columbia Insurance insures cars, trucks, recreational trailers, motor homes, campers, and antique vehicles.
Columbia Insurance offers the following automobile coverage to customers. Coverages include bodily injury and property liability, collision, and comprehensive.
Drivers in Little Rock and elsewhere in Arkansas can take advantage of Columbia Insurance's premium discounts. Discounts are available for good students, accident-free drivers, students away at school, and installation of anti-theft devices, among other things.
Southern Farm Bureau
Southern Farm Bureau Insurance is a regional carrier with agents and adjusters in every county in Arkansas, which makes its local knowledge unmatched.
Southern Farm Bureau covers Arkansan's passenger vehicles, motorhomes and campers, pickup and camper shells, motorcycles, farm vehicles, recreational pickup trucks, and utility trailers.
Arkansas drivers can save money with DriveDown, a program that rewards drivers with safe driving records. Southern Farm Bureau insurance also has add-on policies to give you even more protection, like Umbrella policies and Personal Liability coverage.
Arkansas Insurance Demographics
Insurance companies examine demographics to determine car insurance rates. Here are some of the demographics found in Arkansas:
Average Car Value: The average used car price in Arkansas has increased over the last year by almost $5,000. The average price is $35,358.
Crime Rates: The 10-year average in Arkansas is just over 33 crimes per 1,000 people. It holds the fourth-highest violent crime rate in the US.
Average Household Income: Arkansas is not considered to have high-income households. The average household income is $69,357.
Median Age Range: The median age in Arkansas is 36 years old. Nearly 75% of the population is over the age of 18.
Education: Approximately 86% of Arkansas 25 years and older residents have a high school diploma or equivalency.
Common Risk Factors In Arkansas
Automobile risks include car violation history and infractions. In Arkansas, there are also risk factors which include:
Extreme Heat
Wildfires
Drought
Flooding
Severe weather like thunderstorms, lightning, and heavy rain and winds can play a role in determining insurance premiums.
Auto Insurance Laws In Arkansas?
Before getting the title and registration for your car, you must show the Arkansas Office of Motor Vehicles (OMV) your proof of insurance. Getting caught without insurance can suspend your vehicle registration. You need to pay a fee to reinstate it.
What are the minimum car insurance requirements in Arkansas?
The minimum required coverage in Arkansas for auto insurance is:
Bodily injury liability of $25,000 per person and $50,000 per accident.
Property liability coverage of $25,000 per person.
Insurers can offer many other coverages. Depending on your driving history or what is necessary, you may elect to include other things like lost earnings, medical benefits, or accidental death benefits.
Am I required to carry uninsured motorist coverage in Arkansas?
Uninsured motorist coverage is not required in Arkansas since drivers can reject the coverage in writing. Insurance companies are required to offer at least $25,000 in uninsured bodily injury coverage per person.
Companies also have to offer $25,000 in uninsured motorist property damage. Uninsured motorist coverage helps to pay for an accident when the other driver doesn't have insurance or enough coverage to cover the damage caused.
Arkansas SR-22 and FR-44 policies
SR-22 or FR-44 policies in Arkansas mean the same thing. They are an endorsement of the policy holder's primary car insurance. The policy provides a certificate of financial responsibility to ensure minimum liability car insurance coverage. The main difference between the two policies is the liability limits, with the FR-44 usually more than the minimum.
Is Arkansas a no-fault state?
Arkansas is an "at fault" state, so the person responsible for the accident is also responsible for any damage. Whoever caused the accident is responsible to utilize their insurance liability coverage.
What happens if my vehicle isn't properly insured in Arkansas?
Suppose you own a car in Arkansas but do not meet the minimum requirements for insurance coverage. You end up putting yourself at risk for serious penalties. In this case, you risk hefty fines and possibly even jail time.
Does Arkansas accept digital insurance cards?
Arkansas residents can show proof of insurance on any handheld electronic device. The law applies to traffic stops as well as trips to the DMV.
How Much Does Car Insurance In Arkansas Cost?
Arkansas auto insurance rates average around $466 annually for minimum coverage and $1,914 for full coverage. Chart breakdowns below go over the average insurance costs by city, company, age, and more.
Average Cost of Car Insurance In Arkansas By City
The location of your vehicle matters when determining your insurance rate. Here are some of the average annual costs in Arkansas by city.
| | |
| --- | --- |
| City | Average Arkansas Car Insurance Cost |
| Fayetteville | $1,958 |
| Fort Smith | $1,969 |
| Jonesboro | $2,080 |
| Little Rock | $2,325 |
| Springdale | $1,939 |
Average Cost of Car Insurance In Arkansas By Company
Comparing quotes from more than one company can help you find varying rates with the same coverage. Here are the average annual premium costs in Arkansas by company.
| | |
| --- | --- |
| Car Insurance Company | Average Full-Coverage Premium (Annually) |
| Allstate | $3,415 |
| GEICO | $1,622 |
| Nationwide | $1,676 |
| Progressive | $2,244 |
| State Farm | $1,412 |
Average Cost of Car Insurance In Arkansas By Age
Your age also plays a role in determining your car insurance rate. Younger drivers are considered more at-risk because of less time on the road. Here are the average premiums in Arkansas by age.
| | |
| --- | --- |
| Age | Average Full-Coverage Premium (Annually) |
| Age 16 | $2,704 |
| Age 18 | $5,814 |
| Age 20 | $4,372 |
| Age 25 | $2,470 |
| Age 30 | $2,147 |
| Age 40 | $2,022 |
| Age 50 | $1,774 |
| Age 60 | $1,726 |
| Age 70 | $1,890 |
Average Cost of Car Insurance In Arkansas For Drivers With Bad Credit
Car insurance companies use your credit score to determine your reliability. Those with bad credit tend to have higher premiums. Here are the average costs for insurance for drivers with bad credit.
| | |
| --- | --- |
| Company | Average Premium (Annually) |
| Allstate | $3,444 |
| GEICO | $1,872 |
| Nationwide | $2,532 |
| Progressive | $3,192 |
| State Farm | $5,076 |
Average Cost of Car Insurance In Arkansas By Driving Record
Your driving history heavily influences insurance rates. Those with poor driving records have higher premiums than those without any tickets or points on their license. Below are average annual costs for residents in Arkansas by driving record.
| | | |
| --- | --- | --- |
| Driving Incident | Average Full-Coverage Premium (Annually) | % Increase In Average Full-Coverage Premium |
| Clean Driving Record | $1,914 | 2% |
| Speeding Ticket | $2,317 | 21% |
| Accident | $2,682 | 29% |
| DUI/DWI | $3,122 | 39% |
What Optional Arkansas Auto Insurance Coverages Should You Consider?
Optional car insurance coverages help to pay for damages unrelated to an auto collision. They include coverage for events such as fire, vandalism, theft, falling objects, animal damage, and more.
Some options coverages available in Arkansas to consider include:
Comprehensive coverage
Collision coverage
Uninsured/underinsured motorist coverage (property & bodily injury)
Personal injury protection (PIP)
What Auto Insurance Discounts To Look For In Arkansas
Another consideration when shopping for car insurance in Arkansas is discounted. Many insurers in Arkansas offer discounts, including customer loyalty, safe driver, good student, driver education, bundling, and safety features. Inquire directly with the insurance company to find out what discounts they can offer you.
How To Purchase Arkansas Car Insurance?
It's important to compare quotes when shopping for car insurance in Arkansas to find the best price. First, you should determine what car coverage you require, including the minimum liability. Then, inquire and submit forms online or by phone to receive multiple quotes.
Arkansas Car Insurance FAQs
Is car insurance high in Arkansas?
Auto insurance is more expensive in Arkansas due to more traffic fatalities than the average. There are a recorded 17 deaths per 100,000 people.
What's the average cost of auto insurance in Arkansas?
The average price is around $1,458 annually for full coverage, more than the US average by 2.1%.
What are the requirements for auto insurance in Arkansas?
The minimum liability by law in Arkansas is 25/50/25. It is $25,000 per person for bodily injury, $50,000 per accident, and $25,000 for property damage. Almost all insurers offer higher limits.
Is Arkansas a no-fault state?
No, Arkansas is an "at fault" state, so the person responsible for the accident is also responsible for any damage.
What's the penalty for not having car insurance in Arkansas?
Penalties for driving without car insurance in Arkansas vary. They include:
Fines
License plate removal
Registration suspension
License suspension
Car impoundment
Jail time
How to Get Car Insurance Rates for Arkansas
Many factors determine Arkansas car insurance premiums. The best way to find the most affordable option is to compare rates from multiple providers. You can get started today by getting quotes online.