UPDATED: JULY 06, 2023 | 3 MIN READ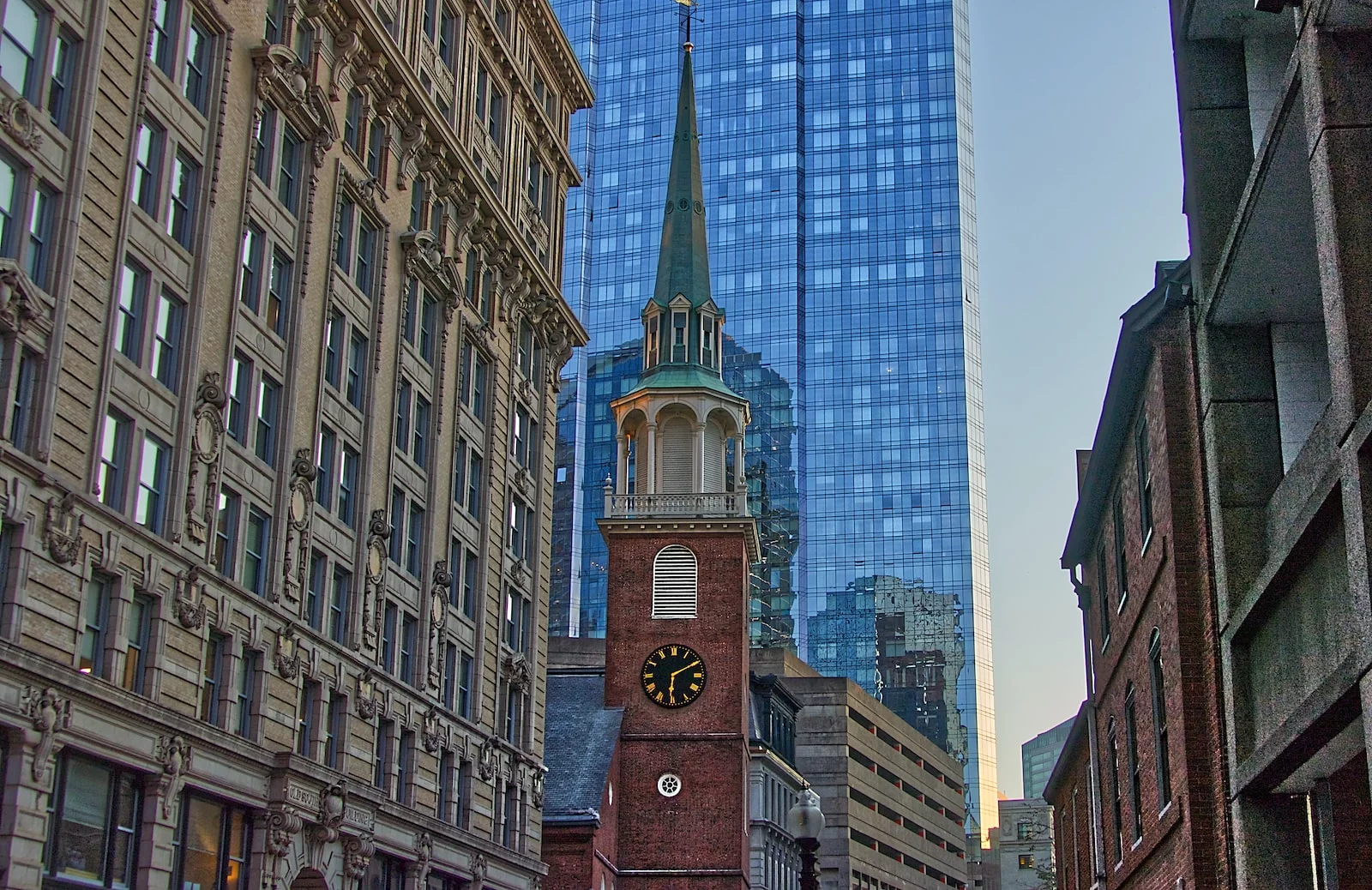 Everyone deserves a safe driving experience. But motorists need to follow Massachusetts car insurance laws to achieve this goal. Anyone who owns a motor vehicle in the Bay State can learn about those requirements by reading below.
Massachusetts car insurance minimum requirements
To put it simply, Massachusetts motorists will require three different types of coverage on their policy to drive legally:
Liability coverage (both bodily injury and property damage)
Uninsured motorist (bodily injury per person and accident)
Personal injury protection (PIP)
Purchasing anything less or not purchasing auto insurance at all will have severe legal and financial consequences for the offending driver.
Liability coverage in Massachusetts
The liability coverage minimum for Massachusetts has split three ways: 20/40/5. This is shorthand for the minimum coverage amounts of $20,000 bodily injury per person, $40,000 bodily injury per accident, and $5,000 property damage per accident. While settling for the state mandatory minimums is cheaper, it's not always the best idea (more on that below).
State-mandated auto insurance limits you should know
The other two types of required car insurance in Massachusetts are uninsured motorist (UM) bodily injury and PIP. UM coverage protects drivers financially from medical costs associated with a hit-and-run or an at-fault driver without insurance. PIP, on the other hand, pays medical claims for the policy owner regardless of fault.
Are Massachusetts minimum requirements providing enough coverage?
The biggest concern for motorists in Massachusetts is the low property damage liability limit. If a policyholder causes an accident and seriously damages or totals the other vehicle, $5,000 simply won't be enough. The same goes for the bodily injury liability limits. Any hospital stay beyond bumps and bruises will easily cost more than $20,000 per person.
It's smart to mandatory UM and PIP coverage, especially since Massachusetts is a no-fault state. This helps protect the policyholder from financial hardship while the courts and the insurance companies sort everything out. Again, the mandatory state minimums might not be enough to protect against an accident where serious injuries occur.
But it's easy to protect against insufficient coverage. Drivers can contact their insurance provider and ask to purchase higher limits. Getting a solid financial cushion of protection is easy for only a modest monthly premium increase.
Penalties for driving without proof of insurance in Massachusetts
Massachusetts has some steep penalties for drivers who get behind the wheel without insurance coverage. Whether it's the first time or multiple offenses, drivers will need to:
Pay a fine anywhere between $500 – $5,000
A fee equal to the most expensive market rate for 12 months of car insurance coverage
Optional: a maximum 60-day license suspension
Optional: Up to a year (365 days) in jail
In some states, there is a tiered system where penalties scale up based on the number of times a driver gets caught on the road without coverage. But the lack of a tiered system strongly signals that Massachusetts wants to crack down on repeat offenders.
Massachusetts optional car insurance coverage
In no-fault states like Massachusetts, sorting out who pays for what gets complicated if a driver only carries minimum mandatory coverage. Many motorists choose to purchase extra optional coverage to make sure they are protected no matter what:
Underinsured motorist bodily injury: if the at-fault driver doesn't have enough coverage to pay the injured party's medical bills. This coverage pays for any unpaid medical expenses up to coverage limits
Collision & comprehensive: although technically separate, these are often purchased together and pay property damage claims for the policyholder regardless of fault, and also covers threats like theft, acts of God, and vandalism
Limited collision: a slightly cheaper form of collision coverage offered in Massachusetts for damages if the policyholder is deemed < 50% at fault for the collision
Loan/lease payoff (AKA gap coverage): will pay off the balance due for drivers who are upside-down on the bank loan for a recently purchased vehicle
Medical payments: provides an extra source of funds for anyone injured in the policyholder's vehicle after an accident
Roadside assistance: a very cheap and useful form of optional coverage which helps drivers who suffer minor breakdowns (empty gas tank, flat tire, dead battery, or simply needing a tow)
Rental car reimbursement: provides compensation if the vehicle is incapacitated and the driver needs alternate transportation while it gets repaired/replaced
CARCO inspections in Massachusetts
Massachusetts requires CARCO inspections (and is one of only a handful of states to do so). The inspection is mandatory if a driver wants to purchase optional coverage, like collision or comprehensive. It's a simple 15-minute process that compiles a detailed report about the vehicle and its damage history for the insurance provider's records.
Do I have to pay for a CARCO inspection?
CARCO inspections are free. The insurance provider will cover the costs.
What paperwork is required?
Bringing additional paperwork is optional and done at the vehicle owner's discretion. All the owner needs to do is provide their insurance provider's info to the inspector.
Where do I go for a CARCO inspection?
Any motorist who requires a CARCO inspection should visit the CARCO Group website. There, they can browse the database and receive further instructions.
Which Massachusetts city has the highest costs for Auto Insurance?
The most expensive city for auto insurance in MA is Boston. You can expect to pay quite a bit more than in some other areas of the state.
Why it's important to follow Massachusetts car insurance laws and requirements
Failing to follow the law regarding Massachusetts car insurance will result in severe legal and financial consequences for the driver. This is true even if there's no car accident or serious injury. Motorists have to produce proof of insurance for all traffic stops and may face most or all of the penalties listed above simply for not having it.
It gets much worse for the uninsured driver if they cause an especially serious accident. Judges are likelier to assign more fault and harsher sentencing to the uninsured driver. Worse, the injured party can sue them in civil court and ruin them financially to get the damages owed. At the end of the day, it's not worth the potential risk.
How much does the minimum car insurance cost in Massachusetts?
Everything from a person's age, driving history, and even credit score will impact their monthly auto insurance premium. Drivers should compare rates from different companies if they want the best price.
The sample chart below has average rates for minimum auto insurance in the state. USAA ($33/month) is not on the list, but only because its policies are restricted to active duty US military and their family. For everyone else, it looks like State Farm, Plymouth Rock, and MetLife offer the best deal.
Cheapest minimum liability car insurance in Massachusetts
| Company | Monthly |
| --- | --- |
| State Farm | $27 |
| Plymouth Rock Insurance | $28 |
| MetLife | $33 |
| Safety Group | $34 |
| Amica Mutual | $38 |
Minimum car insurance requirement in Massachusetts when leasing a car
Most leasing companies will require a full coverage auto insurance policy with significantly higher liability coverage limits. Those limits are 50/100/50 in Massachusetts. Full coverage usually includes options like comprehensive and collision but may also require roadside assistance or loan/lease payoff coverage. Contact your leasing company for more details.
Car insurance cancellation laws in Massachusetts
Watch out, Massachusetts motorists: car insurance providers are allowed to drop customers if they are trying to reduce the number of policies on their books. According to the Massachusetts Consumer Bill of Rights, motorists will have anywhere from 15 to 45 days to find new coverage to avoid a lapse.
FAQs
Are there exceptions to Massachusetts' no-fault laws?
Yes, but only for parties who experience serious injuries. Anyone involved in the accident who accumulates over $2,000 in medical costs or a permanent injury (hearing loss, broken bones, or permanent disfigurement, for example) can sue the at-fault driver in a no-fault state.
Does Massachusetts require an SR-22?
Massachusetts does not require motorists to file an SR-22 certificate for in-state convictions. However, out-of-state DUI convictions will require this filing.
Do all household members need to be in car insurance in Massachusetts?
Anyone related to the policyholder by blood, marriage, or adoption who is a fully licensed driver and lives in the same household must be named on the policy. It's also a good idea to list any potential drivers (i.e., a roommate) as either a deferred operator or file an exclusionary form for them depending on how likely they are to borrow the vehicle. Failure to do so could get claims denied after an accident, regardless of who was driving.
Get coverage that meets Massachusetts car insurance requirements
Massachusetts auto insurance laws are a little more complicated than other states. And breaking these laws come with severe consequences. So the best way to save money on Massachusetts car insurance requirements is to let our experts help. We have the tools and resources that drivers are looking for.