UPDATED: NOVEMBER 02, 2022 | 1 MIN READ
Private insurance is for people who don't get coverage through work and don't qualify for Medicare or Medicaid. You enroll in a plan through Arizona's Health Insurance Marketplace. There are plans with a higher premium and lower out-of-pocket costs and vice versa.
Arizona Open Enrollment Dates for Health Insurance
Arizona health insurance open enrollment occurs annually between November 1 and January 15.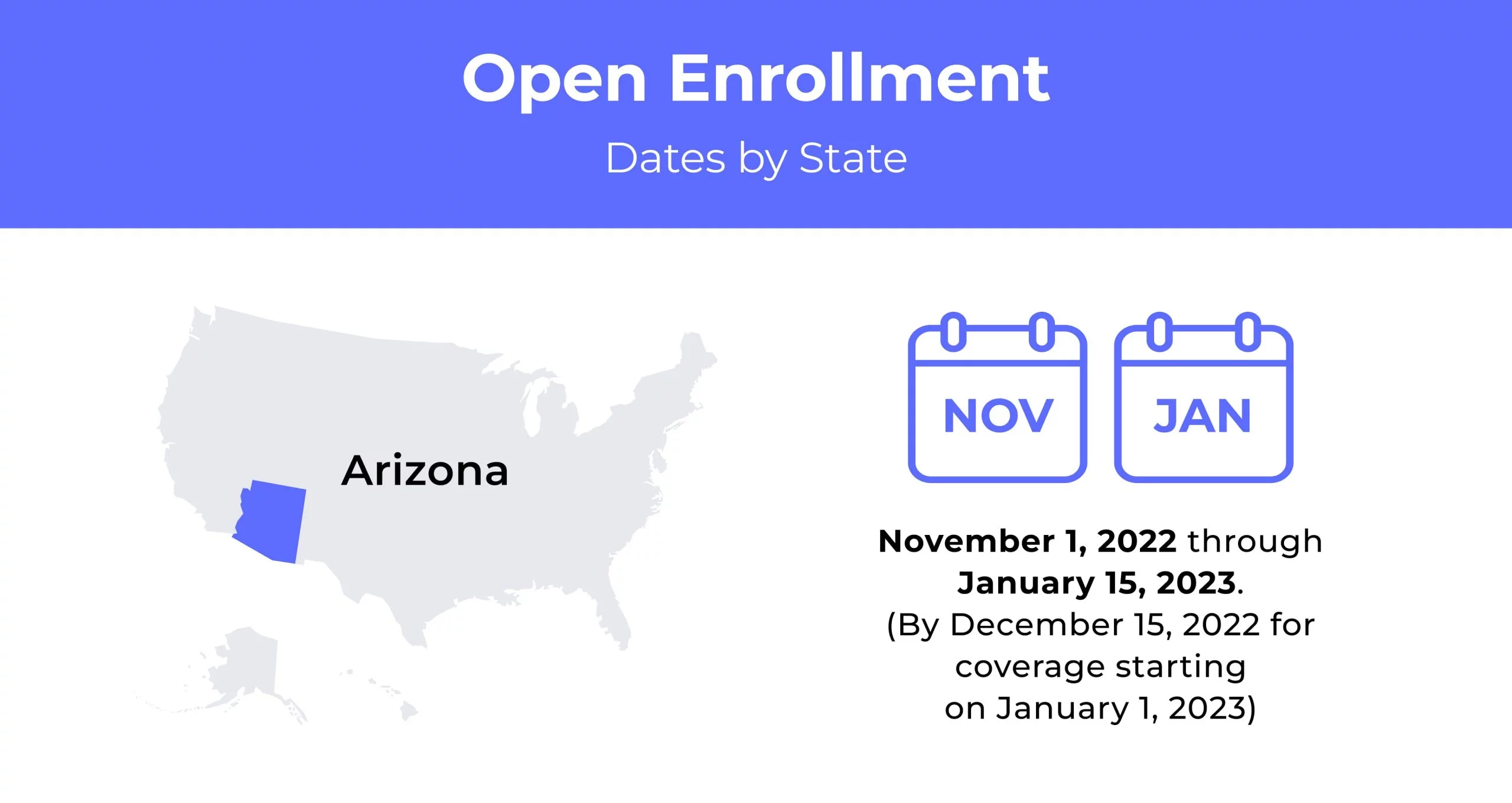 Arizona Health Insurance Demographics
When your insurer gives you a quote for Arizona health insurance, many things come into play. Where you live, your age and your education level play into insurance companies' demographics.
Average Household Income: The average household income in Arizona is $31,383.
Median Age Range: ​​The median age in Arizona is 37.9 years.
Education: Arizona's educational attainment rate is 38.9%, compared to the national average of 41.7.
What Type Of Marketplace Does Arizona Have?
Arizona uses the federally run Marketplace, which you enroll in through HealthCare.gov. There are now subsidies in every state, and they are no longer state-run. There are roughly 133,000 people in Arizona that have Marketplace subsidies.
How many people are insured through the Arizona health insurance Marketplace?
There are 143,964 residents enrolled in Marketplace coverage as of 2021. Due to the Affordable Care Act, 164,269 were newly eligible enrollees into Medicare coverage.
Did Arizona implement the ACA's Medicaid expansion?
Yes. Arizona is one of 28 states implementing the Medicaid expansion. Medicare eligibility is now available to all children up to 133% FPL, childless adults up to 100% FPL, and adults up to 133% FPL.
When can you purchase ACA health insurance in Arizona?
Open enrollment for 2023 coverage is from November 1, 2022, to January 15, 2023. Outside of open enrollment, you must have a qualifying event to enroll or make changes.
Types of ACA Plans In Arizona
​​Eight insurers are offering different types of plans in Arizona. There are two newcomers in the exchange: Banner/Athena CVS and Medica Community Health Plan.
What carriers offer ACA health insurance in Arizona?
These insurers offer individual health plans in the Arizona exchange of 2022. The plan's availability with vary from location to location. The following insurers are available:
Banner/Athena CVS Health
UnitedHealthcare
Cigna
Oscar
Bright Health
Medica Community Health Plan
Blue Cross Blue Shield of Arizona
Health Net of Arizona
How Much Does Health Insurance Cost In Arizona?
​​Arizona health insurance plans are in different categories of metals. The levels don't affect the quality of care you receive but determine how you and the provider divide the expenses. The options fall under Bronze and other metals.
Cheapest Health Insurance By Metal Tier In Arizona
Arizona has five coverage levels for individual and family insurance plans. Below are the costs for the cheapest individual health insurance plans by tier.
| Metal Tier | Monthly Premium | Deductible | Maximum Out-of-Pocket |
| --- | --- | --- | --- |
| Catastrophic | $235 | $8,700 | $8,700 |
| Bronze | $520 | $8,600 | $8,600 |
| Bronze Expanded | $250 | $8,700 | $8,700 |
| Silver | $305 | $4,000 | $8,700 |
| Gold | $450 | $1,000 | $8,700 |
Cheapest Health Insurance By County
Location affects your health insurance rates, though not by much. Below are the cheapest rates in the five largest Arizona counties.
| County Name | Individual, Age 40 | Couple, Age 40 | Couple, Age 40 & Child |
| --- | --- | --- | --- |
| Maricopa | $340 | $670 | $545 |
| Pima | $305 | $605 | $485 |
| Pinal | $385 | $770 | $615 |
| Yavapai | $615 | $1,230 | $985 |
| Yuma | $650 | $1,300 | $1,040 |
If you're a college student aging off of your parent's health insurance plan, read our article on student health insurance in Arizona.
Are Subsidies Available In Arizona?
There are 81% of Arizona enrollees receive subsidies, while 46% receive cost-sharing reductions. The average subsidy is $466, with a low monthly premium of $130.
Can You Purchase Off-Exchange Health Coverage In Arizona?
Yes. Purchasing health insurance in Arizona is possible outside of the Marketplace. Contact an agent to determine what plans are available to you and what the costs are.
Can You Purchase Short-Term Insurance In Arizona?
Short-term Arizona health insurance is an affordable solution when you need coverage short-term. It's easy to enroll, and you can apply for it anytime. Shorter plans are available for as little as three months or up to 364 days.
Health Coverage Options For Low-Income People In Arizona
There are many amazing options for low-income people—no need to stress about not having health insurance in Arizona for you or your family.
What Medicare Options Are Available In Arizona?
There are four plans in Arizona's Medicare Advantage program: PPO (preferred provider organization), HMO (health maintenance organization), SNP (special needs plan), and PFFS (private fee-for-service).
Medicaid In Arizona
Medicaid has excellent options available for low-income people and their families. Thousands of Arizonans receive care paid from Medicaid services.
Cheapest Health Insurance Plans In Arizona
Many excellent health insurance options in Arizona are cheap. Calling around to get quotes is the best way to find the best rates, but below are some great starting points.
Cheapest health plan in Arizona with low out-of-pocket maximums
If your medical expenses are higher than the average person's, you might want to consider plans with low out-of-pocket costs. You will reach your limit sooner if you have many expenses and your provider steps in sooner to cover costs. The most affordable health insurance in Arizona is Ambetter from Arizona Complete Health, with out-of-pocket maximums of $4,250.
Cheapest health plan in Arizona with high out-of-pocket maximums
If you don't require much medical care, a high out-of-pocket plan might be the best for you. It offers a low monthly premium of $197, and you only have to pay the out-of-pocket costs when needed. The maximums are $8,250, and the cheapest policy is Blue SimpleHealth – PimaFocus Network.
Cheapest health plan in Arizona with an HSA option
HSAs are Health Savings Accounts for people who don't visit the doctor frequently. It's a savings account for "just in case." The cheapest HSA is Blue Portfolio HSA Bronze by PimaFocus Network for $302.
These are connected to high-deductible health plans. You can only use the money in the account for qualified medical expenses, but you save in the long run because the money is tax-free.
Cheapest HMO/PPO/POS health plans in Arizona
HMOs are the most common type of health insurance in Arizona. They are more affordable than many other types. Arizona's cheapest HMO Silver plan is Blue AdvanceHealth Silver from PimaFocus Network, costing $330.
FAQs
Does AZ have free health insurance?
​​Medicaid is offered to low-income people. Depending on your income, you may qualify for low-cost or free coverage.
How much is health insurance in Arizona per month?
The average cost of health insurance in Arizona is $503.
Is health insurance expensive in Arizona?
A person pays, on average, $454 for Arizona health insurance.
Who qualifies for AHCCCS in AZ?
To qualify for AHCCCS, you must be under 65 years old, not be eligible for Medicare, be a U.S. citizen, and have income below a specific limit.
What is the income limit for AHCCCS in AZ?
In Arizona, your income has to fall under 18,754 to be eligible for AHCCCS.
How To Find Affordable Health Insurance In Arizona?
Buying affordable individual and family health insurance in Arizona is as simple as comparing rates. Use our online quote tool to compare multiple rates at once and find the best deal.