UPDATED: SEPTEMBER 05, 2023 | 1 MIN READ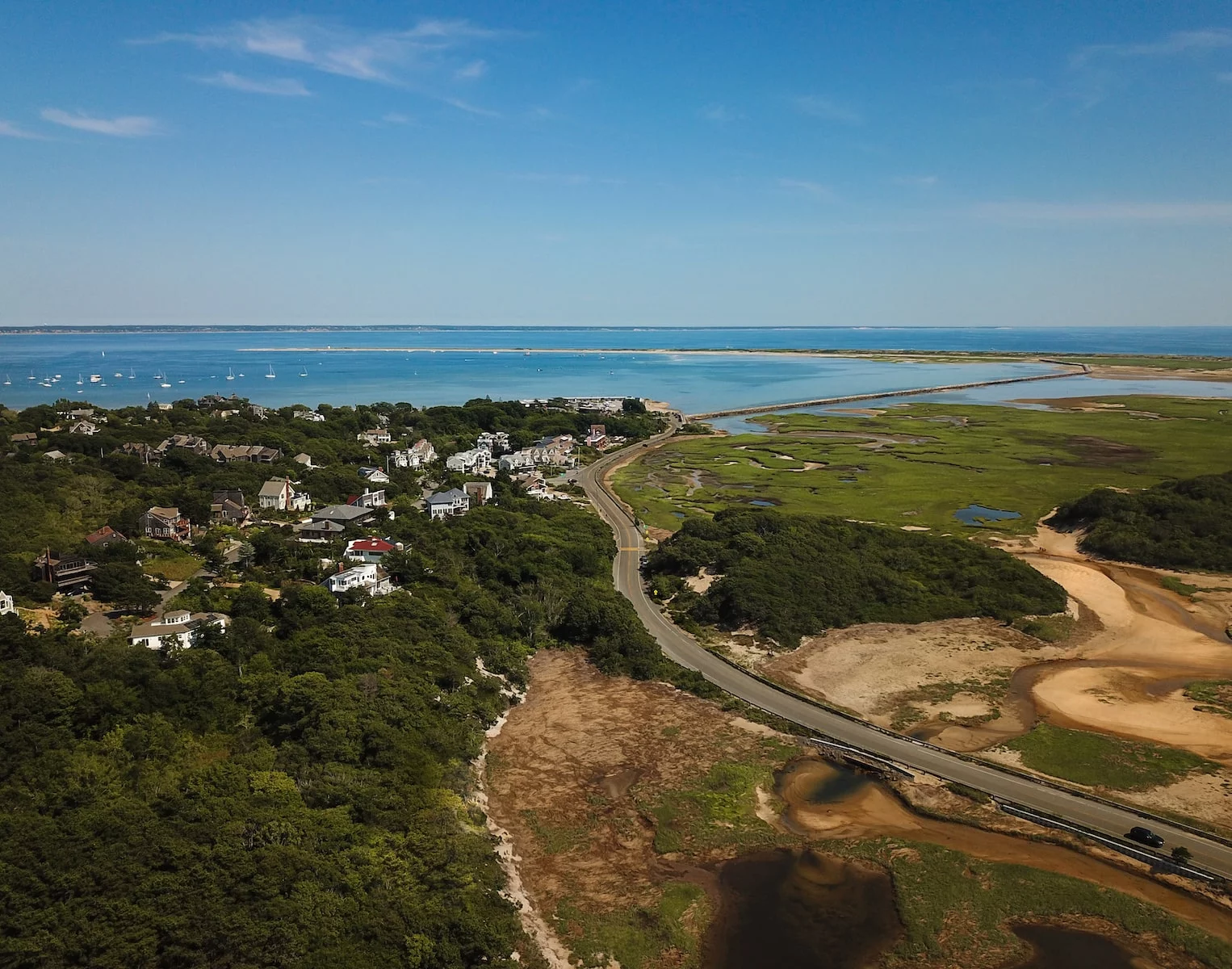 Health insurance in Massachusetts is mandatory for all residents. The state runs its Marketplace and uses a state-based exchange system. It's a competitive marketplace with eight insurers offering coverage. This brings advantages to residents who can choose from differently priced offerings.
In this article, we look at the Massachusetts health insurance Marketplace and walk you through the types of health insurance available, their costs, and the ACA options.
Massachusetts Open Enrollment Dates For Health Insurance
The Open Enrollment for Massachusetts health insurance runs annually from November 1st to January 23rd.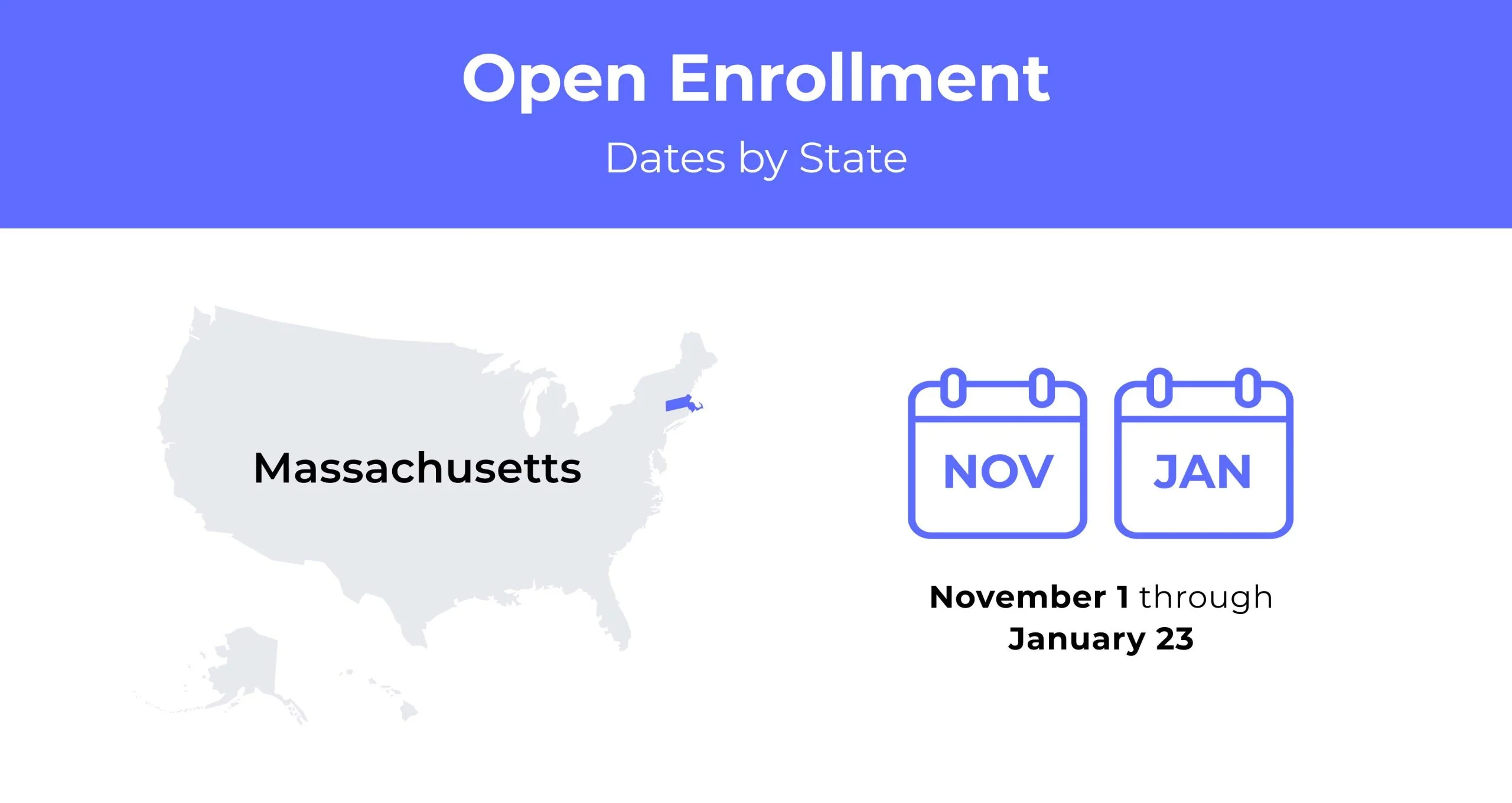 Massachusetts Health Insurance Demographics
After the Affordable Care Act was introduced in 2014, the level of uninsured people fell dramatically in Massachusetts. It's possible that the state's median age of 39.5, the oldest in the country, has had a knock-on effect on increased take-up rates.
Average Household Income: This comes in at $84,385, the median in 2020 to the Census.
Median Age Range: The median age range is 39.5 years old. This makes the median age in Massachusetts one of the oldest in the country.
Education: There's a strong third-level education in the state, with 1.25 million people over 25 having achieved a bachelor's degree. They stated that this was their highest level of education.
What Type Of Health Insurance Marketplace Does Massachusetts Have?
Massachusetts's own marketplace runs as a state-based health insurance exchange. It's an active exchange, meaning those seeking health coverage engage with the Health Connector, deciding what plans are available for purchase. There's a limit to the plans available as determined by the exchange. There are eight providers, making this one of the country's top health insurance states. In 2020, Massachusetts health insurance had the country's lowest-priced plans. The state also has several private providers residents can choose from.
How many people are insured through the Massachusetts marketplace?
In 2020, 293,075 residents got insured through the Massachusetts health insurance marketplace. This helps individuals seeking coverage along with families and small businesses. They can purchase a plan that suits their needs and is within their budget. The Health Connector makes it easy to compare the programs on offer from different companies.
The state is one of only two in the country that has merged the individual and small group markets, and any rate changes apply to both sectors. This covers 463,000 people in the state. As of May 2021, 1.7 million people are covered by Medicaid.
Did Massachusetts implement the ACA's Medicaid expansion?
Massachusetts is unique in that its exchange is considered by many as having laid the foundations for the ACA. The state introduced ACA's Medicaid expansion in 2014. This covers adults with low income.
Since the Medicaid expansion, the take-up of health insurance has increased by 37%. People in the state also have access to federal subsidies and help from ConnectorCare.
When can you purchase ACA insurance in Massachusetts?
Residents can submit their application for health insurance in Massachusetts under the Affordable Care Act between November 1 and December 15. This is the period when enrolment opens. If a resident is getting married, deciding to relocate, pregnant, or about to lose health coverage, a special enrolment period can be instigated for such special cases. The government of the state can also decide to open an enrollment period.
For those submitting their application, it's worth noting any tax subsidies which can reduce the monthly insurance cost.
Types of ACA Plans In Massachusetts
Massachusetts has two Affordable Care Act plans available to residents on a low-income level. They are ConnectorCare and MassHealth, a federal government initiative that combines Medicaid and the Children's Health Insurance Program (CHIP). Those covered under MassHealth may get visits to the doctor, prescription medicines, hospital stays, and other services under this plan. The insurance exchange offers four metal tiers for private insurance subscribers. These include bronze, silver, gold, and platinum.
What carriers offer ACA insurance in Massachusetts?
Massachusetts is a competitive marketplace with eight insurance providers offering plans. Most of the state is covered by the majority of these insurers. However, in most cases, it can range between four and seven. It's worth noting that some only provide insurance coverage outside the health insurance marketplace. The eight insurance carriers offering plans under the exchange are:
Harvard Pilgrim Health Care (HPHC)
UnitedHealthcare
Boston Medical Center/BMC HealthNet Plan (BMCHP)
Fallon Community Health Plan
Tufts (Tufts HMO and Tufts Health Public Plan)
Blue Cross Blue Shield of Massachusetts (BCBSMA)
Health New England (HNE)
AllWays Health Partners (formerly Neighborhood Health Plan)
How Much Does Health Insurance Cost In Massachusetts?
Those living in the state can pay an average of $564 per person per month for a comprehensive individual plan. Prices have seen increases since 2020. Heallth insurance costs increased by 8% in 2021 and by 7% in 2022. Prices can vary with each insurer and decrease if the person is in good health.
Cheapest Health Insurance By Metal Tier In Massachusetts
The state offers four health insurance plans, making it easy to find an option that fits your budget. Below are the cheapest individual plan options for each tier.
| | | | |
| --- | --- | --- | --- |
| Metal Tier | Monthly Premium | Deductible | Maximum Out-of-Pocket |
| Bronze | $300 | $3,200 | $7,050 |
| Silver | $370 | $2,000 | $8,700 |
| Gold | $435 | $2,250 | $5,800 |
| Platinum | $570 | $0 | $3,000 |
Cheapest Silver Health Insurance By County
The table below shows the cheapest individual and family plans in Massachusetts's five largest counties. The price differs slightly between locations.
| | | | | |
| --- | --- | --- | --- | --- |
| County Name | Company | Cheapest Plan | Individual, Age 40 | Couple, Age 40 |
| Essex | BMC HealthNet | Plan Silver A II | $370 | $740 |
| Middlesex | BMC HealthNet | Plan Silver A II | $425 | $825 |
| Norfolk | BMC HealthNet | Plan Silver A II | $375 | $750 |
| Suffolk | BMC HealthNet | Plan Silver A II | $375 | $750 |
| Worchester | BMC HealthNet | Plan Silver A II | $385 | $775 |
Are Subsidies Available In Massachusetts?
Help is available to those needing subsidies to pay for their health insurance. If a household has an income of 300% of the Federal Poverty Level or lower than this, they can avail themselves of the ConnectorCare Plan. Depending on where in the state they live, they can choose from up to four plan types. Doctors and hospitals are covered under the plans.
Tax credits are available to homes with a Federal Poverty Level of 400% or lower. These credits get applied monthly to the health insurance charge. The calculation is based on what requirements you have, and what you need to obtain so you can benefit from an optimal level of coverage. Tax credits can be applied to any Health Connector Plan.
Can You Purchase Off-Exchange Insurance Coverage In Massachusetts?
This is a plan that is bought directly from the insurance agency or through a broker. It's outside the state's marketplace. In some cases, it's possible to purchase individual health insurance outside the marketplace under what is termed a special enrollment period.
These plans are also compliant with ACA standards. While there are different types of plans, most cover essential care and won't turn you away if you have a previous condition. Often, the policies offered inside and outside the marketplace can be similar.
Can You Purchase Short-Term Insurance In Massachusetts?
Massachusetts offers shorter-term health insurance coverage. This can cover anytime from one month to one year. People often avail themselves of these when they are between jobs or have aged out of their parent's plan. This type of insurance doesn't cover any pre-existing medical conditions. These conditions have been treated within the past three to five years.
Purchasing short-term health coverage makes you ineligible for any plans under HIPAA. These plans are usually for people with pre-existing conditions who may have trouble getting health insurance. To maintain eligibility for HIPAA, a person with a pre-existing condition should avoid purchasing short-term insurance. Discussing with a health or benefits advisor can help in cases like this.
Health Coverage Options For Low-Income People In Massachusetts
Massachusetts offers two plans for people with a low income, ConnectorCare, and MassHealth. ConnectorCare provides insurance for low and middle-income state residents. MassHealth is a program offered by the federal government and the state to help low-income families and their children.
In 2013, Massachusetts decided to expand its Medicaid under ACA. This policy takes into account the family income, and it pays a part or all of the amount of the premium. There's a year-round enrollment for ConnectorCare. ACA covers plans under this option, and tax credits are also available. Massachusetts also subsidizes them, so there's a reduction in any out-of-pocket expenses people may be expected to pay.
What Medicare Options Are Available In Massachusetts?
The Massachusetts Health Insurance sector offers several Medicare options. Original Medicare is the basic plan. This includes Part A, which covers all hospital care, including inpatient care, a limited amount of home health, and care in a hospice. Part B of Original Medicare provides coverage for doctor's appointments, ambulance calls, tests, and bloodwork.
People also have access to optional coverage options, including Medicare Advantage, Medigap, and Medicare Part D. Part D covers both name-brand and generic prescription drugs.
Medicaid In Massachusetts
Medicaid is available through MassHealth. These cater to people with low and medium incomes living in the state. It provides full payment or partial payment for all your health insurance needs.
The plan varies depending on whether you're a parent or expecting a child. Other things that influence it include whether you have a disability, your age, if you work for a small company, or have breast or cervical cancer. When you apply, MassHealth will determine what you qualify for and match you to the best plan they can offer for your needs.
Cheapest Health Insurance Plans In Massachusetts
Here we will look at the cheapest health insurance plans in the state both by metal tier and county. The bronze tier is the most affordable plan in the state, with a $300-a-month premium.
BMC HealthNet offers a Plan Silver A II in Essex with a monthly payment of $370 for an individual aged 40. The monthly premium for a couple living in Essex aged 40 is $740.
Cheapest health plan in Massachusetts with low out-of-pocket maximums
The cheapest plan for health insurance in Massachusetts is the Platinum plan. This has required a monthly payment of $570 and a low maximum out-of-pocket expense of $3,000.
Cheapest health plan in Massachusetts with high out-of-pocket maximums
The silver plan offered in the state's health insurance marketplace has a monthly charge of $370. It has a high out-of-pocket maximum, the highest of all the metal tiers, of $8,700.
Cheapest health plan in Massachusetts with an HSA option
Health insurance coverage with an HSA option is only available on the Bronze tier. The Standard High Bronze HSA plan offered by BMC HealthNet Plan offers the most affordable coverage. The monthly charge for this plan is $272.
Cheapest HMO/PPO/POS health plans in Massachusetts
An HMO is a good option to consider when looking for the cheapest type of health insurance coverage. Along with offering a low monthly premium payment option, it has fixed copays and deductibles. The cheapest HMO health insurance in Massachusetts is the BMC HealthNet Plan Silver A II offered by BMC HealthNet Plan. It costs approximately $367 monthly.
FAQs
What's the average cost of health insurance in Massachusetts?
Health insurance in Massachusetts varies depending on your needs and existing medical conditions. Massachusetts residents can expect to pay an average of $564 per person per month for a comprehensive individual plan. The state has seen increases in premiums over the past two years.
What is the maximum income to qualify for MassHealth?
For one person in a household, the maximum is $18,075. It gradually goes up when more people are included. For example, the maximum is $24,353 for two people in a household. For three people, the maximum is $30,630.
Can I get health insurance now in Massachusetts?
Yes. Residents can apply for MassHealth at any time. You don't need a waiver for open enrollment to apply.
Who qualifies for MassHealth?
To qualify, you must be a resident of the state of Massachusetts. You are deemed a resident if you live in the state or intend to take up a job and live in the state. If you're from a different country, your citizenship status must be provided, or your immigration status needs to be provided and verified.
Can I get MassHealth if I make too much money?
A person's eligibility for MassHealth gets decided on by looking at various details. These include income, the number of people in the household, any assets held, and residency.
Different income levels depend on the number of people in the household.
How To Buy Massachusetts Health Insurance
Before getting quotes for Massachusetts health insurance, you should know what type of plan you need. Once you have a basic idea, use our online health insurance quoting tool to get and compare several quotes.