UPDATED: SEPTEMBER 05, 2023 | 1 MIN READ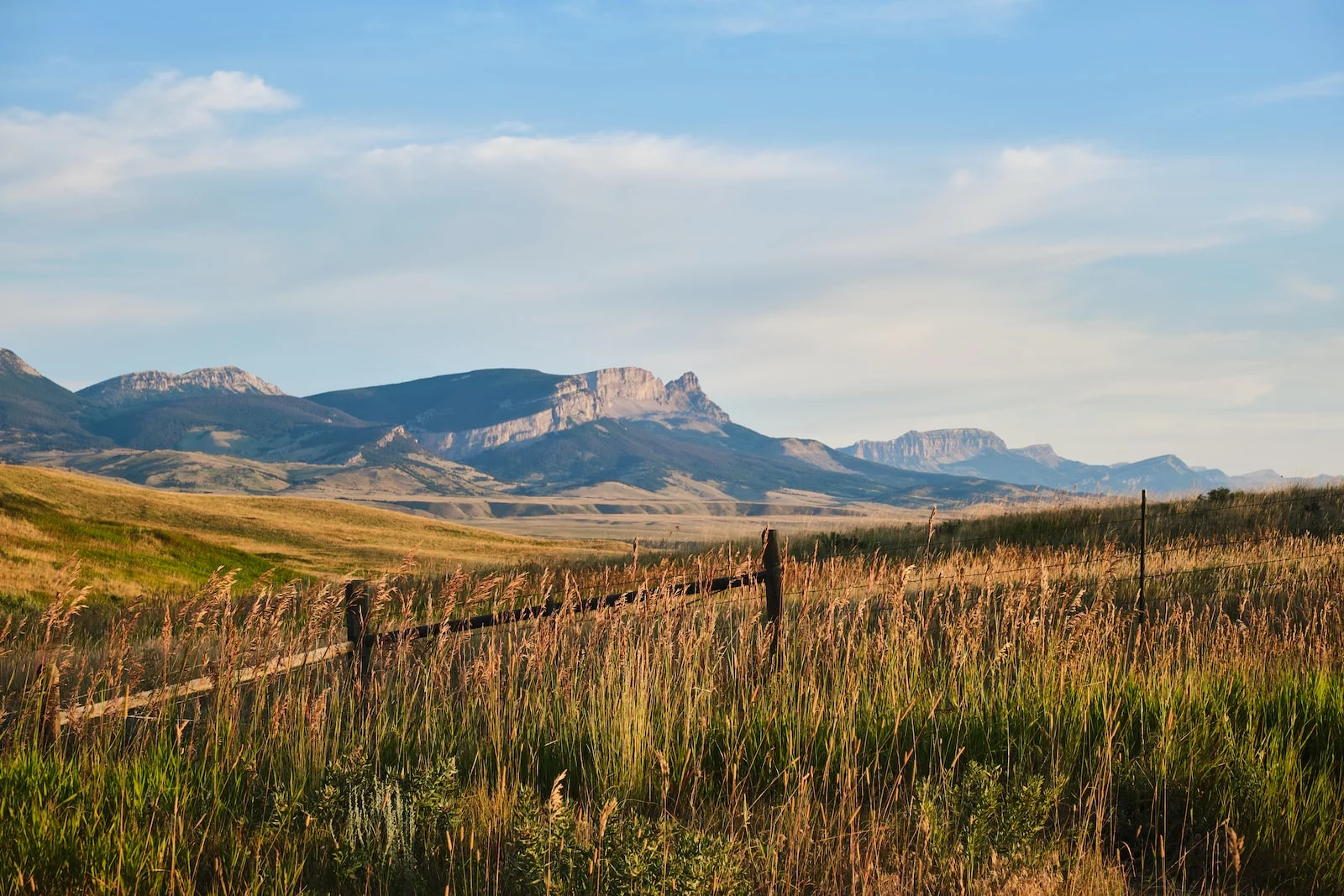 In today's world, it is essential to have health insurance. This article will discuss the importance of having health insurance, the different types of coverage available, and how to find the best plan for your needs in Montana.
Montana Open Enrollment Dates For Health Insurance
In Montana, the Open Enrollment period for health insurance starts on November 1st each year and runs through January 15th.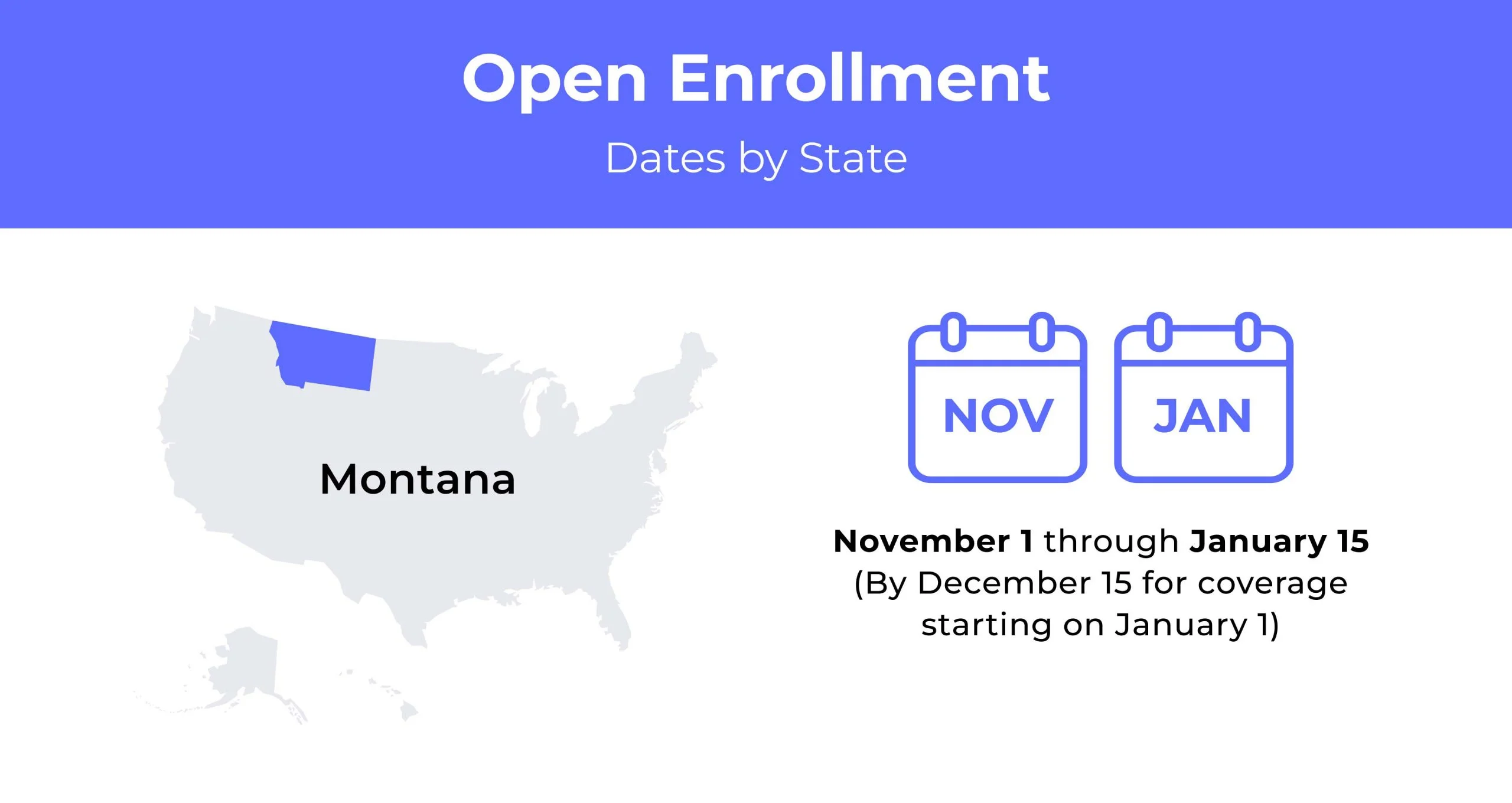 Montana Health Insurance Demographics
The insurance rates in the state are affected by several factors. One of them is the demographics. An individual's risk level depends on age, health status, gender, occupation, and more. These factors are then used to determine the risk level of an area or a community. This helps to set up rates for insurance policies in that particular region.
Average Household Income: The median household income in Montana is $56,539. This is less than the United States' median household income of $64,994.
Median Age Range: The median age of Montana residents is 39.8.
Education: 94% of Montana residents have graduated high school, with 33.1% having college degrees. The state currently has about 4.7% of residents working through college.
What Type Of Marketplace Does Montana Have?
In Montana, the federal government runs the health insurance exchange with three insurers offering plans in the marketplace.
On December 27, 2011, Montana's legislature passed a bill prohibiting the creation of a state-run exchange.
How many people are insured through the Montana health insurance marketplace?
During the 2021 open exchange period, 44,711 people were enrolled in individual/family plans through Montana's health insurance exchange.
Did Montana implement the ACA's Medicaid expansion?
In January 2016, Montana expanded Medicaid coverage to low-income adults age 19 and older with incomes less than 138% of the federal poverty line. By September 2022, about 115,000 Montanans had been enrolled in Medicaid.
When can you purchase ACA insurance in Montana?
The Open Enrollment Period is when you can enroll in a private health insurance plan or renew or make changes to a current plan. This time window varies from state to state, with some being more lenient than others.
In Montana in 2022, this is between November 1st and January 15th.
But it could be difficult for those who don't sign up during this time to find affordable coverage.
However, there are some circumstances in which you can buy insurance outside of this period. They are called 'qualifying life events' and include:
Marriage
Divorce
Birth
Adoption
Loss of employer-provided coverage
Types of ACA Plans In Montana
There are many health insurance plans available in Montana. These plans are categorized as individual and family. The individual plan is designed for one person, while the family plan is designed for a group of people.
Different factors determine the price of these plans. One of them is the health status of an individual or a family member, which determines how much coverage they need and how much they will pay for it monthly.
What carriers offer ACA insurance in Montana?
Three insurance providers are offering ACA health insurance coverage in Montana. These three companies are:
Blue Cross Blue Shield of Montana
Montana Health CO-OP
PacificSource
How Much Does Health Insurance Cost In Montana?
The average cost of health insurance for an adult couple, age 40, on a silver plan is $957. If you were to add a child to this plan, the monthly premium would increase by $287.
Cheapest Health Insurance By Metal Tier In Montana
Montana has five levels of health insurance available, which is more than many states. This table lists the cheapest individual health insurance plans for each tier.
| Metal Tier | Cheapest Plan | Monthly Premium | Deductible | Maximum Out-of-Pocket |
| --- | --- | --- | --- | --- |
| Catastrophic | Connect IND Catastrophic MT | $265 | $8,700 | $8,700 |
| Bronze | Blue Preferred Bronze | $375 | $8,700 | $8,700 |
| Bronze Expanded | Blue Focus Bronze | $265 | $4,900 | $8,700 |
| Silver | Blue Focus Silver | $360 | $4,500 | $8,700 |
| Gold | Blue Focus Gold | $395 | $300 | $8,700 |
Cheapest Health Insurance By County
Health insurance prices typically vary by location. However, in Montana, the cost for individual and family health insurance is the same across the five biggest counties.
| County Name | Cheapest Plan | Individual, Age 40 | Couple, Age 40 | Couple, Age 40 & Child |
| --- | --- | --- | --- | --- |
| Cascade | Plus IND Silver MT | $435 | $870 | $1,135 |
| Flathead | Plus IND Silver MT | $435 | $870 | $1,135 |
| Gallatin | Plus IND Silver MT | $435 | $870 | $1,135 |
| Missoula | Blue Focus Silver | $415 | $825 | $1,075 |
| Yellowstone | Blue Focus Silver | $360 | $715 | $930 |
Are Subsidies Available In Montana?
If your income is between 100 and 400% of the federal poverty level, subsidies are available in the state of Montana. 85% of Montanans with health insurance through the marketplace received premium tax credits at an average of $570 per month.
Can You Purchase Off-Exchange Insurance Coverage In Montana?
The Montana legislature passed a bill in 2017 that allows individuals to buy health insurance off the exchange for the first time. However, some plans will be more expensive than on-exchange plans due to their added benefits. Unfortunately, some of these benefits may not be easily accessible through the public exchange.
Can You Purchase Short-Term \Insurance In Montana?
Montana federal regulations allow consumers to buy short-term health insurance for an initial term of up to 364 days with the option to renew it for a total coverage period of up to a 36-month period. Currently, insurance providers in Montana who offer short-term health insurance only have an initial term of six months.
Health Coverage Options For Low-Income People In Montana
In Montana, there are several types of plans and programs to assist low-income people in paying for health insurance. These programs are Healthy Montana Kids Plus, Medicaid, HELP Medicaid Plan, Montana Children's Health Insurance Program, and Medicare.
What Medicare Options Are Available In Montana?
Medicare is available upon turning 65; however, those under 65 qualify for Medicare if they have a disability or chronic illness.
The federal government provides Medicare Part A and Part B. However, you have the option of purchasing additional coverage. In Montana, Medigap, Medicare Advantage, and Part D, which covers prescription drugs, are available.
Medicaid In Montana
The requirements vary depending on the situation; however, families below 143% of the federal poverty level will be eligible for Medicaid.
HELP Medicaid Plan expands Medicaid to cover families with children from 50% to 138% of the federal poverty level and those without children from 0% to 138% of the national poverty level.
Cheapest Health Insurance Plans In Montana
Cheapest health insurance plans in Montana are usually the plans that have the lowest monthly premiums. These are mostly offered through the state-based health insurance marketplace and private health insurance carriers.
However, it's important to remember that plans with high premiums may have lower out-of-pocket maximums, saving you money overall.
Cheapest health plan in Montana with low out-of-pocket maximums
Navigator Gold HSA 3000 plan that PacificSource Health Plans offer
Cheapest health plan in Montana with high out-of-pocket maximums
Expanded Bronze Blue Focus Bronze POS 205 offered by Blue Cross and Blue Shield of Montana
Cheapest health plan in Montana with an HSA option
Several affordable health insurance plans with an HSA are available in the state. Below are the cheapest options for each tier.
Expanded Bronze: Mountain Health CO-OP offers Connected Care Bronze Plus plan, which costs $352 monthly.
Silver: Navigator Silver HSA 5500 plan provided by PacificSource Health Plans at $369 monthly.
Gold: Navigator Gold HSA 3000 plan offered by PacificSource Health Plans, which costs $436 monthly
Cheapest HMO/PPO/POS health plans in Montana
In Montana, residents can choose between Health Maintenance Organization (HMO) plans and Preferred Provider Organization (PPO) plans. In the Montana marketplace, most plans are HMO plans.
The cheapest HMO plan is the Blue Focus Silver POS 206 from Blue Cross and Blue Shield of Montana.
The cheapest PPO plan is the Navigator Silver HSA 5500 provided by PacificSource Health Plans.
FAQs
Does Montana have affordable healthcare?
The Affordable Care Act (ACA) also provides subsidies to low-income people who purchase insurance through the marketplace. These subsidies are available in all states, including Montana. They help people with low incomes pay for their monthly premiums, out-of-pocket costs like deductibles and co-payments for health care services, and cost-sharing for emergency care, hospitalization, and prescription drugs.
Is there free healthcare in Montana?
Some programs in Montana can provide cheap or free healthcare to its residents.
Is health insurance required in Montana?
The ACA, also known as Obamacare, is the federal law that established minimum health care standards that all Americans must comply with. This also applies to Montana, meaning that, yes, health insurance is required in the state.
Does Montana have its own healthcare marketplace?
Montana uses the federally run health insurance exchange to provide health insurance to residents.
How much does Obamacare cost in Montana?
The cost varies depending on age and income but ranges from $328 to $482 per person.
How To Find Montana Health Insurance
To buy affordable Montana health insurance, you can compare various providers to find the best deal. Get several quotes using our online tool to make sure you're getting the best deal.