UPDATED: JUNE 01, 2023 | 3 MIN READ
Your homeowners insurance in Oregon can amount to high costs over the long run. In Oregon, the average homeowners insurance policy costs around $1,200, 110% of the national average. Choosing the best policy will minimize costs while providing you with the necessary coverage.
This guide takes an in-depth look at the best Oregon home insurance companies according to value, customer service, and bundling.
Best Oregon Home Insurance Companies
Oregon is among the most expensive states to live in, with costs about 31.5% higher than the national average. Even though insurance costs in this state are relatively high, they are not as high as those in disaster-prone states, such as Kansas and Florida.
Leading home insurance companies generally offer competitive rates, including Mutual of Enumclaw, State Farm, Allstate, Farmers, and Travelers.
Overall Best Oregon Home Insurance Company
Allstate offers the best home insurance policies for Oregon homeowners. While these policies have a relatively high homeowner's insurance premium, they provide an extensive range of coverage options.
Allstate also offers various discounts to reduce premiums. New homeowners or enrollees who pay on time can take advantage of benefits and save on insurance costs.
Best Value Oregon Home Insurance Company
Consider Travelers if you want an insurance policy with the lowest premium. This company offers the lowest average premium while providing extensive coverage options. Take advantage of the insurer's premium discounts by installing protective devices or getting a LEED certification for your home.
Oregon Homeowners Insurance Company with the Best Customer Service
In Oregon, State Farm is one of the insurers offering the best customer service. This insurance company is one of the largest in the United States by market share and prioritizes customer experience. When taking out one of State Farm's policies, you will receive a free safety device for monitoring your home's electric system, preventing fire outbreaks.
Oregon Home Insurance Company Best for Bundling
A policy from Farmers costs, on average, $1,633 per year, which is more expensive than the state average. However, you can also access discounts for on-time payments, new property purchases, and protective device installations. Bundling a home and auto insurance policy is also a great way to lower your premium while maximizing your coverage.
Oregon Homeowner's Insurance Company with the Best Coverage Options
Mutual of Enumclaw is a leading insurance company serving Oregon homeowners. The policies from Enumclaw are affordable and provide you with various coverage options. For example, with an Enumclaw policy upgrade, you can get coverage for equipment defects, wildfire damage, and cyber attacks.
Local and Regional Home Insurance Carriers
Oregon Mutual
Oregon Mutual's 125-year-old mission to preserve your home's safety and security continues with its thorough coverages. No matter your housing situation, Oregon Mutual offers coverages for covered perils such as fire, wind, or vandalism.
Coverages include liability, dwelling, loss of use, mortgage protection, inland flood, and debris removal, plus others that meet policyholders' needs. As a credit union member and current auto policyholder, you may save thanks to Oregon Mutual's discounts.
Capital Insurance
A regional carrier for Oregon residents, Capital Insurance Group has service within your community. The agency personalizes its home insurance coverages and helps improve your premium with significant discounts when available.
Coverages include dwelling, liability, personal property, and other losses. If you're a sports enthusiast, Capital Insurance offers coverage for your sports and home equipment, plus insures high-value items such as art and antiques.
The discounts from Capital Insurance include a new homebuyer discount and savings for automatic shut-off products.
Oregon Insurance Demographics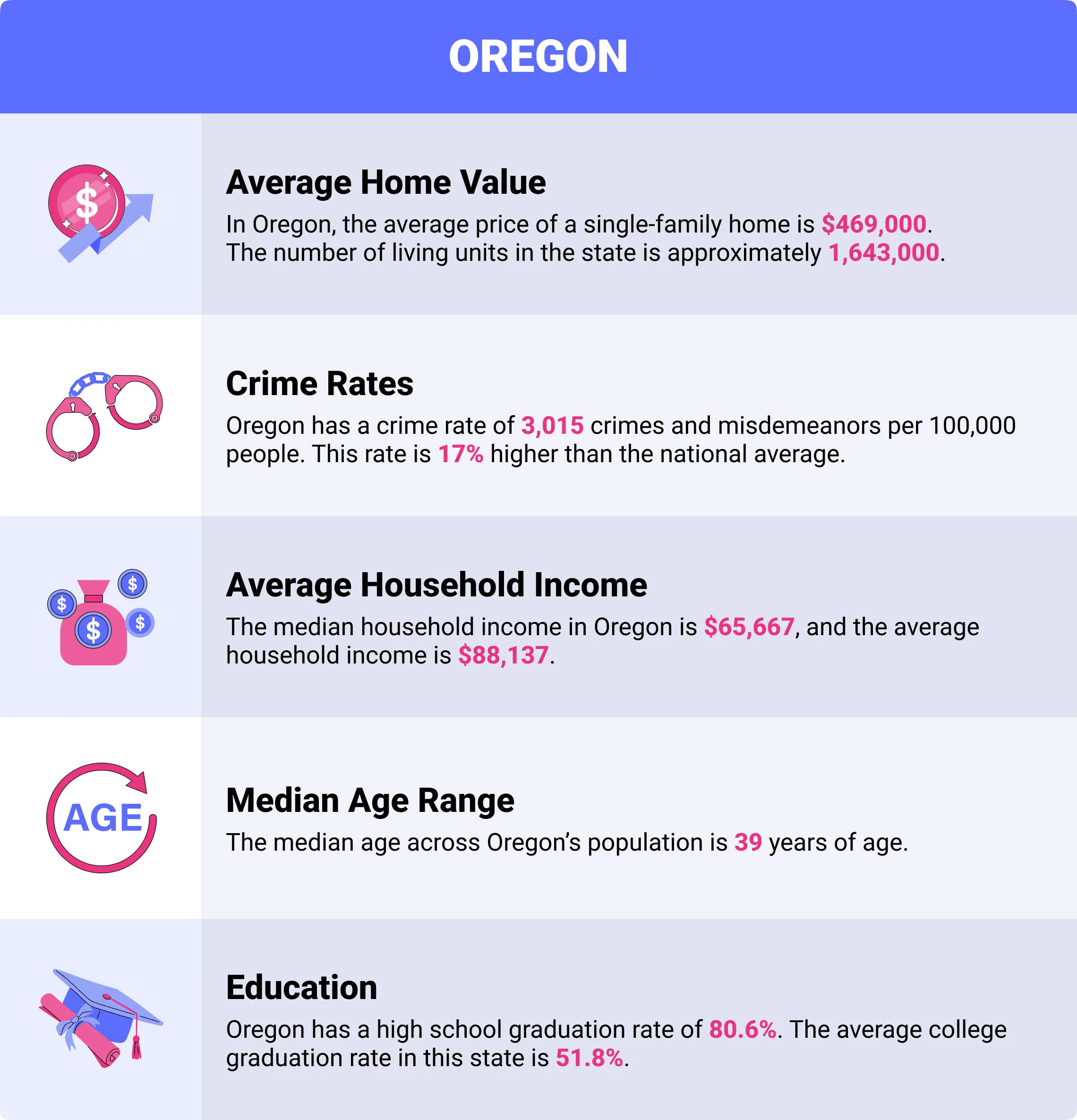 Home insurance costs depend on various factors, with your location being the most significant. For example, insurance premiums are higher in areas with high crime rates. This section looks at some of the demographics affecting insurance rates.
Average Home Value: In Oregon, the average price of a single-family home is $469,000. The number of living units in the state is approximately 1,643,000.
Crime Rates: Oregon has a crime rate of 3,015 crimes and misdemeanors per 100,000 people. This rate is 17% higher than the national average.
Average Household Income: The median household income in Oregon is $65,667, and the average household income is $88,137.
Median Age Range: The median age across Oregon's population is 39 years of age.
Education: Oregon has a high school graduation rate of 80.6%. The average college graduation rate in this state is 51.8%.
Is Oregon Home Insurance Required?
Under Oregon state law, home insurance is not a requirement. However, if you have a mortgage, the lender might require that you carry homeowners insurance. If you paid your mortgage, consider taking out a home insurance policy to minimize your financial risks.
What Does Homeowner's Insurance in Oregon Cover?
With most house insurance policies in Oregon, dwelling, liability, and personal property coverage are standard. Before taking out an insurance policy, ensure you have all the coverage you need, especially if you live in a high-risk area. Most standard policies don't offer earthquake or flood insurance.
Common Home Risk Factors in Oregon
Location-specific risks for home damage in Oregon include flooding and earthquakes. Because of these factors, you need a personalized home insurance policy providing you with the coverage you need.
What Type of Homeowner's Insurance Coverages Are Recommended in Oregon?
Various home insurance coverage options are available in Oregon, and your standard policy might cover damage from fire outbreaks and flood damage. However, consider extending your coverage with add-on options so you don't suffer losses during a disaster.
Earthquake Coverage
The Cascadia Subdivision Zone can potentially cause a nine-magnitude earthquake in Oregon. Earthquakes can result in landslides that can cause large-scale property destruction. Taking out earthquake coverage protects you against these disasters.
Flood Coverage
Flooding is common in Oregon from October to April. The combination of inclement weather and melting snow aggravates flooding, causing extensive damage to residential properties. If your standard policy doesn't include flood coverage, you need it as an additional benefit.
Debris Removal Coverage
An earthquake, inclement weather, or fire can cause debris buildup on your property. In most cases, flooding or fire coverage doesn't cover the debris removal costs. Consider adding this coverage to your policy.
How Much Does Home Insurance in Oregon Cost?
Oregon home insurance rates are relatively high in areas susceptible to fires, flooding, and other disasters. The areas with the highest insurance costs include La Grande, Ontario, and Pendleton. Locations with the lowest insurance rates include Hillsboro and Aloha.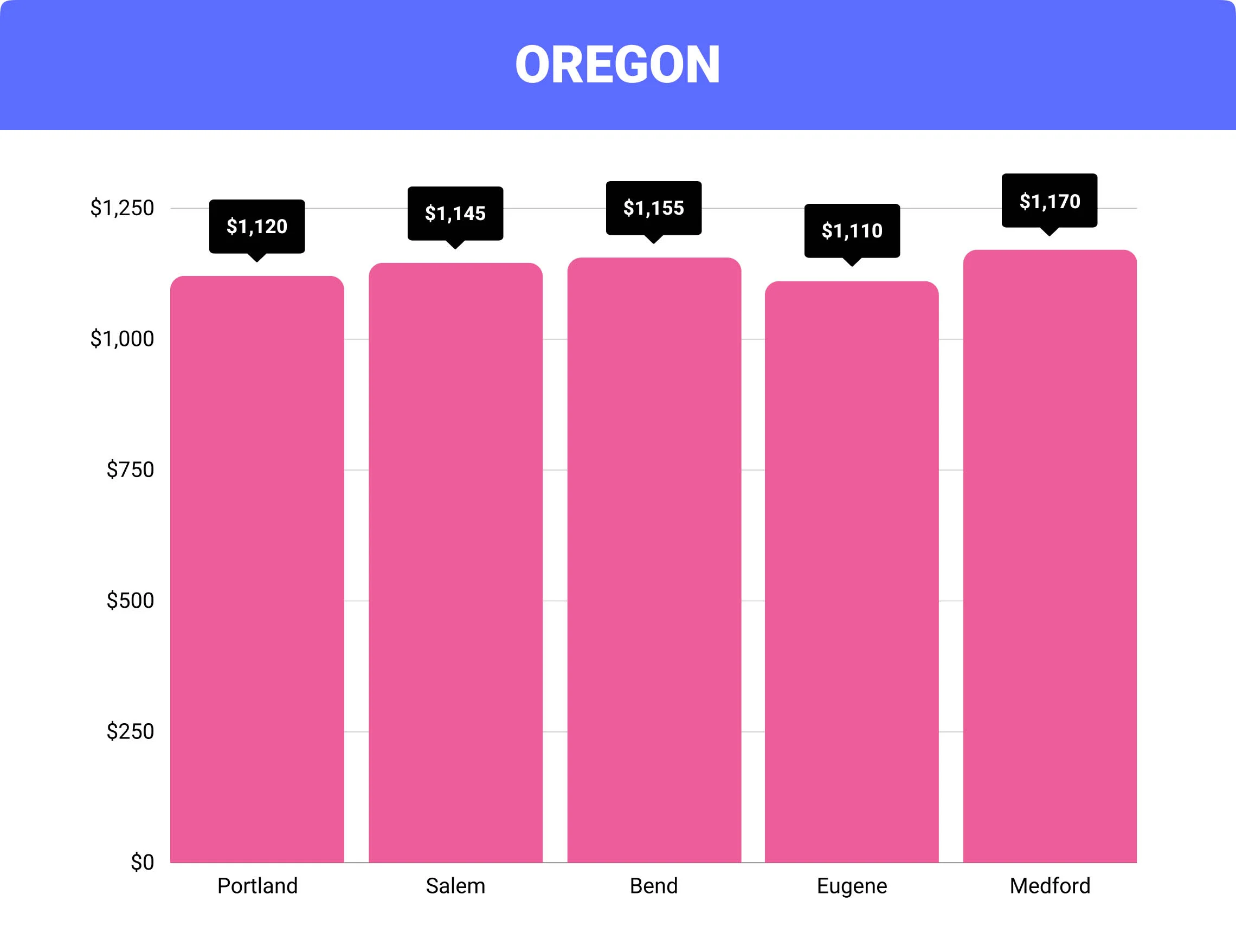 Cost of Home Insurance in Oregon by City
| | | |
| --- | --- | --- |
| City | Average Oregon Homeowner's Insurance Costs | Difference From Oregon Average |
| Portland | $1,120 | -7% |
| Salem | $1,145 | -5% |
| Bend | $1,155 | -4% |
| Eugene | $1,110 | -8% |
| Medford | $1,170 | -3% |
FAQs
How much does home insurance cost in Oregon?
In Oregon, the average yearly insurance cost is around $1,200. However, the rates are below average in some locations, including larger cities.
How much is house insurance in Oregon a month?
You can expect to pay an insurance premium of around $100 per month. Your monthly premium depends on your insurance policy and the add-on coverages you maintain.
How much is condo insurance in Portland, Oregon?
Condominium insurance costs $561, though this number varies between locations. Condominium insurance rates cost less than the coverage options for free-standing dwellings.
How much is flood insurance in Salem, Oregon?
Oklahoma home insurance policies that include flood insurance cost around $1,380 per year in Salem, Oregon.
Do you have to have flood insurance in Oregon?
Flood insurance is not a legal requirement in Oregon. However, you must carry flood insurance if you have a federally backed mortgage.
How To Purchase Oregon Home Insurance?
We hope this list of Pennsylvania's top-rated homeowner's insurance companies helps you get the best coverage at a price that fits your budget. Don't forget to complete our rate comparison form to find even more savings.