UPDATED: JUNE 01, 2023 | 2 MIN READ
Washington homes face many risks, including severe storms, fires, and earthquakes, so homeowners must invest in the right home insurance policies to stay protected. Choosing the best Washington home insurance isn't just about finding the cheapest rate. Homeowners must compare quotes from the best insurance companies to find adequate yet affordable coverage.
Best Washington Home Insurance Companies
With so many insurance providers, many people don't know where to find the best homeowers insurance quotes. We've reviewed dozens of companies offering insurance to list the top options. We looked at annual rates, customer service ratings, and coverage options to help home buyers find the best home insurance in Washington.
Overall Best Washington Home Insurance Company
Allstate provides Washington homeowners comprehensive homeowner'sinsurance coverage at affordable rates. It boasts an A+ AM Best rating for superior financial stability and offers one-on-one customer service via licensed Washington insurance agents. Customers looking to bundle can also find auto, life, and business insurance policies through Allstate.
Best Value Washington Home Insurance Company
Among the companies we analyzed, PEMCO provides the best value for coverage. PEMCO's annual average homeowner'sinsurance premium is only $325 for a $250,000 dwelling, less than half of the $863 state average and far lower than the national average of $1,312. PEMCO understands the unique challenges of owning a home in Washington because the company works exclusively in the Pacific Northwest.
Washington Home Insurance Company With the Best Customer Service
At an average of $1,166 per year, State Farm doesn't offer the cheapest rates, but it does provide some of the best customer services. State Farm supports customers in person through local agents and online through user-friendly tools and resources. The company embodies its "good neighbors" motto, always committed to putting the customer first.
Washington Home Insurance Company Best for Bundling
Mutual of Enumclaw provides affordable home insurance mainly to homeowners in the Pacific Northwest. Customers save on premiums by bundling their home and auto insurance policies and only pay one deductible if the same event damages their homes and vehicles. This company also offers excellent wildfire protection, which proves essential for many Washington homeowners.
Washington Home Insurance Company With the Best Coverage Options
Allstate made it on our list twice because it offers some of the best coverage options. Besides the standard coverage provided by homeowner's insurance, customers can opt to cover their yards, gardens, personal property, and even electronic data. Visit the Allstate official website for a complete list of available coverage.
Local and Regional Home Insurance Carriers In Washington
Mid-Columbia Insurance
Homeowners in Seattle, Tacoma, and the rest of Washington state trust Mid-Columbia to protect their homes and their contents. Mid-Columbia features homeowners insurance in dwelling, personal property, medical expenses, loss of use, liability, and other structures covering major events.
Renters and mobile-home-specific insurance are also available from Mid-Columbia. It's possible to save on their affordable policies with discounts ranging from savings for an automatic water shut-off system to bundling your auto insurance policy.
PEMCO
PEMCO raises the roof for premiere home insurance products in Washington state, and it covers it too. The insurer offers thorough protection for homeowners with dwelling coverage, other structures coverage, loss of use, and policies for its contents.
PEMCO's Liability coverage helps defend you in the case of injury or damage to your or another's property. These products are available from PEMCO for homeowners throughout the Northwest, whether in Seattle or Tacoma.
PEMCO also offers excellent opportunities to save if you're an educator, plus more savings are available if you add specific features, such as a sprinkler system, to your home.
Mutual of Enumclaw
Mutual of Enumclaw packages home insurance coverage with auto insurance products to extend full protection for your home and vehicle. The insurance agency began in the 1800s and today offers coverage for homes throughout Washington state.
Packages for your home include coverages for the structure, its contents, and emergency living expenses. Wildfire protection is also part of your home insurance purchase, so rest assured you have the right coverage.
Washington Insurance Demographics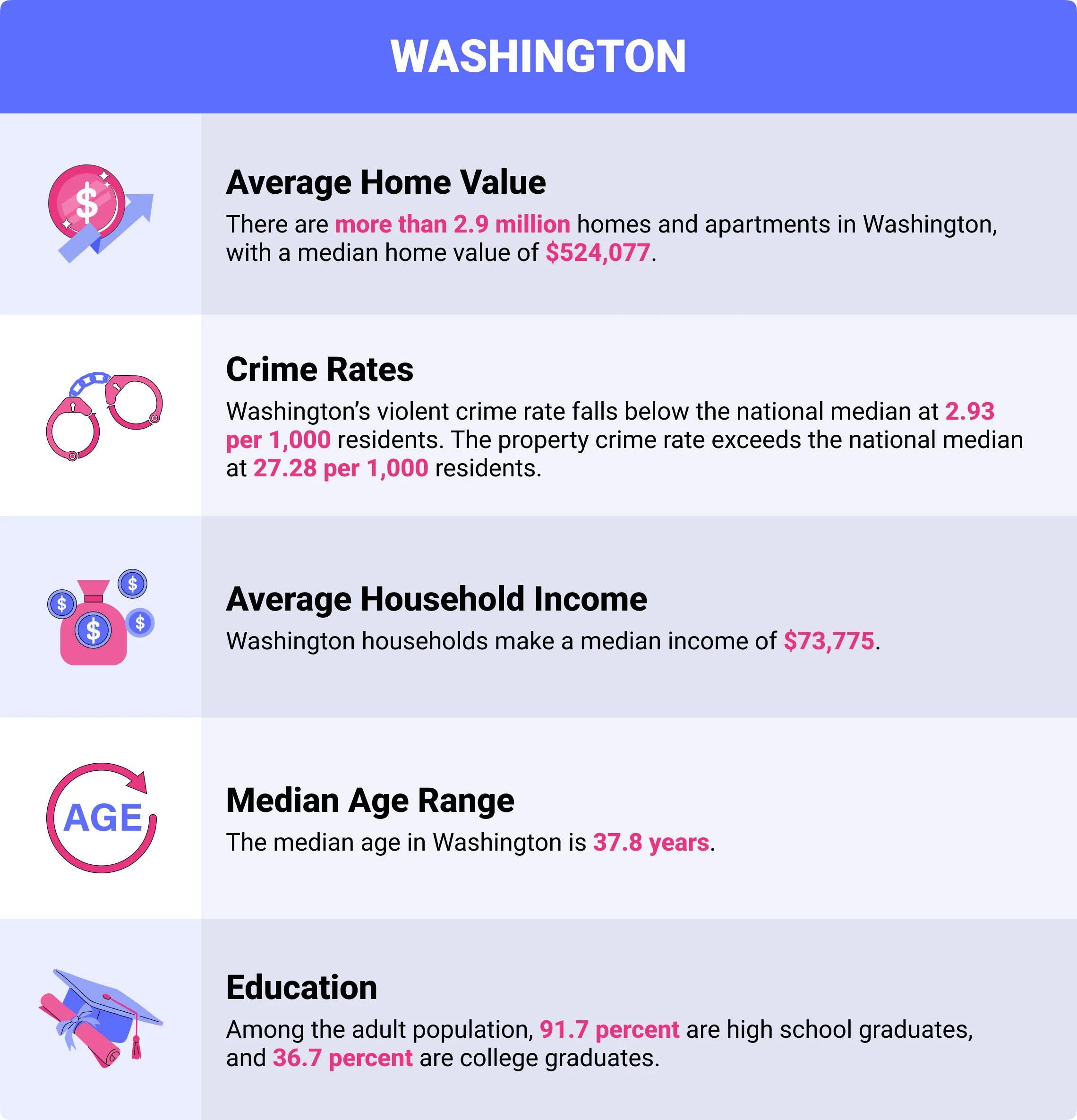 If you're buying a house in Washington, the rates for your homeowner's insurance policy may vary depending on many factors. For example, home values and crime rates may affect the cost of your policy. Let's look at some basic Washington insurance demographics that may affect your home insurance rate.
Average home value: There are more than 2.9 million homes and apartments in Washington, with a median home value of $524,077.
Crime rates: Washington's violent crime rate falls below the national median at 2.93 per 1,000 residents. The property crime rate exceeds the national median at 27.28 per 1,000 residents.
Average household income: Washington households make a median income of $73,775.
Median age range: The median age in Washington is 37.8 years.
Education: Among the adult population, 91.7 percent are high school graduates, and 36.7 percent are college graduates.
Is Washington Home Insurance Required?
While Home insurance isn't mandatory under state law, mortgage loan lenders often require it. We recommend insurance for every home to help cover repair or rebuild costs if severe weather or another event damages the house.
What Does Washington Home Insurance Cover?
Washington home insurance provides all the standard property and personal coverage homeowners need to protect their homes and household members. Policies often cover the dwelling and other structures on the property, personal belongings, loss of use, and personal liability.
Common Home Risk Factors in Washington
Washington presents certain risks homeowners must prepare for, including wind, hail, lightning, wildfires, and earthquakes. Homeowners insurance policies don't cover damage caused by flooding, so homeowners must also determine their flood risk and invest in additional policies accordingly.
What Types of Homeowner's Insurance Coverage Are Recommended?
Investing in comprehensive coverage to protect your Washington home is crucial. Below are some of the most common options.
Earthquake Insurance
Homeowner's insurance in Washington doesn't always cover damage caused by earthquakes. Several insurance companies specialize in earthquake coverage, but others don't offer it at all. The Cascadia Subduction Zone fault line a few miles off the coast causes regular seismic activity, so we encourage Washington homeowners to invest in earthquake endorsements or separate policies.
Flood Insurance
Flooding doesn't represent the most significant risk but does occur, especially along rivers in times of heavy precipitation. Washington homeowner's insurance doesn't provide flood coverage, but homeowners can invest in policies backed by the government or private insurers.
Personal Property Insurance
Risk Factor, an online resource from the First Street Foundation, calculates that 38 percent of Washington properties risk experiencing wildfire damage within the next 30 years.
Washing home insurance may cover your home in the event of a total loss, but what about your personal belongings?
Many insurance policies offer additional endorsements for personal property coverage, which helps you recoup a percentage of the value of lost items.
How Much Does Home Insurance in Washington Cost?
The average home insurance cost in Washington varies depending on the home's location. The state average of $250,000 in coverage is $835. Moses Lake has the highest home insurance rates among the state's largest cities, while Bremerton has the lowest.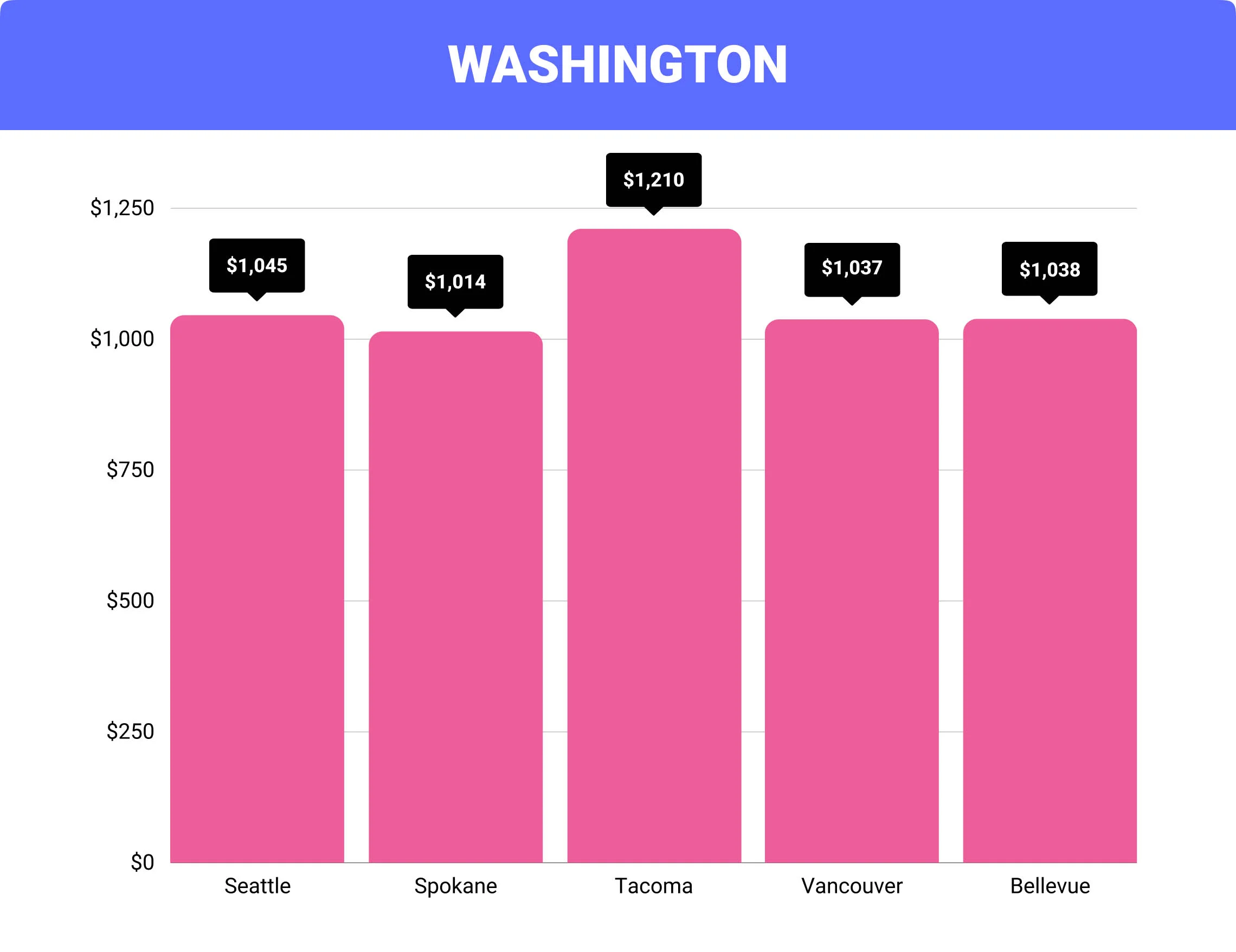 Cost of Home Insurance in Washington by City
| | | |
| --- | --- | --- |
| City | Average Washington Home Insurance Cost (Based on a $339,000 coverage limit) | Difference From Washington Average |
| Seattle | $1,045 | +0.2% |
| Spokane | $1,014 | -2.8% |
| Tacoma | $1,210 | +15.9% |
| Vancouver | $1,037 | -0.6% |
| Bellevue | $1,038 | -0.5% |
Washington Home Insurance FAQs
How much is homeowner's insurance in Washington?
On average, Washington homeowners pay $835 per year on home insurance.
Is home insurance mandatory in Washington state?
Although not required by Washington law, house insurance may be required to get a mortgage loan.
How much is homeowner's insurance in Seattle?
For $250,000 in dwelling coverage, Seattle homeowners pay an annual average of $823, slightly lower than the state average.
How much is homeowner's insurance for a condo in Washington state?
On average, condo insurance in Washington costs $510 per year or $43 per month.
How much is fire insurance in Washington state?
All Washington home insurance policies cover wildfire damage. The actual cost will vary depending on the home's risk level and the homeowner's insurance provider.
How To Purchase Washington Home Insurance
Comparison shopping for homeowners insurance is the best way to ensure you get the best coverage at the best price. Gathering quotes from multiple companies allows you to compare available rates, coverages, and discounts.
By completing our rate comparison form, we can help connect you with top homeowners insurance providers in your area. Comparing policies is the easiest way to find the right policy for your home and budget.