UPDATED: MAY 01, 2023 | 2 MIN READ
Buying a car from a private seller can be a great way to save money and get a good deal on a vehicle. However, when you buy a car from a private seller, you face additional risks. There are many things to consider and steps to take before and during the sale to ensure that you're getting a reliable vehicle that meets your needs and is worth what you pay.
How to buy a car from a private seller step-by-step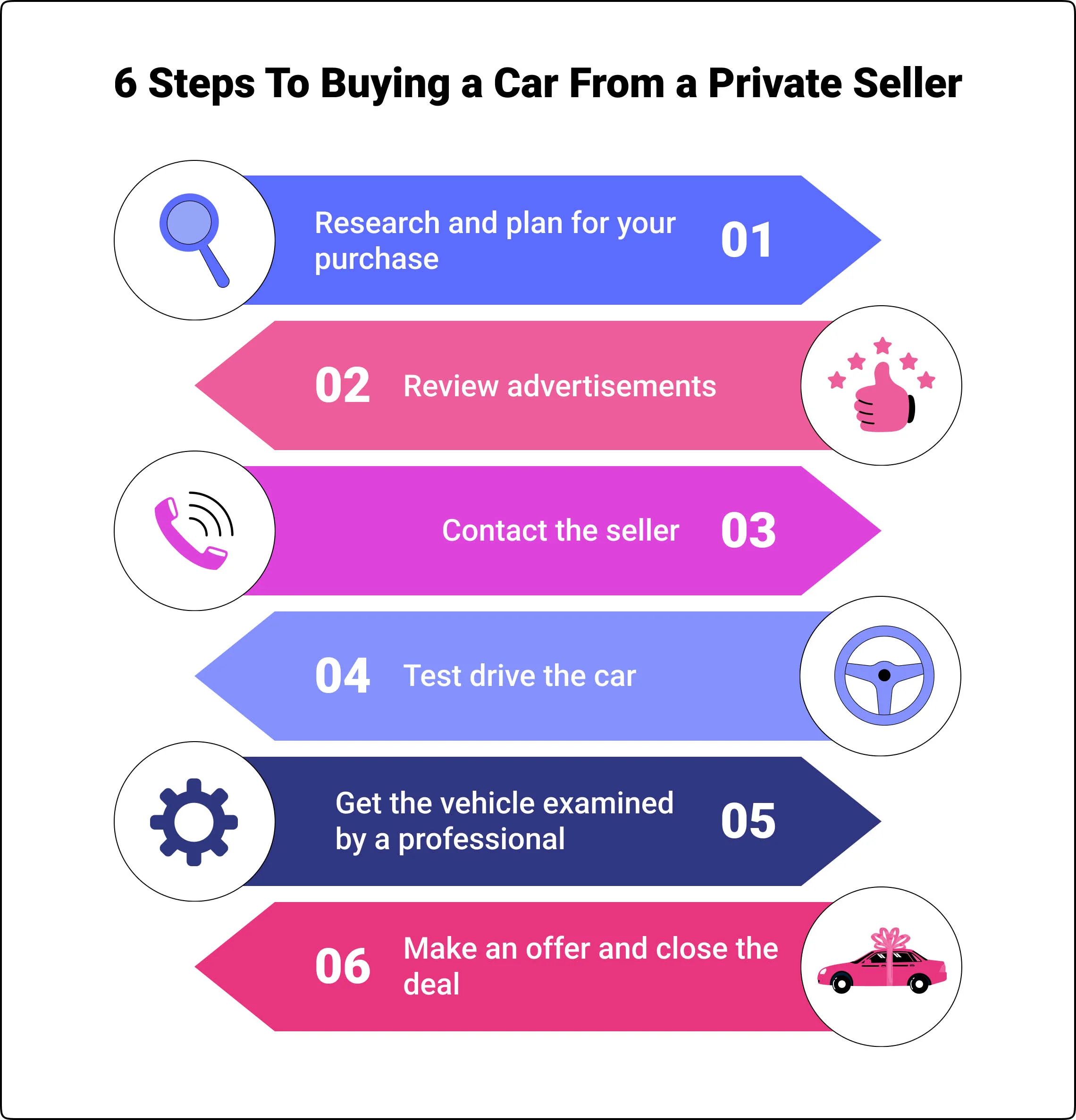 Only a little over 16% of people prefer to purchase their vehicles from private sellers instead of dealerships. While we don't know for sure, some of the hesitations about buying a car from a private seller could be because people aren't sure how to go about it or they're afraid they might get scammed. 
You can make the process easier by following the steps below.
1. Research and plan for your purchase
Before buying a car from a private seller, it's important to research and plan for your purchase. This involves determining your budget, the type of car you want, and what features are important to you. You can use online resources like Kelley Blue Book or Edmunds to research car prices and values to get an idea of a fair price. 
When determining your budget, consider the costs of ownership, such as insurance and maintenance, in addition to how much the car costs. This is extremely important because you need to make sure you can afford to maintain the vehicle you purchase long-term. For example, you might find a luxury sports car at a decent price, but it's not a great deal if you can't afford future repairs. Instead, you might consider buying a compact car or small SUV.
Also, if you're getting a loan to purchase the car, you'll want to get your approval from the bank before proceeding. This way, they're ready to cut a check when you're ready to make the purchase.
2. Review advertisements
Once you have a clear idea of what you're looking for, start reviewing car advertisements that match your criteria.
Read the description carefully and look at the photos to understand the car's condition. Some things to pay close attention to include:
Car mileage
Photos – look for signs of imperfections
Make, model, and year of the vehicle
Any problems the ad mentions
3. Contact the seller
If you find a car that interests you, contact the seller to set up a meeting and test drive.
Before the meeting, ask the seller for the VIN number and run a vehicle history report to ensure the car has a clean title and is not stolen. This can easily be completed using a website like CARFAX.
When you meet, ask the seller questions about the car's history, maintenance, and any known issues.
You should avoid any sellers who ask you for payments upfront before seeing and test-driving the car. Also, be sure to meet the seller in a location that's safe for you both. Many local police stations have areas in their parking lots to accommodate people buying things from strangers. Take a friend with you instead of going alone.
4. Test drive the car
It's important to test drive the car before making an offer. During the test drive, pay attention to the car's handling, acceleration, and brakes. Listen for strange noises or vibrations and test all the features, such as the air conditioning, radio, and windows. Also, be sure to drive the car on both city streets and the highway.
5. Get the vehicle examined by a professional
After the test drive, if you're serious about buying the car, have it examined by a professional mechanic. A mechanic can provide an unbiased opinion about the car's condition and identify any potential issues that may not be visible during the test drive. If the mechanic discovers any major problems, you can use this information to negotiate a lower price or decide not to buy the car.
6. Make an offer and close the deal
If the car passes the inspection and you're satisfied with the price and condition, it's time to make an offer and close the deal. Be prepared to negotiate and have a maximum price in mind.
Once you agree on a price, make sure to obtain all necessary paperwork, including the title, bill of sale, and any transfer forms. Register the car with the DMV and obtain insurance before driving it.
How to transfer ownership of your new vehicle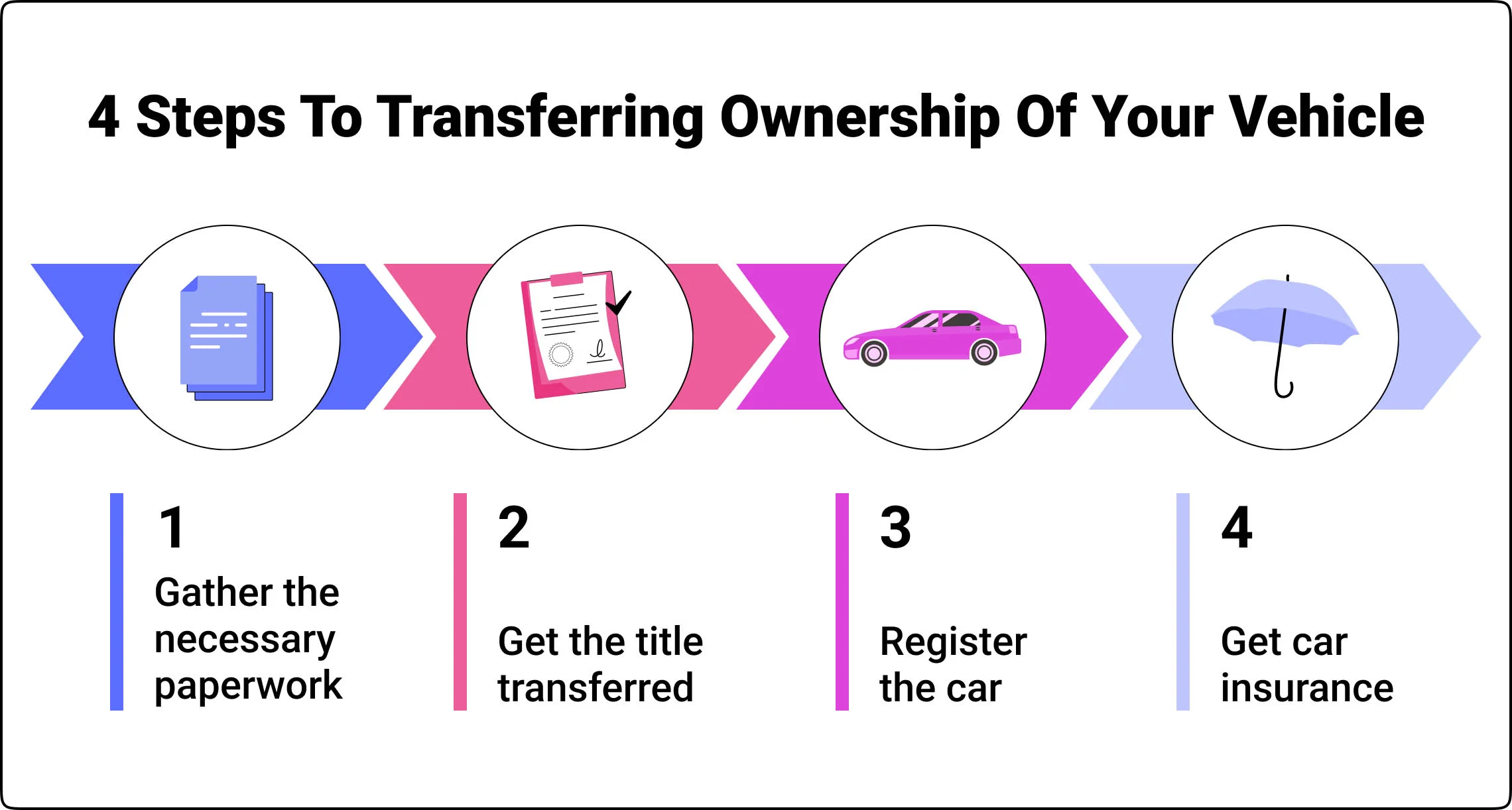 Once you've negotiated a price and agreed to buy the car from a private seller, the next step is to transfer ownership. This involves obtaining the necessary paperwork, registering the car, paying taxes and fees, and obtaining insurance.
1. Obtain the necessary paperwork
The first thing you need to do is obtain the necessary paperwork to transfer ownership of the car. This includes the title, bill of sale, and any transfer forms required by your state's DMV. The seller should provide you with these documents, but it's always a good idea to double-check everything is in order before finalizing the sale. You can find out exactly what documentation is required in your state and the steps you must take by calling your local DMV.
2. Get the title transferred
In most states, to transfer the car title to your name, you need to take the signed title to the title bureau — sometimes, these are located in or next to your DMV. Once you tell the clerk you need to get a title for your car, give them the paperwork, and pay the fee, they'll change the state's records and give you a new title to take to the DMV for registration.
Remember, in most states, you must pay taxes on the purchase amount when you put the car into your name. The back of the title and/or bill of sale shows the purchase amount, and taxes are calculated based on your local sales tax. For example, if your local sales tax is 7% and you paid $5,000 for the car, you'd need to pay $350 in taxes in addition to paying for the title.
3. Register the car
After you have the necessary paperwork, you need to register the car with your state's DMV. This involves completing an application, paying any required fees, and providing proof of ownership, such as the title and bill of sale. Depending on your state, you may also need to pass an emissions test or obtain a safety inspection before registering the car.
4. Obtain insurance
Before legally driving the car, you need to obtain insurance. Contact your insurance provider to add the new car to your policy, or shop around for a new one if you're unsatisfied with your current coverage. Ensure you provide your insurance information when registering the car with the DMV.
Benefits of buying a car from a private seller
Buying a car from a private seller can have many benefits compared to purchasing from a dealership. Here are some advantages to consider:
Lower prices: Private sellers often sell their cars at a lower price than dealerships. Private sellers don't have the overhead costs that dealerships do, allowing them to offer a better deal.
Flexible negotiations: When buying from a private seller, you have more flexibility to negotiate the price and terms of the sale. Unlike dealerships, private sellers may be willing to negotiate on the price, especially if they're motivated to sell quickly.
Less sales pressure: Salespeople may use high-pressure tactics to make a sale when buying from a dealership. With a private seller, you can take your time and make an informed decision without feeling pressured.
More transparency: Private sellers are often more transparent about the car's history and condition. They can provide more detailed maintenance records and answer any questions about the car's past.
Opportunity to meet the owner: When buying from a private seller, you can meet the owner and get a sense of how they've treated the car. This can provide valuable insight into the car's overall condition and history.
Drawbacks of buying a car from a private seller
While buying a car from a private seller can have many benefits, there are also some drawbacks to consider. Here are some potential downsides:
Less protection: When buying from a private seller, you have less legal protection than buying from a dealership. Private sales are typically "as-is," which means you're responsible for any issues that arise after the sale. It's important to thoroughly inspect the car before buying and consider getting a professional inspection to minimize the risk of unexpected problems.
Limited selection: Instead of walking into a dealership and choosing what you want, you often have to be patient and wait for the right car to come along.
Limited financing options: To finance a car you buy from a private seller, you need to secure your own financing, either through a bank, credit union, or another lender.
Potential fraud: Private sales of used cars are associated with higher fraud and misrepresentation than dealership sales. Be cautious when buying from a private seller, and do your due diligence to ensure you get a reliable car.
Less convenience: Buying from a private seller can be less convenient than purchasing from a dealership. You have to travel to see the car, arrange your own transportation, and handle all the paperwork and registration yourself.
FAQs
How can I buy a car from a private seller with a loan?
If you plan to finance your purchase of a car from a private seller, there are a few steps you need to take to ensure a smooth transaction:
Check your credit score: Your credit score plays a significant role in getting approved for a car loan. Before applying for a loan, check your credit score and take steps to improve it if necessary.
Get pre-approved for a loan: Contact a bank, credit union, or online lender to get pre-approved for a car loan. This will give you an idea of how much you can afford to spend on a car and the interest rate you qualify for.
Find a car and negotiate the price: Once you find a car that meets your needs and budget, negotiate the price with the seller. Let the seller know you plan to finance the purchase and may need time to arrange the loan.
Provide the loan information to the seller: Once you've negotiated the price, provide the loan information to the seller. The seller may need to contact the lender to verify the loan information and ensure everything is in order.
Complete the sale: After the loan is approved and the seller has verified the loan information, complete the sale by signing the necessary paperwork and transferring ownership of the car. The lender will typically send the funds directly to the seller, and you'll need to make payments to the lender according to the loan terms.
Can I drive a car I just bought home without plates in NY?
Driving a car without license plates on public roads in New York is illegal, even if you have just purchased the car. The law requires that all cars have license plates properly displayed before being driven on public roads. So before taking the car off the seller's property, go to the DMV to register the vehicle in your name and get new plates.
Where do I find used vehicles from private sellers?
Websites like Craigslist, Facebook Marketplace, and Autotrader are great places to find listings for used cars sold by private sellers. These websites allow you to filter your search by location, price range, make, model, and other criteria to help you find the right car.
Get cheap car insurance for your new car
When purchasing a new car, getting it insured before you drive is important. Use our helpful online tool to get multiple insurance quotes in minutes.
Related content: