UPDATED: AUGUST 12, 2023 | 1 MIN READ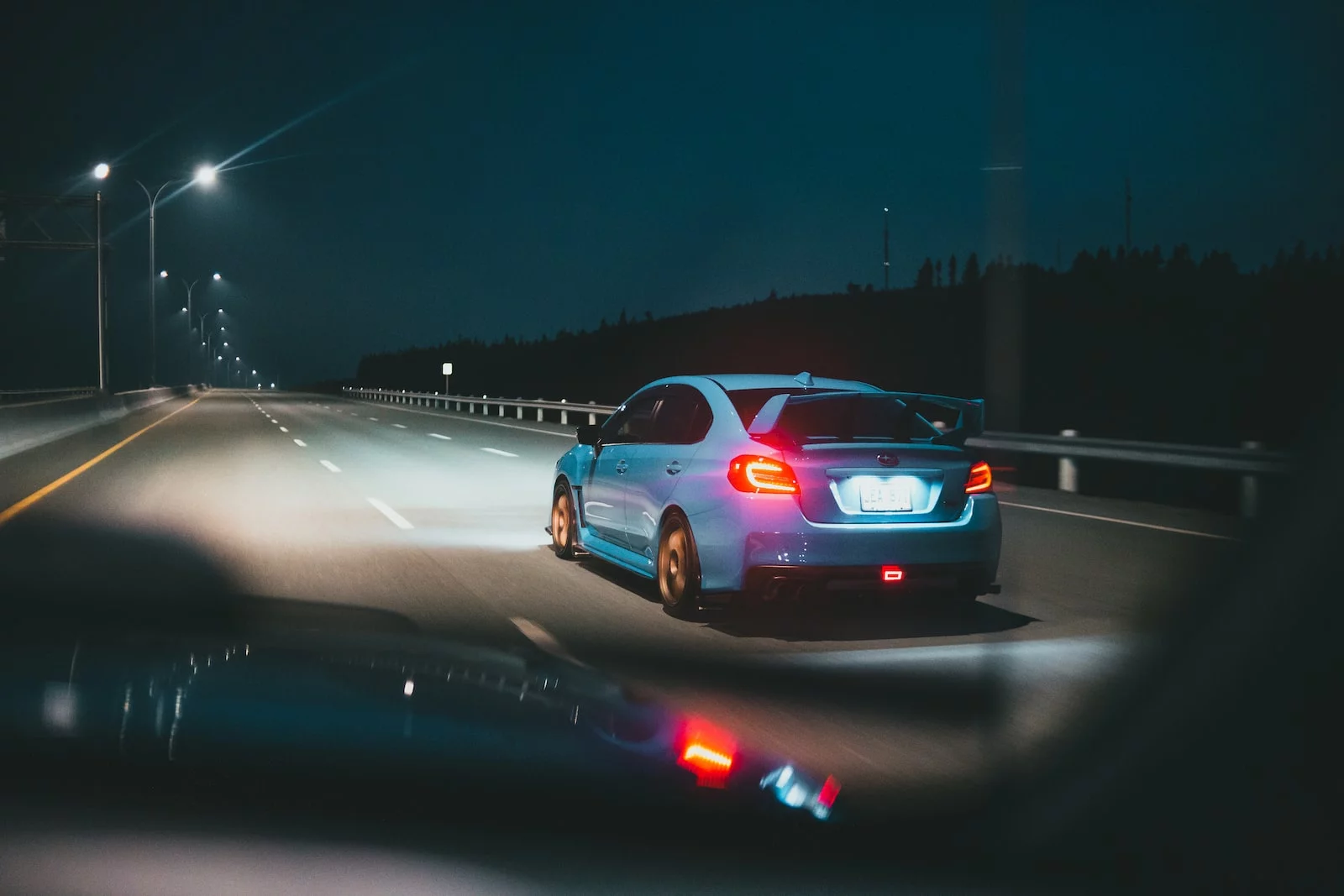 Auto insurance is necessary for your financial safety net when driving. In the event of an accident, collision, or theft, car insurance can help cover the costs of repairs or replacement — and the top auto insurance companies tend to take care of things like this better than the rest.
While there are many auto insurance companies, some are better than others. Here are the top six auto insurance companies in the USA based on rates, available coverage, and discounts.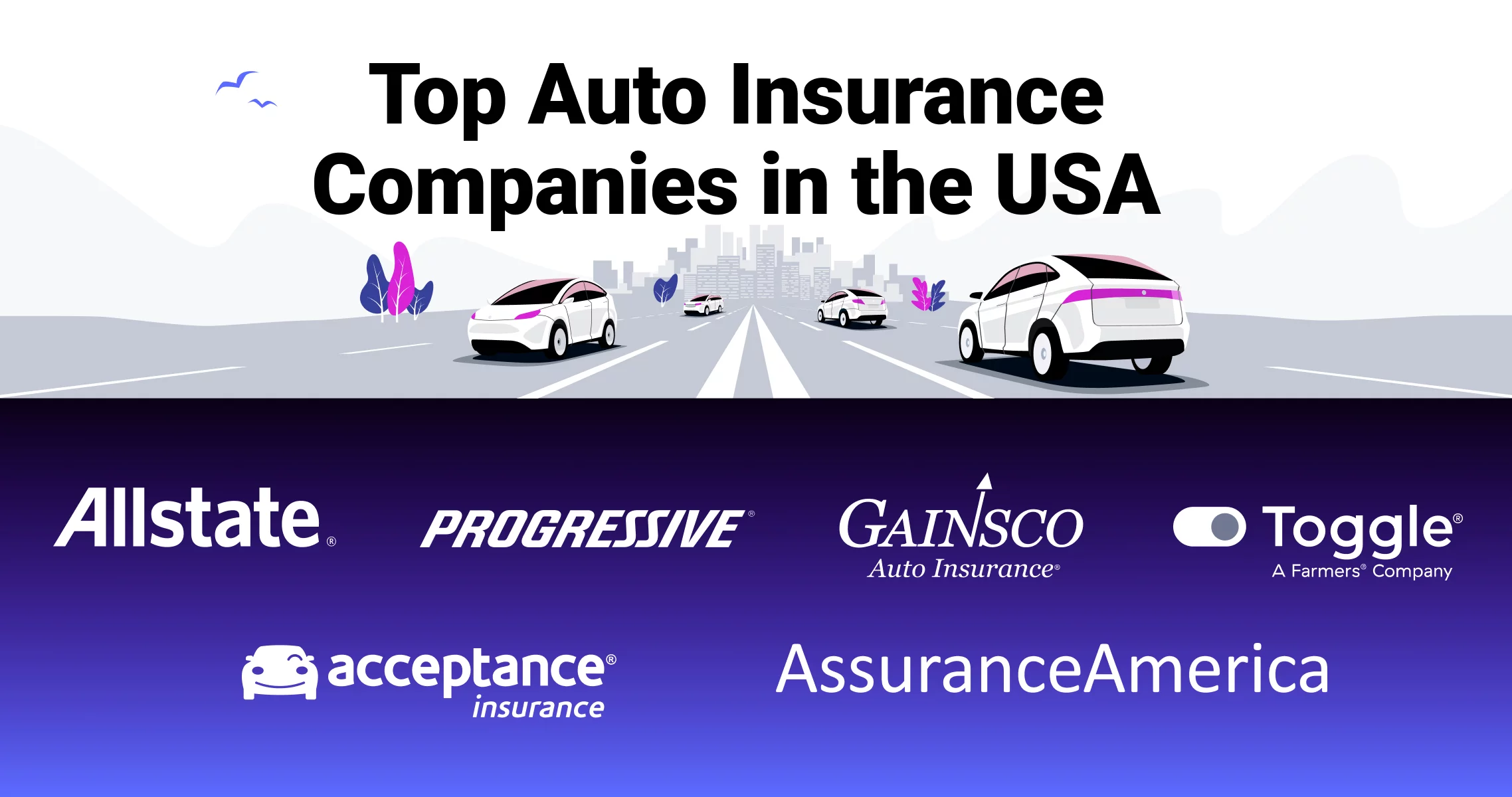 Top Auto Insurance Companies In the USA
Allstate
Progressive
GAINSCO
Toggle
Acceptance
AssuranceAmerica
Allstate
Established in 1931, Allstate has over 54,000 local agents ready to help you find insurance that fits your needs. Additionally, the company owns Esurance, which is ideal for anyone who wants to purchase and handle their insurance transactions online.
PROS
Has lots of discounts available

Simple claims filing process

Customer serivce readily available
CONS
Not ideal for teen drivers or people with tickets/accidents on their record
Allstate premiums
Compared to some of the other large insurance companies in the U.S., such as State Farm, Progressive, and GEICO, Allstate tends to have higher premiums.
For example, the average premium for an adult with a good driving record costs about $1,315 for six months through Progressive, while Allstate policyholders can expect to pay around $2,800. It seems like a steep difference, but Allstate shines regarding coverage options.
Allstate coverage options
Allstate distinguishes itself from its competitors by offering coverages that others don't through its Your Choice Auto program. One example is its rideshare insurance program, which covers rideshare services like Uber and Lyft.
Other coverages from Allstate include:
Liability
Property damage
Uninsured motorist
Rental reimbursement
Roadside assistance
Discounts available through Allstate
Allstate has a lot of discounts to offer its customers, which can lower your premiums significantly.
The company rewards policyholders who drive safely through its Drivewise program. This program monitors how you drive and discounts your premiums based on your actions. According to Allstate, the Drivewise program can save policyholders up to 40%.
Other discounts available include:
Anti-lock brakes discount
Responsible payer discount
Homeowner discount
Bundling your home and auto policies
Passive restraint discount
Premier discount
Premier plus discount
Senior adult discount
55 and retired discount
Resident student discount
Good Hands People discount
Defensive driving course discount
FullPay discount
Smart student discount
eSmart discount
Early signing discount
Allstate Easy Pay discount
Anti-theft discount
New car discount
Daytime running lights discount
Utility car discount
Economy car discount
Farm vehicle discount
Progressive
It's not surprising that Progressive has a J.D. Power score of 819 for customer satisfaction. The company offers competitive rates, especially for drivers who have previous accidents on their record.
However, its homeowners and renters policies are lacking a bit. So if you want to carry both policies with the same company, Progressive may not be the right option.
PROS
Has a high customer satisfaction rating

Rideshare coverage available

Good rates for middle-aged drivers

Pet injury insurance is included with collision coverage (in most states)
CONS
No perks for enrolling in homeowners insurance

Home and renters insurance coverage options are limited

Not ideal for young drivers
Progressive premiums
Progressive's insurance policy premiums average lower than Allstate, Farmers, and State Farm for middle-aged drivers with good driving records. For example, Progressive's average six-month premium for a 40-year-old male is $1,525, while Farmers's average is $2,055.
For young drivers, though, Progressive's insurance premiums aren't ideal. On average, the company's six-month premium for an 18-year-old male is $3,790, which is a bit high when compared to State Farm's average of $3,135.
High-risk drivers might also save money by switching to Progressive. It's known as one of the best car insurance companies for drivers with DUIs.
Progressive coverage options
Most national insurance companies offer similar car insurance coverages, Progressive included. So you can choose between liability-only or full-coverage insurance and add additional options, such as gap coverage.
While most coverage options are pretty standard, Progressive does also offer two unique coverages — pet injury and custom parts and equipment.
Pet injury coverage pays your pet's vet bills if he's injured in a car accident. This coverage comes as part of your collision coverage. This means it's only available if you have full-coverage insurance and pay the deductible before the company pays the vet bills.
Custom parts and equipment coverage is additional coverage you can add to your policy if you have a customized vehicle. It covers the difference in cost between manufacturer-grade parts and after-market car parts.
Discounts through Progressive
Progressive's discounts are pretty standard too. They offer their policyholders multiple-policy, multi-car, and homeowner discounts, which is similar to what other auto insurance carriers offer.
Drivers can also save money by participating in the company's Snapshot program. This program monitors your driving habits to help you earn additional discounts for driving safely.
Another unique discount Progressive offers is the Start Your Quote Online discount. It's available to any policyholder who starts their quote online and then purchases a policy over the phone.
Progressive's other discounts include:
Continuous insurance
Signing insurance documents online
Paying policy premiums in full
Automatic bill pay
Good student
Teen driver
GAINSCO
If you're looking for liability-only insurance, GAINSCO is a great option. However, it only offers the state's minimum liability coverage or full-coverage insurance. You can't increase the limits.
It also has a reputation for being a good insurance company for high-risk drivers.
PROS
Provides coverage for high-risk drivers

Can file an SR-22 (if needed)

Has competitive rates for drivers with accidents or DUI on their record

Ideal for people looking for liability-only insurance
CONS
Limited additional coverage options

Limited discounts available
The company writes insurance policies in 19 different states, including:
GAINSCO premiums
With average six-month premiums hovering around $440 for liability coverage, GAINSCO is cheaper than Allstate and Nationwide.
The company also comes in cheaper for drivers with an accident or DUI on their record. Six-month liability insurance costs through GAINSCO averages $565 for drivers with an accident and $540 for drivers with a DUI, while Allstate charges an average of $765 and $1,280, respectively.
When you add comprehensive and collision coverage to a GAINSCO policy, expect to pay about double the average premium for liability coverage.
GAINSCO coverage options
GAINSCO's coverage options are lacking a bit. Its liability coverage limits only go up to the state minimum, and there's no way to increase them. So if you have a lot of assets and need more coverage, GAINSCO may not be the right option.
However, you can add comprehensive and collision coverage to your policy to protect your vehicle. The company doesn't offer a lot of additional coverages, though, as most larger insurance companies do.
Discounts through GAINSCO
Gainsco doesn't offer quite as many insurance discounts as larger insurers. Still, its car insurance rates for liability-only coverage are favorable compared to larger companies like Liberty Mutual, State Farm, and GEICO.
Most of GAINSCO's discounts revolve around policy payments and management. You'll find discounts for:
Having your payment automatically deducted from your checking account
Paying your six-month policy premium in full
Having insurance coverage for the prior six months without a lapse
Having a previous six-month policy through GAINSCO
Purchasing your policy at least three days before the coverage begins
Being a loyal GAINSCO customer
Owning a home
Renewing your auto insurance policy
Having multiple cars insured on your policy
Toggle
Owned by Farmers, Toggle bills itself as a modern car insurance company — and it is. It's all digital, so policyholders manage everything online. But that's not the only way Toggle has strived to modernize car insurance. The company also cancels your old insurance policy for you.
And it actively works to protect the environment with carbon offsets from Cool Effect. Its goal is to use the United States Department of Transportation's (USDOT) national average of miles each year as a goal to help offset every mile its customers drive.
Also, Toggle's claims process makes the company stand out even more. While some companies offer apps that allow you to file a claim, Toggle goes further. It provides a white-glove claims service over chat, so you have someone to talk to you through uploading photos through its mobile app, filing your claim, and getting your car fixed.
PROS
All-digital car insurance company

Works to help the environment through carbon offsets

Policies are easy to manage (Toggle on and off the coverages)

White glove claims service
CONS
Newer company so options are limited

Having a liability + comprehensive coverage policy isn't possible
Toggle premiums
While Toggle doesn't display their premiums prices online, the company does make it simple to get a quote. Keep in mind, Toggle is a fairly new insurance company and only writes auto insurance policies in these states:
Arizona
Illinois
Indiana
Ohio
South Carolina
Toggle coverage options
One big difference between Toggle's coverage and that of other companies is that Toggle combines comprehensive and collision coverage. So you either have both, or you don't have either.
This simplifies your coverage options. But it also means Toggle isn't ideal for anyone who wants to add comprehensive coverage to their liability policy to cover losses from perils they can't control, such as theft, vandalism, and acts of nature, without the added expense of collision coverage.
The company also has a few semi-unique additional coverages you can add to enhance your policy, including:
Pet Passenger: Provides coverage for your pet's vet bills if he's injured in a car accident
Side Hustle Auto: Extends the coverage options provided by gig companies, like DoorDash and Uber Eats
Temporary Ride Coverage: Pays you a daily stipend for transportation if your vehicle is in the shop during the claims process
New Car Replacement: Covers the difference between the amount you owe on your loan and the vehicle's worth if your car is deemed a total loss
Discounts through Toggle
The discounts Toggle offers are pretty standard. You can expect to get discounts for:
Being a homeowner
Having a "good student" on your policy
Being accident/claims free
Having a car with an automatic emergency braking system
Having a renters policy with Toggle
Acceptance
If you're looking for non-standard car insurance, Acceptance might be a good choice. The company offers favorable rates to drivers with DUIs on their driving record and middle-aged drivers. It also has some pretty unique policy features available.
There is a downside, though. Acceptance only has a C++ Financial Strength rating from A.M. Best. This is lower than similar auto insurance companies and often indicates frequent delays with the claims process.
PROS
Ideal for people who have DUIs on their driving record

Has favorable rates for middle-aged drivers

Lots of unique additional coverage options available

Several discount options available
CONS
Higher-than-average rates for young drivers

C++ Financial Strength rating from A.M. Best
Acceptance only offers car insurance policies in these states:
Alabama
Arizona
Florida
Georgia
Illinois
Indiana
Mississippi
Missouri
Ohio
South Carolina
Tennessee
Texas
Virginia
Acceptance premiums
Acceptance premiums are a bit high for young drivers, with average costs for an 18-year-old male, with a clean record being around $1,095 for six months. This is slightly higher than The General's average premium of $1,090 but quite a bit higher than Progressive's average of $880.
However, middle-aged drivers with a DUI or DWI who need an SR-22 certificate might save a bit with a six-month policy from Acceptance. Its average premium sits around $625, which is lower than GEICO's average of $1,030.
Acceptance coverage options
Acceptance offers all of the standard coverage options — liability, comprehensive, and collision. It also offers additional coverages, such as rental car coverage and roadside assistance.
Additionally, the company offers some unique add-ons:
TicketProof: This coverage reimburses you for fines and legal fees of up to $650 annually if you're convicted of minor traffic offenses, such as speeding slightly or running a stop sign.
Hospital Indemnity: This coverage covers hospital costs of up to $125 daily if you're admitted as a direct result of a car accident. It also covers excess medical expenses of $1,000, gives you a blanket discount on prescription drugs, and has accidental death and dismemberment coverage up to $10,000.
Accidental Death: This coverage pays your beneficiaries if you're killed in a car accident. If you opt for the hospital indemnity coverage, though, there's no need to add accidental death. Typically, this coverage is offered with life insurance policies, not car insurance.
RX Discount: You add the RX discount plan onto your policy without opting into the hospital indemnity plan. It gives you a 20% discount on prescription medication and can be used on any prescription.
Discounts through Acceptance
Acceptance has many discounts available, which does help offset the high premiums a bit. However, even with discounts, people who aren't considered high-risk will typically find better prices with a standard insurance company.
Discounts available include:
Multipolicy
Allowing Acceptance to use telematics to track driving habits
Renewal with Acceptance
Military
Paperless
Safe driving
Multiple cars
Automatic monthly payments
Paying your policy in full
Signing up for a policy online
Continuous insurance — at least six months of coverage without lapses
Owning a home
Affiliations with some clubs and organizations
Good student
Defensive driving course completion
AssuranceAmerica
AssuranceAmerica primarily caters to drivers who need a non-standard insurance company. The company doesn't have J.D. Power or A.M. Best customer satisfaction ratings. The National Association of Insurance Commissioners (NAIC) has the company rated as "Poor" due to customer complaints that surpass the national average.
The company isn't all bad, though. For drivers with a not-so-great record, less-than-stellar credit score, or a lapse in coverage, AssuranceAmerica could be a cost-effective option.
PROS
Caters to drivers who are hard to insure

Uses independent agents, which is ideal for people who want a personal touch
CONS
Limited discounts available

Doesn't offer a lot of additional coverages

Poor rating from the NAIC
AssuranceAmerica premiums
Like Toggle, AssuranceAmerica doesn't display its average rates online. But the company does give you the option to get an online quote.
Remember that it's a small insurance company that works primarily through independent insurance agents and caters to high-risk drivers. So its best rate might be slightly higher than other insurance providers.
If you don't need non-standard insurance or you need the best insurance for gig workers, choosing a larger company that writes standard insurance policies, like American Family Insurance or USAA (if you're a military family), might be your best option.
AssuranceAmerica only offers auto insurance coverage in these 10 states:
Alabama
Arizona
Florida
Georgia
Indiana
Missouri
South Carolina
Texas
Virginia
AssuranceAmerica coverage options
AssuranceAmerica doesn't have as many add-on coverage options as Acceptance, but it does give you several options for customizing your coverage. The company offers liability-only and full-coverage insurance.
Policyholders also have the option to increase their liability coverage. They can also add uninsured motorists and medical payments coverage to their policy.
Discounts through AssuranceAmerica
Unfortunately, AssuranceAmerica doesn't offer as many discounts as some other providers. But the company does have a handful of discounts to help lower your policy costs, including:
Homeowner
Military
Continuous coverage for the past six months
Sam's Club members
Costco members
BJ's Wholesale Club members
FAQs
Who is the number 1 auto insurer in the U.S.?
Progressive stands out as one of the best car insurance companies in the U.S. The large insurance provider offers a wide range of car insurance coverage options, has a mobile app to streamline the claims process, and offers an accident forgiveness program.
What is the best car insurance right now?
Some of the best car insurance companies include Progressive, State Farm, Allstate, Travelers, and Erie. These companies have many coverage and discount options, as well as favorable rates and ratings with J.D. Power and A.M Best.
What is the cheapest car insurance?
The cheapest car insurance is liability-only coverage. This type of insurance pays for any damage or injuries you cause but doesn't cover costs to repair or replace your vehicle.
Additionally, you need to add medical payments or personal injury protection (PIP) coverage to your policy to ensure your medical bills are covered in an at-fault accident. Most companies also allow drivers to enhance their liability-only policies by adding uninsured motorists coverage.
Find the best rates from the top auto insurance companies
The bottom line is, if you have a good driving record, a decent credit score, and haven't had any coverage lapses, companies like Allstate, Progressive, and Toggle are probably better for you.
However, if you're a high-risk driver, you might find more favorable rates with companies specializing in non-standard coverage, such as Acceptance, AssuranceAmerica, and GAINSCO.
To find the best possible rates from the top auto insurance companies, you should compare prices and coverages from several companies. Fortunately, you can do that online in minutes with our free quoting tool.