UPDATED: MARCH 14, 2023 | 2 MIN READ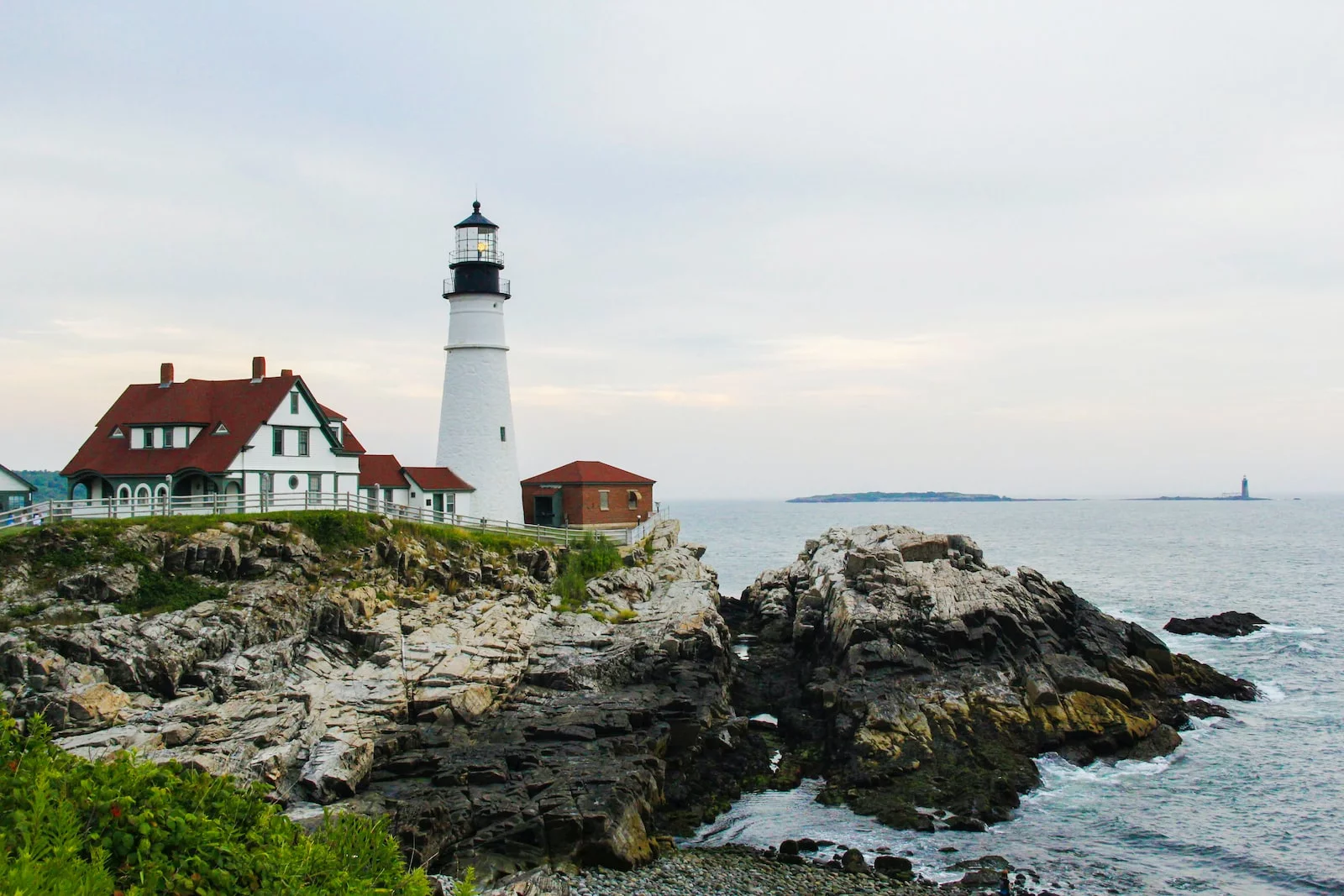 Maine's average annual full-coverage auto insurance rate is $927, 35% cheaper than the national average. You may be able to save even more by learning where to find the best Maine car insurance rates.
Best Maine Car Insurance Companies
Maine's average car insurance rates are lower than the national average, but your actual rate will depend on multiple factors. The best car insurance companies in Maine are Amica Mutual and State Farm when comparing cost and customer scores.
Cheapest Maine Car Insurance Company
Before shopping for car insurance in Maine, consider the coverage type you need: minimum or full. Minimum coverage is cheaper than full coverage, but in the event of an accident, it only covers injuries to others.
Concord offers the cheapest full-coverage auto insurance in Maine at $818 per year or $68 monthly. That's $233 cheaper than the state average and only $366 more than the average annual minimum-coverage policy.
Maine Car Insurance Company With the Best Customer Service
As you compare car insurance rates in Maine, pay attention to companies with high customer service ratings. State Farm carries the highest JD Power score in the state at 855. GEICO and Progressive aren't too far behind, with GEICO scoring 841 and Progressive right behind at 840.
Maine Car Insurance With the Best Premium-Reducing Programs
Premium-reducing programs will vary from company to company. Maine drivers should look to Progressive for the best discounts. The company offers Maine residents the following premium-reducing programs:
Online discounts (quote and sign online)
Snapshot program and safe driver discounts
Payment/billing discounts (Automatic payment, pay in full, and paperless billing)
Continuous insurance discounts
Student discounts (Distant student, good student, and teen driver)
Multi-policy/multi-car discount
Homeowner discounts
Local and Regional Insurance Carriers
MMG Insurance
MMG Insurance dates back to a tiny Maine logging town and boasts a 100-year history of insurance products for Maine residents. Car insurance from MMG covers your auto and liability.
MMG packages its most valuable coverage for complete protection in a Driver Advantage plan. MMG coverages include increased transportation expenses, lockout/key replacement, trip interruption, glass deductible waiver, and others applying to your vehicle's safety and condition.
You may also purchase enhanced auto replacement and auto loan/lease coverage. Discounts for safe driving and other aspects may apply.
Patriot Insurance
True to its name, Patriot Insurance is an American insurance provider that offers only the best for its customers. Maine drivers trust Patriot thanks to its solid reputation from 1966.
Today, Patriot features traditional auto insurance and specialty policies for antique vehicles. Coverage options from Patriot span from property damage to liability, so drivers have the security they need when driving Maine's roads.
Dairyland Insurance
Dairyland Insurance sells auto and motorcycle insurance. Their competitive rates, responsible customer service, and various coverage options make them popular among Maine drivers.
Drivers with poor credit and violations are welcome at Dairyland Insurance, which excels in quality products that meet individual needs. Whether it's with coverage such as liability, uninsured motorist, personal injury protection, or any other protection, Dairyland Insurance is here with the right policy. The company provides discounts for transferred policies, payment frequency, additional vehicles, and anti-theft features.
Maine Insurance Demographics
As you shop for auto insurance rates in Maine, keep in mind that companies consider demographics when determining your rate. Below is a quick snapshot of Maine's demographics:
Crime Rates: Maine reported 1,466 violent crimes and 15,610 instances of property crime. The chance of becoming a victim of violent crime in the state is 1 in 929.
Median Household Income: Maine's median household income is $59,489, around 9% less than the national median income of $64,994.
Median Age Range: The state's median age range is 5-17 years old, at 13.9% of the population. Maine's largest age group is 35-54, making up about a quarter of the state's population count.
Education: High school graduates comprise around 93% of Maine's population. About 33% of Maine residents graduated college, and almost 5% are currently enrolled.
Common Risk Factors In Maine
Blizzards and inclement weather are both common risks in Maine and increased risks of wildfires.
Auto Insurance Laws In Maine
To drive legally in Maine, you must follow specific auto insurance laws. Per the Maine Financial Responsibility Law, insurance policies must include property damage, medical payments, bodily injury, and uninsured/underinsured motorist coverage. Maine also requires drivers to meet minimum coverage limits.
What are the minimum car insurance requirements in Maine?
Maine's minimum policy requires the insurer to provide $25,000 worth of property damage coverage. For medical payments, minimum policies must offer $2,000 per person.
The state also has one of the highest required bodily injury coverage limits in the country at $50,000 per injured person (up to $100,000 per accident). Maine's uninsured motorist rate is very low, but state law requires uninsured coverage.
Am I required to carry uninsured motorist coverage in Maine?
Despite the state's uninsured motorist rate being low, there's always a chance that you may be hit by a driver that doesn't have adequate coverage. Maine's Financial Responsibility Law requires uninsured/underinsured motorist coverage (UM/UIM). Your UM/UIM limits will always match your Bodily Injury coverage limits.
Maine SR-22 policies
Driving without insurance or a license, committing multiple traffic violations, and getting a DUI are all grounds for an SR-22 certificate in Maine. Your insurance company will complete and file the SR-22 form with the state.
What happens if my vehicle isn't properly insured in Maine?
Driving without proper insurance in Maine can cost a registered motorist $500 in fines and an indefinite driving suspension. It's also expensive to reinstate these privileges.
Additionally, if you're caught driving without insurance, carriers could classify you as a high-risk driver, which increases your car insurance premiums.
Does Maine accept digital insurance cards?
As of October 2013, Maine residents may use digital copies of their proof of auto insurance.
How Much Does Car Insurance In Maine Cost?
Maine residents pay an annual average of $965 for car insurance. Where you reside in the state will be one of the factors that determine what you pay.
Pattern offers the cheapest car insurance in Maine at $977 per year. The highest rates in Maine are in Penobscot, averaging $1,132 a year.
Average Cost of Car Insurance In Maine By City
South Portland offers the cheapest auto insurance out of the five cities below. Lewiston is the priciest city on the list, with Auburn, Bangor, and Portland consistent with the state's average.
| City | Average Maine Car Insurance Cost | Difference From Maine Average |
| --- | --- | --- |
| Auburn | $1,056 | 1% |
| Bangor | $1,044 | -1% |
| Lewiston | $1,080 | 3% |
| Portland | $1,056 | 0% |
| South Portland | $1,008 | -4% |
Average Cost of Car Insurance In Maine By Company
Comparing the four car insurance companies below, Concord offers the cheapest full-coverage premium. Progressive is the priciest, while State Farm and GEICO are below the state average.
| Car Insurance Company | Average Full-Coverage Premium (Annually) |
| --- | --- |
| Concord | $720 |
| State Farm | $816 |
| Geico | $912 |
| Progressive | $1,392 |
Average Cost of Car Insurance In Maine By Age
On average, Maine drivers around the age of 30 pay the lowest annual premium. Younger drivers will pay the highest amount. Drivers around 25 years old pay an average rate consistent with the state's average.
| Age | Average Full-Coverage Premium (Annually) |
| --- | --- |
| Age 16 | $1,389 |
| Age 18 | $2,852 |
| Age 20 | $2,373 |
| Age 25 | $1,107 |
| Age 30 | $916 |
| Age 40 | $965 |
| Age 50 | $803 |
| Age 60 | $792 |
| Age 70 | $795 |
Average Cost of Car Insurance In Maine By Gender
Insurance rates depend more on age and location, but gender is still a pricing factor. In Maine, women generally pay slightly less for auto insurance.
| Gender | Average Full-Coverage Premium (Annually) |
| --- | --- |
| Male | $926.95 |
| Female | $899 |
Average Cost of Car Insurance In Maine By Credit Score
On average, Maine drivers with excellent credit will save about $100 yearly on car insurance compared to drivers with poor credit.
| | Poor | Average | Good | Excellent |
| --- | --- | --- | --- | --- |
| National Average | $2,887 | $2,296 | $1,912 | $1,350 |
| Maine | $1,661 | $1,373 | $1,161 | $829 |
Average Cost of Car Insurance In Maine By Driving Record
Your driving habits significantly impact what you pay for car insurance. Safe drivers in Maine enjoy lower rates, while speeding tickets, accidents, or DUI/DWI can cause your rates to jump.
| Driving Incident | Average Full-Coverage Premium (Annually) |
| --- | --- |
| Clean Driving Record | $927 |
| Speeding Ticket | $1,135 |
| Accident | $1,429 |
| DUI/DWI | $1,855 |
What Optional Maine Auto Insurance Coverages Should You Consider?
For extra security on the road, you may want to consider adding the following extra coverage to your policy:
Comprehensive coverage to repair your vehicle from non-collision-related damage.
Accident forgiveness guarantees your rates remain the same after your first at-fault accident.
Roadside assistance covers lockout service, fuel delivery, jump-starts, and more.
Loss of use/rental car expense to pay for a rental car if your car is damaged in a covered loss.
What Auto Insurance Discounts To Look For In Maine
Drivers shopping for car insurance in Maine should consider possible discounts when comparing rates. You may be able to save more money by bundling your home and auto insurance or enrolling in paperless billing.
Maine Car Insurance FAQs
Does Maine require car insurance?
Maine requires car insurance with required coverage amounts.
Is Maine a no-fault accident state?
Maine is an at-fault (or "tort") state, meaning the at-fault driver uses their insurance to pay the other driver's bills.
Does Maine have PIP coverage?
Instead of PIP insurance, Maine insurance companies offer medical payments insurance (MedPay), which helps with bills resulting from an accident.
Is auto insurance expensive in Maine?
Car insurance in Maine is 35% cheaper than the national average.
How much does insurance cost in Maine?
Maine drivers expect to pay an average of $927 for full-coverage auto insurance.
How To Purchase Affordable Car Insurance In Maine
To ensure you're locking in a reasonable rate and meeting your coverage needs, it's important to shop around and compare. Use our online quote tool to find the best rates.