UPDATED: SEPTEMBER 05, 2023 | 3 MIN READ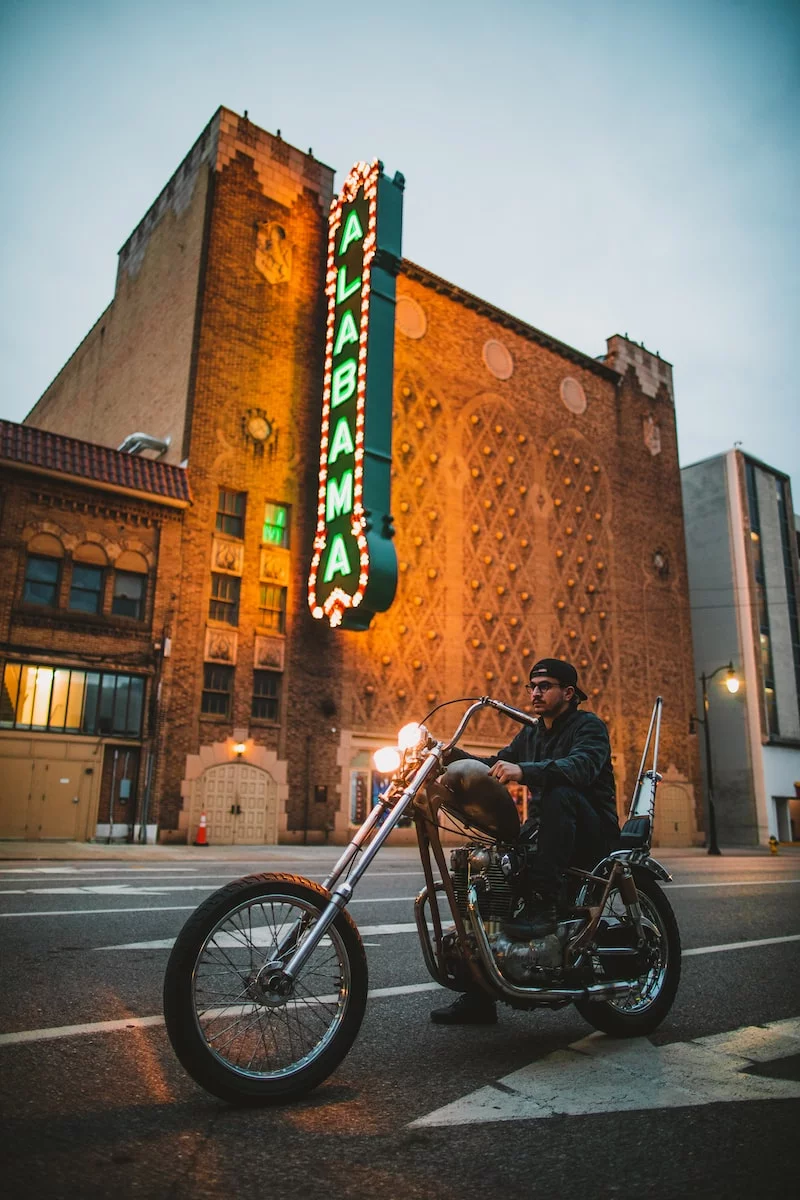 All citizens of Alabama must obtain a standard of health insurance coverage according to the Affordable Care Act. Residents receive coverage through their job, private insurance, or programs such as Medicaid or Medicare. Below is everything you need to know about getting affordable health insurance in Alabama.
Open enrollment for ACA health insurance in Alabama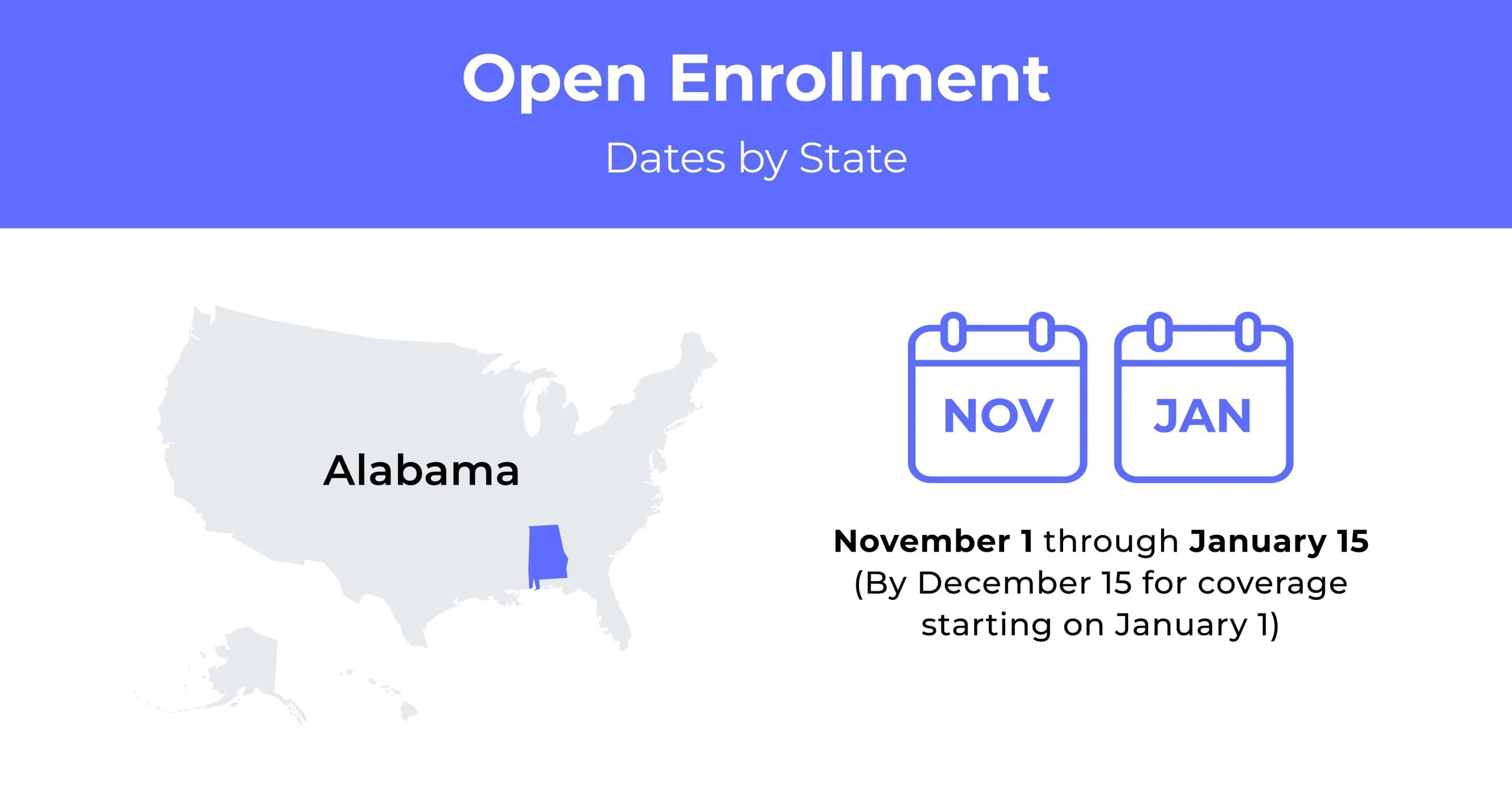 Alabama ACA health insurance demographics
Certain demographics come into play when insurers give you a quote. You may qualify for cheaper health insurance in Alabama, depending on your income and age.
Average household income: The average household income in Alabama is $71,964. The median household income is $52,035.
Median age range: The median age in Alabama is 39.2.
Education: Alabama is ranked 45th in educational attainment and 41st in education quality compared to the national average.
What type of ACA Marketplace does Alabama have?
Alabama has a federally operated health insurance exchange with the health insurance Marketplace. A decision was made against a state-run exchange, which currently has three carriers.
How many people are insured through the Alabama Marketplace?
In 2021, 169,119 residents in Alabama enrolled in private individual market plans. There has been a 5% increase since 2014, when 97,870 people were enrolled.
Did Alabama implement the ACA's Medicaid expansion?
Currently, there is no Medicaid eligibility expansion in Alabama. This is because they have not accepted federal funding to expand Medicaid under the ACA.
When can you purchase Obamacare insurance in Alabama?
If you are outside the enrollment period, a qualifying event is required to change coverage or enroll. The enrollment period runs from November 1st to January 15th yearly.
Types of ACA health insurance plans In Alabama
A few different carriers offer different types of plans for Alabama health insurance. Below are some great options to choose from.
Which carriers offer Obamacare coverage in Alabama?
Five insurers will offer coverage in the Alabama exchange for 2023, with two new companies joining.
Bright Health (available plans in the Birmingham area)
UnitedHealthcare (available plans in Mobile, Huntsville, and Dothan area)
Blue Cross Blue Shield of Alabama (available plans statewide)
Celtic/Ambetter from Alabama (newcomer for 2023)
US Health & Live/Ascension Personalize Care (newcomer for 2023 with available plans in Mobile)
How much does Obamacare plan cost in Alabama?
​​Alabama health insurance policies are compared by tier to find the cheapest plans for different levels of coverage. The rates may change depending on the county, but the table shows a great starting point.
Cheapest health insurance by metal tier in Alabama
Your health insurance rates vary depending on the level of coverage you choose. The more coverage you have, the higher your premium. Below are the cheapest individual health plans in Alabama by tier.
| Metal Tier | Monthly Premium | Deductible | Maximum Out-of-Pocket |
| --- | --- | --- | --- |
| Catastrophic | $310 | n/a | $8,550 |
| Bronze Expanded | $420 | $8,700 | $8,700 |
| Silver | $580 | $5,000 | $8,700 |
| Gold | $710 | $1,000 | $8,700 |
Cheapest Health Insurance By County
Location is also used to determine insurance rates. Below are the five biggest Alabama counties' cheapest individual and family health insurance rates.
| County Name | Cheapest Plan | Individual, Age 40 | Couple, Age 40 | Couple, Age 40 & Child |
| --- | --- | --- | --- | --- |
| Jefferson | Silver 5000 | $530 | $1,060 | $1,320 |
| Madison | Blue Cross Select Silver | $570 | $1,125 | $1,410 |
| Mobile | Blue Cross Select Silver | $570 | $1,125 | $1,410 |
| Montgomery | Blue Cross Select Silver | $570 | $1,125 | $1,410 |
| Tuscaloosa | Blue Cross Select Silver | $570 | $1,125 | $1,410 |
If you're a student, check out our content on student health insurance in Alabama.
Are subsidies available in Alabama?
At the end of open enrollment last year, the average premium subsidies in Alabama were $672 per month. Due to the American Rescue Plan, more subsidies are available than in previous years.
Can you purchase off-exchange insurance coverage in Alabama?
As of 2017, individual market plans were unavailable on or off-exchange in Alabama. As of 2021, a dozen states have not expanded Medicaid, and Alabama is one of them.
Can you purchase short-term insurance in Alabama?
Short-term health insurance is available in Alabama and monthly rates average from $112. Residents opt for short-term insurance if they are only looking for temporary insurance. Plans range from 30 days to 364 days.
Health coverage options for low-income people in Alabama
Alabama has many excellent choices for obtaining cheap family or individual health insurance. Low-income residents have the option to apply for Medicaid and Medicare.
What Medicare options are available in Alabama?
There are four types of Medicare Advantage plans in Alabama: (SNP) special needs plan, (HMO) health maintenance organization, (PFFS) private fee-for-service, and (PPO) preferred provider organization.
Medicaid In Alabama
To be eligible to apply for Medicaid, you have to be a resident of the state of Alabama, be low-income, and also have one of the following:
Blind or
Have a disability or a family member in your household with a disability
Be 65 years of age or older
Pregnant
Be responsible for a child 18 years of age or younger
Cheapest ACA health insurance plans in Alabama
Plenty of cheap health insurance in Alabama will offer you great rates. There are options for low premiums with high out-of-pocket costs and vice versa.
Cheapest ACA health plan in Alabama with low out-of-pocket maximums
An Alabama health insurance plan with a low out-of-pocket maximum is better if you require much medical care. Even with a high monthly premium, paying for visits to your doctor allows you to reach your out-of-pocket max sooner. An out-of-pocket maximum is typically $4,250.
Cheapest Obamacare plan in Alabama with high out-of-pocket maximums
If you do not go to the doctor regularly, you might opt for a plan with a low premium and high out-of-pocket maximums. High costs happen only if you have a medical emergency. The monthly premiums are roughly $244, and out-of-pocket expenses are $8,250.
Cheapest Marketplace in Alabama with an HSA option
A Health Savings Account (HSA) is a savings account you can contribute to on a pre-tax basis. This helps save you money in the longer run. However, your account can only be used for approved medical expenses, and HSAs are only attached to high-deductible health plans.
Cheapest HMO/PPO/POS health plans in Alabama
Most health insurance plans in Alabama are Preferred Provider Organizations (PPO). They are more expensive than HMO plans but have a broader network. PPOs average $292 per month for a 40-year-old male.
FAQs
Does Alabama have affordable health care?
There are many affordable health insurances in Alabama. There is Medicare and Medicaid for low-income residents and affordable private plans.
What's the average cost of health insurance in Alabama?
Health insurance costs $642 monthly per person for major medical individual health insurance.
Is it mandatory to have health insurance in Alabama?
The Affordable Care Act requires all citizens to obtain a minimum standard of health insurance coverage.
How do you qualify for Obamacare in Alabama?
Alabama uses the federally funded health insurance Marketplace, so residents use HealthCare.gov to apply.
What does Alabama Medicaid cover for adults?
Medicaid offers care from various coverages, including lab and x-ray services, dental, eye, hearing, and transplant coverage.
How to find health insurance in Alabama
You must compare rates for various coverage levels and carriers to find the cheapest health insurance in Alabama. Use our online quoting tool to get this done quickly. It makes choosing the best plan simple.
---
Related content:
---