UPDATED: APRIL 12, 2023 | 2 MIN READ
Arkansas health insurance is available in a few different ways. You might be eligible for Medicaid or Medicare or have insurance provided by your employer. Purchasing health insurance is also an option; private plans are available from the Health Insurance Marketplace. Arkansas health insurance varies in cost, but we have all the information you need.
Arkansas Open Enrollment Dates For Health Insurance
In Arkansas, the health insurance Open Enrollment period runs from November 1st to January 15th each year.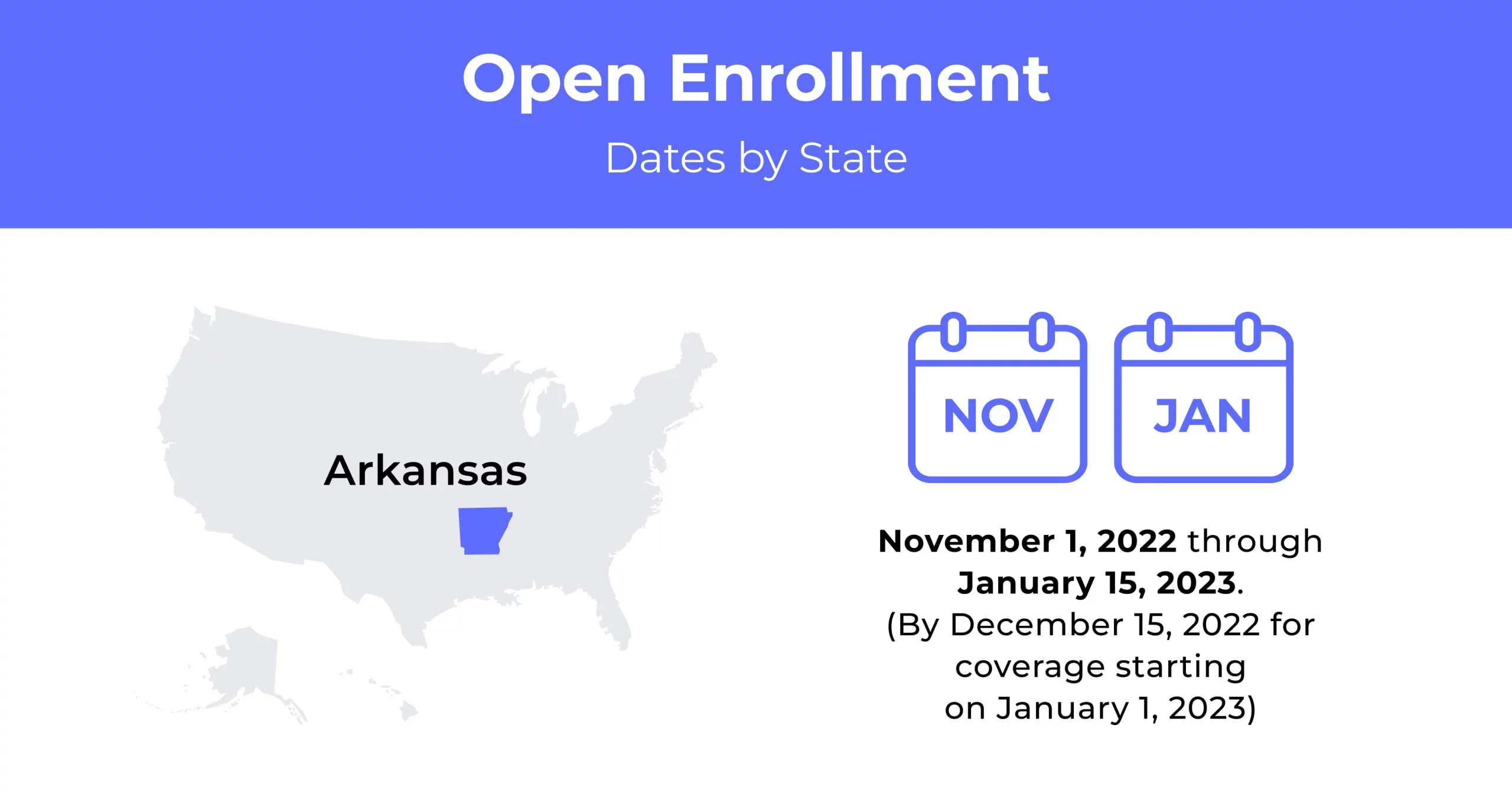 Arkansas Health Insurance Demographics
Demographics have a considerable impact on what health insurance in Arkansas costs. Your age and income are considered when your insurer gives you a quote.
Average Household Income: The median household income in Arkansas is $49,475. The average household income is $69,357.
Median Age Range: The median age range as of 2019 for residents in Arkansas is 38.8. However, people are getting older in Arkansas as the average age has increased since 2018.
Education: Arkansas residents with a high school education or greater were 87.2%. The number of residents with a bachelor's degree or higher was 23.8%.
What Type Of Marketplace Does Arkansas Have?
Arkansas has a state-based health insurance Marketplace utilizing the federal enrollment platform. There are four carriers offering coverage in 2022. In addition, there is statewide coverage for three of them, giving residents more insurer options than people in other states.
How many people are insured through the Arkansas health insurance Marketplace?
Enrollment in the Arkansas exchange peaked in 2016 but has declined yearly through 2022. Then, in 2021, it grew again, hitting an all-time high in 2022. There have been 81,947 people enrolled in the Arkansas exchange, which is a 20k increase from the year before.
Did Arkansas implement the ACA's Medicaid expansion?
Yes. Arkansas is one of 28 states implementing the Medicaid expansion, including Washington DC health insurance. These states are implementing it through a state plan amendment.
When can you purchase ACA health insurance in Arkansas?
The enrollment period for the ACA-compliant plan in Arkansas runs from November 1 to January 15. Outside of the enrollment period, you must wait for a particular enrollment period to enroll in a new plan or switch to a different plan.
Types of ACA Plans In Arkansas
Four main insurers with different types of plans are available in the northwestern and central parts of the state.
What carriers offer ACA health insurance in Arkansas?
There are a few different insurers that offer plans in Arkansas for 2022. These four are the main Arkansas health insurance carriers for the plans:
Ambetter (QualChoice: QC Life and Health, QCA Health Plan)
Health Advantage (HMO Partners; an affiliate of Arkansas Blue Cross Blue Shield)
Arkansas Blue Cross Blue Shield (USAble Mutual)
Oscar
How Much Does Health Insurance Cost In Arkansas?
The plans in the Health Insurance Marketplace have different tiers and levels. The different plans are named after precious metals, and they determine the share of your medical expenses covered by your insurer. Lower premiums are under Bronze, or Expanded Bronze, but require more out-of-pocket costs.
Cheapest Health Insurance By Metal Tier In Arkansas
Health insurance in Arkansas is broken down into four metal tiers. The table below shows the cheapest individual health insurance option by coverage level.
| Metal Tier | Monthly Premium | Deductible | Maximum Out-of-Pocket |
| --- | --- | --- | --- |
| Bronze | $315 | $8,600 | $8,600 |
| Bronze Expanded | $340 | $8,300 | $8,700 |
| Silver | $390 | $6,500 | $8,400 |
| Gold | $490 | $1,450 | $6,300 |
Cheapest Health Insurance By County
Your location plays a role in insurance costs. However, people in Arkansas's five largest counites should see the same rates. Below are the rates for each county's cheapest individual and family plans. Rates may differ slightly in other parts of the state.
| County Name | Individual, Age 40 | Couple, Age 40 | Couple, Age 40 & Child |
| --- | --- | --- | --- |
| Benton | $390 | $775 | $850 |
| Faulkner | $390 | $775 | $850 |
| Pulaski | $390 | $775 | $850 |
| Sabastian | $390 | $775 | $850 |
| Washington | $390 | $775 | $850 |
Are you a student that's aging off of your parent's healthcare plan? Check out our article on student health insurance in Arkansas.
Are Subsidies Available In Arkansas?
There are subsidies available through the federal government. In 2020, 88% of people enrolled in the Arkansas Marketplace received subsidies through Obamacare. It's also Advanced Premium Tax Credits and is up from 2019. The average monthly subsidy received in 2020 was $382.
Can You Purchase Off-Exchange Insurance Coverage In Arkansas?
Yes. You can purchase health insurance in Arkansas outside of the Marketplace, even if it's not open enrolment. Contact an agent to determine what plans are available to you and what the costs are.
Can You Purchase Short-Term Insurance In Arkansas?
Short-term health insurance in Arkansas offers coverage for a limited period. It is great if you are between jobs, needs an affordable solution to traditional health insurance, or are waiting for group coverage to start.
Health Coverage Options For Low-Income People In Arkansas
There are a few different options for Arkansas health insurance for low-income people. Medicare and Medicaid are excellent choices for coverage in Arkansas.
What Medicare Options Are Available In Arkansas?
Arkansas health insurance for low-income residents comes in the form of Medicare. To be eligible for Medicare, you must be a resident of Arkansas and have a financial situation characterized as low-income or very low-income.
Medicare Advantage, Medigap, and Medicare Part D, which provide prescription drug coverage, are also available in Arkansas.
Medicaid In Arkansas
Medicaid is a program that helps provide medical services for low-income people in Arkansas. These services are paid for with state and federal money. Two programs are available for children, including ARKids First-A and ARKids First-B.
ARKids First-A is Medicaid for children.
ARKids First-B is for people with higher income who cannot get regular Medicaid but need insurance for their children.
Cheapest Health Insurance Plans In Arkansas
A few options are available if you are looking for Arkansas health insurance with the cheapest rates.
Cheapest health plan in Arkansas with low out-of-pocket maximums
There are some great options if you want a plan with a higher premium but low out-of-pocket expenses. Health Advantage has the lowest out-of-pocket expenses with their HA Gold Plan HSA1, Arkansas's most affordable health insurance. It's $575 monthly, and their out-of-pocket maximum is $3,800.
Cheapest health plan in Arkansas with high out-of-pocket maximums
Most younger people opt for a low-cost plan with higher out-of-pocket maximums. The monthly premiums are low, and you only have to pay out-of-pocket when you have a medical emergency.
Ambetter from Arkansas Health and Wellness has a plan called Ambetter Essential Care 1 with high out-of-pocket expenses, but it only costs $258 a month. The plans have an out-of-pocket limit of $8,250 or higher.
Cheapest health plan in Arkansas with an HSA option
People who don't go to the doctor often might not need traditional health insurance. Instead, a high-deductible plan with a Health Savings Account (HSA) might be the best option. They have low monthly premiums of $370 with Bronze Plan HSA1 by Arkansas Blue Cross and Blue Shield.
Cheapest HMO/PPO/POS health plans in Arkansas
PPOs are great if you stay within your network. The most affordable plan is Ambetter Balanced Care 12 from Ambetter Arkansas Health & Wellness. The monthly cost is $387 a month.
FAQs
What is the average cost of health insurance in Arkansas?
Health insurance in Arkansas costs, on average, $202.99 per person.
Does Arkansas have state health insurance?
Yes. Arkansas has state health insurance.
Who is eligible for Arkansas works insurance?
Arkansas Works is a Medicare plan that offers private health insurance coverage.
How do you qualify for Medicaid in Arkansas?
You must be above the age of 65 or below the age of 19 or disabled to qualify for Medicaid.
What's covered by Arkansas Medicaid?
Arkansas Medicaid covers rehabilitative services, ambulance services, nursing home care, dental care, child health services, mental health services, prescription drugs, and hearing, and medical equipment, to name a few.
How To Find the Cheapest Health Insurance In Arkansas
If you're looking for the cheapest health insurance in Arkansas, the best thing to do is compare rates for various policies. Use our health insurance quote tool to make the process fast and easy.