UPDATED: SEPTEMBER 05, 2023 | 1 MIN READ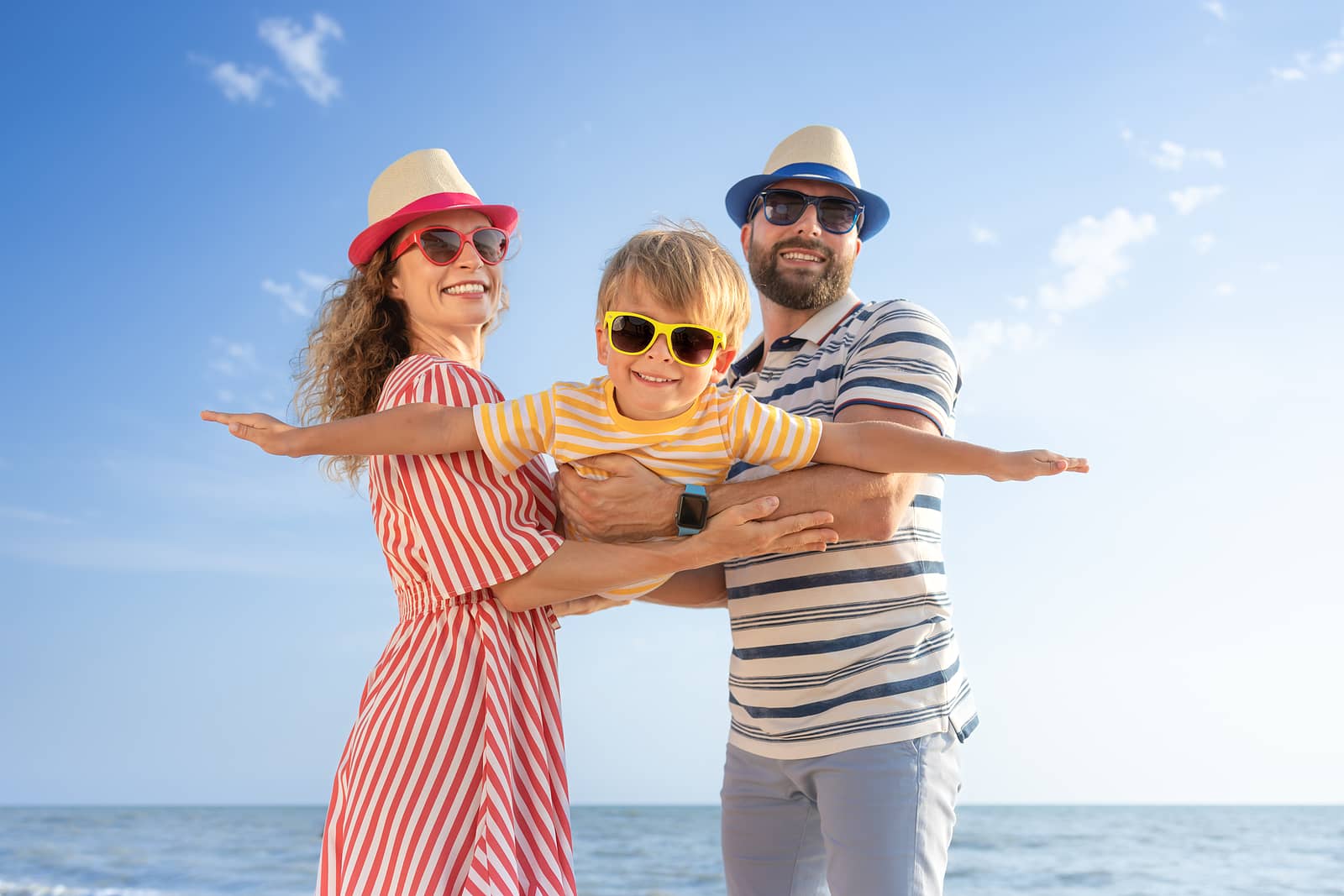 Florida is one of the more expensive states for health insurance. It also has one of the country's highest ACA enrollments. Read on if you want to learn about your options for Florida health insurance plans and how they work.
Florida health insurance Open Enrollment dates
Open Enrollment for health insurance in Florida runs annually from November 1st to January 15th.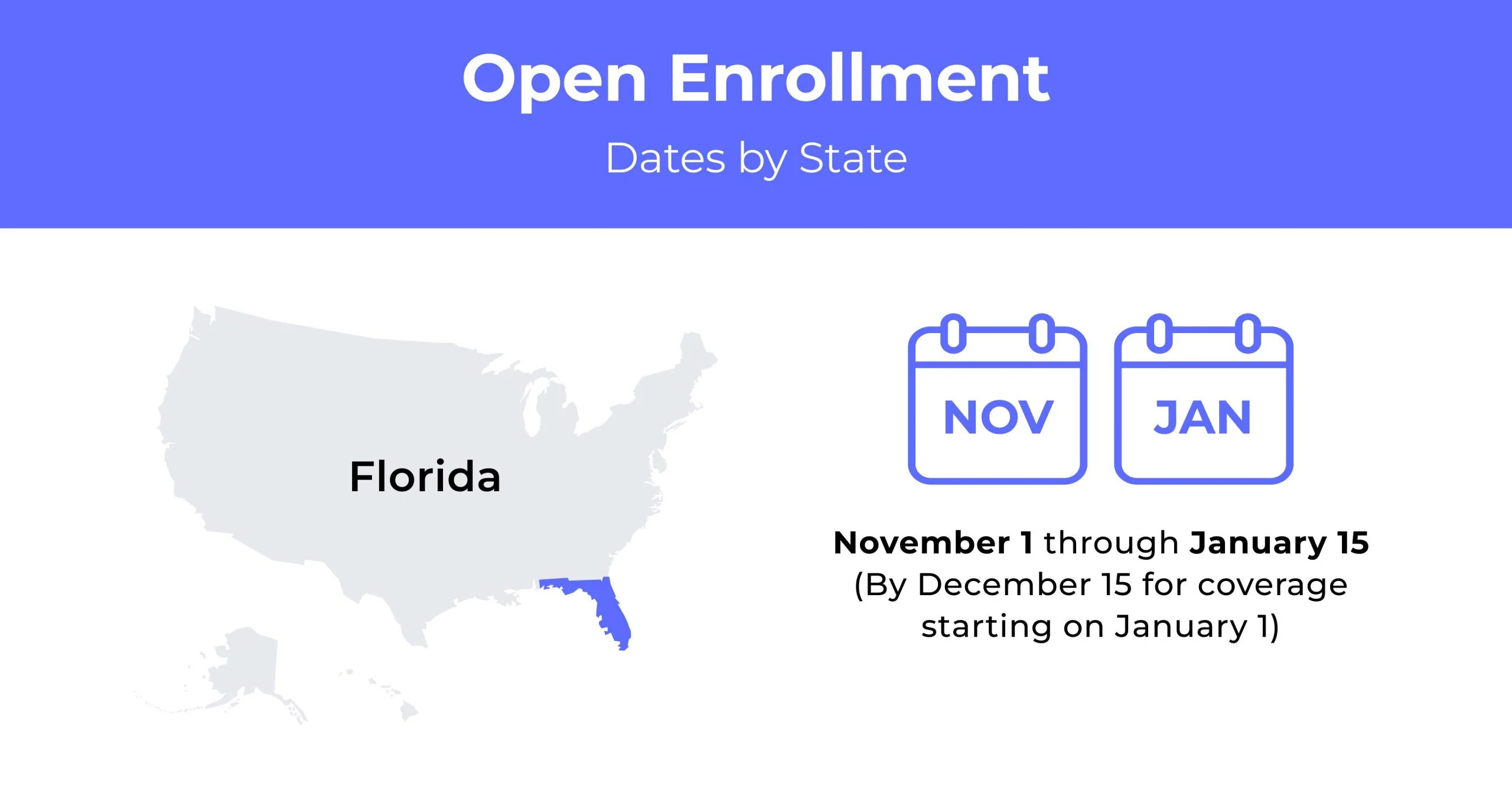 Florida health insurance demographics
Education, age, and income coincide with insurance premiums in Florida. Educated individuals often have a higher income than those without a degree.
Average household income: The average household income for Florida is $83,104.
Median age range: Florida's median age is 43.1. By gender, the median age range for males is 41.5, and for females is 44.6.
Education: Florida has an educated population, as 30.5% of residents have a Bachelor's degree.
What type of health insurance Marketplace does Florida have?
The federal government operates the Florida health insurance marketplace, offering family and individual health insurance plans. Florida's marketplace enrollment represents over 15% of the country's total enrollment.
How many people are insured through the Florida health insurance marketplace?
For 2021, 2,120,350 people enrolled in coverage. This number increased to 2,723,094 in 2022. Before the ACA, Florida's uninsured rate was over 20%, but the ACA decreased the figure to 13.2% by 2019.
Did Florida implement the ACA's Medicaid expansion?
Florida didn't expand Medicaid eligibility under the ACA.
When can you purchase ACA health insurance in Florida?
The Open Enrollment Period for Florida begins November 1, 2022, for 2023 coverage. Floridians may be eligible for Special Enrollment if any of the circumstances below apply:
Coverage loss due to divorce or death of an enrolled family member
The birth or adoption of a child
Moving to a new state or zip code
Moving for seasonal employment to live and work in Florida
Changes in income or employment
Loss of parent's health insurance at the age of 26 or loss of a student health plan upon graduation
Participation in Special Enrollment requires documentation of the qualifying life event. Enrollment must be 60 days before or 60 days after the event.
Types of ACA Plans In Florida
While other states may offer four metal tiers for health insurance plans, Florida has six Metal Tiers. Each varies in premium and coverage options.
Catastrophic: These plans are for medical emergencies, severe accidents, or illness. The deductibles and out-of-pocket costs are high.
Bronze: Bronze health insurance plans offer low but high medical costs when seeking care. These plans suit people who don't regularly visit the doctor or have expensive medication.
Expanded Bronze: This level features more coverage than a typical Bronze plan, as it expands your insurance coverage.
Silver: A popular plan level, Silver has a lower rate and medium deductibles.
Gold: High premiums but lower deductibles and out-of-pocket costs make Gold plans a common choice.
Platinum: Platinum health insurance has high premiums, low deductibles, and a lower cost of out-of-pocket.
What carriers offer ACA health insurance in Florida?
The Florida ACA marketplace features 14 healthcare providers with individual and family health insurance options. In 2022, Florida added four new carriers. The following carriers offer marketplace plans:
AvMed
Aetna (merged with Coventry)
Blue Cross Blue Shield of Florida (licensee known as Florida Blue)
Bright Health Insurance Company
Capital Health Plan
Celtic (Ambetter is a subsidiary in Florida)
Cigna
Florida Health Care Plan Inc
Florida Blue HMO
Health First Health Plans
Molina
Oscar Health
Sunshine State Health Plan
UnitedHealthcare
How much does health insurance cost in Florida?
Florida health insurance plans monthly costs increased 6% over the last year. Overall, the cheapest plan type is Catastrophic and Bronze. Health insurance plan rates vary by age, gender, and location. A 40-year-old will pay less than a 60-year-old but more than a 21-year-old.
Cheapest health insurance by Metal Tier in Florida
Florida offers six levels of metal tier plans. Catastrophic plans are the cheapest, but they only cover emergency situations and are only available to a few people. Platinum plans have the best coverage but cost the most at an average of $660 monthly.
| Metal Tier | Monthly Premium | Deductible | Maximum Out-Of-Pocket |
| --- | --- | --- | --- |
| Catastrophic | $195 | $8,700 | $8,700 |
| Bronze | $340 | $6,100 | $8,700 |
| Bronze Expanded | $325 | $8,300 | $8,700 |
| Silver | $430 | $6,500 | $8,700 |
| Gold | $460 | $2,900 | $8,700 |
| Platinum | $660 | $1,250 | $4,250 |
Cheapest Silver health insurance plans by County
Silver health insurance plans are a good mid-range option. The table below shows the cost per month of of cheapest Silver plan in the five largest counties (by population) in Florida.
| County | Individual, Age 40 | Couple, Age 40 | Couple, Age 40 & Child |
| --- | --- | --- | --- |
| Broward | $445 | $885 | $1,150 |
| Hillsborough | $445 | $885 | $1,150 |
| Miami-Dade | $445 | $885 | $1,150 |
| Orange | $445 | $885 | $1,150 |
| Palm Beach | $445 | $885 | $1,150 |
Health insurance subsidies available in Florida
Subsidies for health insurance are available in Florida and help offset premium costs. These credits help 94% of enrollees lower their monthly premiums and are only for the marketplace.
Can you purchase off-exchange health insurance coverage in Florida?
Yes, Florida has several options for off-exchange health insurance. The plan availability varies by county.
Can you purchase short-term health insurance in Florida?
Yes, Florida permits short-term health insurance policies. You can purchase a plan for up to 364 days and renew it. Short-term plans last 36 months, but insurance agencies may limit the duration. If you're without health insurance, between jobs, waiting on Medicare, or have other medical concerns, a short-term health insurance plan may be for you.
Health insurance options for low-income people in Florida
Florida features Medicaid and the Children's Health Insurance Program (CHIP). To qualify for these programs, you must meet income limits based on household size.
What Medicare options are available in Florida?
A range of Florida Medicare options is available. Plan C (Medicare Advantage) offers prescriptions, hospital visits, and other medical care coverage.
Any Florida resident eligible for Medicare may buy an Advantage plan. Medicare Parts A and B, run by the government, are also available.
Medicaid In Florida
Medicaid is available for those in need of Florida health insurance. The program uses need-based eligibility. The maximum income level is $18,075 for a household size of one. The income level increases to $24,353 for families of two.
Florida Medicaid recipients also must be:
Children 0-1 must be at 206% of the poverty level
Pregnant, or a guardian for a child 18 or younger
Blind or disabled, or living with a disabled family member
65 years or older
Supplemental Security Income (SSI) recipients in Florida are eligible automatically for Medicaid.
Cheapest health insurance plans in Florida
Shopping through the marketplace can offer valuable savings. Before you look for a cheap health insurance option in Florida, consider how often you go to the doctor and how much you want to pay for any primary care visits or a specialist. Everyone has different needs; consider these well as you shop for a plan.
Cheapest health plan in Florida with low out-of-pocket maximums
Plans with low out-of-pocket maximum costs are affordable if you regularly seek care. You will pay a higher premium but reach your deductible quicker. The ACA marketplace ceiling for out-of-pocket is $8,700, but some plans are much lower than this.
Florida's Gym Access IND Platinum HMO 1941 has an out-of-pocket max of $2,000 a person and only $10 copay for primary care. You should expect to pay around a monthly premium of $670-$700.
Cheapest health insurance plan in Florida with high out-of-pocket maximums
If your doctor visits are only for an occasional checkup and you're otherwise healthy, you may want a high out-of-pocket maximum. Your monthly premium is likely $200 or less, like Health First GYM ACCESS Catastrophic HMO 1746. This Florida health insurance plan has an out-of-pocket limit of $7,350 a person.
Cheapest plan in Florida with an HSA option
A health savings account (HSA) is a good option if you want health coverage available for the future. There are three metal tiers with HSA options: Expanded Bronze, Silver, and Gold. All cost an average of under $600 a month. A plan like the Gym Access IND Gold HMO H.S.A. 9010 by Florida Health Care Plan may be a good choice.
Cheapest HMO/PPO/POS insurance plans in Florida
Health Maintenance Organization (HMO) plans are prevalent in Florida and can cost an average of $440 monthly. Unlike other health insurance plans, HMOs cover medical services only within the network.
Preferred Provider Organization (PPO) uses a network, and you pay less when you seek care within the network. Point of Service (POS) plans offer coverage both in-network and out-of-network. Silver plans are often the best value across HMO, PPO, and POS insurance plans.
FAQs
How do I get health insurance in Florida?
You can get health insurance via two methods. First, you can enroll in the Florida ACA marketplace during Open Enrollment. You may qualify for Special Enrollment as well. You may opt for the second way and purchase off the exchange.
Does Florida have free health insurance?
Florida offers Medicaid, free or low-cost care for individuals in need. Individuals 65 and older can qualify for free or cheap Medicare plans.
What's the maximum income to qualify for free health care in Florida?
The maximum income for free health care in Florida is $18,075 for a household size of one. Medicaid eligibility numbers changed in January 2022. Applicants must make no more than $2,523 monthly, with $130 for personal expenses.
Who isn't eligible for Medicaid in Florida?
Anyone without a dependent isn't eligible for Medicaid. If you're not elderly and are able-bodied, you're also not eligible for Medicaid in Florida.
What does Florida Medicaid cover for adults?
Florida Medicaid covers a range of care services for adults. These include physician visits, prescriptions, preventative care, hospitals, birth control, dental services, vision, hospice, and more.
How to buy affordable individual and family health insurance plans in Florida?
Compare rates if you want to buy individual and family health insurance plans. If through the exchange, be prepared to wait until Open Enrollment or see if you qualify for Special Enrollment.
You may also purchase off-exchange directly from an insurance agency, not the marketplace. Be sure to get several health insurance quotes before choosing a policy so you understand all your options.