UPDATED: SEPTEMBER 05, 2023 | 2 MIN READ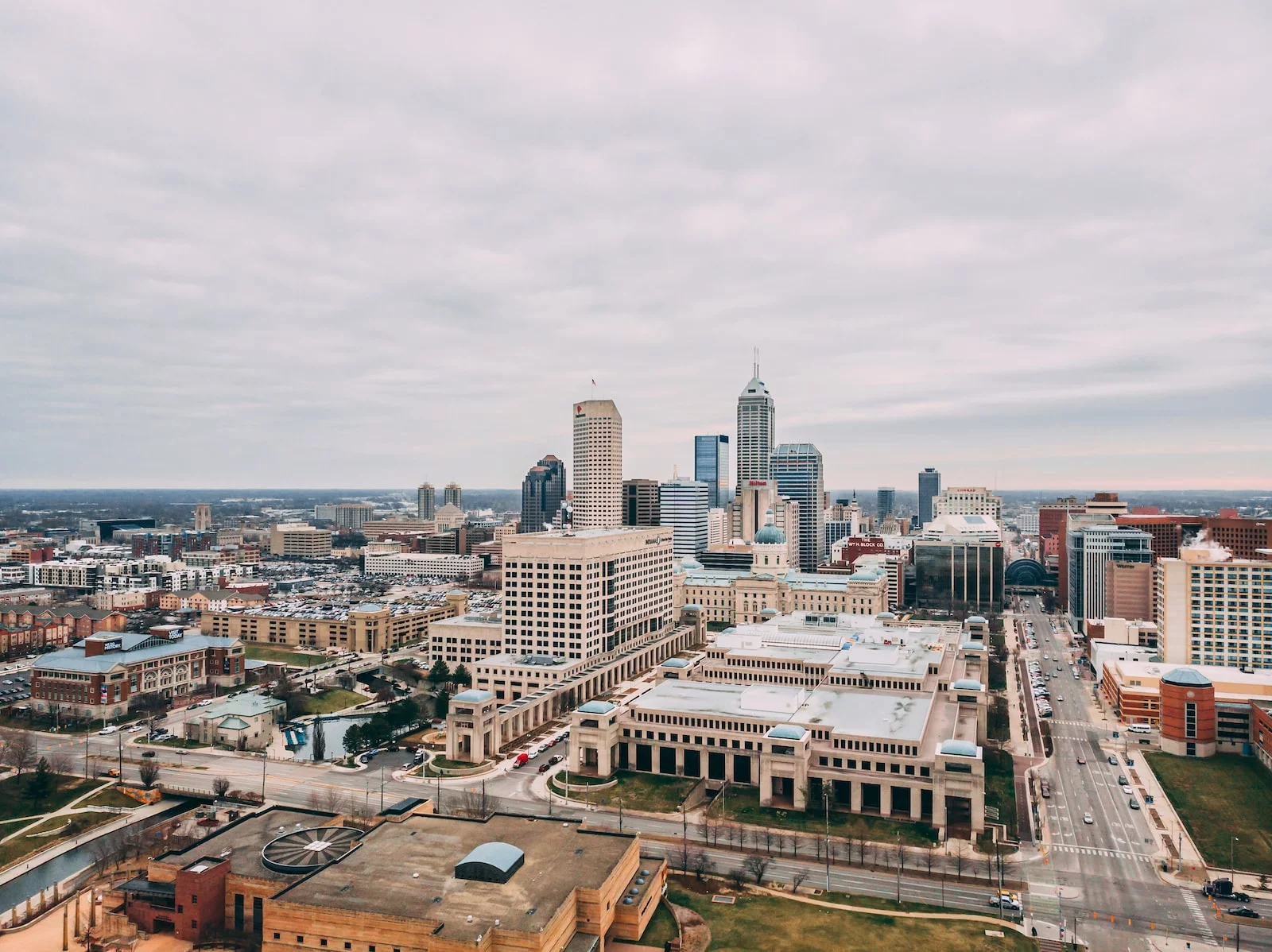 It can be challenging to find the best health insurance plan in Indiana. You might feel confused about copay, coinsurance, deductibles, and what factors into your premiums. Here is all you need to know about Indiana health insurance, with breakdowns to help you pick the best plan.
Indiana Open Enrollment Dates For Health Insurance
Indiana's Open Enrollment for health insurance runs annually from November 1st to January 15th.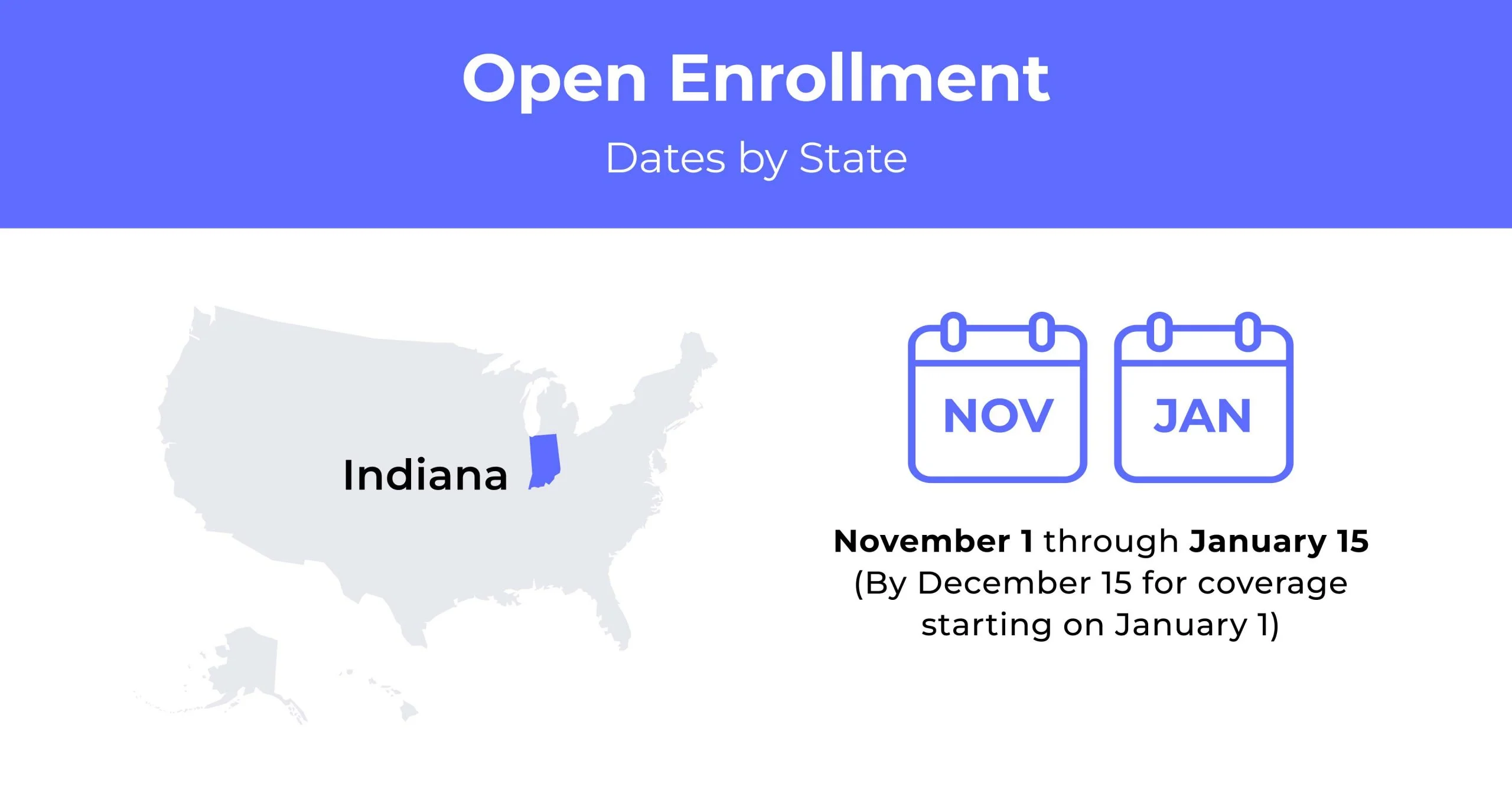 Indiana Health Insurance Demographics
Demographics such as location, age, and income significantly influence how health insurance companies determine premiums. Below are some demographics found within Indiana:
Average Household Income: Indiana is considered a high-income state. The average household income is $76,984.
Median Age Range: There are more females in Indiana than men. The median age range is 35.2 years for the state.
Education: Indiana ranks 22 for K-12 and 34 for higher education nationwide. About 818,325 of those 25 and older hold a Bachelor's degree or higher.
What Type Of Marketplace Does Indiana Have?
Indiana uses a federally-run health insurance exchange. Four insurance carriers offer plans, and residents can enroll online. Most employed across the state are eligible for health insurance coverage through their employer.
How many people are insured through the Indiana health insurance Marketplace?
Last year, there was a decrease in those enrolled in Indiana from the prior year. For 2021 only 136,593 people were enrolled through the health insurance exchange Marketplace.
Did Indiana implement the ACA's Medicaid expansion?
Indiana (along with 37 other states) has expanded Medicaid eligibility to non-elderly and non-disabled adults. There are variations from the expansion outlined by the Affordable Care Act (ACA). Medicaid expansion is available to anyone under 138% of the federal poverty level for income.
When can you purchase ACA health insurance in Indiana?
Residents of Indiana can apply for ACA health insurance plans during the annual Open Enrollment Period. It runs from November 1st to December 15th each year. You can enroll outside the specified period if a life event occurs, such as a baby's birth or marriage.
Types of ACA Plans In Indiana
There are four Metal Tiers for ACA health insurance plans in Indiana. They are as follows:
Bronze
Expanded Bronze
Silver
Gold
The monthly premiums can vary depending on location, age, and more. Coverage increases along with your monthly premium when the plan tier is higher.
What carriers offer ACA health insurance in Indiana?
Four carriers sell insurance on the federal exchange through the health Marketplace in Indiana. The insurers' plans include U.S. Health and Life, Anthem, CareSource, and Celtic/MHS/Ambetter.
How Much Does Health Insurance Cost In Indiana?
Residents of Indiana pay an average of $585 monthly for medical insurance. However, the prices of premiums vary depending on location, number of people, ages, and other factors.
Cheapest Health Insurance By Metal Tier In Indiana
Before looking for the cheapest individual health insurance in Indiana, you must decide which coverage level you want. Below are the most cost-effective options for each metal tier.
| Metal Tier | Monthly Premium | Deductible | Maximum Out-of-Pocket |
| --- | --- | --- | --- |
| Bronze | $370 | $8,600 | $8,600 |
| Bronze Expanded | $315 | $7,700 | $8,700 |
| Silver | $380 | $6,500 | $8,700 |
| Gold | $550 | $1,450 | $6,300 |
Cheapest Health Insurance By County
Your location gets factored into your insurance rates. However, the biggest counties in Indiana have the same low-cost individual and family health insurance rates. Rates might vary slightly in the rest of the state, though.
| County Name | Cheapest Plan | Individual, Age 40 | Couple, Age 40 | Couple, Age 40 & Child |
| --- | --- | --- | --- | --- |
| Allen | CareSource Silver | $380 | $755 | $985 |
| Hamilton | CareSource Silver | $380 | $755 | $985 |
| Lake | CareSource Silver | $380 | $755 | $985 |
| Marion | CareSource Silver | $380 | $755 | $985 |
| St. Joseph | CareSource Silver | $380 | $755 | $985 |
Are Subsidies Available In Indiana?
There are health insurance subsidies available in Indiana. Find out if you are eligible to qualify, which can give you a tax credit and lower your monthly payments. You can fill out a form online or call a licensed insurance agent.
Can You Purchase Off-Exchange Insurance Coverage In Indiana?
You can enroll in a health plan outside the exchange through a private insurer. You still need to enroll during the specified Enrollment Period. These plans aren't listed on the Marketplace, and you won't be eligible for tax credits or savings when enrolling off-exchange.
Can You Purchase Short-Term Insurance In Indiana?
Short-term health insurance is available in Indiana. It may be ideal to get this coverage when you miss enrollment or between jobs. Unfortunately, short-term plans don't cover the essential health benefits defined by the ACA. So when purchasing a short-term plan, you likely won't have coverage for existing conditions.
Health Coverage Options For Low-Income People In Indiana
There are family and individual health insurance options for those considered low-income in Indiana. Below are all the Medicare and Medicaid options available to those who qualify.
What Medicare Options Are Available In Indiana?
Residents 65 years of age or older or who are ill or with a disability are eligible for the Medicare program. The options under Medicare are as follows:
Original Medicare (Parts A&B): covers in-patient or out-patient hospital stays, nursing facilities, doctor visits, hospice, and other healthcare services.
Part C: Medicare Advantage plans are alternatives to Original Medicare. These plans offer all A&B coverage except for hospice care. Part C is a good choice if you want all your healthcare and drug benefits on one plan.
Part D: prescription drug coverage
Medicare Supplement/Medigap Plans: These plans help fill the gaps Original Medicare doesn't cover.
Medicaid In Indiana
Those eligible for Medicaid in Indiana have many plan options. Eligibility depends heavily on income. The options include:
Traditional Medicaid
Healthy Indiana Plan
Hoosier Care Connect
Hoosier Healthwise
HoosierRx
Medicare Savings Program
State Health Insurance Assistance Program (SHIP)
Cheapest Health Insurance Plans In Indiana
Your insurance premiums can vary depending on the type of coverage you need. Some of the most affordable plans for Indiana residents factor in medical conditions, income, location, and the metal tier.
Cheapest health plan in Indiana with low out-of-pocket maximums
Those with higher medical costs because you often have to visit the doctor can benefit from a higher premium plan. These have low out-of-pocket maximums, so your insurance company covers costs sooner. The cheapest plan in Indiana is from Ambetter from MHS. Their Ambetter Secure Care 15 plan is an EPO with an average price of $597 monthly for a 40-year-old.
Cheapest health plan in Indiana with high out-of-pocket maximums
Younger residents of Indiana can opt for a lower-cost plan with high out-of-pocket maximums. The CareSource Marketplace Bronze plan is the most affordable for this type of plan. The average cost is $260 monthly for a 26-year-old. Keep in mind these plans also have high deductibles.
Cheapest health insurance in Indiana with an HSA option
Having extra coverage in an emergency with your medical needs can be beneficial. Health Savings Accounts (HSA) are great for emergencies, with pre-tax money you can use for medical expenses. The cheapest health plan in Indiana with the HSA option is under the Expanded Bronze tier. CareSource Marketplace HSA Eligible Bronze offers an average monthly premium of $360 for a 40-year-old.
Cheapest HMO/EPO/POS health plans in Indiana
There are HMO, EPO, and POS plans available in Indiana. The more affordable plan types under the Silver tier for these include:
HMO: The CareSource Marketplace Low Premium Silver by CareSource, averaging $391 monthly for a 40-year-old.
EPO: The Ambetter Balanced Care 29 (2021) by Ambetter from MHS, averaging $435 monthly for a 40-year-old.
Point-of-Service (POS) plans are the most flexible, allowing you to get coverage in and out of the provider network. They can be more expensive, however, when you use out-of-network services.
FAQs
How much is health insurance for a single person in Indiana?
The average health insurance cost for an individual in Indiana is $535 monthly. Prices can vary depending on location, tier, and other factors.
How much is Indiana state health insurance?
Healthcare needs change, so Indiana has multiple options at various prices. Low-income adults and families may be eligible for lower monthly premiums such as the Healthy Indiana Plan(HIP). To find your cost, compare quotes online, or contact a licensed agent by phone or email.
Who qualifies for the Healthy Indiana Plan?
The Healthy Indiana Plan (HIP) covers those between 19 to 64 years old who meet specific income levels:
Individuals with annual incomes up to $18,764
Couples with annual incomes up to $25,276
A family of four with a yearly income of $38,300.
Does Indiana have free healthcare?
Individuals or families in need can receive free medical and healthcare from Community Health Centers (CHCs) or clinics in Indiana. Patients of these centers receive access to health care regardless of their income, race, or background. The clinics are run in partnership with the Indiana Primary Health Care Association.
How can college students in Indiana access health insurance?
Students attending college in Indiana have student health insurance options available.
What qualifies you for Medicaid in Indiana?
To be eligible for Medicaid in Indiana, you must:
Be a resident of the state of Indiana, a U.S. national, citizen, permanent resident, or legal alien,
Require health care/insurance assistance, and
Have a financial situation characterized as low income or very low income.
How To Find Cheap Health Insurance In Indiana
To find cheap health insurance in Indiana, compare several plans and rates. Use our online quote tool to make the process simple.