UPDATED: SEPTEMBER 05, 2023 | 1 MIN READ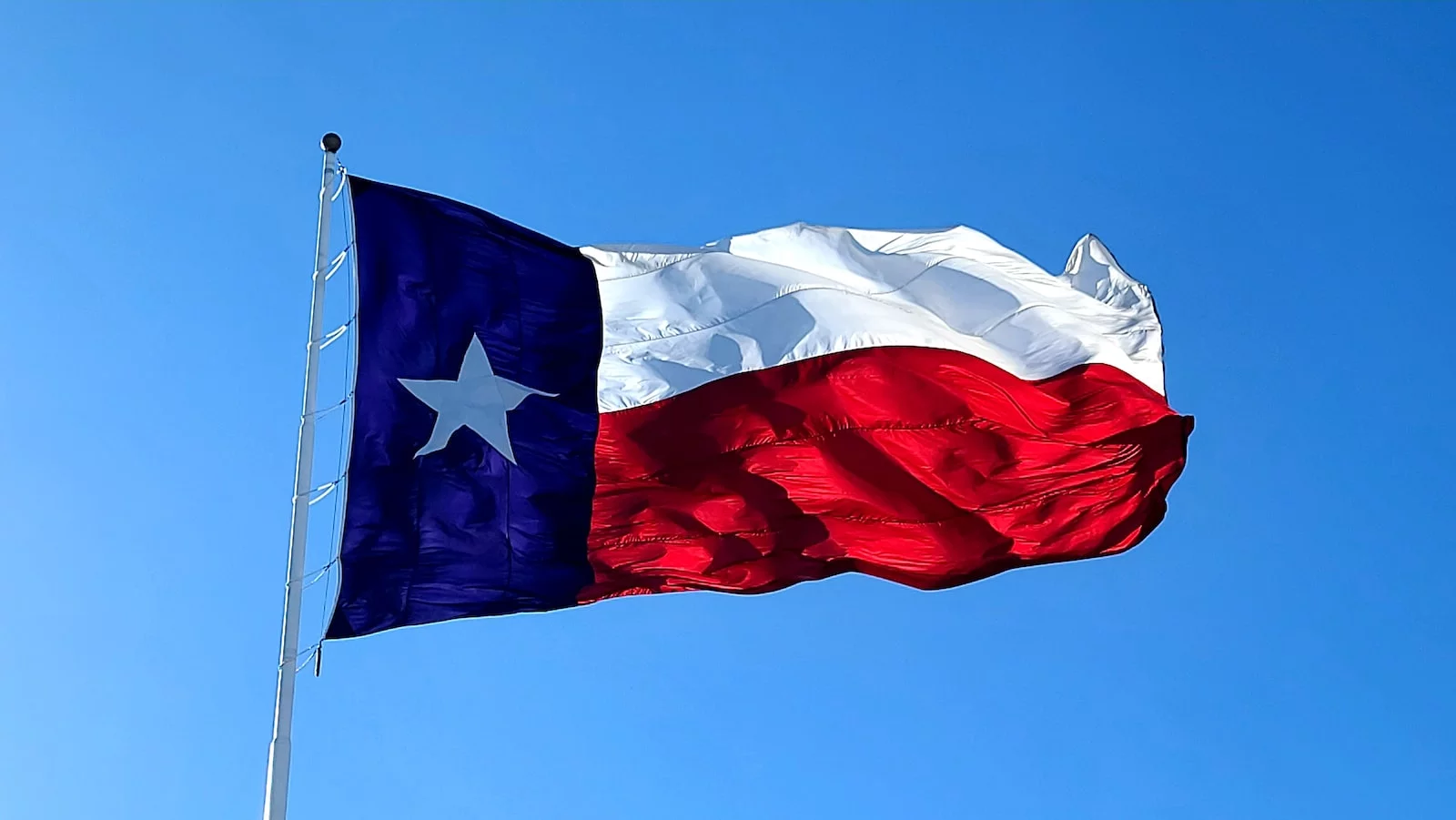 Texas has a high uninsured rate but offers a variety of health insurance plans. Read on for everything you need to know about the Texas health insurance Marketplace, Medicare, and Medicaid in the Lone Star State.
Texas Open Enrollment Dates For Health Insurance
Texas's health insurance Open Enrollment period runs annually from November 1 to January 15th.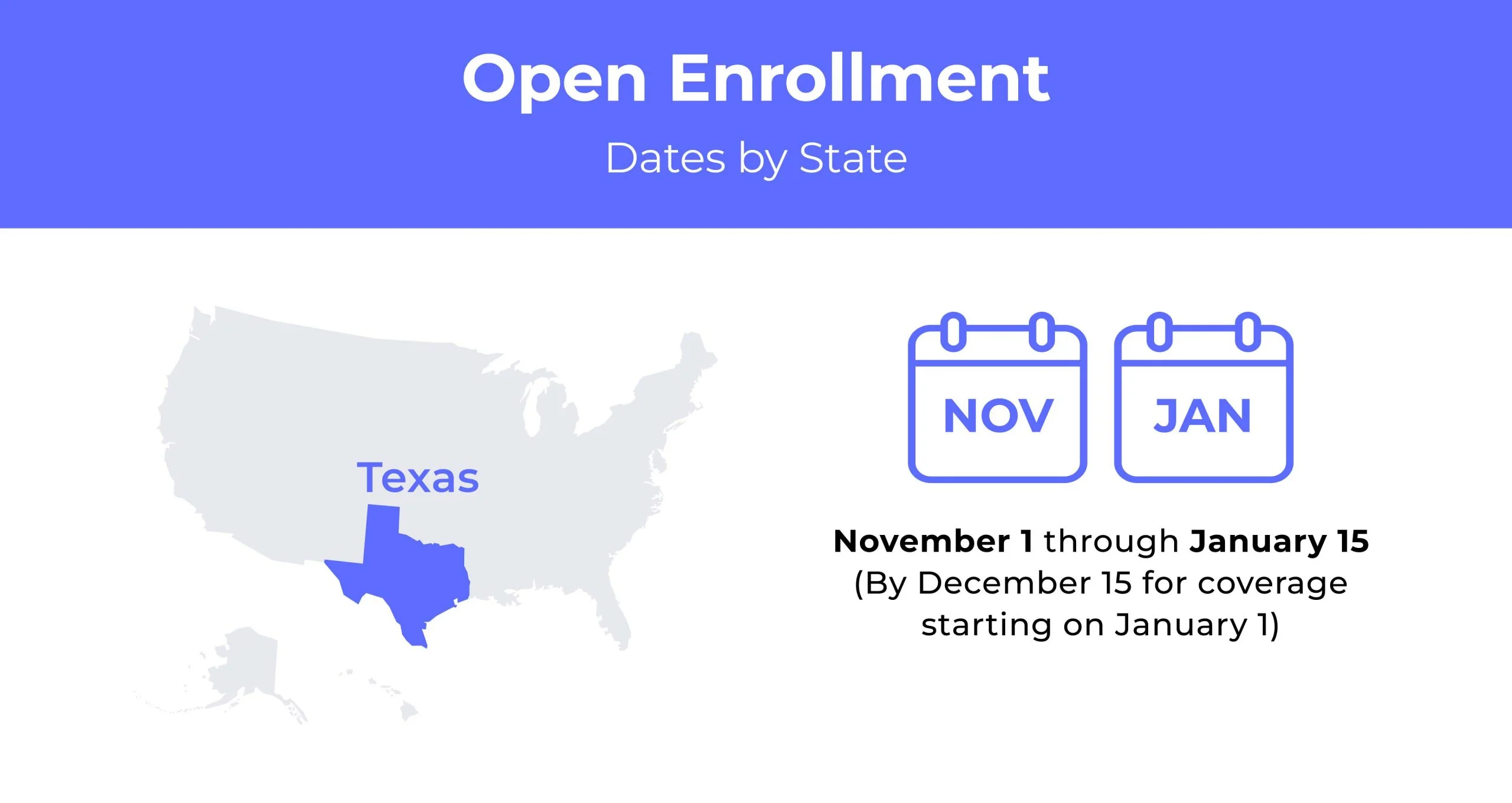 Texas Health Insurance Demographics
Texas has a relatively young population; almost 20% of its residents are college-educated. These factors influence the cost of Texas health insurance as those without a degree might lack access to employer-provided healthcare.
Average Household Income: Texas' average household income is $79,299, and its median income is $56,818.
Median Age Range: The median age in Texas is 34.8 years old, and individuals 18 to 64 years old are 62% of the population.
Education: Of educated Texas residents, 19.90% have a Bachelor's degree, and 10.79% have a graduate degree.
What Type Of Health Insurance Marketplace Does Texas Have?
The Marketplace for Texas health insurance is federally-run. Texas has the highest uninsured rates in the country, a trend that they've repeated for several years. Yet the Affordable Care Act (ACA) gives many Texas residents affordable healthcare.
How many people are insured through the Texas health insurance marketplace?
Texas' enrollment numbers grow each year. A record 1.8 million people enrolled in the Texas health insurance marketplace for 2022 coverage.
Did Texas implement the ACA's Medicaid expansion?
Texas didn't implement the ACA Medicaid expansion, leaving over 770,000 Texas residents ineligible. The state uses the pre-2014 rules and has the highest income limit for eligibility.
When can you purchase ACA health insurance in Texas?
You can purchase Texas health insurance through the ACA marketplace during Open Enrollment, which runs from November 1-January 15. You may be eligible for Special Enrollment if you have a life change, such as a marriage. Other qualifying events include:
Adoption or foster placement of a child
Divorce or legal separation which results in a loss of insurance
Aging off your parent's healthcare plan when you turn 26
Moving to a new location for seasonal work or school
Loss of your student health plan
Death of a family member enrolled in the Marketplace
Relocating to the U.S. from a foreign country
Moving to a new zip code or county
If eligible for Special Enrollment, you must enroll up to 60 days before or 60 days after the event.
Types of ACA Plans In Texas
The Texas health insurance Marketplace features four metal tiers. Catastrophic plans are available to Texans under age 30 or anyone who can't afford insurance.
The metal tiers are as follows:
Bronze: Usually the cheapest, Bronze plans cover the least of your care costs.
Expanded Bronze: Slightly more expensive than Bronze plans, these plans offer more cost coverage.
Silver: Silver plans cover around 70% of your costs but have a higher premium than the Bronze tier.
Gold: The highest premiums are found at the Gold tier, offering the most coverage.
What carriers offer ACA health insurance in Texas?
The Texas health Marketplace features 14 carriers. Some carriers are widely-available, while others are limited to certain counties.
Aetna CVS Health
Celtic/Ambetter (Ambetter from Superior Health Plan)
Blue Cross Blue Shield of Texas
Bright Healthcare
CHRISTUS
Friday Health Plan
Moda Health Plan
Molina
Oscar
Sendero
SHA/FirstCare
Community Health Choice
Scott & White Health Plan
UnitedHealthcare of Texas
How Much Does Health Insurance Cost In Texas?
A Bronze plan's average cost of Texas health insurance is $510 a month. Your premium varies based on age, gender, location, and carrier. A Silver plan costs around $547 a month. You may find cheaper plans, especially if you have a lower income.
Cheapest Health Insurance By Metal Tier
| Metal Tier | Cheapest Plan | Monthly Premium | Deductible | Maximum Out-of-Pocket |
| --- | --- | --- | --- | --- |
| Catastrophic | Christus CHP TX Catastrophic | $260 | $8,700 | $8,700 |
| Bronze | Blue Advantage Bronze | $325 | $8,700 | $8,700 |
| Bronze Expanded | MyBlue Health Bronze | $320 | $7,400 | $8,700 |
| Silver | MyBlue Health Silver | $400 | $3,550 | $8,700 |
| Gold | MyBlue Health Gold | $380 | $1,100 | $8,700 |
Cheapest Health Insurance By County
| County Name | Cheapest Plan | Individual, Age 40 | Couple, Age 40 | Couple, Age 40 & Child |
| --- | --- | --- | --- | --- |
| Bexar | Friday Silver | $460 | $915 | $1,190 |
| Dallas | MyBlue Health Silver | $425 | $850 | $1,105 |
| Harris | MyBlue Health Silver | $400 | $800 | $1,040 |
| Tarrant | Friday Silver | $460 | $915 | $1,190 |
| Travis | Scott & White BSW Prime Silver | $455 | $910 | $1,185 |
Health Insurance Subsidies Available In Texas?
You can save on the cost of health insurance in Texas with subsidies. Cost-sharing reductions and premium tax credits are available based on income. Over 90% of Texans enrolled in the Marketplace receive subsidies, and 60% receive cost-sharing reductions.
Can You Purchase Off-Exchange Health Insurance Coverage In Texas?
Yes, you may purchase off-exchange health insurance in Texas. There are several ACA-compliant and non-ACA plans available for sale. Residents can find an off-exchange plan through an insurance broker, a third-party website, or the health insurance carrier's website.
Can You Purchase Short-Term Health Insurance In Texas?
You may purchase short-term health insurance in Texas with policies valid for up to 364 days. Policies are renewable for up to 36 months. Short-term insurance may be a good idea for Texans not eligible for Special Enrollment or are between employer-based insurance.
Health Insurance Options For Low-Income People In Texas
Texas health insurance is available for low-income people thanks to programs like Medicaid, Medicare, and the Children's Health Insurance Program (CHIP). Each program features specific requirements.
What Medicare Options Are Available In Texas?
Medicare is available for Texans aged 65 or over or those living with serious illnesses such as ALS. Medicare options in Texas include Parts A and B, also called Original Medicare. Part A is hospital insurance for inpatient care, skilled nursing, hospice, and some home health options. Part B is medical insurance. It helps with doctor visits, preventative wellness, medical equipment, and other medical concerns.
Medicare Part C combines A and B and may include Part D, prescription drug coverage. Medicare Supplement plans in Texas work differently than Medicare Advantage plans do. Make sure you understand the difference between them both before enrolling.
Medicaid in Texas eligibility for adults
Texans are eligible for Medicaid if they have an annual income of $26,909 or less or $36,254 for a family of two. They must also be one of the following:
Pregnant or a caretaker of a child under 18 or younger
Blind or disabled, or caretaker of a disabled family member with a disability
65 years or older
Cheapest Health Insurance Plans In Texas
Finding a cheap Texas health insurance plan begins with looking at your plan options. Plans vary with the premium amount, coverage, and deductible. You should also consider out-of-pocket or the amount you must pay before your insurance covers the rest.
Low out-of-pocket maximums
Texas plans range in out-of-pocket amounts, and many plans have an $8,000 out-of-pocket. The cheapest option is Ambetter Secure Care, which has an out-of-pocket of $4,450, but the deductible is only $1,500.
You can anticipate paying around $650 a month for this plan. Another option could be the Ambetter Secure Care 5 + Vision + Adult Dental with a $6,300 out-of-pocket rate.
High out-of-pocket maximums
A plan with a high out-of-pocket maximum is a good match for someone who doesn't anticipate many medical costs. An ideal plan is the Friday Bronze Basic: $0 Well Visit, $0 Vision Exam which is around $284 a month for $7,000 out-of-pocket.
Plans with an HSA option
Some Texas health insurance plans feature a Health Savings Account (HSA), which lets you make tax-free contributions to an account for medical expenses. An affordable plan with an HSA is the Friday Bronze HSA, which is $337 a year. Another option is the Ambetter Balanced Care 25 HSA which is a bit more at $480 a year.
HMO/PPO/POS Plans
Texas health insurance plans are often Health Maintenance Organizations (HMOs), which offer good savings if you stay within the plan's network for care. One of the best offers for an HMO in Texas is Blue Cross and Blue Shield of Texas' MyBlue Health Silver 405 plan at $390 a month.
FAQs
How much is health insurance in Texas per month?
Health insurance costs depend on age, gender, location, and carrier. It also varies by plan. You can anticipate paying $300 or more each month.
Is healthcare in Texas free?
Healthcare in Texas isn't free, but the state has affordable health insurance options. Medicaid is available for low-income individuals under a certain income.
Who qualifies for CHIP in Texas?
Children under 18 whose family makes too much to qualify for Medicaid but can't afford health insurance are eligible for CHIP.
How many Texans have no health insurance?
The latest reports show that 4.3 million Texans are uninsured.
Who is eligible for Texas Medicaid?
Medicaid eligibility for Texas residents requires the applicant to be a Texas resident and be 65 years old or older. If under 65, they must be pregnant or caring for a child under 18, blind or disabled, have a family member who's disabled, or be over 65.
How To Buy Affordable Individual and Family Health Insurance Plans In Texas?
Whether you're shopping for an individual or a family health plan, the Texas Marketplace has the ideal option for your needs. To find a good plan, compare coverages and rates for several options.