UPDATED: SEPTEMBER 05, 2023 | 2 MIN READ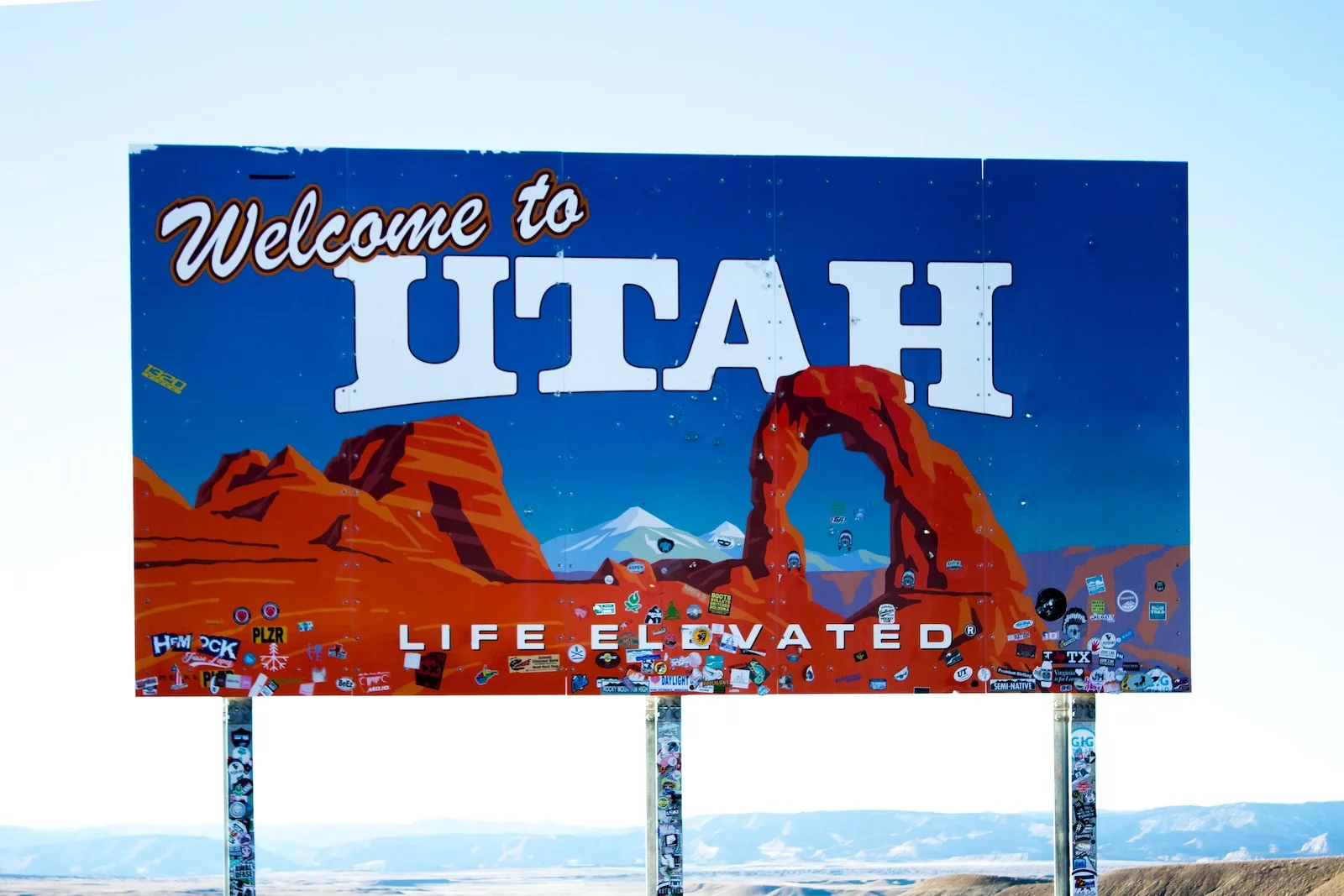 The Beehive State, Utah, offers great health insurance options. If you're curious about Utah health insurance, the Marketplace, Medicaid, and other coverage options, read for more information.
Utah Open Enrollment Dates For Health Insurance
Utah's health insurance Open Enrollment period runs annually from November 1st to January 15th.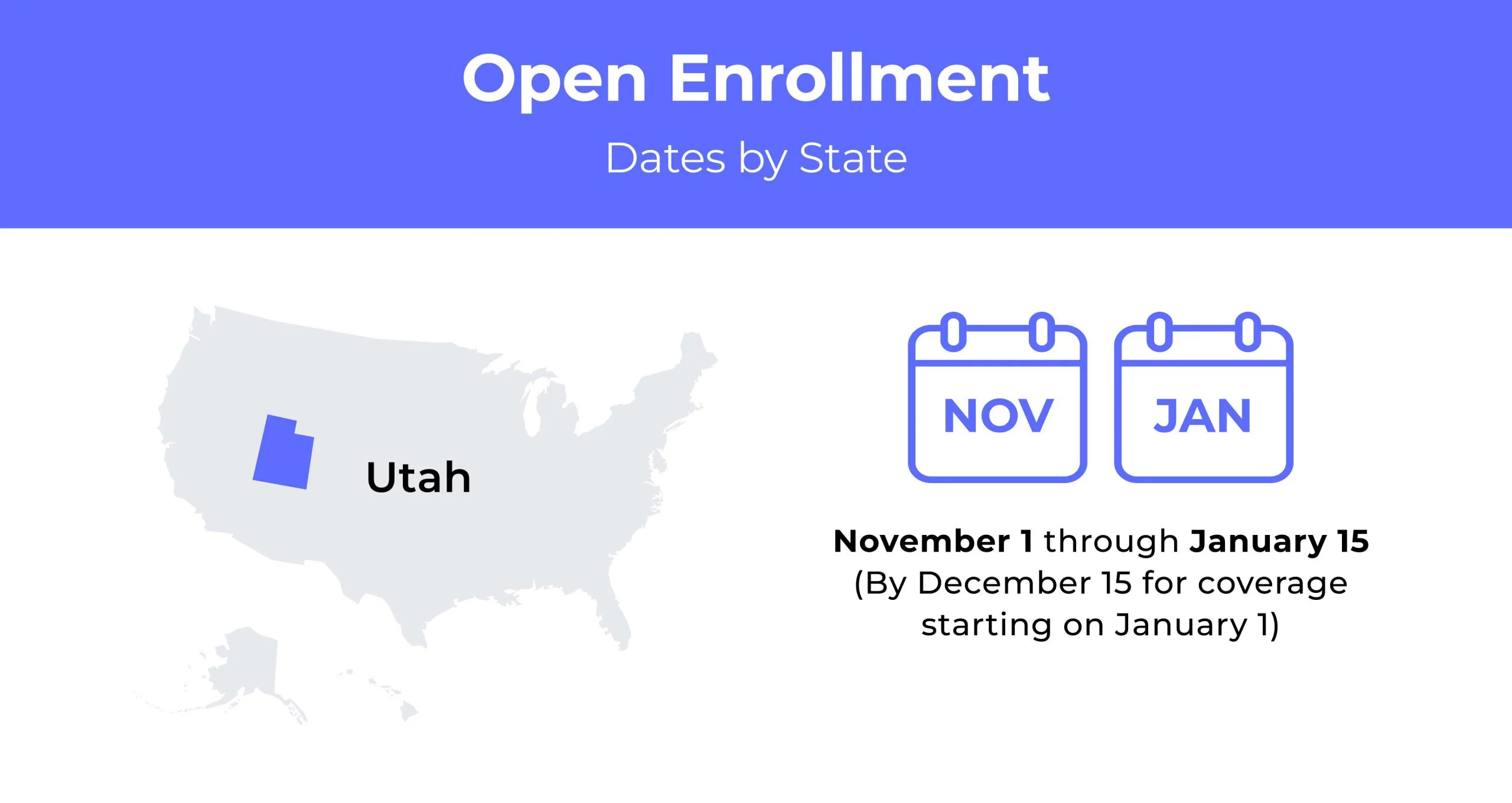 Utah Health Insurance Demographics
Utah is one of the fastest-growing states in the U.S. Its residents represent the youngest population in the country and have one of the highest birth rates. All of these factors coincide with health insurance premiums.
Average Household Income: Utah's average household income is $83,060, and the median income is $65,625.
Median Age Range: The median age in Utah is 30.3 years old, with 29% of the state's residents under 18.
Education: Of Utah residents, 23.01% have a Bachelor's degree, and 11.67% have a graduate degree.
What Type Of Health Insurance Marketplace Does Utah Have?
Utah uses the federal health insurance marketplace. Utah residents must visit the federal website to enroll.
How many people are insured through the Utah health insurance marketplace?
A total of 256,932 people enrolled in 2022. While other states had a slight decrease in enrollment numbers, enrollees in the state were strong.
Did Utah implement the ACA's Medicaid expansion?
Utah was one of the few states to refuse the Medicaid expansion until residents voted for it in 2018. The residents voted to expand Medicaid to 138% of the poverty level. Full expansion for Medicaid began in 2020.
When can you purchase ACA health insurance in Utah?
You can purchase a Utah insurance plan through the Affordable Care Act (ACA) during the Open Enrollment period. The 2023 Open Enrollment begins November 1 and runs through January 15. If you've had a significant life change, also called a "qualifying life change," you may be eligible for Special Enrollment.
Special Enrollment lets you enroll for ACA health insurance up to 60 days before or 60 days after the qualifying event. Such events include:
Marriage or divorce
Legal separation and, therefore, loss of spousal insurance
Adoption, fostering or giving birth
Moving to a new residence for seasonal work or school
Aging off your parents' healthcare plan after turning 26
Death of a family member enrolled through the ACA marketplace
Relocating to a new state or zip code
Becoming a U.S. citizen
Leaving jail or prison
Types of ACA Plans In Utah
Utah has five metal tiers for its ACA plans: Bronze, Expanded Bronze, Silver, Gold, and Catastrophic. Catastrophic plans are only available for those under 30 or who demonstrate a hardship that makes insurance unaffordable. Each tier has plans with a variety of coverage options and premiums.
What carriers offer ACA health insurance in Utah?
There are seven carriers in the ACA Marketplace in the state. These carriers vary by coverage area; some offer coverage statewide, while others limit coverage to certain areas. The carriers are:
BridgeSpan
Molina
Regence Blue Cross Blue Shield
SelectHealth
University of Utah Health Plans
How Much Does Health Insurance Cost In Utah?
Health insurance plans in the state cost an average of $380 for an individual policy. The premium varies based on age, gender, location, carrier, and coverage area.
Cheapest Health Insurance By Metal Tier In Utah
| Metal Tier | Cheapest Plan | Monthly Premium | Deductible | Maximum-Out-of-Pocket |
| --- | --- | --- | --- | --- |
| Catastrophic | Value Catastrophic | $265 | $8,700 | $8,700 |
| Bronze | Value Benchmark Bronze | $295 | $8,700 | $8,700 |
| Bronze Expanded | Value Benchmark Expanded Bronze | $305 | $6,800 | $8,700 |
| Silver | Value Benchmark Silver | $465 | $6,500 | $8,550 |
| Gold | Confident Care Gold | $510 | $2,100 | $8,550 |
Cheapest Health Insurance By County
| County Name | Cheapest Plan | Individual, Age 40 | Couple, Age 40 | Couple, Age 40 & Child |
| --- | --- | --- | --- | --- |
| Davis | Value Benchmark Silver | $465 | $930 | $1,180 |
| Salt Lake City | Value Benchmark Silver | $465 | $930 | $1,180 |
| Utah | Value Benchmark Silver | $465 | $930 | $1,180 |
| Washington | Constant Care Silver | $510 | $1,015 | $1,285 |
| Weber | Value Benchmark Silver | $465 | $930 | $1,180 |
Health Insurance Subsidies Available In Utah?
The subsidies available include premium tax credits and cost-sharing reductions. In 2020, 92% of the Utah marketplace members received a subsidy to lower their premiums, while 49% received cost-sharing reductions. Subsidies are based on income.
Can You Purchase Off-Exchange Health Insurance Coverage In Utah?
Yes, you can purchase off-exchange health insurance policies in Utah. Cigna, Regence, and BridgeSpan sell off the exchange.
Can You Purchase Short-Term Health Insurance In Utah?
You are allowed to buy short-term health insurance in the state. State regulations limit the duration of short-term plans to 364 days or less. Plans are non-renewable.
A short-term health insurance plan is a good choice if you're a traveling nurse or between jobs waiting for coverage to begin. If you missed Open Enrollment, a short-term insurance plan might be for you.
Health Insurance Options For Low-Income People In Utah
Plan options for low-income individuals include Medicaid and Medicare. Medicaid is income-based, while Medicare is available for individuals 65 and older or younger people with severe illnesses.
What Medicare Options Are Available In Utah?
Utah Medicare includes Original Medicare or Medicare Part A and B. This is also called Hospital Insurance for hospital visits, hospice, and home health.
Part B is Medical Insurance, which pays for outpatient care, preventative services, and various medical equipment. Medicare Part D is prescription drug coverage. You may opt for Medicare Advantage, a bundle of Part A and B, and sometimes D.
Medicaid In Utah
Utah Medicaid offers low-cost or free healthcare to eligible individuals based on income. Applicants must be legal Utah residents and also be one of the following:
Pregnant or a guardian to a child under 18
Blind, disabled, or a caretaker to a disabled individual
Diagnosed with breast or cervical cancer
Foster care residents
Over the age of 65
The income limit for Medicaid eligibility is between 55% and 133% of the federal income poverty level.
Cheapest Health Insurance Plans In the State
Health insurance is affordable, and there are many options you can choose from on the Marketplace.
Low out-of-pocket maximums
Utah insurance plans with a low out-of-pocket maximum are good if you need a lot of care and want to reach your out-of-pocket quickly. A good plan choice is Gold 1500 by SelectHealth, which has a $6,000 out-of-pocket maximum.
High out-of-pocket maximums
A high out-of-pocket maximum might be a good Utah health insurance plan if you're younger or don't anticipate many medical costs. These plans have low monthly premiums, but care costs are high. The cheapest health insurance plan with a high out-of-pocket maximum for Utah residents is SelectHealth's Value Catastrophic 8550.
Plans with HSA options
While HSA plans can have high deductibles, they're good if you want to save money for medical expenses. The cheapest Utah insurance plan with an HSA is again by SelectHealth, the Value Expanded Bronze 6900 HSA, which costs $301 a month.
HMO/PPO/POS Plans
Utah features Health Maintenance Organization (HMO) and Exclusive Provider Organization (EPO) healthcare plans. The most affordable HMO plan is the SelectHealth Value Benchmark Silver 6500, which costs an average of $459 monthly. As for the cheapest EPO, that's Cigna's Cigna Connect 5000 plan at $468 a month.
What is the average cost per month of health insurance in Utah?
The average cost of health insurance in Utah is $380 a month.
Does Utah have a health insurance Marketplace?
Utah doesn't have a state-run health insurance Marketplace. It uses the federal Marketplace.
Do I need health insurance in Utah?
Utah doesn't require health insurance. If you want to save yourself from expensive medical bills in case of serious illness or an emergency, you may opt for health insurance, but it's not required.
Is healthcare free in Utah?
Utah healthcare isn't free. However, the state offers low-cost and affordable care to needy individuals through Medicaid and Medicare.
What are the Utah Medicaid income limits in 2023?
Utah's 2023 Medicaid income limit for a single person is $1,215 a month. For couples, the Medicaid income limit is $1,643
How To Buy Affordable Individual and Family Health Insurance Plans In Utah?
The abundance of carriers and available health subsidies can help you find a Utah health insurance plan that works for your needs. You should compare and contrast rates to find the ideal match for coverage, price, deductible, and out-of-pocket.