UPDATED: SEPTEMBER 05, 2023 | 1 MIN READ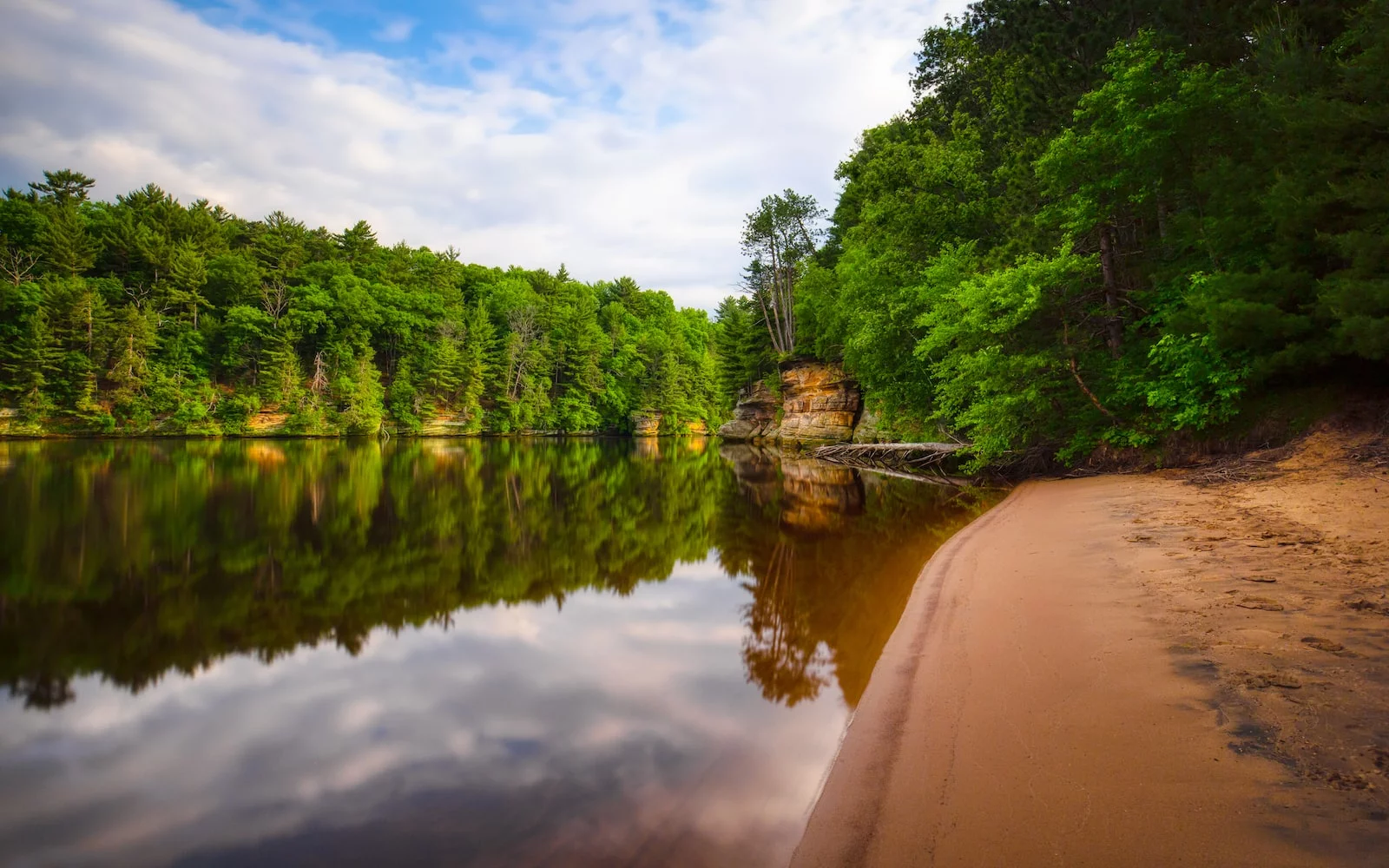 In Wisconsin, health insurance costs vary on the private market. Various factors influence the cost of your monthly premium, and copays and deductibles can be confusing. Here is all you need regarding health insurance in Wisconsin to help you find the best plan.
Wisconsin Open Enrollment Dates For Health Insurance
Wisconsin's health insurance Open Enrollment period runs annually from November 1st to January 15th.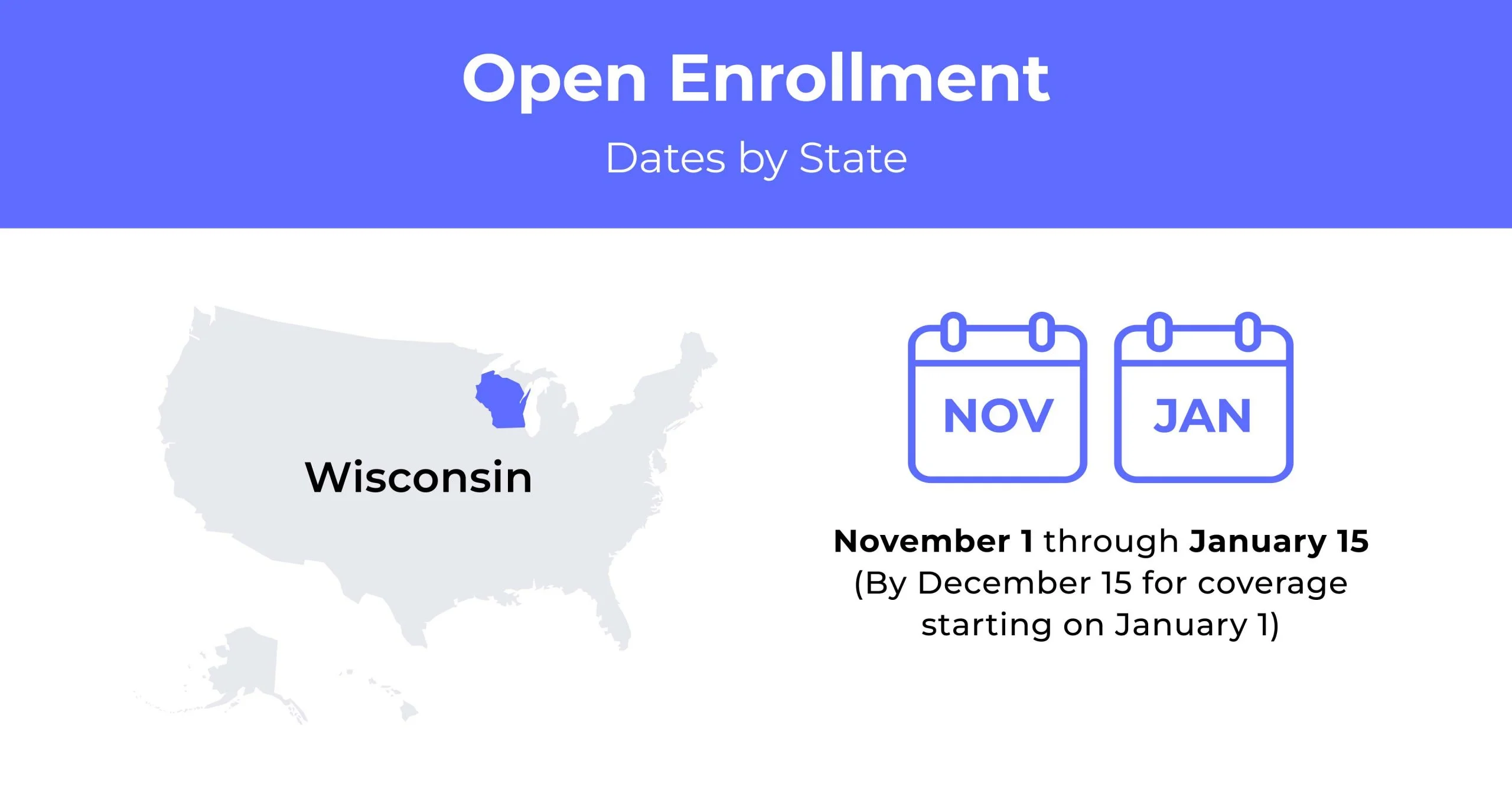 Wisconsin Health Insurance Demographics
One key factor in determining health insurance premiums is demographics. Below are some typical demographics found in Wisconsin:
Average Household Income: Only 5.2% of households in Wisconsin are high-income. The average household income is $82.757.
Median Age Range: The median age of residents in Wisconsin is 39.1 years.
Education: About 857,600 residents who are 25 or older in Wisconsin hold a Bachelor's degree.
What Type Of Health Insurance Marketplace Does Wisconsin Have?
Wisconsin has a federally facilitated Marketplace exchange. People shop for health plans on HealthCare.gov. It's one of the most robust exchanges in the country.
How many people are insured through the Wisconsin health insurance Marketplace?
During enrollment in 2021, there were 191,702 residents in Wisconsin enrolled in health plans through the exchange. It declined slightly from the year prior.
Did Wisconsin implement the ACA's Medicaid expansion?
Wisconsin has not expanded Medicaid under the Affordable Care Act (ACA). It may be the reason for higher premiums due to not accepting federal funding to expand Medicaid.
When can you purchase ACA health insurance in Wisconsin?
You can purchase ACA health insurance in Wisconsin during the Open Enrollment Period. The period runs from November 1 to January 15 each year. Qualifying life events allow for enrolling outside the allotted period, such as marriage or the birth of a baby.
Types of ACA Plans In Wisconsin
The ACA health plans offered in Wisconsin have six metal tiers. Those tiers consist of:
Catastrophic
Bronze
Bronze Expanded
Silver
Gold
Platinum
The plan rates vary depending on the tier and other factors like age and medical history.
What carriers offer ACA health insurance in Wisconsin?
There are 14 carriers offering ACA health insurance on Wisconsin's exchange. Several have expanded the areas they cover just this year:
Children's Community Health Plan
Dean Health Plan
Medica Health Plans of Wisconsin
Aspirus Health Plan
Compcare Health Services Insurance Corporation
Network Health Plan
Molina
Common Ground Healthcare Cooperative
HealthPartners Insurance
MercyCare HMO Inc.
Security Health Plan of Wisconsin, Inc.
Quartz Health Benefits
Group Health Cooperative of South Central Wisconsin
WPS (Arise Health Plan)
How Much Does Health Insurance Cost In Wisconsin?
Health insurance costs vary; companies consider many factors when determining premiums. Below is a breakdown of the most affordable plans in Wisconsin by tier and county.
Cheapest Health Insurance By Metal Tier In Wisconsin
Wisconsin has six metal-tier plans available. The table below shows the cheapest option for each tier, which is ideal for anyone looking for individual health insurance.
| Metal Tier | Cheapest Plan | Monthly Premium | Deductible | Maximum Out-of-Pocket |
| --- | --- | --- | --- | --- |
| Catastrophic | Enrich Protection | $220 | $8,700 | $8,700 |
| Bronze | Dean Focus Network Bronze Value | $250 | $8,650 | $8,650 |
| Bronze Expanded | Dean Focus Network Bronze Copay Plus | $265 | $8,650 | $8,650 |
| Silver | CGHC Value 1 Silver | $370 | $6,000 | $8,700 |
| Gold | MercyCare HMO Gold Option B | $355 | $2,250 | $7,900 |
| Platinum | Select Platinum | $470 | $500 | $1,500 |
Cheapest Health Insurance By County
Plan rates often vary between counties. However, the cheapest individual and family insurance plans in Wisconsin are the same in the five biggest counties.
| County Name | Cheapest Plan | Individual, Age 40 | Couple, Aged 40 | Couple, Age 40 & Child |
| --- | --- | --- | --- | --- |
| Brown | CGHC Value 1 Silver | $370 | $735 | $955 |
| Dane | Dean Focus Network Silver | $375 | $750 | $975 |
| Milwaukee | CGHC Value 1 Silver | $370 | $735 | $955 |
| Racine | CGHC Value 1 Silver | $370 | $735 | $955 |
| Waukesha | CGHC Value 1 Silver | $370 | $735 | $955 |
Are Insurance Subsidies Available In Wisconsin?
There are health insurance subsidies available in Wisconsin. Subsidies help to reduce monthly premiums significantly and can apply to any metal plan. The average subsidy in 2019 was $623.
Can You Purchase Off-Exchange Health Coverage In Wisconsin?
Residents can purchase health insurance plans from private companies outside of the Marketplace. The Wisconsin Physicians Insurance Service Corporation offers coverage. Unfortunately, with buying off-exchange insurance, financial assistance is not available.
Can You Purchase Short-Term Insurance In Wisconsin?
There are options for short-term health insurance in Wisconsin. The plans have limits of 364 days for initial terms and permit renewals. A plan's total duration can't be more than 18 consecutive months.
Health Coverage Options For Low-Income People In Wisconsin
There are other options in Wisconsin if you have a low income and aren't sure about affording health insurance. You must qualify to receive one of these plans, but they can help substantially reduce premiums and provide coverage for little to no cost. Let's explore the options for Medicare and Medicaid available.
What Medicare Options Are Available In Wisconsin?
Medicare is generally available to those 65 years and older but provides coverage for those with a disability. Medicare coverage is about the same across every state. Options for Medicare include:
Part A: provides coverage for care in hospitals, nursing homes, or in-home care and hospice.
Part B: provides coverage for outpatient care such as doctor visits, laboratory testing, and preventative care.
Part C: Medicare Advantage, available through private insurers and bundle benefits of Parts A, B, and D.
Part D: prescription drug coverage is available through a private insurer. This is a great option for both generic and prescription drugs.
Medicare Supplemental Plans (Medigap): these are different in Wisconsin since they don't have letter names. Three Medigap plans are available:

Medigap: covers Medicare Part A & B, and you can use it with in-and out-of-network providers.
Medicare SELECT: covers parts A&B as long as you're within the provider's plan network.
Medicare Cost: these options are essential and enhanced; pay for your costs. Plans include a provider network and are only available if you live within the plan's area.
Medicaid In Wisconsin
Medicaid in Wisconsin is a joint federal and state program providing high-quality health care coverage and long-term care services. It's available for low-income people of any age, including pregnant women, children, families, seniors, and those with disabilities. There are varying eligibility requirements and benefits.
Cheapest Health Insurance Plans In Wisconsin
It can be challenging when looking for an affordable health plan. It will help if you compare health insurance plans in Wisconsin to find the best price and coverage you need. Premium amounts can vary depending on many factors, but below is a breakdown of the most affordable plans.
Cheapest health plan in Wisconsin with low out-of-pocket maximums:
Getting a health insurance plan with lower out-of-pocket maximums can be beneficial if you have more than average medical costs. These plans usually have higher premiums, but you reach your out-of-pocket limits faster, and insurance covers the rest.
The cheapest health plan in Wisconsin with low out-of-pocket maximums is Reliance, $750-10% on the Platinum tier. It's through the Security Health plan and costs around $688 monthly for a 40-year-old.
Cheapest health plan in Wisconsin with high out-of-pocket maximums
Perhaps you're a younger individual in Wisconsin with little to no medical costs. Opting for a plan with high out-of-pocket maximums is more beneficial. You can save on premiums but incur higher deductibles and out-of-pocket costs if you need to use the insurance.
Wisconsin's cheapest health insurance plan with high out-of-pocket maximums is Select Catastrophic 8550 Ded/8550 MOOP. It's provided by Group Health Cooperative – SCW, costing an average of $167 monthly for a 26-year-old.
Cheapest health plan in Wisconsin with an HSA option
Health Savings Account (HSA) plans are great for taking advantage of pre-tax contributions to help offset medical costs. These plans have higher deductibles, so you pay more out-of-pocket expenses.
Wisconsin's most affordable health plans with an HSA by tier:
Anthem Bronze Pathway X 0 for HSA from Anthem Blue Cross and Blue Shield, costing $377 per month.
Dean Health Plan offers Dean Focus Network Bronze HSA-E 6850X (Expanded Bronze tier) at $291 per month.
Dean Focus Network Silver HSA-E 4500X from Dean Health Plan at $408 per month.
MercyCare HMO Gold Option C from MercyCare Health Plans averages $371 monthly.
Cheapest HMO/EPO/PPO/POS health plans in Wisconsin
Basic and more widely-purchased plans are with Health Maintenance Organizations (HMOs). There are also Exclusive Provider Organizations (EPOs), Preferred Provider Organizations (PPOs), and Point-of-Service (POS) plans.
The cheapest for each plan in Wisconsin at the Silver tier are as follows:
The cheapest HMO plan costs an average of $417 per month is MercyCare HMO Silver Option B from MercyCare Health Plans.
The cheapest PPO plan is Robin Oak, $5,000 Plus Silver from HealthPartners, costing $451 per month.
The cheapest EPO is Envision EPO – Silver 6000/80 from Common Ground Healthcare Cooperative, costing $366 per month.
The cheapest POS plan costs $500 per month, with Independence $6,500 – 30% from Security Health Plan.
FAQs
What is the average cost of health insurance in Wisconsin?
Individuals in Wisconsin pay an average of $486 monthly for health insurance. Prices and premiums change based on factors such as your age, medical history, and location within the state. The average costs by metal tier are:
Catastrophic: $284 per month
Bronze: $380 per month
Expanded Bronze: $401 per month
Silver: $521 per month
Gold: $549 per month
Platinum: $661 per month
How do I get health insurance in Wisconsin?
To get Wisconsin health insurance, you should review the different types of plans available to find one that suits your needs. Then, compare rates online to find the best option for your needs and budget.
Who qualifies for BadgerCare in Wisconsin?
BadgerCare is a separate benefits program, similar to Medicaid offered in Wisconsin. To be eligible, you must be:
18 years of age and under
Primary caregiver with child(ren) 18 and under
US Citizen, Nationa, or Non-Citizen legally admitted to the US
Uninsured (not eligible for Medicaid).
Do you legally need health insurance in Wisconsin?
The Individual Shared Responsibility provision requires most people to obtain qualified health insurance or pay the penalty. The ACA requires you to have "minimal essential coverage."
Does Blue Cross Blue Shield Cover Wisconsin?
Anthem BlueCross BlueShield in Wisconsin through Medicaid and BadgerCare Plus members.
How To Buy Affordable Health Insurance In Wisconsin
When buying health insurance, it's important to research to find the most affordable plan to suit your medical needs. Also, you should understand what each insurer offers and evaluate your health to know what coverage is necessary. Then, compare health insurance premiums from multiple insurers in your area to find the best price for your coverage.