UPDATED: JUNE 01, 2023 | 1 MIN READ
If you are looking for homeowners insurance in Arkansas, expect to pay $2,342, which is significantly higher than the national average. Many factors come into play when determining your home insurance rates, such as claims history, where you live, and the price of your home.
Best Arkansas Home Insurance Companies
Arkansas doesn't experience hurricanes, but they do deal with tornadoes. That causes home damage and possible flooding. Arkansas home insurance provides you with everything you need to protect your home.
Overall Best Arkansas Home Insurance Company
The best homeowners insurance in Arkansas is a company called Shelter. It has cheap quotes, financial stability, and good customer service. The average rate per year is $836, which is $668 less than the average for all companies in Arkansas.
Best Value Arkansas Home Insurance Company
Aside from Shelter, Farmers offers one of the cheapest home insurance in Arkansas. On average, the monthly rate is $138 compared to the statewide average; you are saving $57.
Arkansas Homeowners Insurance Company With the Best Customer Service
If you are looking for personalized attention, then State Farm is the best bet. There are many great agents ready to answer your questions. The only downside is that their policies are relatively standard.
Arkansas Home Insurance Company Best For Bundling
You get a good rate if you book all your policies with the same company. You save a lot on your monthly bill by bundling your auto and homeowners insurance. On average, you can save between 15-35% by bundling.
Arkansas Home Insurance Company With the Best Coverage Options
Arkansas homeowners insurance provides coverage to ensure you are protected even during a seasonal storm. Shelter and USAA are the best-rated Arkansas home insurance companies. They have low customer complaint scores and the cheapest rates. USAA is also military-focused, offering discounts to veterans and active military.
Local and Regional Home Insurance Carriers In Arkansas
Cameron Mutual
Cameron Mutual Insurance Company is a regional carrier for Arkansas home insurance. The company sells homeowners coverage for Arkansas residents, covering a variety of potential problems with houses and their personal property.
The policies cover damage from storms and fire loss, personal liability if someone is injured while visiting the home, and protection against equipment breakdowns.
Cameron Mutual is committed to earning the loyalty of its customers, offering them discounts if they insure vehicles, farms, boats, and other assets with Cameron Mutual.
Columbia Insurance
Columbia Insurance offers personal property insurance. For Arkansas homeowners, Columbia exclusively sells Umbrella policies that go above and beyond what is covered by typical home and auto insurance.
Columbia Insurance has your back if you're an Arkansas homeowner who needs extra protection against personal liability claims. Arkansas houseboat residents and RV owners can also get peace of mind with an Umbrella insurance policy as well.
Southern Farm Bureau
Southern Farm Bureau is part of the Farm Bureau insurance companies group, founded by Farm Bureau Federation leaders 65 years ago. Today Southern Farm Bureau Insurance is one of the biggest writers of property insurance in Arkansas, with adjusters and agents in every county.
Homeowners can buy Dwelling coverage, Liability coverage, Personal Property and Content coverage, plus Private Structure coverage.
If you have a covered loss, the standard homeowner's policy may include reimbursement for Additional Living Expenses, such as meals, lodging, and other costs you suffer when you leave your home. The company offers flexible policies for people with second homes, rental homes, and watercraft, as well as renters insurance.
Demographics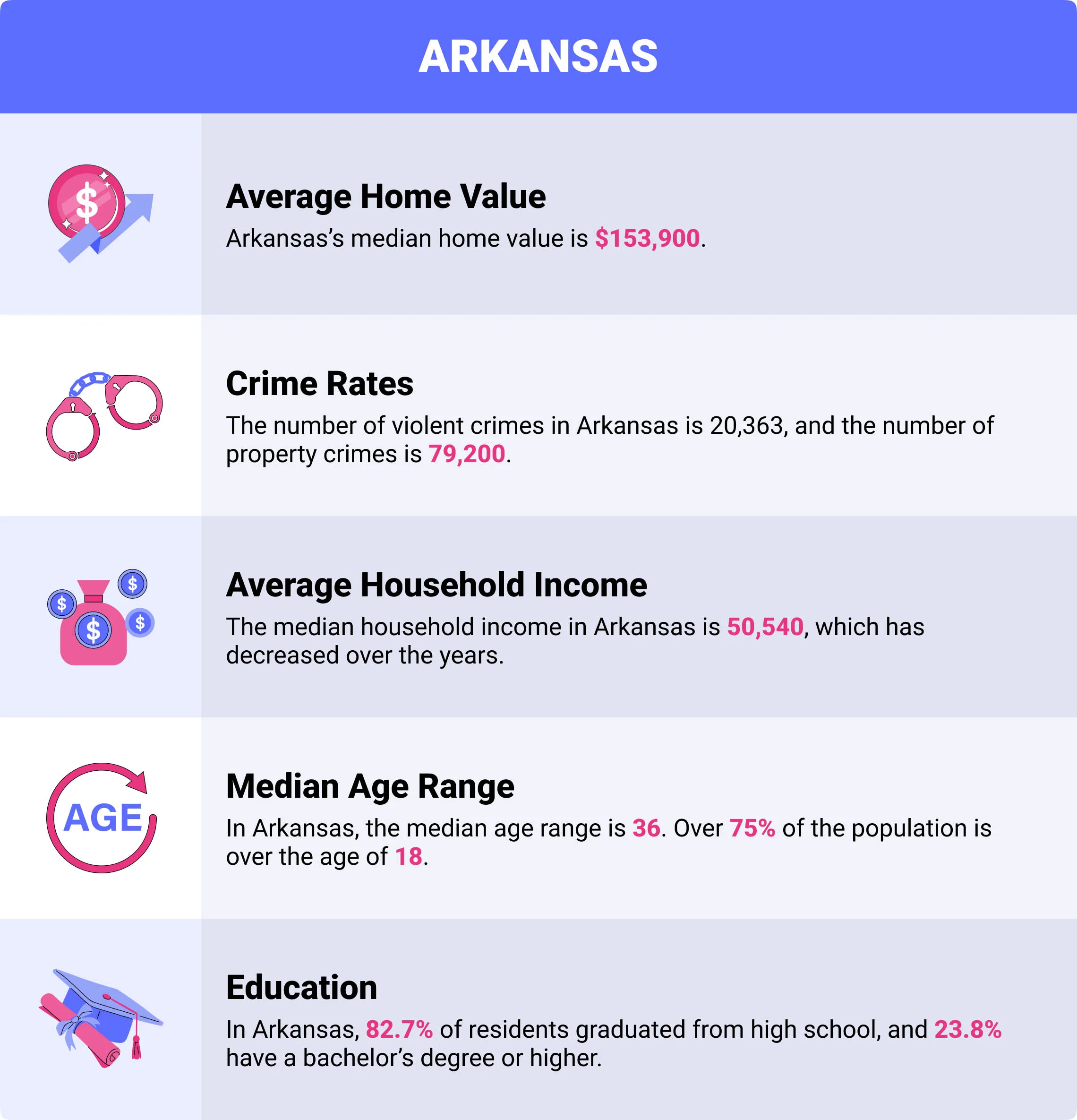 The population of Arkansas is roughly 3.04 million residents. It's the 29th largest state in the United States. Check out these demographics, which could affect your Arkansas homeowner's insurance.
Average Home Value: Arkansas's median home value is $153,900.
Crime Rates: The number of violent crimes in Arkansas is 20,363, and the number of property crimes is 79,200
Average Household Income: The median household income in Arkansas is 50,540, which has decreased over the years.
Median Age Range: In Arkansas, the median age range is 36. Over 75% of the population is over the age of 18.
Education: In Arkansas, 82.7% of residents graduated from high school, and 23.8% have a bachelor's degree or higher.
Is Arkansas Home Insurance Required?
Homeowner insurance in Arkansas is not required, but you might have to get it to obtain a mortgage. With the high risk of wind storms, it's always a good idea to protect your home.
What Does Arkansas Homeowners Insurance Cover?
Dwelling – Covers the damage to your home
Personal property – covers personal items inside the home.
Other Structures – Covers on your property damage to sheds, barns, etc..
Loss of use – If your home is uninhabitable, it will cover your stay at a hotel, meals, etc.
Personal liability – Covers you if anyone is injured on your property
Common Home Risk Factors
The biggest risk factors in Arkansas are tornados and seasonal storms. It's one of the most tornado-prone states in the country. Standard home insurance covers the damage caused by the storms except flooding.
What Type of Homeowners Insurance Coverages Are Recommended?
With the risks of tornados and other seasonal storms, you want to ensure you are fully covered in these areas. Additional coverage is needed in the event of flooding as wind damage is usually covered with standard homeowners insurance.
Hazard Insurance
It's typically included in standard homeowners insurance policies with your dwelling coverage. It protects the home's structures, such as the roof and walls, from hailstorms, windstorms or fire. Your personal possessions are also covered except for in the event of an earthquake or flood.
Flood Insurance
It's important to note that flood coverage does not automictically come with your homeowners insurance in Arkansas. Unfortunately, many residents don't realize this and incur a significant expense after disaster strikes. Buying flood insurance is key to reducing your financial risk.
Scheduled Personal Property
Personal property is generally covered in an Arkansas home insurance policy but not necessarily the full value. For example, if you have many high-priced items in your home above $500, you might not receive the total value. Scheduled personal property gives you the actual replacement cost of the damaged items.
How Much Does Home Insurance In Arkansas Cost?
Arkansas home insurance rates vary from city to city. The price is determined by your immediate area, insurance history, information about your home, location, roof ages, furnace, etc., and claims history. Below are a few areas that offer different rates for home insurance in Arkansas.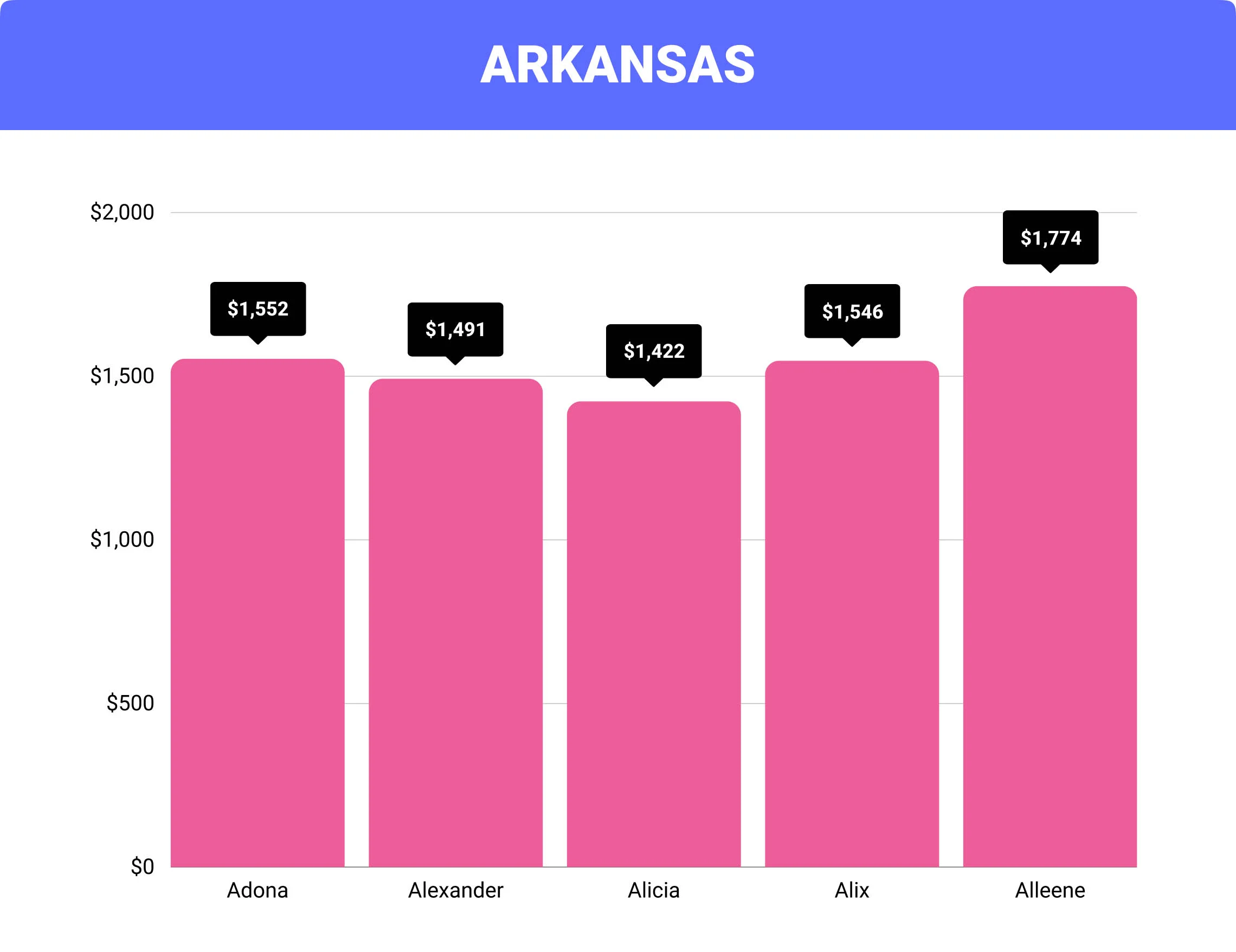 Cost of Home Insurance In Arkansas By City
| | | |
| --- | --- | --- |
| City | Average Arkansas Home Insurance Cost | Difference From Arkansas Average |
| Adona | $1,552 | 1% |
| Alexander | $1,491 | -3% |
| Alicia | $1,422 | -7% |
| Alix | $1,546 | 1% |
| Alleene | $1,774 | 16% |
FAQs
What's the average cost of home insurance in Arkansas?
On average, home insurance in Arkansas costs $2,342 yearly.
Why are insurance rates so high in Arkansas?
On average, a dwelling in Arkansas costs $250,000. Arkansas may have high rates because of the frequent windstorms that lead to more claims.
What's the cheapest homeowner's insurance in Arkansas?
The cheapest home insurance in Arkansas is $836 with Shelter.
How much is the average Arkansas home insured for?
The average cost of home insurance in Arkansas is $2,142, 63% higher than the national average.
How long does home insurance have to pay a claim in Arkansas?
After you have filed a claim with an Arkansas insurance company, they have 45 working days to settle the claim. Insurance companies have a specific timeframe for accepting or denying your claim.
If you are in the market for homeownwers insurance, it's important to understand that rates vary depending on your location. Arkansas homeowners can expect to pay significantly more than the national average.
However, by completing our rate comparison form, you can compare quotes from multiple providers and find the best deal for your needs.