UPDATED: JUNE 01, 2023 | 2 MIN READ
Buying and owning a home comes with a hefty price tag. Naturally, you would want to find the best homeowners insurance policy, yet at the same time, you want to ensure you have coverage in case damage happens to your home. Keep reading to learn about the best homeowners insurance in Connecticut.
Best Connecticut Home Insurance Companies
When considering a homeowner's insurance policy, you have a lot of companies to choose from. We narrowed down the list for you, so you know exactly where to start. Here are the best homeowners and renters insurance companies in Connecticut:
American Family
Farmers
Amica
State Farm
Vermont Mutual
Overall Best Home Insurance Company
To determine the best home insurance company in Connecticut, we're looking at the J.D. Power Score. This score is based on customer service—which is extremely important when you're going to file a claim—and company reputation. The home insurance company with the highest score in Connecticut is Amica, with a score of 853/1,000.
Best Value Connecticut Homeowners Insurance Company
If price is more important to you than customer service and company representation, then Vermont Mutual is your best bet. This company has below-average monthly premiums.
Another great cheap option in Connecticut is Allstate. However, it isn't scored very well in terms of customer service.
Connecticut Home Insurance Company With the Best Customer Service
We've explained that Amica has the highest-rated customer service out of all the insurance companies in Connecticut. Here are the next highest-rated insurance companies for customer service, in order:
State Farm (829/1,000)
American Family (821/1,000)
Farmers (814/1,000)
The higher the score, the better the customer service.
Homeowners Insurance Company Best For Bundling
Farmers is the best home insurance company for bundling—when you buy two or more insurance policies from the same company, such as auto and home, to save money.
Homeowners Insurance Company With the Best Coverage Options
You can get great coverage at any of the companies we've listed. It depends on the individual policy that you have with the company. The best way to find the best coverage to fit your unique needs is to call the company's agents and compare rates and policies before buying one.
Local and Regional Home Insurance Options In Connecticut
Amica Insurance
Amica's Standard Choice policy for Connecticut homeowners provides essential insurance coverage for the Dwelling and Other Structures, Personal Property, the cost of Temporary Housing and Expenses, and Personal Liability.
The company makes it easy for Connecticut homeowners to add to its standard policy, including Dwelling Replacement Coverage, Personal Property Replacement Coverage, and Special Computer Coverage.
You can save money with Amica by having a non-smoking home, an alarm system, automatic detection services, and by bundling other insurance policies.
Cincinnati Insurance
The Cincinnati Insurance Company offers homeowners insurance to Connecticut homeowners. Its Executive Homeowner Policy is designed to insure Connecticut homes of any value. T
hose with higher value homes may select from the Executive Capstone™ Policy or Executive Classic™ Policy. Bridgeport, Stamford, New Haven, and Hartford homeowners can customize the policies to include condominium or townhouse coverage, golf course damage, and identity theft coverage.
You may qualify for additional savings if you own a newer home, increase your deductible, install a home alarm monitored by a central station, or report fewer or no claims.
Erie Insurance
Insurance policies from Erie Insurance cover all of the risks Connecticut homeowners may experience. Its standard policy even includes Guaranteed Replacement Cost coverage, which allows the homeowner to rebuild their entire home after a covered loss, even if the amount exceeds policy limits.
You can also obtain coverage for other structures, personal belongings, loss of use, and bodily injury liability. Connecticut homeowners have the opportunity to earn discounts by purchasing umbrella insurance, having multiple policies with the company, installing certain home upgrades, and for paying their premiums in full.
Demographics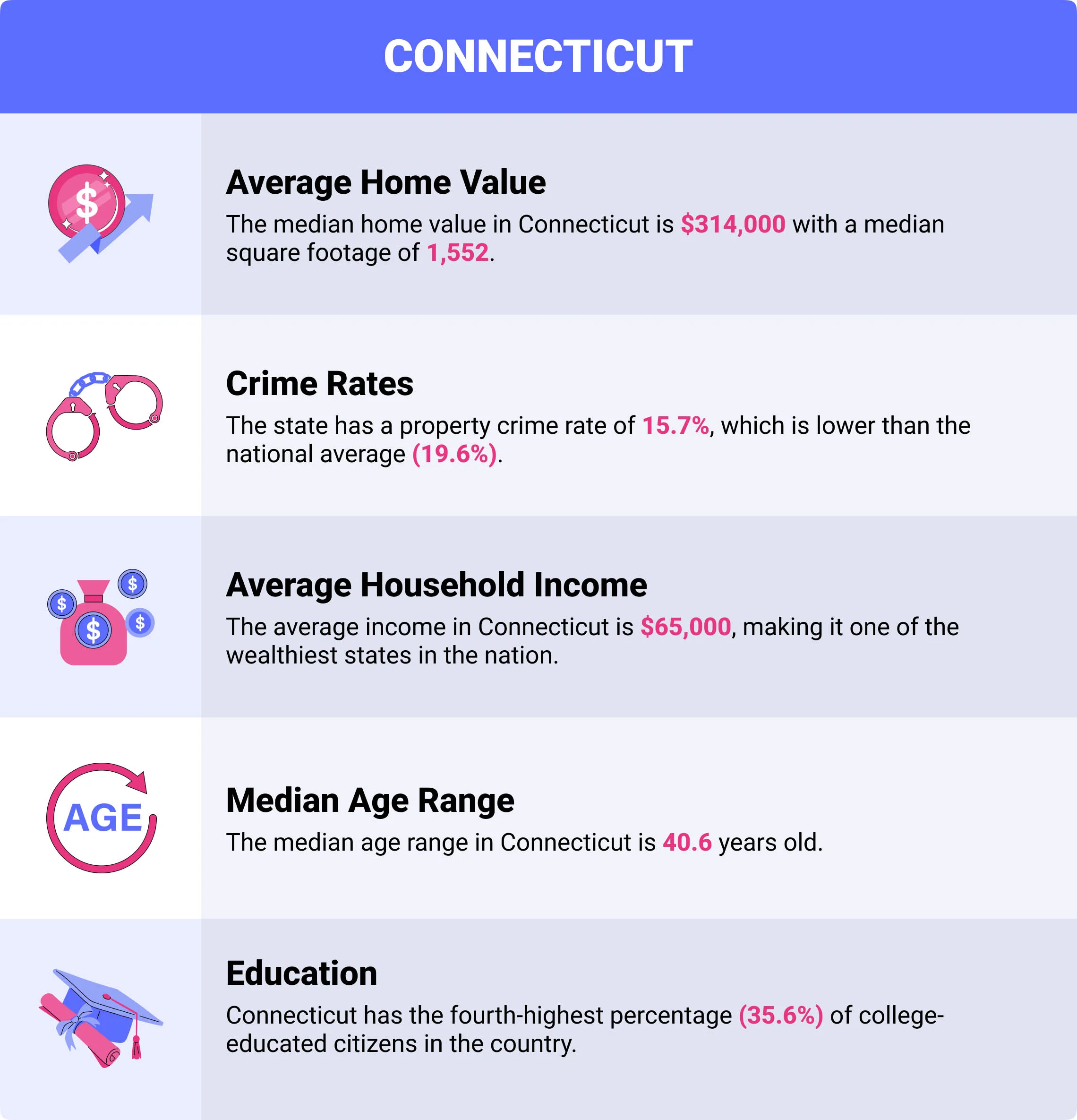 Every state is different when it comes to its demographics, which have an impact on homeowner's insurance rates. Connecticut has lower-than-average homeowner's insurance rates, mainly due to the low crime rate in the state.
Average Home Value: The median home value in Connecticut is $314,000 with a median square footage of 1,552.
Crime Rates: The state has a property crime rate of 15.7%, which is lower than the national average (19.6%).
Average Household Income: The average income in Connecticut is $65,000, making it one of the wealthiest states in the nation.
Median Age Range: The median age range in Connecticut is 40.6 years old.
Education: Connecticut has the fourth-highest percentage (35.6%) of college-educated citizens in the country.
Is Connecticut Homeowners Insurance Required?
Homeowners insurance isn't required by law in Connecticut. However, most people can't pay for their entire home upfront, meaning they'll have to get a mortgage. If you take out a mortgage to buy a home, you'll likely be required by your lender to have home insurance.
What Does Connecticut Home Insurance Cover?
When you're buying homeowner's insurance in Connecticut, you will want to make sure you cover the common home risk factors in the state. That includes:
Roof damage
Flooding
Wind damage
Identity theft
What Type of Homeowner's Insurance Coverages Are Recommended?
Given the increased risks of roof damage, flooding, and identity theft, you'll want to ensure you have flood insurance, roof replacement costs, and identity theft coverage. Plus, you'll want the standard coverage types, such as dwelling coverage and personal liability.
How Much Does Home Insurance In Connecticut Cost?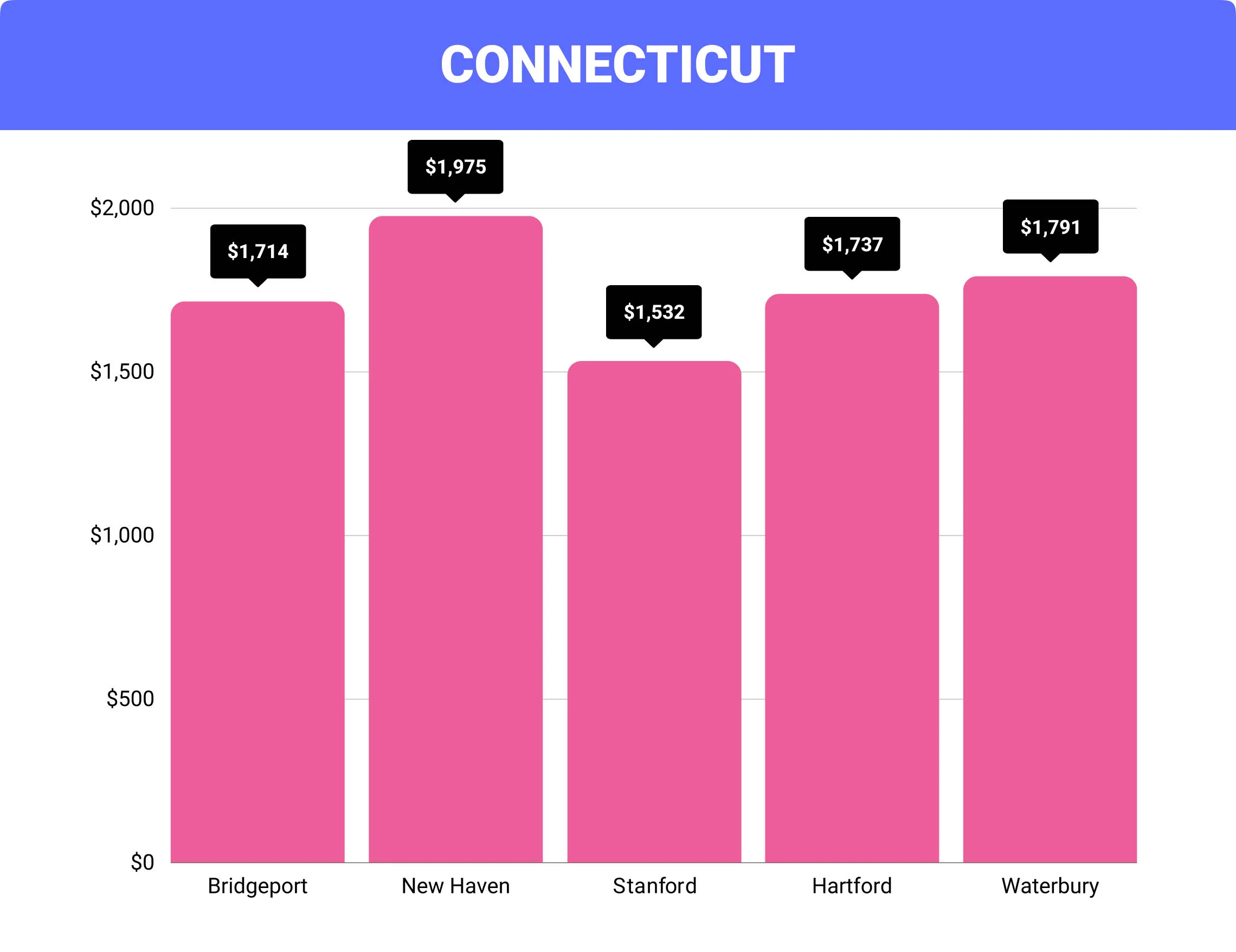 The average cost of homeowner's insurance in Connecticut is $1,669 per year. That's $139 per month.
Cost of Home Insurance In Connecticut By City
| | | |
| --- | --- | --- |
| City | Average Connecticut Home Insurance Cost | Difference From Connecticut Average |
| Bridgeport | $1,714 per year | 3% |
| New Haven | $1,975 per year | 18% |
| Stamford | $1,532 per year | -8% |
| Hartford | $1,737 per year | 4% |
| Waterbury | $1,791 per year | 7% |
FAQs
What's the average cost of homeowner's insurance in Connecticut?
$1,699 per year, or $139 per month.
Is homeowner's insurance required in Connecticut?
No, it's not required by law—but if you're taking out a mortgage, you'll likely be required to have homeowner's insurance.
How much is the average homeowners in Connecticut insured for?
The average home in Connecticut is insured for $250,000.
Is Connecticut homeowner's insurance worth it?
If you aren't required to have homeowner's insurance, yes, it's still worth it. It can help you save major costs in the case of an emergency. It's always better to be prepared rather than be devastated financially if something unexpected happens.
How do I choose the right Connecticut home insurance?
Compare insurance rates and talk to the agents.
How To Purchase Connecticut Homeowners Insurance
To find the best home insurance policy for your needs, it's essential to do your research. By completing our rate comparison form, we can help you find the right provider at a price that fits within your budget.
Protecting your biggest investment should be a top priority, and with the right home insurance policy in place, you can rest assured knowing that you and your family are taken care of in an emergency.