UPDATED: JUNE 01, 2023 | 2 MIN READ
With inflation and prices skyrocketing, it's important that you make sure to find the best homeowners insurance policy in Delaware. Make sure that you're getting the most value for your money. Use this guide to find a reputable insurance company.
Overall Best Delaware Home Insurance Company
To decide on the absolute best homeowners and renters insurance company in Delaware, we look at the J.D. Power Score based on customer service and reputation. The Delaware insurance company with the highest score is Amica, which scored 853/1,000.
Best Value Delaware Home Insurance Company
The Delaware homeowners insurance company with the best value is Cumberland Mutual. The company offers the least expensive insurance policies in the entire state at $569 per year, which is $45 less than the state's average.
Delaware Home Insurance Company With the Best Customer Service
The home insurance company with the best customer service is State Farm. It had a 0.20 NAIC complaint index, meaning the company had one-fifth as many complaints as other companies. However, it is a pricier option.
Delaware Homeowners Insurance Company Best For Bundling
When you bundle insurance policies, such as auto and home, you'll save money. The best company for bundling policies in Delaware is Farmers
Delaware Home Insurance Company With the Best Coverage
How do you know which insurance company is right for you? There's no simple answer to that question. You need to know what kind of coverage you need and whether that coverage will be more affordable with one company over another.
We recommend calling a few different companies and asking them questions about their policies before deciding which one to go with. All of the companies we've mentioned are reputable.
Local and Regional Home Insurance Options In Delaware
Main Street America Insurance
Main Street America gives Delaware homeowners peace of mind with policies covering dwelling, property, other structures, personal injury, liability, loss of use, and medical payments to others.
The company also offers many add-ons for more coverage, such as its Homeowners Elite Program, Home Cyber Protection, Identity Theft Coverage, and Home System Protection.
Company discounts include new customers, multi-policy, new home, loss-free, loyalty savings and loss forgiveness, gated community, and adults over 55.
Nationwide
Nationwide is one of the world's largest property insurers and insures millions of homes in the United States. Delaware homeowners from Wilmington to Dover like Nationwide for its affordable rates, multiple offices, and various home insurance coverages.
Nationwide coverages include dwelling, other structures, ordinances, brand new belongings, and better roof replacement. Nationwide's Valuables Plus is an excellent way to insure your high-value belongings, such as jewelry and art. The carrier features discounts for new homes, bundle savings, and if you live in a gated community.
The Hartford Insurance
An insurance policy from The Hartford includes dwelling coverage, property damage, other structures coverage, personal property coverage, temporary living expenses, personal liability, and medical payments.
Delaware homeowners can save money by bundling home and auto insurance and adding home security and safety devices. Mature homeowners can save by being AARP members, being retired, and having a history of few or no claims.
Demographics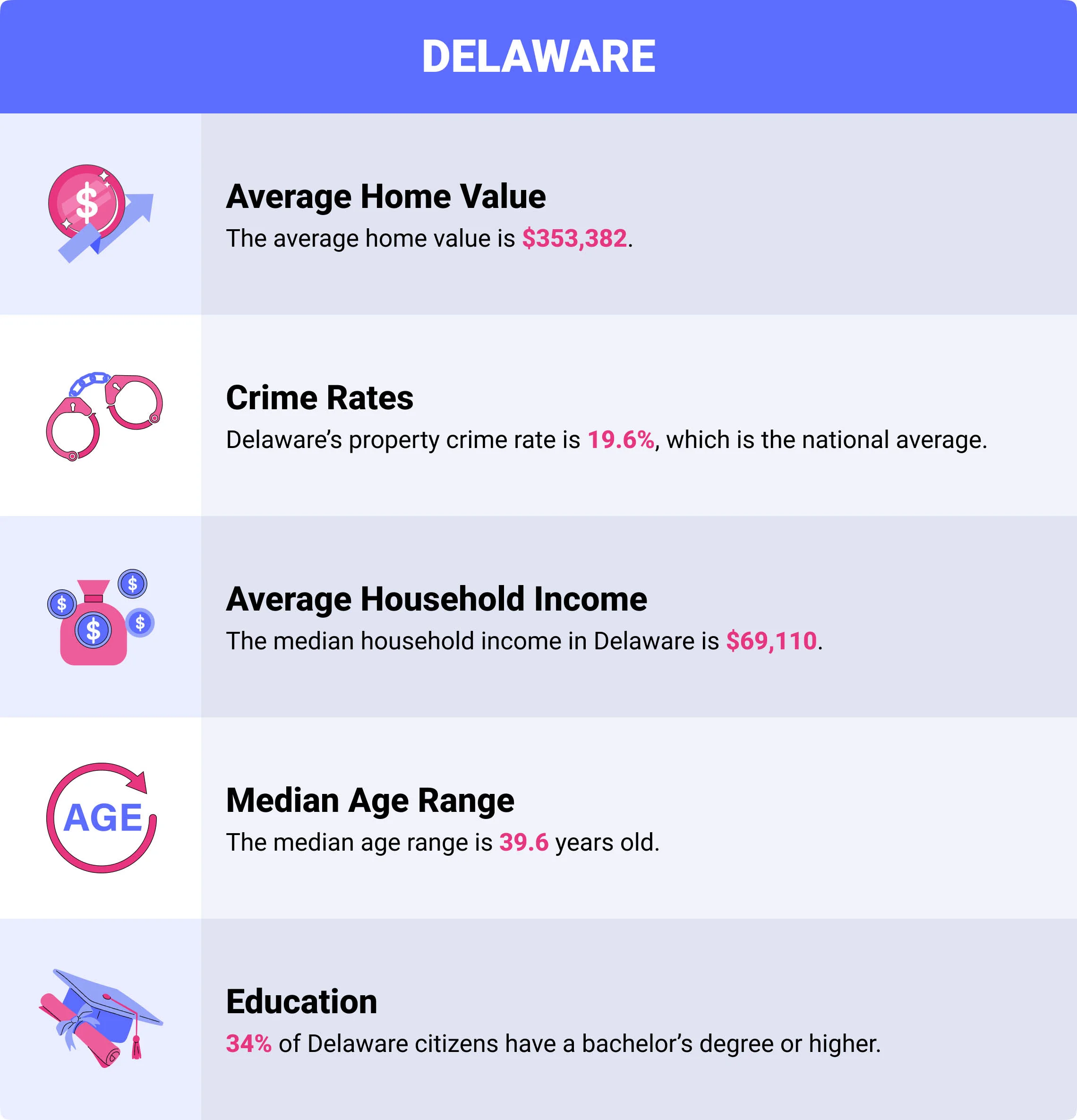 Delaware has a lower-than-average homeowner's insurance rate, mainly due to the low crime rates and low risk of natural disasters.
Average Home Value: The average home value is $353,382.
Crime Rates: Delaware's property crime rate is 19.6%, which is the national average.
Average Household Income: The median household income in Delaware is $69,110.
Median Age Range: The median age range is 39.6 years old.
Education: 34% of Delaware citizens have a bachelor's degree or higher.
Is Delaware Home Insurance Required?
In Delaware, home insurance isn't required. However, your mortgage will likely require you to carry coverage. If you don't have a mortgage, you could avoid getting home insurance.
What Does Delaware Home Insurance Cover?
Delaware insurance policies are standard, including dwelling coverage and personal liability policies. Dwelling coverage includes wind damage. However, since hurricanes in Delaware are so common, you'll likely need extra coverage to handle those. You'll also need to have extra coverage to cover floods.
Common Home Risk Factors In Delaware
Here are the common risk factors to homes in Delaware:
Hurricanes
Flooding
Roof damage
Identity theft
Wind damage
What Type of Homeowner's Insurance Coverages Are Recommended?
Based on the unique risks to homeowners in Delaware, here's the type of insurance we recommend focusing on:
Hurricane coverage
Flood insurance
Identity theft coverage
Roof replacement
How Much Does Homeowners Insurance In Delaware Cost?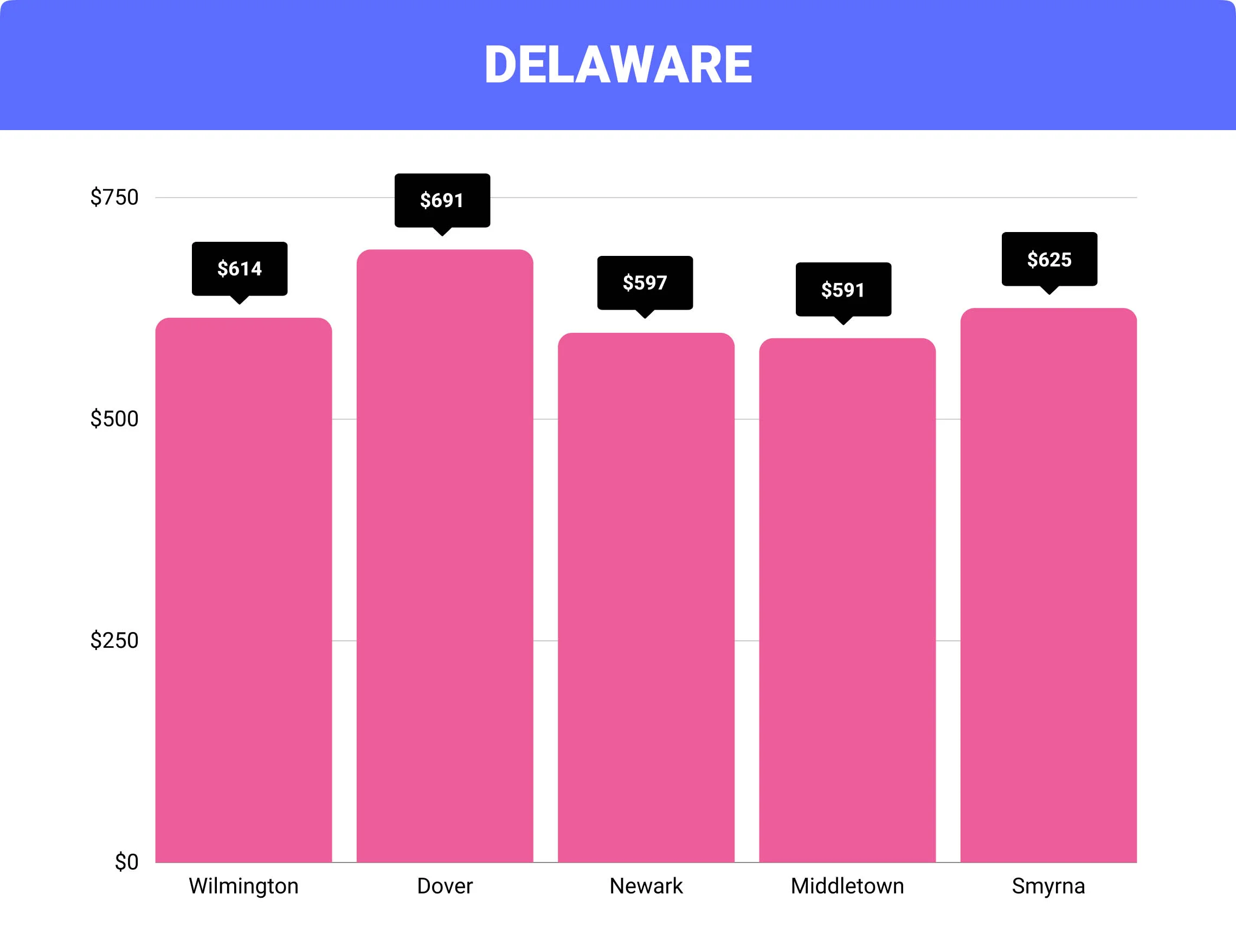 In Delaware, the average cost of homeowner's insurance is $598 per year. The best price we've seen is $407 per year.
Cost of Home Insurance In Delaware By City
| | | |
| --- | --- | --- |
| City | Average Delaware Home Insurance Cost | Difference From Delaware's Average |
| Wilmington | $614 per year | -16.6% |
| Dover | $691 per year | -6.2% |
| Newark | $597 per year | -18.8% |
| Middletown | $591 per year | -19.7% |
| Smyrna | $625 per year | -15.1% |
FAQs
How much is the average cost of homeowner's insurance in Delaware?
$598 per year, or about $50 per month.
How much is hurricane insurance in Delaware?
Hurricane insurance in Delaware costs between $469 – $640 per year.
Why is homeowner's insurance in Delaware so expensive?
Because the average cost of rebuilding materials is increasing, so are homeowner's insurance prices.
Who has the best homeowner's insurance in Delaware?
Amica has the best homeowner's insurance (based on the J.D. Score).
Who has the cheapest homeowners insurance in Delaware?
Cumberland Mutual has the cheapest home insurance in the state.
How To Purchase Delaware Homeowners Insurance
Homeowners insurance is a necessity for any homeowner. By following our guide, you can be sure to find the best policy for your needs and budget. We've provided a few tips to get you started, but don't hesitate to reach out if you need more help. Complete our rate comparison form today to find the right homeowners' insurance policy.