UPDATED: MAY 01, 2023 | 1 MIN READ
Finding the right insurance to protect your home is important. Who wants to deal with a nightmare if something were to go wrong? This is why carefully choosing your homeowners insurance policy in Florida is so critical. Research is challenging, so we've done the work for Florida homeowners. Keep reading to learn more.
Best Florida Home Insurance Companies
In Florida, there are a lot of great home and renters insurance companies that can support you during disasters. Here are the top companies:
State Farm
Tower Hill
Allstate
Chubb
Overall Best Florida Homeowners Insurance Company
In disasters, you want to ensure that your insurer is financially strong. This gives them more flexibility and power to help families recover their homes after natural disasters. This is why State Farm is our top pick for state home insurance companies in Florida.
With State Farm, you get coverage for 16% less than the average Florida homeowners insurance rate. Plus, you have many coverage options, including:
Sewer backup
Flood coverage
Earthquake
Best Value Florida Home Insurance Company
If you want to pay the lowest rates possible for homeowners insurance, turn to Tower Hill. The company has great coverage and receives far fewer complaints than other insurance companies in Florida. Plus, their rates are 44% less than Florida's state average.
Florida Home Insurance Company With the Best Customer Service
It is a mistake to think you can buy a policy and never have to deal with your insurance company again. You will need to contact them if you have any questions or problems.
The better your experience contacting them, the more likely you stay with that company—and the fewer headaches you suffer from. Allstate scores the highest in Florida for customer service, with an A- rating.
Florida Home Insurance Company Best For Bundling
The winner in this category is State Farm (again). State Farm has a wide variety of insurance products available at cost-effective rates. That's why bundling your insurance policies is a great insurance company for a cheaper price.
Florida Home Insurance Company With the Best Coverage Options
Chubb is a top-rated insurance company that provides homeowners insurance in Florida. Chubb's home insurance policies are some of the most comprehensive in the state. Their options are especially valuable for wealthy families.
Local and Regional Home Insurance Options In Florida
Tower Hill
Located in Gainesville, Florida, Tower Hill is one of the largest property insurers in the Sunshine State. Today, they offer over a century of service in Florida and insure thousands of homes.
Their home insurance products include standard policies for single-family homes and condos, plus special policies for high-value homes.
You may also choose additional coverage and special endorsements to protect your home and belongings. Tower Hill stands out in Florida for its comprehensive flood coverage and vital protection for Florida homeowners.
You may save on your Tower Hill insurance policy thanks to their discounts for bundles, a claim-free history, and an in-full payment.
Kin
Kin is a regional insurance carrier for Florida and a trusted source for home protection, especially against the hurricanes and severe weather Florida receives.
Their standard coverages include dwelling, other structures, belongings, personal liability, and medical payments. Kin also features separate endorsements for Flood and Sinkhole insurance.
One way Kin stands out is how it incorporates technology in its operations, especially in the claims process. Kin uses aerial imagery, drones, satellites, and even virtual inspections for damage repairs and estimations.
Discounts for homeowners from Kin include savings for fire and safety alarms, water leak detective devices, claims-free discounts, and other ways to save.
Horace Mann Insurance
Horace Mann Insurance offers home insurance products within Florida to educators. You're eligible for their quality home insurance products if you work or teach in a school.
Home insurance coverages include Dwelling and contents, personal Liability, Other Structures; additional coverages include Scheduled Personal Property coverage, Replacement Cost on Contents, and Added Perils for Refrigerated Food Products.
Discounts for homeowners insurance apply for newly-constructed homes, multiple policies, protective devices, and homes insured for six months without a claim.
Demographics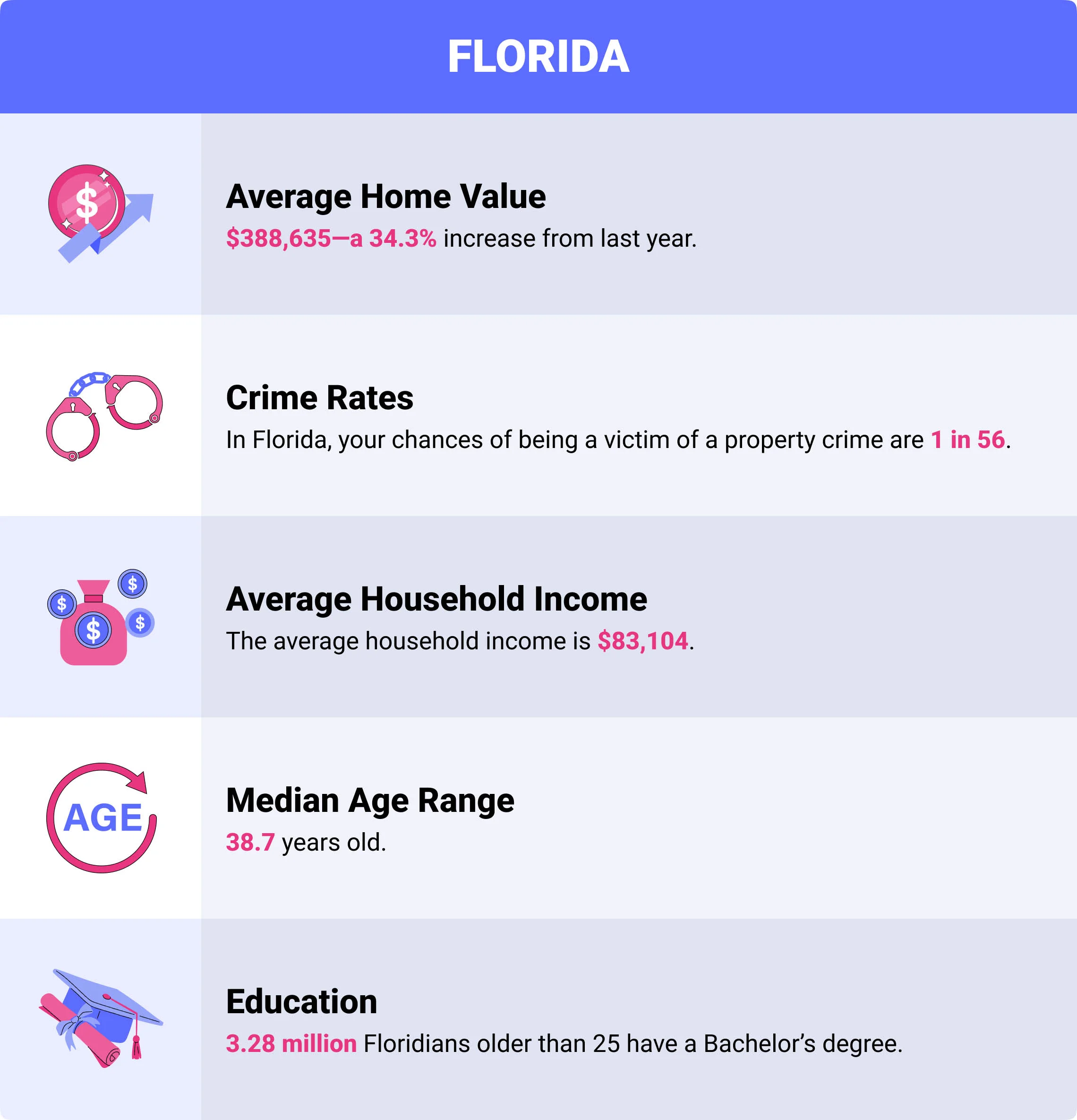 Every state sees different insurance rates, in part due to the demographics of the state. Here are Florida's demographics:
Average Home Value: $388,635—a 34.3% increase from last year.
Crime Rates: In Florida, your chances of being a victim of a property crime are 1 in 56.
Average Household Income: The average household income is $83,104.
Median Age Range: 38.7 years old.
Education: 3.28 million Floridians older than 25 have a Bachelor's degree.
Is Florida Home Insurance Required?
Florida does not require you to have homeowners' insurance. However, mortgage lenders typically require you to have home insurance.
What Does Florida Homeowners Insurance Cover?
Florida home insurance usually covers the cost of rebuilding your home. However, what causes the damage matters. For example, Florida home insurance policies don't cover wind or flood damage. You'll need to add policies (and spend extra money) to cover these issues.
Common Home Risk Factors In Florida
Living in Florida, you're especially at risk for:
Wind damage
Tornados
Hurricanes
Floods
What Type of Homeowner's Insurance Coverages Are Recommended?
We highly recommend getting wind and flood damage policies in Florida. You'll also want coverage for hurricanes since the state is at increased risk for those.
How Much Does Home Insurance In Florida Cost?
Homeowners insurance in Florida costs an average of $2,122 per year. However, the costs vary greatly depending on the insurance company you choose, the dwelling coverage you need, and what extra policies you opt for. Always call around and get quotes from multiple companies.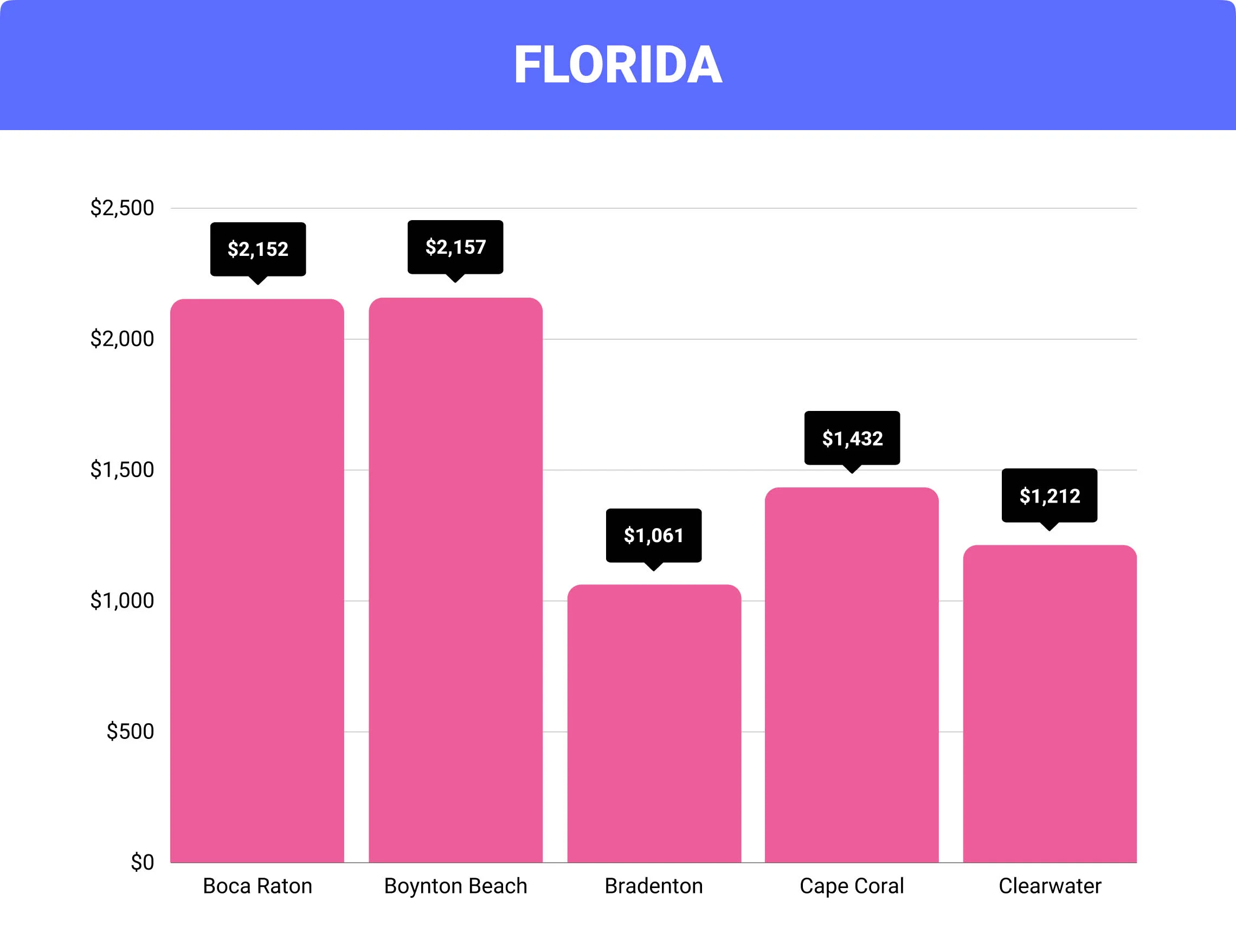 Cost of Home Insurance In Florida By City
| | | |
| --- | --- | --- |
| City | Average Florida Home Insurance Cost | Difference From Florida Average |
| Boca Raton | $2,152 per year | -3% |
| Boynton Beach | $2,157 per year | -3% |
| Bradenton | $1,061 per year | -52% |
| Cape Coral | $1,432 per year | -35% |
| Clearwater | $1,212 per year | -45% |
FAQs
What's the average home insurance cost in Florida?
$2,122 per year.
Why is homeowners insurance so high in Florida?
Home insurance in Florida is high because the state sees more natural disasters than usual and, therefore, more insurance claims. Plus, the cost of rebuilding houses is increasing.
Is home insurance mandatory in Florida?
While home insurance isn't mandated by law, it's typically required by mortgage lenders.
Is hurricane insurance mandatory in Florida?
No, but since the state is at high risk for hurricanes, it's smart to get extra hurricane coverage.
How much extra is hurricane insurance in Florida?
Extra hurricane coverage costs anywhere from $2,005 – $2,867 extra per year.
How To Purchase Florida Homeowners Insurance
Here are the steps you need to take to purchase homeowners insurance, so you can rest easy knowing that you're covered:
Know what type of coverage you want.
Know information about your home (for example, its value).
Shop around for quotes. Remember that the best company isn't always the one with the lowest quote—it will be there for you when your house is damaged.
Buy your policy.
Home insurance is a necessary purchase for all Florida homeowners. By understanding the different types of policies available and what each cover, you can decide which policy is right for you.
Our research will help you compare rates from top insurers to find the best coverage at the best price. Don't wait, complete our rate comparison form today to get started.