UPDATED: JUNE 01, 2023 | 3 MIN READ
Homeowners insurance is not a legal requirement in Idaho but protects you against damage and liability that may occur in your home. Making sure you get the best policy for your needs is easy with our handy guide to home insurance in Idaho.
Best Idaho Home Insurance Companies
When you look for home and renters insurance quotes, you must input or provide the same details so that you can compare like for like. Read on for our recommended insurance companies for residents of Idaho.
Overall Best Idaho Home Insurance Company
The overall best homeowners insurance company in Idaho varies depending on the coverage you're looking for. It's worth comparing different providers but make sure you include the same details for each quote you request.
Best Value Idaho Home Insurance Company
The least expensive home insurance company in Idaho is Farm Bureau Mutual, which comes in at under $500 per year. They are based in Idaho, meaning they specialize in coverage for the state.
Idaho Homeowners Insurance Company With the Best Customer Service
Our pick for the best customer service is USAA. There is an important caveat to this, however. USAA insurance is only available to people with a military background.
Idaho Home Insurance Company Best For Bundling
Some insurance companies offer a discount if you purchase two or more policies simultaneously. State Farm offers a 30% discount on bundling policies together.
Idaho Home Insurance Company With the Best Coverage Options
The homeowners insurance company with the best coverage options in Idaho is Farmers. This is because they have three different levels of homeowners insurance depends on what coverage you're looking for.
Local and Regional Home Insurance Carriers In Idaho
CSE Insurance
CSE is a national insurance company limited to several states, including Idaho. Idaho residents turn to CSE Insurance for home protection based on the company's solid reputation and decades of experience.
Their homeowner's insurance includes Dwelling, Contents, Additional Living Expenses, Liability Protection, and Sewers/Drains Back-Up. You can also have coverage for Ordinances or Laws for the protection associated with the costs of rebuilding your house to code standards.
Enhancements for your policy include Contents All Risk Coverage, Extended Replacement Cost, and Valuables Coverage. CSE Insurance offers a handful of discounts, including a new home credit, multi-policy discount, and civil service discount.
Idaho Farm Bureau Insurance
Idaho Farm Bureau Insurance has been Idaho-made, Idaho-trusted since 1947. The largest insurance company in the Gem State, Idaho Farm Bureau features home protection options for homes, farms, and ranches.
The insurer understands Idaho's unique weather patterns, including heavy snows and occasional tornadoes. Their comprehensive home insurance plans offer ample protection for properties of all sizes with coverages for Dwelling and Personal Property.
Covered events include hail, windstorms, frozen plumbing, theft, fire, and smoke. Idaho Farm Bureau Insurance lets you save money on your policies with valuable discounts for smoke detectors, deadbolts, and other home features.
American Family Insurance
Named one of the best insurers by Forbes, American Family Insurance is a national insurance company with quality service in Idaho. Residents of the Gem State trust the insurer for home protection.
American Family Insurance offers comprehensive coverage options regardless of the size or type of your home. Your home's protected from tornados, theft, fire, smoke, lightning, and damage from the weight of ice, snow, and sleet.
Added coverage options include Matching Siding Protection, Equipment Breakdown, and Sump Pump and Water Backup Coverage. American Family Insurance provides Home insurance discounts for bundles, smart home devices, renovated homes, and other features.
Idaho Insurance Demographics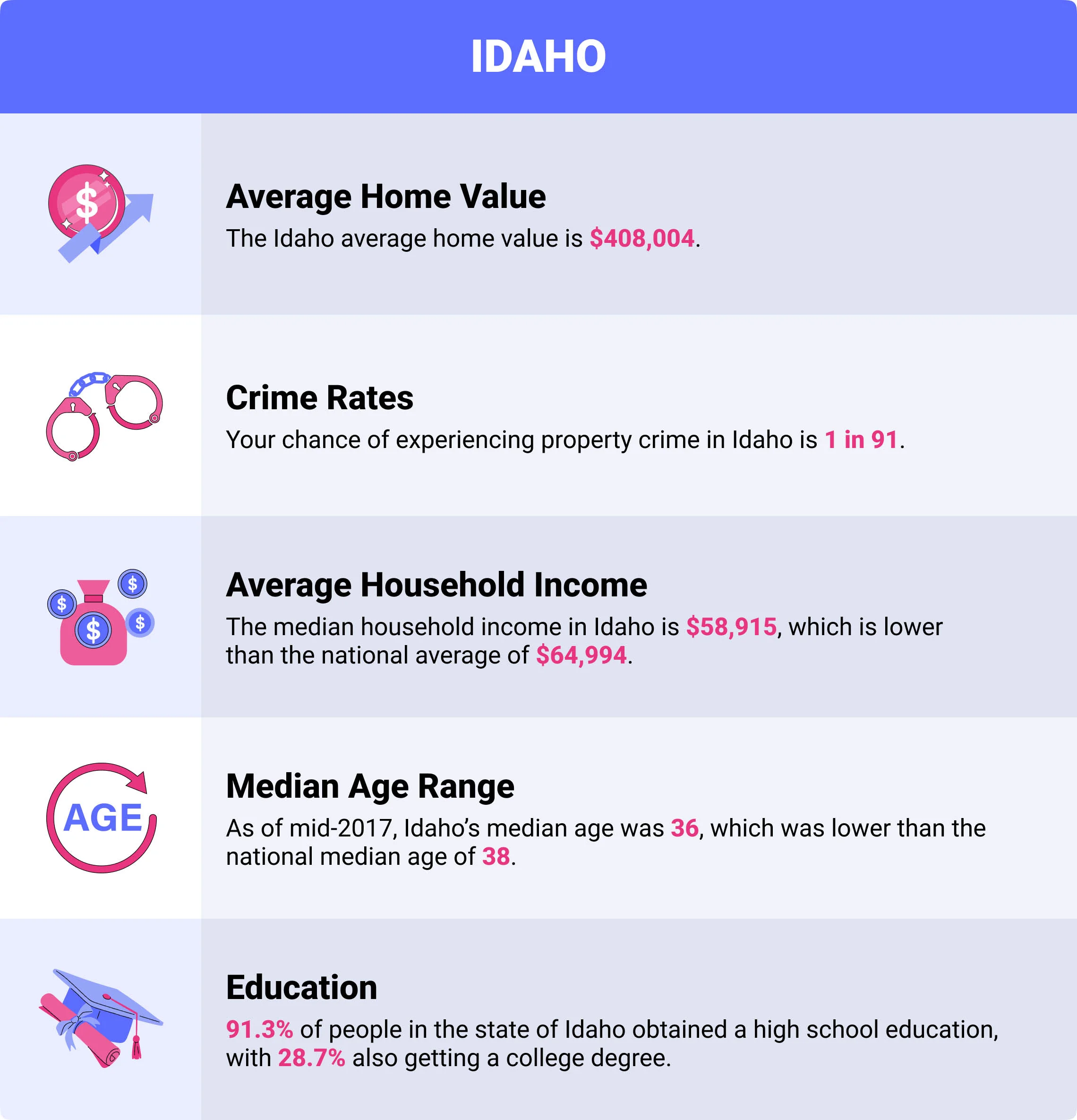 Your demographic is how insurance companies determine what rate to offer you for your homeowners insurance. They'll look at the claims history of people like you and use that to determine your risk factors.
Average Home Value: The Idaho average home value is $408,004.
Crime Rates: Your chance of experiencing property crime in Idaho is 1 in 91.
Average Household Income: The median household income in Idaho is $58,915, which is lower than the national average of $64,994.
Median Age Range: As of mid-2017, Idaho's median age was 36, which was lower than the national median age of 38.
Education: 91.3% of people in the state of Idaho obtained a high school education, with 28.7% also getting a college degree.
Is Idaho Home Insurance Required?
No state law mandates that a person get homeowner's insurance; however, as a condition of lending money, most mortgage providers will require you to get it.
What Does Idaho Home Insurance Cover?
Standard homeowners insurance in Idaho covers you for damage and loss of property in your home. It also protects you against liability in case anyone is injured in your home and decides to sue you, for example, for medical bills.
Common Home Risk Factors
Natural disasters don't occur very often in Idaho, contributing to its low premium costs. Idaho ranks number 5 among the states most likely to be hit by wildfires.
What Type of Homeowner's Insurance Coverages Are Recommended?
In Idaho, standard policies are recommended for your home. These include dwelling, personal property, and liability coverage. There are a couple of additional endorsements you may want to consider.
Wildfire coverage
Idaho is one of the top ten states at risk of wildfires, with an estimated 175,000 properties at risk of damage. While most policies cover fire damage as standard, you may want to ensure that you have enough coverage to replace or repair everything should your home be impacted.
Flooding coverage
If you live near a river, you may consider adding an endorsement for flooding to your policy. Flooding typically isn't included in your standard policy.
How Much Does Home Insurance In Idaho Cost?
The cost of homeowners insurance varies depending on which city you live in. Idaho is the 13th largest state in the nation and borders Canada and Nevada. This variation can account for the variation in the state's insurance price.
The average cost of homeownefrs insurance in Idaho is $982, which is well under the national average of $1,680 per year.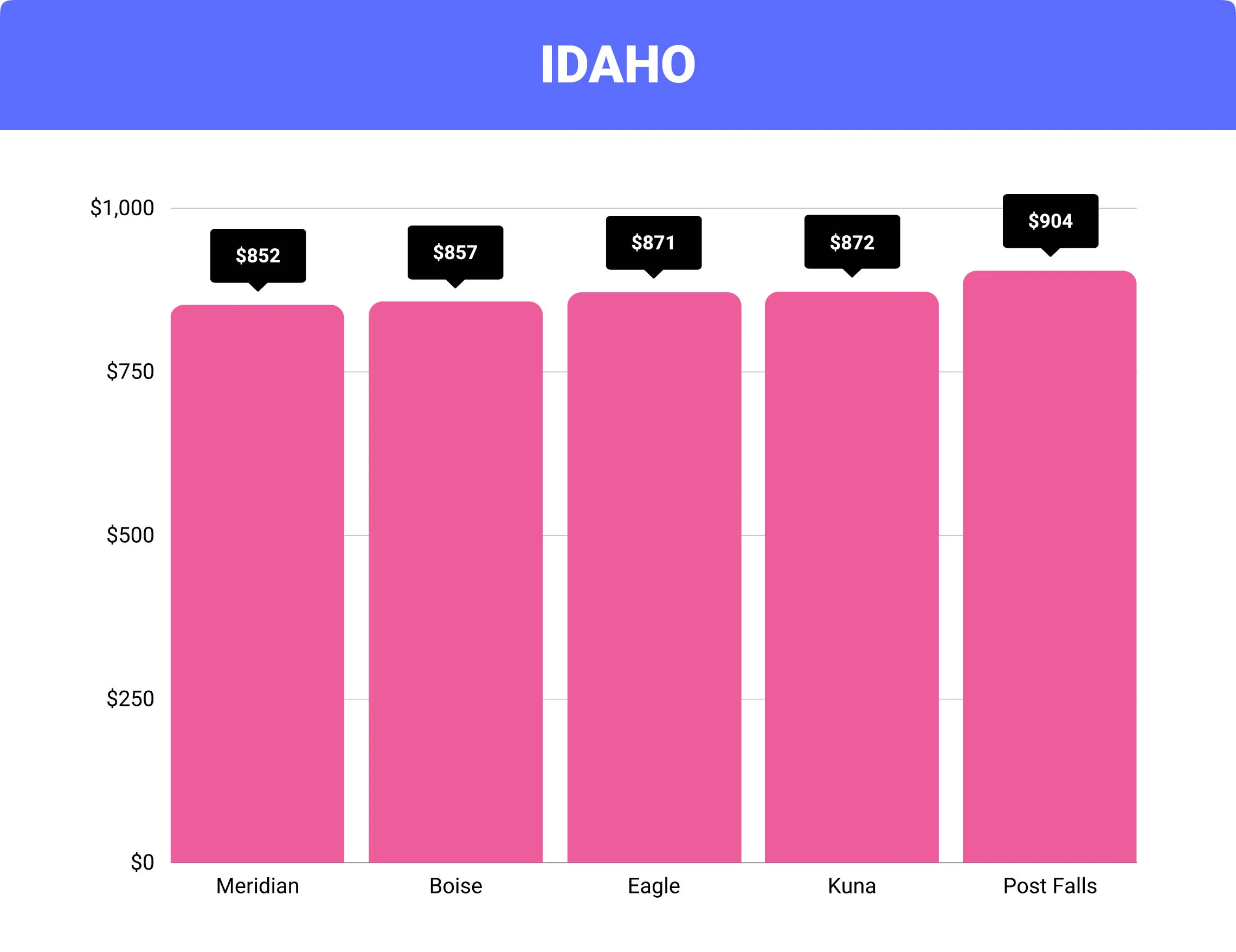 Cost of Home Insurance In Idaho By City
| | | |
| --- | --- | --- |
| City | Average Idaho Home Insurance Cost | Difference From Idaho Average |
| Meridian | $852 | -$130 |
| Boise | $857 | -$125 |
| Eagle | $871 | -$111 |
| Kuna | $872 | -$110 |
| Post Falls | $904 | -$78 |
FAQs
What's the average cost of home insurance in Idaho?
The average price of homeowners insurance in Idaho is $982 per year.
How much is homeowner's insurance in Boise?
In Boise, the average cost for homeowner's insurance is $857.
How much is home insurance in Meridian?
Meridian is the cheapest city for home insurance in Idaho, at $852 a year.
How much is home insurance per month in Idaho?
Home insurance works out around $82 per month in Idado.
Is home insurance required in Idaho?
Home insurance is not required by law in Idaho, but financial institutions usually require it to obtain a mortgage.
How To Purchase Idaho Homeowners Insurance
Home insurance is not a legal requirement in Idaho, but it's a good idea to have some protection against damage and liability that may occur in your home. If you want to compare rates, be sure to complete our rate comparison form.