UPDATED: JUNE 01, 2023 | 3 MIN READ
Homeowners in Michigan invest in homeowners insurance to protect themselves from financial risk and potential damage or losses. However, if you don't know what kind of home insurance policy you need, it can leave you with more questions than answers.
Don't panic—we're here to help by revealing our top choices for Michigan home insurance companies, tips on how to find the right coverages, and what coverage Michigan homeowners need most.
Best Michigan Home Insurance Companies
With so many different companies and options out there, it can be difficult to figure out which one is best for you. That's why we decided to make this list of the best home insurance companies in Michigan:
Farmers
Auto-Owners
Frankenmuth
Allstate
Overall Best Michigan Homeowners Insurance Company
Our overall top choice for the best Michigan home insurance company is Farmers. That's because you can choose your policy coverage packages:
Standard, Enhanced, or Premier. You can add more personalization to your packages by adding a declining deductible or claim forgiveness. In the 2021 J.D. Power U.S. Property Claims Satisfaction Study, Farmers were ranked above average.
Best Value Michigan Home Insurance Company
If you want the most bang for your buck, Auto-Owners has the cheapest homeowners insurance policies in Michigan. You'll get great coverage for low rates, providing the best value in the state.
Michigan Home Insurance Company With the Best Customer Service
Frankenmuth is the best home insurance company if you value customer service above all else. Having a great customer service experience is important because it can make all the difference when you're facing an emergency or trying to resolve your insurance issues.
Michigan Home Insurance Company Best For Bundling
Allstate is our top choice for homeowners who want to bundle their home insurance policies with other insurance policies, such as auto. Allstate has a generous bundling discount. Plus, you can easily manage your insurance online with Allstate.
Local and Regional Home Insurance Carriers
Frankenmuth Insurance
Frankenmuth Insurance is a regional carrier based in a charming German town, Frankenmuth. The company features more than 150 years of service and is an industry expert.
Frankenmuth Insurance offers two homeowner insurance options, one for homes at any value and one for homes over $300,000.
This high-value home insurance includes Backup of Sewers and Drains, Debris Removal, Loss Assessment, and other broad protection. A variety of discounts for advance quotes, loss history, protective devices, and payment plans.
Pioneer State Mutual Insurance
Pioneer State Insurance is a home insurance provider solely for Michigan residents and offers a variety of coverages. Founded in 1908, the insurance agency's reputation for great products, affordable rates, and customer service makes it one of the most popular home insurance companies in the area.
Their varied home coverage includes the home, its contents, structures such as a garage, and additional living expenses. The provider's discounts may include bundle products, consumer loyalty, and savings for fire protection devices.
Wolverine Mutual Insurance
Wolverine Mutual Insurance's more than 100 years of longevity makes it a top home insurance provider in Michigan. The insurer tailors its protections to homeowners needs with standard and premier coverages.
Umbrella Coverage offers even more protection from lawsuits, with limits up to $5 million. Wolverine Mutual Insurance also insures second homes and creates packages for the unique needs of these properties. Customers enjoy insurance discounts for new homes, older homeowners, protective devices, and auto-home bundles.
Michigan Insurance Demographics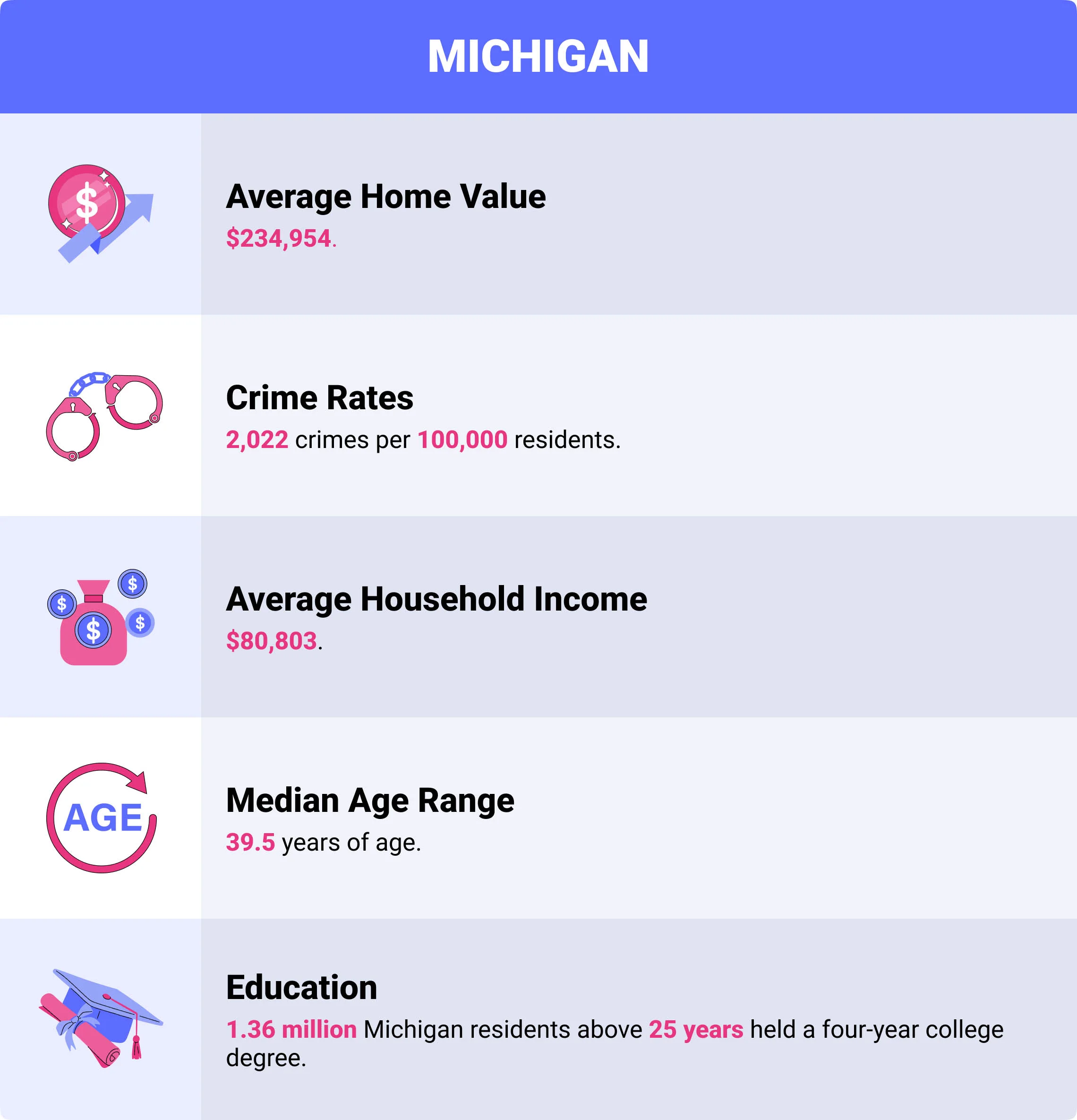 Every state has different demographics, affecting the average home insurance price. Here are Michigan's demographics:
Average Home Value: $234,954
Crime Rates: 2,022 crimes per 100,000 residents
Average Household Income: $80,803
Median Age Range: 39.5 years of age
Education: 1.36 million Michigan residents above 25 years held a four-year college degree
Is Michigan Home Insurance Required?
Homeowners insurance isn't required in Michigan. However, you'll need it to take out a mortgage.
What Does Michigan Home Insurance Cover?
A home is more than just a place to live. It's an investment that you've worked hard to build up. That's why it's so important to ensure you have the right coverage in place to keep your home safe and secure.
Michigan home insurance typically covers the following:
Theft
Fire
Weather damage
Common Home Risk Factors
Here are the most common risks to your home in Michigan:
Floods
Wind damage
Theft
Water damage
What Type of Homeowner's Insurance Coverages Are Recommended?
Given the risks to Michigan homeowners, we recommend:
Water backup insurance
Identity theft coverage
How Much Does Home Insurance In Michigan Cost?
In Michigan, the average homeowners insurance policy costs $1,958 per year. That's an average rate of $163 per month. Of course, your rate will also vary depending on what city you're in.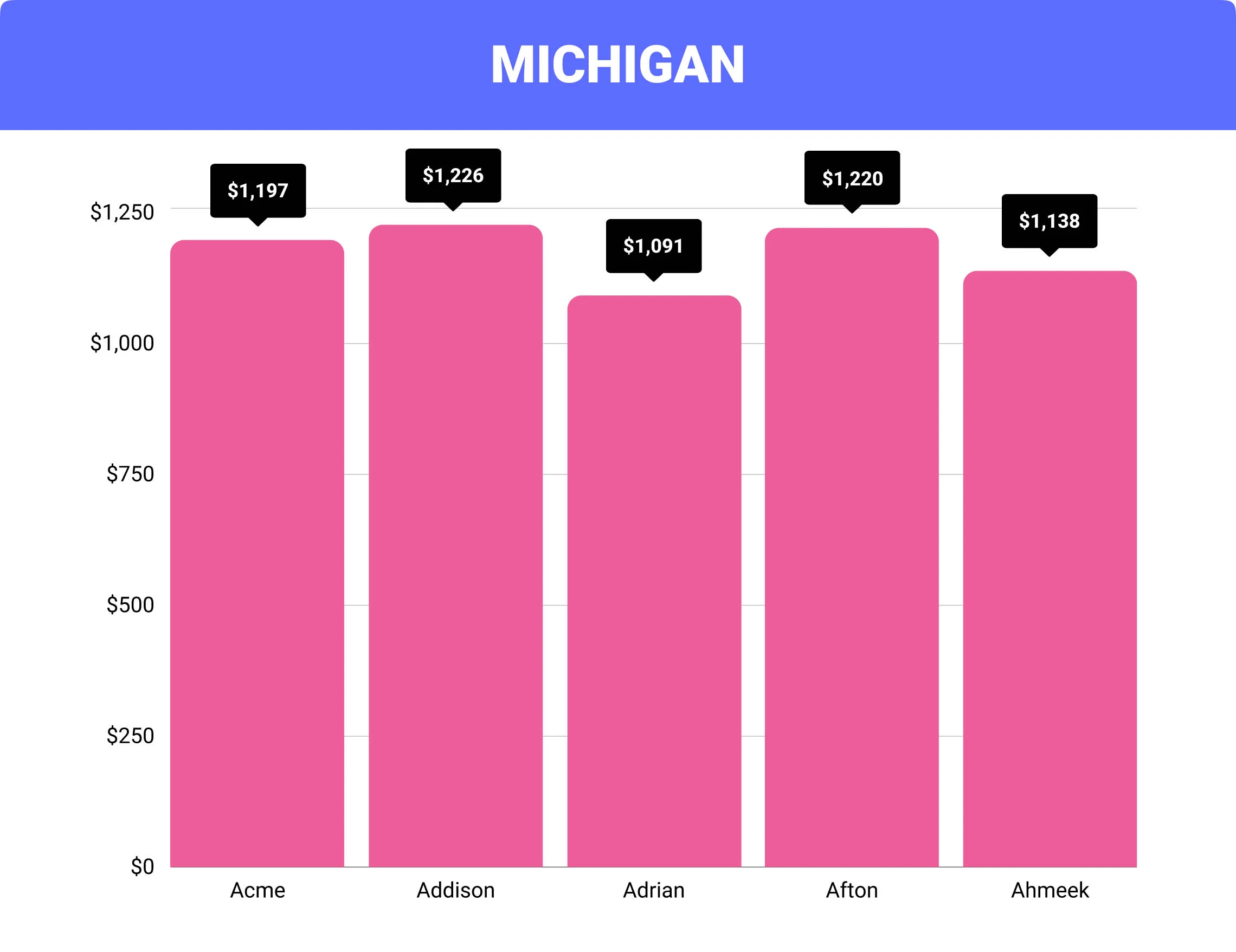 Cost of Home Insurance By City
| | | |
| --- | --- | --- |
| City | Average Michigan Home Insurance Cost | Difference From Michigan Average |
| Acme | $1,197 per year | -2% |
| Addison | $1,226 per year | 0% |
| Adrian | $1,091 per year | -11% |
| Afton | $1,220 per year | 0% |
| Ahmeek | $1,138 per year | -7% |
FAQs
How much does house insurance cost in Michigan?
The average cost of homeowners insurance in Michigan is $1,958 per year.
Is homeowner's insurance mandatory in Michigan?
No, homeowners insurance is not mandatory in Michigan.
How much is home insurance in Detroit?
Detroit has a typical rate of $2,800 per year.
What's the cheapest homeowners insurance in Michigan?
Auto-Owners has the cheapest policies.
What 3 types of homeowner's insurance coverages are recommended in Michigan?
Flood insurance, water backup, and identity theft coverage.
How To Purchase Michigan Homeowners Insurance?
Homeowners insurance is a necessary investment for homeowners in Michigan. By understanding the different types of policies and coverages available, you can find the right policy to protect your home and belongings.
We've provided information on some of the best homeowners insurance companies in Michigan and tips on finding the right coverage for your needs. Don't wait—compare rates today and get covered!