UPDATED: AUGUST 09, 2023 | 1 MIN READ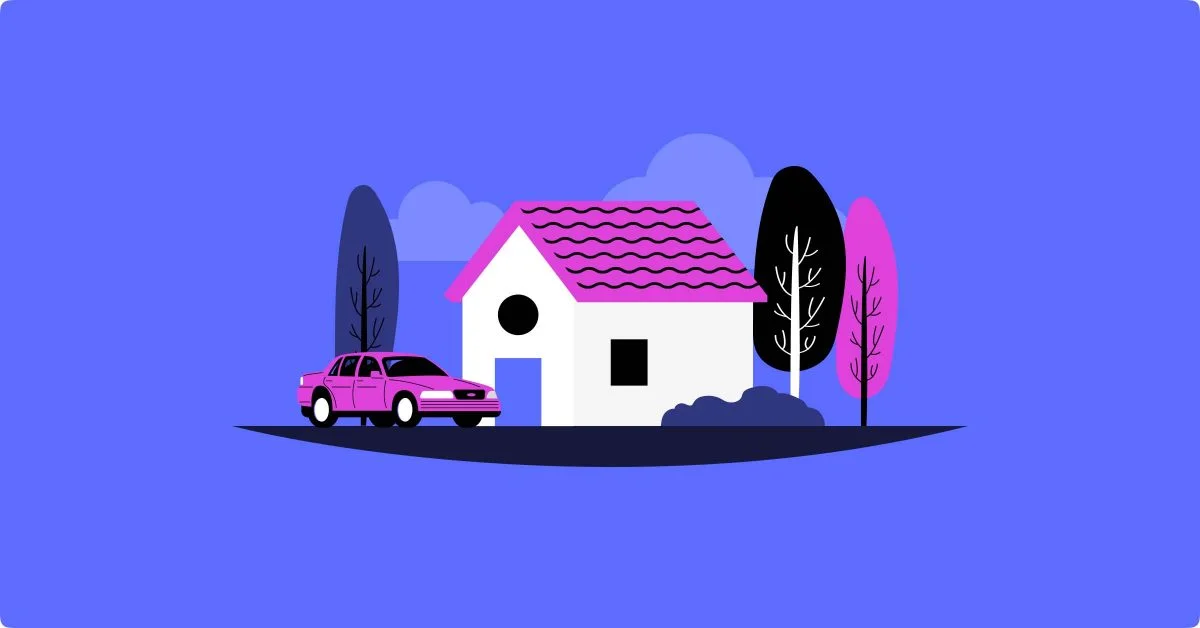 The answer to this question is yes – to an extent. About 80% of insurance companies offer discounts for bundling home and auto policies. However, it's important to still shop around yearly for the best deal.
What does it mean to bundle home and auto insurance?
When you bundle your insurance policies, it means you get multiple insurance policies from the same insurer. This is common in auto, homeowners, renters, and life insurance.
For the insurance company, there's no downside to offering discounts for customers for buying multiple policies. But policyholders must know the conditions of buying more than one policy to ensure they have the best deal possible.
Benefits of bundling home and auto insurance for consumers
Bundling your insurance is a cost-effective way to purchase new policies because it typically gives you an additional discount.
People bundling auto and home insurance typically get a multi-policy discount of between 5% – 25% of their premium. However, this amount depends on the carrier and the policy.
More significant discounts, around 15%- 20%, usually apply to homeowners policies, as opposed to auto coverage, as they're typically more expensive.
Another great benefit of bundled products is that you can manage multiple policies with the same insurance company. This way you have all the terms and conditions for both policies in one place, for example.
Which companies offer bundles for home and auto insurance?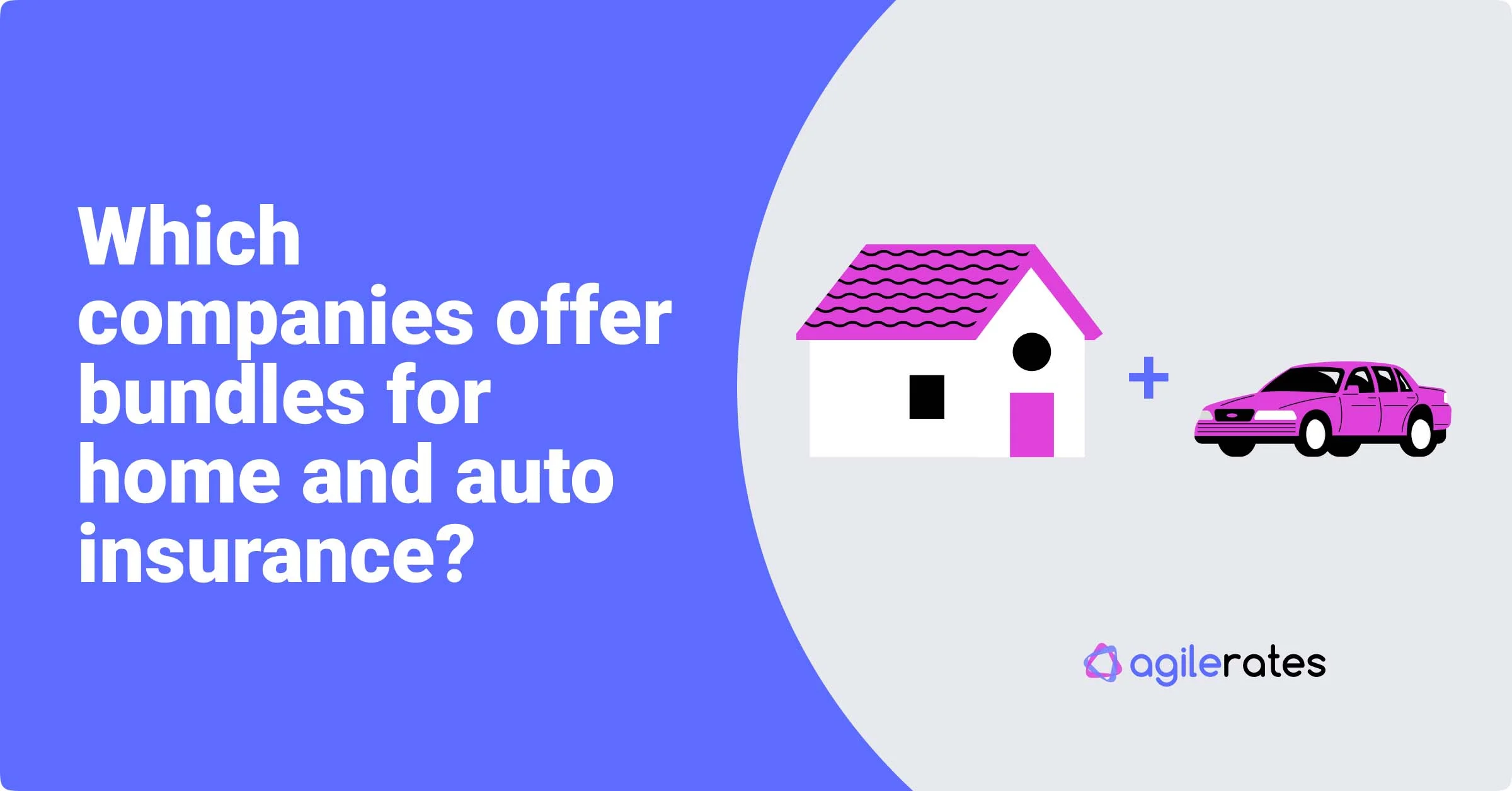 Several home and car insurance companies offer bundled discounts if you buy the two together.
These include, but are not limited to:
Tips for better bundling
In most cases, you will save by bundling, at least initially.
Homeowners who get the most significant break currently have costly home insurance and cheap car insurance. The "bundle" package offers bigger discounts on homeowner insurance. Consequently, switching to this package is one of the best ways to make your monthly bills more manageable and affordable.
On the other hand, if you have a Mustang GT or Dodge Challenger Demon, bad credit, or a less-than-stellar driving record (with multiple insurance claims). The new 'discounted' bundled auto insurance may be more expensive. You can get a cheaper insurance policy on your car by shopping around.
Your ultimate goal is to save money on your insurance policies. Meeting that goal is going to require some effort on your part.
Use an online marketplace like AgileRates
This can help you compare home and auto quotes to find the cheapest policies with the coverage you need. Get the most affordable individual policy first, then go back and see what bundled rates are available for them.
With this process, you can see how the price of two separate policies compares to the cost of bundled packages. When the price for both policies is lower than the price of a package, there is no reason to buy a bundle.
Recheck prices before renewal.
Is a bundled package still the best option? We recommend you go through this exercise at least a month before renewal. If your package matches industry prices, it will go up a few dollars at renewal. It might not be worth the hassle to change policies straight away. Still, after three or four years of price optimization, you could pay more than double what you initially did.
Bundling pros and cons
PROS
Streamlined Policy Management
CONS
Potential for Inadequate Coverage
Factors to consider when bundling
When considering bundling your home and auto insurance policies, several important factors must be considered to ensure you make an informed decision. Consider the following factors before finalizing your bundled insurance package:
Policy coverage: Evaluating whether the bundled policies provide adequate coverage for your specific needs is crucial. Review the policy terms, coverage limits, and home and auto insurance exclusions. Ensure the bundled package protects your assets, liabilities, and personal belongings. Confirm that the bundled policies can accommodate your unique coverage requirements, such as specialized items or additional riders.
Deductibles: Pay attention to the deductibles associated with the bundled policies. The deductible is the amount you must pay out of pocket before insurance coverage begins. Check if the deductibles are reasonable for your budget and if they align with your risk tolerance. Higher deductibles typically result in lower premiums, but ensure you can comfortably afford the deductible amounts in case of a claim.
Insurance company reputation: Research the reputation and customer service track record of the insurance company offering the bundled package. Look for customer reviews, ratings, and testimonials to assess the insurer's reliability, responsiveness, and claims handling process. A reputable insurer with a positive customer service track record can provide peace of mind, knowing that your claims will be handled efficiently and satisfactorily.
Policy flexibility: Consider the flexibility offered by the bundled policies. Assess whether the insurance company allows you to add or remove coverage options as needed during the policy term. Life circumstances can change, and you may require adjustments to your coverage. Having the ability to customize your bundled policies ensures that your insurance remains tailored to your evolving needs without the need to purchase separate policies.
FAQs
Do you actually save money bundling home and auto insurance?
Yes, usually, you can save money bundling home and auto insurance. You may find that the cheapest policies from individual insurance providers still work out better.
How much can you save when you bundle home and auto?
Typically, you can save between 5% – 25% on your policies by looking into insurance quotes for both types of insurance coverage simultaneously from the same provider. The can equate to between $200 and $500 annually.
Is it good to combine homeowners insurance and auto insurance?
One of the benefits of combining homeowners insurance and auto insurance policies is that you have everything under one provider instead of different companies. You'll often save money on your overall insurance rates too. Some companies offer discounts if you opt for multiple products from one company rather than purchasing across several companies.
What does bundling insurance mean?
When you bundle policies, you purchase two or more policies from the same provider, usually around the same time. This doesn't have to be a homeowners or auto insurance policy but can include different types of policies, such as renters and life insurance.
Is bundling a good idea?
Sometimes, it may not be a good idea to bundle insurance products. This includes if the insurance costs less when bought individually. As well as looking for bundle quotes, you should look for the best home and auto policies. Then compare the rates you get individually with the bundle options and choose the best rate for your needs.
How to bundle insurance?
You must purchase multiple policies from the same provider to bundle insurance policies. Often, they'll offer you discounts on your quotes, meaning that you save money overall.
How much does it cost to bundle?
Bundling insurance can provide discounts on your insurance premiums. Sometimes, you may not save money, so always shop around to double-check your bundling options.
How to bundle your home and auto insurance
It's important to remember that lower rates don't always mean getting the best deal. As well as price, there are many other factors to consider when looking at car insurance quotes and home insurance policies. Check that the deductible is one you can afford and that the policies offer all the coverage you need.
Finding the best deal takes some work. AgileRates can take that load off your back and, more importantly, be your one-stop source for all your insurance needs and questions. Fill out our online rate form, to make the process quick and easy.
---
Related Content:
---