UPDATED: JUNE 01, 2023 | 2 MIN READ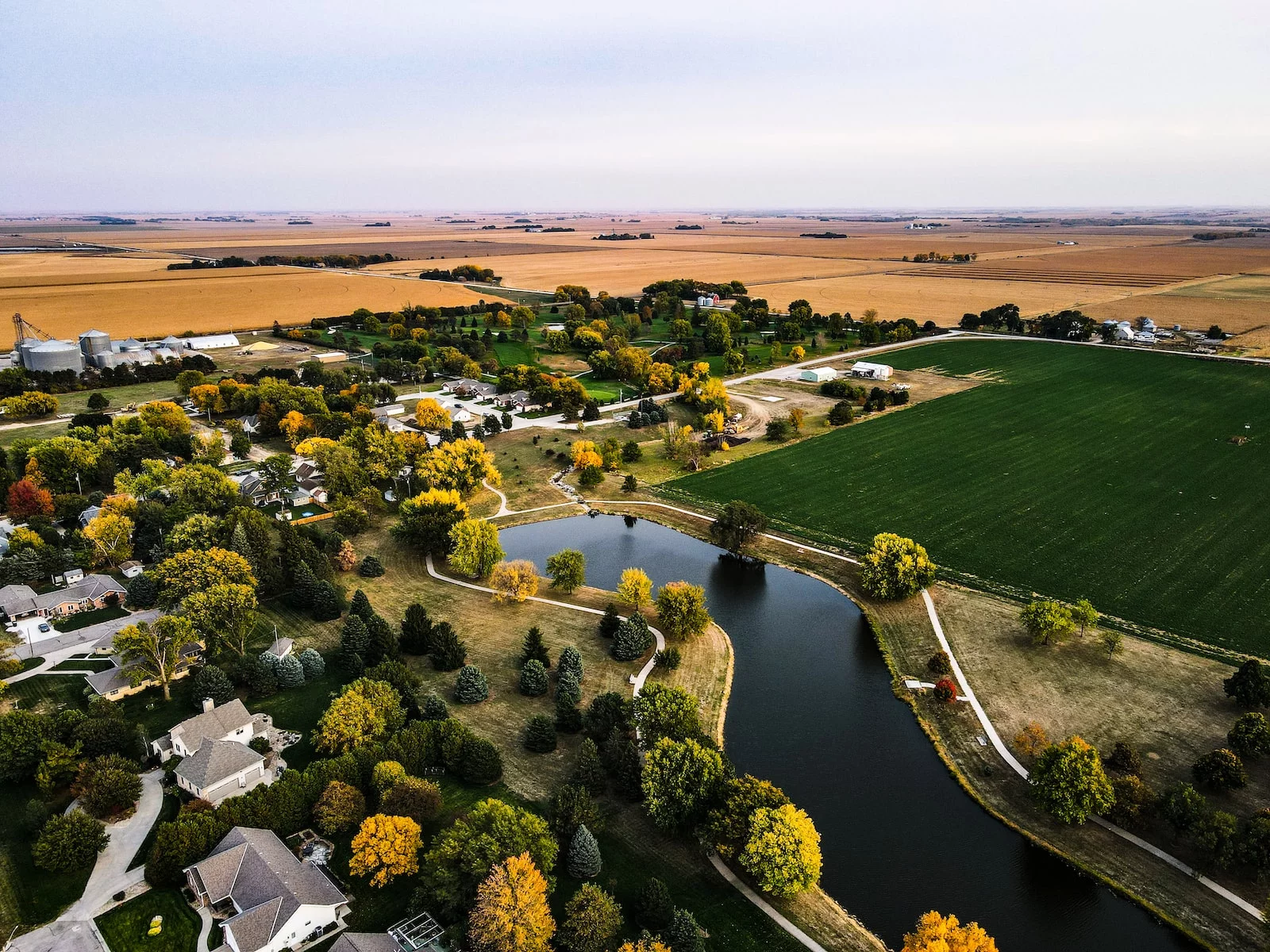 The average annual premium for Nebraska homeowners insurance is $2,849 for a home that costs $250,000 — much higher than the national average of $1,383.
Nebraska has one of the country's most expensive homeowners insurance rates, but you can find the best home insurance policy for your Nebraska home by comparing rates online. To help you begin, here are some of the best insurance companies in the state.
Best Nebraska Home Insurance Companies
We looked at premium costs, coverage options, and customer satisfaction reviews to determine the best Nebraska homeowners insurance companies.
Overall Best Nebraska Homeowners Insurance Company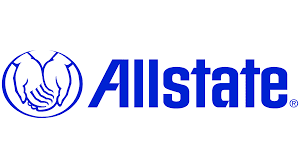 Allstate isn't the cheapest homeowners insurance option in Nebraska at an average of $3,398 per year for a $250,000 dwelling. However, this insurance company provides excellent coverage and offers discounts for several things, including new construction homes, automatic payment enrollment, and bundling.
Best Value Nebraska Home Insurance Company

At an average of $2,001 per year, Farmers Mutual of Nebraska offers the best value among insurance companies. Customers receive various discounts for investing in home security, using impact-resistant roofing materials, and bundling policies. Optional coverage options like credit card fraud protection give customers financial peace of mind.
Company With the Best Customer Service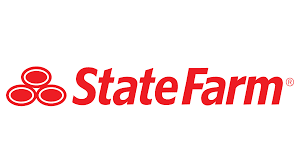 Another option comes from State Farm, at an annual average of $3,204. State Farm made it on our list despite the higher cost because customers love the online tools and the top-notch customer service. Also, State Farm boasts a very low NAIC Complaint Index at 0.20, with a median of one.
Company Best for Bundling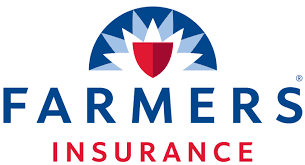 Farmers offers many benefits, including the ability to bundle your car and home insurance policies for an average of 15 percent savings. At $3,370 per year on average, the cost of Farmers insurance far exceeds the national average. Customers can lower their premiums through discounts and declining deductible programs.
Company With the Best Coverage Options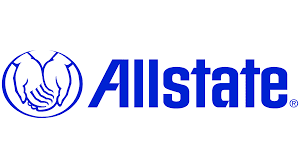 While Allstate costs an average of $3,398 per year for home insurance, it offers many coverage options. For example, customers can extend their policies to cover their personal belongings, yards, gardens, business properties, and even musical and sports equipment.
Local and Regional Home Insurance Carriers
Nebraska also has several local and regional home insurance carriers with great deals.
Farmers Mutual of Nebraska
Farmers Mutual of Nebraska's proud tradition of solid, affordable insurance started in 1891. Today, it's one of the biggest insurance companies in the Midwest. Farmers Mutual of Nebraska insures thousands of homes and farms in the Cornhusker State.
The company's unmatched home coverages for Property Protection include Dwelling, Other Structures, and Personal Property. Farmers Mutual of Nebraska offers unique discounts, including new homes, increased deductibles, roofs with high impact-resistance ratings, and multiple policies.
Allstate
Homeowners of Nebraska trust Allstate's knowledge, skill, and history of Allstate. Allstate's coverages are extensive, with Personal Property coverage with ACV (actual cash value) or RCV (replacement cost value). You also may expand your coverage with higher limits.
The standard policy also offers liability protection and medical payments. No matter what disaster befalls your home, Allstate offers replacement, repair, or rebuilding coverage. The discounts from Allstate include early signing savings, home buyer discounts, claim-free discounts, and good payment histories.
North Star Mutual
North Star Mutual provides property insurance to Nebraska's families and helps protect them against disaster. The top-rated company features Property and Liability coverages for your home, condo, mobile home, or rental.
Specialty coverages from North Star Mutual include Sewer and Drain System Backup, Refrigerated Food Products, Private Structures, Identity Fraud Expenses, and Theft from Residence Under Construction.
North Star Mutual's customers save with the company's exclusive discounts for mature owners, subdivision homes, higher deductibles, new/upgraded homes, and auto policyholders.
Nebraska Insurance Demographics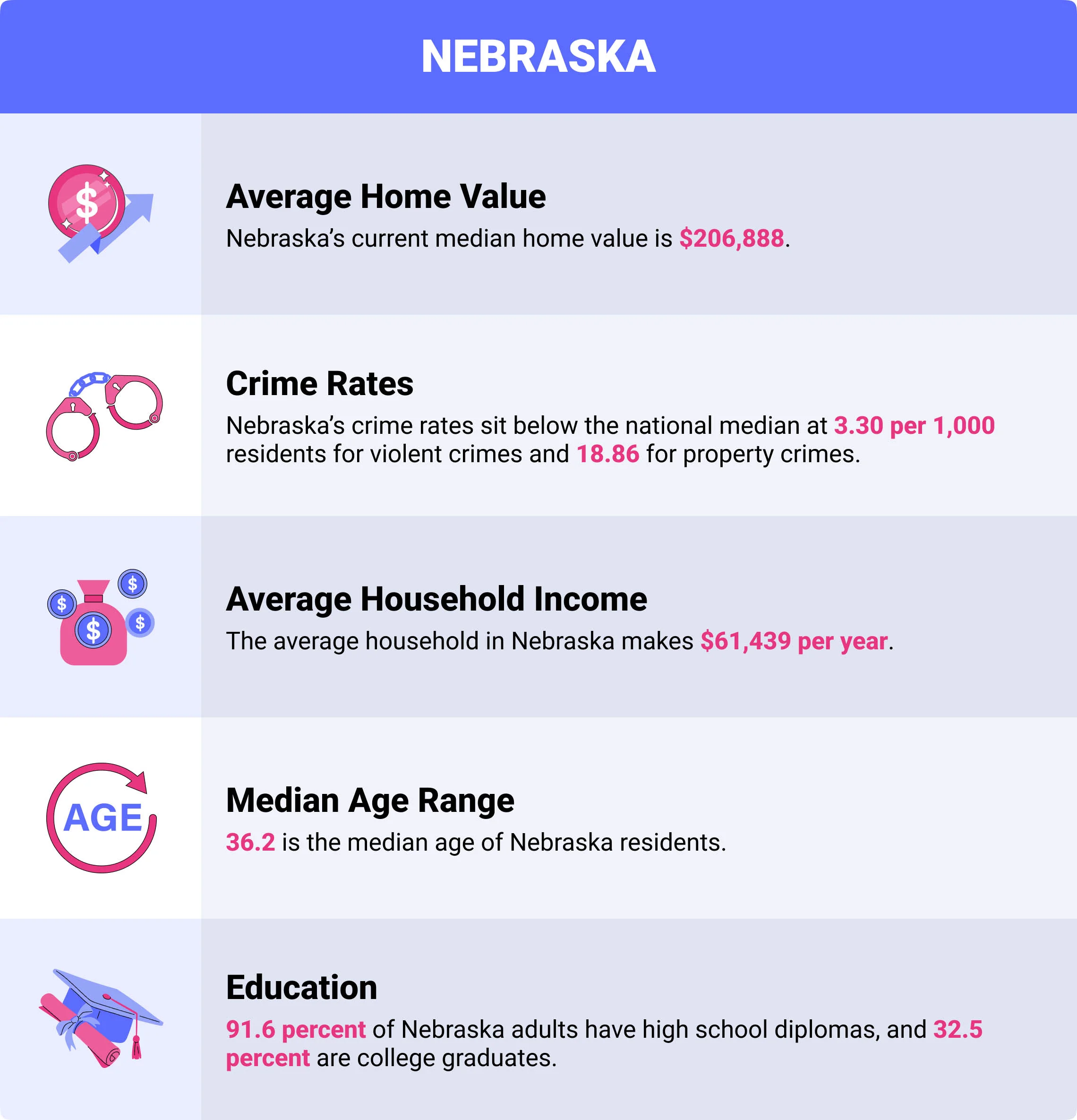 The home's location affects the cost of homeowners insurance based on factors like natural disaster risk and other demographics. Below, we've included some basic demographic information about Nebraska:
Average home value: Nebraska's current median home value is $206,888.
Crime rates: Nebraska's crime rates sit below the national median at 3.30 per 1,000 residents for violent crimes and 18.86 for property crimes.
Average household income: The average household in Nebraska makes $61,439 per year.
Median age range: 36.2 is the median age of Nebraska residents.
Education: 91.6 percent of Nebraska adults have high school diplomas, and 32.5 percent are college graduates.
Is Nebraska Home Insurance Required?
While the law in Nebraska doesn't require homeowners insurance, most mortgage loans require borrowers to have it. Without insurance, homeowners may face extreme hardship in the event of significant damage to the home.
What Does Nebraska Homeowners Insurance Cover?
Nebraska home insurance offers homeowners property and personal coverage that often covers the dwelling and belongings from losses caused by severe weather and natural disasters. Many policies also cover criminal losses like credit card fraud and identity theft.
Common Home Risk Factors in Nebraska
The Midwest experiences hazardous weather conditions year-round, from hail and heavy snow to floods and tornadoes. Homeowners must be prepared for the potential damage these events cause, whether a tree limb falls onto a roof or a tornado detaches the entire home.
What Type of Homeowners Insurance Coverage Is Recommended?
Nebraska homeowners insurance policies cover damage from hail, wind, and flying debris, but they don't cover flooding and may not cover personal property or other structures.
Personal Property Insurance
While a homeowner may focus on protecting their house, insurance also covers the things inside it. Many home insurance policies include personal property insurance but you can add endorsements for personal belongings, covering the loss of valuables like musical instruments, jewelry, and electronics. Some policies even cover the loss of electronic data, such as photos stored on a desktop computer.
Additional Structure Insurance
Many Nebraska properties include several structures in addition to the dwelling. Homeowners should ensure that their policies cover these other structures, including barns, sheds, and other buildings.
Flood Insurance
A homeowners insurance policy doesn't cover damage caused by flooding, but you can purchase an additional flood insurance policy to protect your Nebraska home. While only a small percentage of areas in the state require flood insurance, investing in this extra protection is wise in low-risk areas. Even a minor flood can cause significant damage to the home's structure and personal property.
How Much Does Home Insurance in Nebraska Cost?
The average yearly premium of homeowners insurance in Nebraska based on a $250,000 home is $2,849. Your Nebraska home may have a lower premium depending on the city. Lincoln and Papillion offer the lowest annual homeowners insurance rates as of this writing.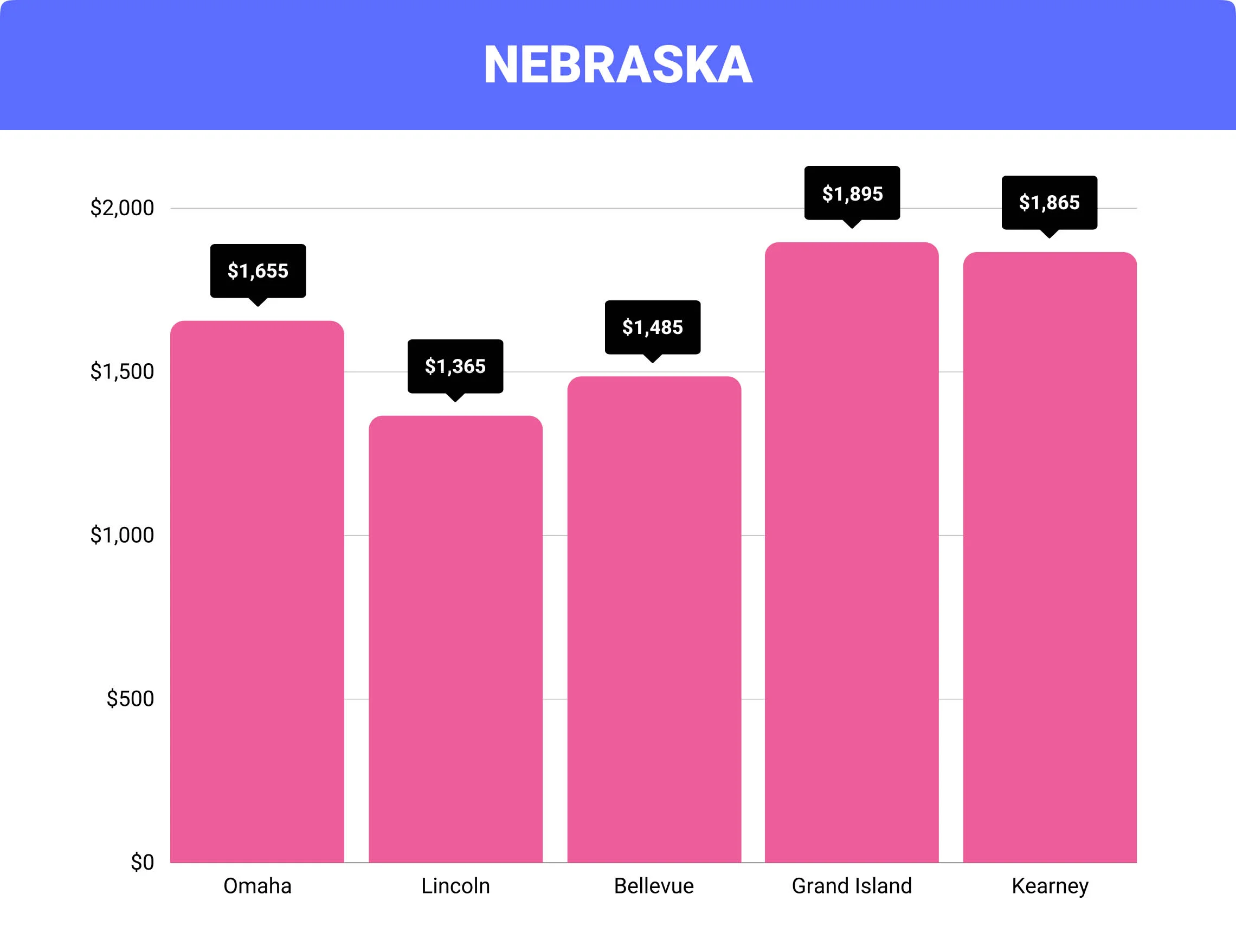 Cost of Home Insurance in Nebraska by City
City
Average Nebraska Homeowners
Insurance Costs
Difference From Average Nebraska Premiums
Omaha
$1,655
-2%
Lincoln
$1,365
-19%
Bellevue
$1,485
-13%
Grand Island
$1,895
+13%
Kearney
$1,865
+11%
FAQs
What's the average homeowners insurance cost in Nebraska?
The average policy for a $250,000 home in Nebraska costs $2,849 annually, exceeding the national average for homeowners insurance costs.
How much is home insurance per month in Nebraska?
Based on the above figure, the average monthly home insurance cost for a Nebraska policy is $237.
Is Nebraska home insurance expensive?
Given the state's harsh weather, homeowners insurance in Nebraska is more costly than most other states, including those in the Midwest. For example, only Oklahoma costs more at an average of $3,519.
Is homeowners insurance required in Nebraska?
The law does not require Nebraska homeowners to insure their homes. However, most banks and other lenders require home insurance for mortgage loans, and insuring your home is vital to protect against unexpected damage.
What does homeowners insurance cover in Nebraska?
Nebraska home insurance covers the house itself, personal belongings, additional living expenses, and personal liability, among other things. Read your insurance policy carefully to determine what it covers and how much the policy pays out when you need it.
How To Purchase Nebraska Home Insurance
If you're ready to find the best Nebraska homeowners insurance for your home, begin by collecting quotes from several companies. Then, you can compare rates and coverage options to choose the ideal policy for your needs.
If you don't have the time or patience to sort through the many options for home insurance, few are here to help. We can guide you through purchasing the right coverage for your home and family. You can start by completing our online rate form.