UPDATED: JUNE 01, 2023 | 1 MIN READ
When protecting your home, house insurance is essential regardless of where you live. New Mexico homeowners insurance helps cover the cost of repairs and replacements when extreme weather or other factors damage the home. In New Mexico, homeowners pay an average of $2,024 a year.
Best New Mexico Home Insurance Companies
Whether you're a first-time buyer in your New Mexico hometown or moving to the state from across the country, let us help you find the ideal home insurance policy for your home, household, and budget. Below, we've listed the top insurance companies in New Mexico.
Overall Best New Mexico Home Insurance Company
Allstate stands tall among New Mexico home insurance companies. It offers customers many benefits, including comprehensive coverage, affordable premiums, user-friendly online tools, and excellent customer service. Allstate also provides savings opportunities like its welcome and home buyer discounts.
Best Value New Mexico Home Insurance Company
Allstate costs an average of $1,456 per year for a dwelling with $250,000 in coverage, more than $500 lower than the state average homeowners insurance cost. This low rate makes it one of the most affordable options for home insurance in New Mexico.
New Mexico Insurance Company with the Best Customer Service
Another affordable option with great coverage is State Farm. This insurance company offers competitive rates at a yearly average of $1,502, only slightly higher than Allstate. We chose State Farm as our top pick for customer service because it boasts a low NAIC complaint index of only 0.20 and provides clients with all the online tools and resources they need.
In addition to homeowners insurance, State Farm offers banking and lending services, so customers find this company convenient for keeping all their financial products with the same company.
New Mexico Home Insurance Company Best for Bundling
Travelers Insurance lets clients bundle their insurance policies to manage auto and home insurance and take advantage of policy discounts. Although it's not the most affordable option at an average cost of $2,585O per year, homeowners feel confident insuring through Travelers because it boasts a strong history of financial stability.
New Mexico Home Insurance Company with the Best Coverage Options
Borrowers looking for a customizable homeowners insurance policy choose Farmers, which offers three coverage tiers with varied rates and amounts. The average annual rate for a Farmers policy is pricey, at $2,552, but this insurance company offers diminishing deductibles and many discounts.
Local and Regional Home Insurance Carriers In New Mexico
Central Insurance
Central Insurance has provided homeowners coverage to New Mexico residents for over 100 years. The company features a variety of home insurance coverages, including Dwelling, Other Structures, Replacement Costs, and more.
The Central Plus Ten Endorsement offers several additional coverages tailored to New Mexico residents. You may purchase insurance to remove debris after a high wind event, up to $1,500 for a stolen credit or debit card, and up to $750 for food spoilage from a power outage.
Central Insurance has many ways to save money, including discounts for paying your premium in full, savings if you have a good credit score or a newer home, credits for living in a gated community, and credits for timely payments and customer loyalty.
Iowa Farm Bureau
Iowa Farm Bureau offers insurance policies for Albuquerque, Rio Rancho, Las Cruces, and Santa Fe homeowners through its subsidiary, Farm Bureau Financial.
Iowa Farm Bureau offers notable coverages, including Guaranteed Replacement Cost Coverage of up to 125 percent of the insurance limit on your home.
The policies include Residential Equipment Breakdown, which replaces air conditioning, furnaces, water heaters, computers, TVs, stereos, and other appliances. The core policy also provides coverage of up to $10,000 on other buildings on your residential property.
Iowa Farm Bureau sells Umbrella coverage, which is handy when your core homeowners policy limits are exhausted. Iowa Farm Bureau prides itself on offering its customers many ways to save, including through SuperCheck, which requires your agent to do an annual check to ensure you receive all discounts and have the coverage you need.
Farmers Insurance
Farmers Insurance is one of the biggest insurance carriers in the United States, and it offers flexible and affordable policies for residents of New Mexico. Its standard homeowners coverage protects your dwelling, your personal property, and your liability in case you are ever legally responsible for damage to someone else's property or injury to another person.
The Company's new Farmers FlexSM Personal Home policy gives New Mexico homeowners three packages: the Standard, which includes everything you need at an affordable price; Enhanced, which provides you with higher coverage limits; and Premier, which has higher limits and many additional optional features.
New Mexico Insurance Demographics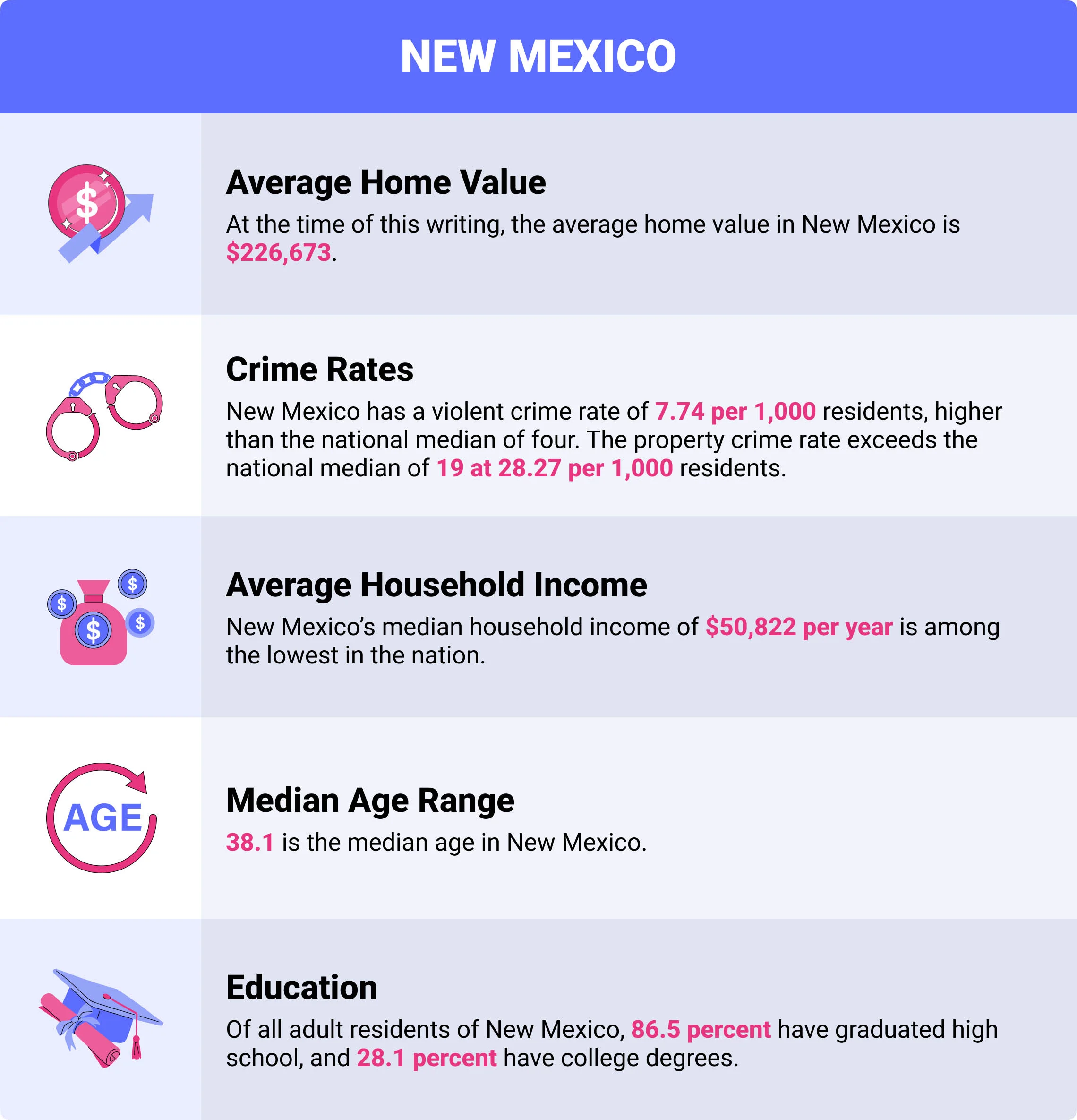 Many area demographics determine home insurance rates, including weather, home values, and crime rates. New Mexico may not deal with the same severe weather risks as other states, but it does face higher crime rates.
Average Home Value: At the time of this writing, the average home value in New Mexico is $226,673.
Crime Rates: New Mexico has a violent crime rate of 7.74 per 1,000 residents, higher than the national median of four. The property crime rate exceeds the national median of 19 at 28.27 per 1,000 residents.
Average Household Income: New Mexico's median household income of $50,822 per year is among the lowest in the nation.
Median Age Range: 38.1 is the median age in New Mexico.
Education: Of all adult residents of New Mexico, 86.5 percent have graduated high school, and 28.1 percent have college degrees.
Is New Mexico Home Insurance Required?
No, the law doesn't require New Mexico homeowners insurance. That said, most mortgage lenders won't give you a loan with a homeowners insurance policy and may even select a policy for you if you fail to do so.
What Does New Mexico Home Insurance Cover?
New Mexico homeowners insurance helps pay for repairs when wind or other weather conditions cause damage. It also covers loss of use (when damage causes the home to become uninhabitable), liability, and medical payment coverage.
Common Home Risk Factors In New Mexico
New Mexico homeowners must consider the unique risks of living in the state, including wildfires, property crime, and flooding. Damage sustained during a crime poses a critical consideration in New Mexico, where the median rate exceeds the national median by almost 10 percent.
What Type of Homeowners Insurance Coverages Are Recommended In New Mexico?
When choosing the right home insurance cost policy for your home in New Mexico, consider the following coverage options:
Personal Property Insurance
With elevated property crime rates, homeowners must consider personal property endorsements on their policies. Home insurance in New Mexico may not include this automatically, but if you lose personal belongings to theft, personal property coverage can help you recoup a percentage of the value of the stolen items.
Flood Insurance
New Mexico home insurance, like any other state, does not include flood insurance. Homeowners must invest in separate policies to protect against flood damage. Consider this extra insurance if you live in a flood-prone area.
Water Backup Insurance
New Mexico homeowners insurance may not cover water backup damage caused by a clogged sump pump or another drainage issue. Homeowners can protect against water backups with additional coverage endorsements.
How Much Does Home Insurance In New Mexico Cost?
Homeowners insurance in New Mexico costs more than the national average at an annual rate of around $2,000. The cost of your homeowner's insurance premium depends on the home's location within the state, the home's value, and the types of coverage you choose. Location factors include climate and weather, wildfire risks, crime rates, and other factors.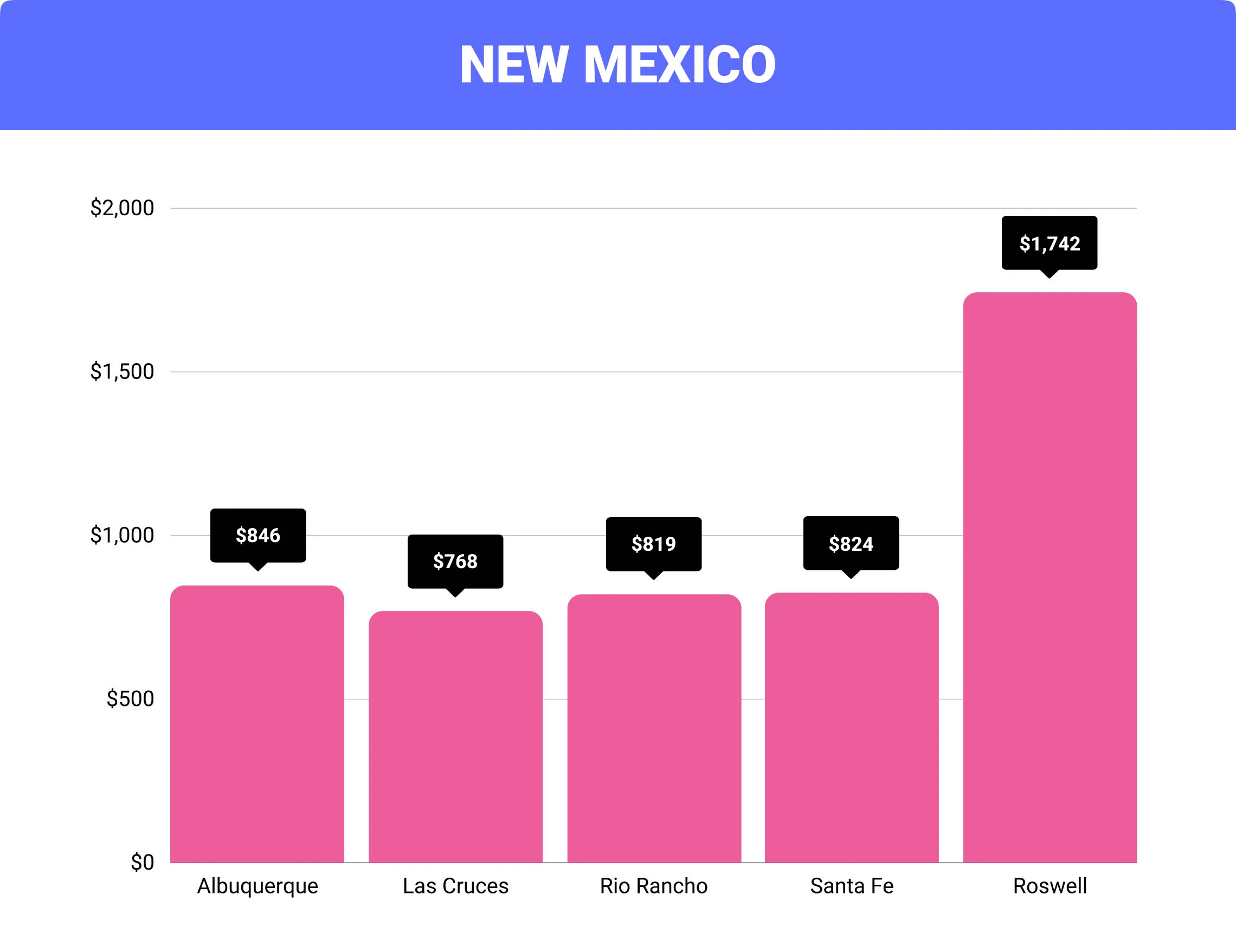 Cost of Home Insurance In New Mexico By City
| | | |
| --- | --- | --- |
| City | Average New Mexico Home Insurance Cost (Based on a dwelling with $171,300 in coverage) | Difference From New Mexico Average |
| Albuquerque | $846 | -34.1% |
| Las Cruces | $768 | -40.21% |
| Rio Rancho | $819 | -36.27% |
| Santa Fe | $824 | 35.86% |
| Roswell | $1,742 | 35.67% |
FAQs
What's the average cost of homeowners insurance in New Mexico?
Homeowners' insurance costs in New Mexico exceed the national average of $1,393 at an annual average of $2,024.
Is homeowners insurance required in New Mexico?
The law doesn't need it, but most lenders do.
How much is homeowners insurance a month in New Mexico?
Based on the average above, New Mexico homeowners pay an average of $169 per month for home insurance.
Do you need earthquake insurance in New Mexico?
Although earthquakes don't often happen in New Mexico, having coverage may be worth it. The damage from an earthquake can prove significant. Even if you think an earthquake in your area is unlikely, it may be wise to purchase earthquake insurance just to be safe.
How much is home insurance in Las Cruces?
The cost of New Mexico home insurance varies by city. In Las Cruces, the average annual price is $768 for a dwelling with $171,300 in coverage.
How To Purchase New Mexico Home Insurance?
If you're ready to find a home insurance policy for your New Mexico house, start by collecting quotes from several insurance companies. Not every policy includes the same coverages or offers the same rates, so it's crucial to compare to find the best policy for you.