UPDATED: JUNE 01, 2023 | 2 MIN READ
The average New York homeowners insurance premium is $1,418 yearly, which exceeds the national average of $1,272. The homeowner's insurance cost changes depending on your home's value and location, but you can save money by comparing rates and choosing the right plan.
Best New York Home Insurance Companies
The best New York homeowners insurance for you depends on the coverage you need. Each provider has standard policies that might need tweaking to ensure you have complete protection. We'll provide details on the best home insurance companies in New York in terms of value, customer service, bundling, and coverage options.
Overall Best New York Home Insurance Company
State Farm is the largest homeowners insurance company nationwide and has one of the highest customer satisfaction ratings.
The company's home insurance rates tend to hover around the national average but can be as low as $800 annually, making it a highly affordable option in New York.
State Farm provides basic dwelling coverage for homes, condos, and co-ops with a wide range of optional add-ons.
Best Value New York Home Insurance Company
The homeowners insurance with the best value is New York Central Mutual Insurance (NYCM), with an average yearly premium of $498.
This carrier provides the most affordable coverage options in the state. NYCM offers discounts to remote workers, senior citizens, and residents of gated communities, and it gives 25% off to policyholders who bundle their home and auto insurance.
New York Home Insurance Company with the Best Customer Service
Customizable coverage options, homeowner services, and outstanding customer service make USAA the best choice if you want high-quality care from your insurance company in New York.
If you're not an active military member or a veteran, State Farm also ranks among the top insurance companies in customer satisfaction.
New York Home Insurance Company Best for Bundling
Allstate has a wide range of coverage options and discounts, including one of the best bundling deals available from New York homeowners insurance carriers. If you bundle your home and auto insurance, you'll get 25% off compared to 12% from Progressive, 17% from State Farm, and 10% from USAA.
New York Home Insurance Company with the Best Coverage Options
Chubb offers rare benefits for high-value New York homes. The standard policy has coverages you won't find in the basic plans of its competitors, including extended replacement cost, cash settlement, and risk consulting. However, Chubb has the highest rates in New York at an average annual price of $1,787.
Local and Regional Home Insurance Carriers In New York
Preferred Mutual Insurance
Preferred Mutual homeowners insurance provides Dwelling Structure, Personal Belongings, and Liability Coverage coverage.
Preferred Mutual aims to be customizable for any property, offering high-value homeowners insurance for New York City properties and vacation homes and coverage for New York condos and mobile homes. Preferred Mutual has you covered if you need extra coverage for specific features.
It offers policies for above-ground pools, identity theft, valuable possessions, and boats. The insurer has discounts for home construction less than 20 years old, non-smokers, building a new home with specific construction techniques, central station alarms, and combining multiple policies.
Utica National Insurance
Utica National Insurance offers New Yorkers auto insurance. Utica views each policy it writes as an expert collaboration with your local agent, ensuring you get personalized home coverage.
Its standard policy includes Dwelling, Personal Property, and Liability coverage. Utica also offers coverage for extra buildings on your property, like sheds and detached garages.
Residents in Manhattan, Buffalo, Queens, and Syracuse, may qualify for mobile homes, condos, and townhomes coverage. Since many New York City residents rent out their homes or vacation houses, Utica National provides separate policies for Landlord Insurance.
Travelers Insurance
Travelers Insurance, commonly known as Travelers, is the second-largest U.S. commercial property casualty insurance writer. Travelers' New York home insurance policies include Dwelling Coverage, Personal Property Coverage, Personal Liability Coverage, Loss of Use Coverage, and Other Structures.
Travelers provide flexible add-ons to cover a variety of other possibilities, such as Personal Articles, Jewelry, Other Valuables, Special Personal Property Coverage, Contents Replacement Cost, Water Backup, and Green Homes.
Travelers features many discounts, like savings for new home buyers, up to five percent off for certified green homes, the installation of protective devices, and savings for having multiple policies.
What Impacts Home Insurance Rates in New York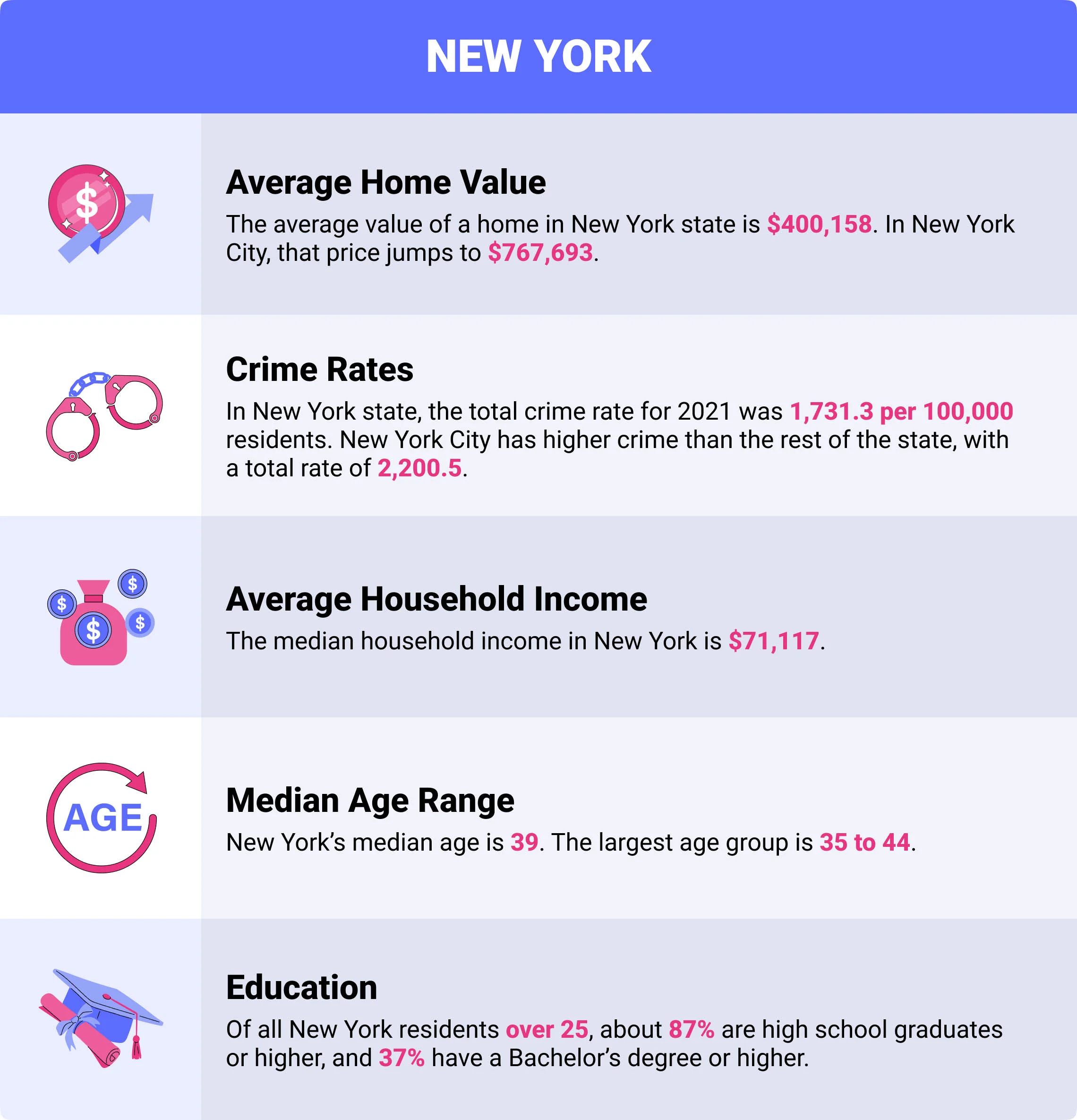 Insurance companies find that specific demographics file more claims and can charge more in regions that meet those criteria. In New York, the following demographics could influence your homeowner's insurance premium:
Average Home Value: The average value of a home in New York state is $400,158. In New York City, that price jumps to $767,693.
Crime Rates: In New York state, the total crime rate for 2021 was 1,731.3 per 100,000 residents. New York City has higher crime than the rest of the state, with a total rate of 2,200.5.
Average Household Income: The median household income in New York is $71,117.
Median Age Range: New York's median age is 39. The largest age group is 35 to 44.
Education: Of all New York residents over 25, about 87% are high school graduates or higher, and 37% have a Bachelor's degree or higher.
Is New York Home Insurance Required?
No, the law doesn't require you to have home insurance in New York. However, most mortgage lenders will not give you a loan without a homeowners insurance policy.
What Does New York Home Insurance Cover?
House insurance policies typically have dwelling coverage, which protects your home's structure in case of damage, and personal property coverage for things like electronics and clothes in case of fire or theft. You might also have personal liability coverage for bodily injury or property damage claims.
Common Home Risk Factors In New York
Parts of New York are on the coast, meaning homes in those areas are vulnerable to damage from intense storms and hurricanes. The most common insurance claims are wind and flood damage, which aren't typically standard in NY home insurance policies. You can get flooding coverage from your home insurance carrier or the National Flood Insurance Program (NFIP).
What Type of Homeowner's Insurance Coverages Are Recommended?
Living in New York exposes you to various risks depending on where you live. Coverages we recommend to New York homeowners include:
Flood Insurance
Flood damage is a common homeowners insurance claim, but not every carrier provides flood insurance automatically. The NFIP offers $250,000 in structural and $100,000 in personal property coverage. You can find higher flood insurance coverage from private companies.
Replacement Cost Personal Property Coverage
Most basic home insurance in New York has actual cash value personal property coverage, which accounts for your items' depreciation. If you choose replacement cost coverage, you'll receive the total value of your property.
Identity Theft Coverage
Cyberattacks are becoming increasingly common, so many insurance providers offer identity theft coverage as an add-on to your homeowners insurance. If someone steals your personal information, your policy helps pay the costs associated with recovery from the theft.
How Much Does Home Insurance In New York Cost?
The average annual homeowners insurance cost in New York is $1,418. NYC has higher premiums than other parts of the state, though only 33% of the city's population are homeowners. New Yorkers near the coast might have costly premiums or deductibles due to the risk of hurricane damage and flooding.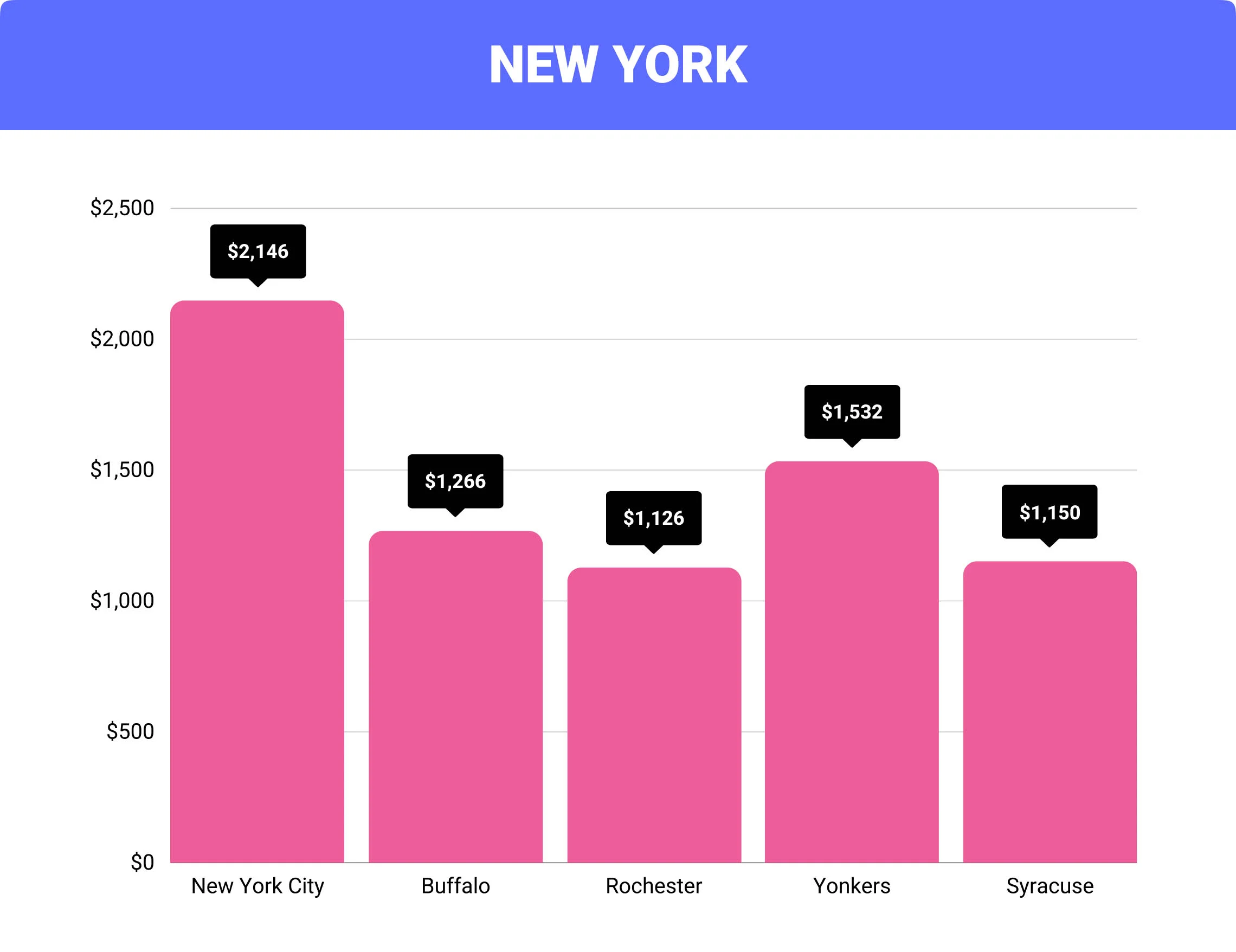 Cost of Home Insurance By City
| | | |
| --- | --- | --- |
| City | Average New York Home Insurance Cost | Difference From New York Average |
| New York City | $2,146 | 51% |
| Buffalo | $1,266 | -11% |
| Rochester | $1,126 | -21% |
| Yonkers | $1,532 | 8% |
| Syracuse | $1,150 | -19% |
FAQs
How much does home insurance cost in New York?
On average, New York homeowners insurance costs $1,418 a year but varies widely depending on your location in the state.
How much does home insurance cost per month in NYC?
The average annual home insurance premium in New York City is $2,146.
Do you need homeowners insurance in New York?
While the state doesn't require homeowners insurance by law, most mortgage companies only give loans to homeowners with house coverage.
How much is home insurance in Manhattan?
The average annual homeowners insurance premium in Manhattan is $3,164. Manhattan has the most expensive homes in the world, high crime rates, and an increased risk for hurricanes, and thus has expensive home insurance.
Why is home insurance so expensive in New York?
The larger and more expensive your home is to repair or rebuild, the higher your insurance premium will be. Many homes in New York are incredibly pricey, and construction costs are also steep.
How To Purchase New York Home Insurance?
If you aren't sure which coverages you need, a licensed insurance agent can help you decide based on your circumstances. You can compare policies in New York online here.