UPDATED: JUNE 01, 2023 | 1 MIN READ
Pennsylvania homeowners insurance costs are lower than the national average despite the state's high home ownership rating of 70%. National costs are $1,383 per year for $250,000 of dwelling coverage, whereas the average in Pennsylvania is $730 annually.
To help you get the best coverage and lowest rates, we've compiled a list of the top-rated companies for homeowner's insurance in Pennsylvania. We'll discuss price, recommended coverage, customer service, bundling, and demographics and answer frequently asked questions.
Best Pennsylvania Home Insurance Companies
According to J.D. Power's 2021 U.S. Home Insurance Study, the top homeowners insurance company for customer service is USAA, scoring an 882 out of 1,000. Amica Mutual earned an 854, Erie Insurance and State Farm tied at 835, and Allstate received an 829. All of those companies provide top-notch customer service and coverage.
Overall Best Pennsylvania Home Insurance Company
Overall, the best Pennsylvania homeowner's insurance company is USAA. However, USAA only offers coverage to active military members, veterans, and their families. Erie Insurance is an excellent alternative if you don't qualify for USAA coverage.
Erie offers a low homeowner's insurance premium and scores high for customer service. It also maintains an A+ financial strength rating from AM Best. For $300,000 of dwelling coverage, the average annual homeowner's insurance cost from Erie is $865, or $72 a month.
Best Value Pennsylvania Homeowners Insurance Company
The average yearly homeowner's insurance premium in Pennsylvania varies based on coverage type, home value, claims history, location, etc. Based on $300,000 in dwelling coverage, Penn National offers the cheapest homeowner's insurance costs at an annual average of $756. Next is Allstate at $771, Farmers at $804, and Erie at $865.
Pennsylvania Home Insurance Company With the Best Customer Service
Pennsylvanians who want top-notch customer service should choose Erie Insurance. According to 2021 data from the National Association of Insurance Commissioners (NAIC), Erie Insurance scores below the 1.0 average, meaning customers are less likely to file a complaint. Another excellent choice for superior customer service is USAA.
Pennsylvania Home Insurance Company Best for Bundling
Not every insurance company offers bundling discounts. The Pennsylvania homeowner's insurance company with the biggest bundle discount is Allstate, up to 25%. Plus, Allstate offers a 10% welcome discount for new customers. State Farm also provides a significant multi-policy discount, up to $965.
Pennsylvania Homeowners Insurance Company With the Best Coverage Options
We ranked Nationwide as the Pennsylvania homeowner's insurance company with the best coverage options. Nationwide offers numerous add-ons, including:
Identity theft protection
Loss assessment
Water backup
Replacement cost for personal property
Roof replacement
Equipment breakdown
Service line disruptions
Local and Regional Home Insurance Carriers In Pennsylvania
Erie Insurance
Based in Erie, Pennsylvania, Erie Insurance's expertise in home insurance makes it a standout for customers. Erie Insurance's claim to fame is "Above all in service," and many of its customers agree.
The company features a solid menu of home insurance coverages, including structure coverage, personal property, and liability. Add service line coverage, identity theft, water backup & sump overflow, and personal liability to your home insurance policy.
Erie Insurance discounts include Multi-policy, home protection, and advanced quote.
Motorists Mutual Insurance Company
Motorists Mutual Insurance Company is now known as Encova and is a leader in the home insurance industry. The company's strong future and the variety of coverages make them a popular choice for Pennsylvania homeowners.
Home policy coverages include dwelling, property damage, and liability. You may reduce your home insurance policy premiums with a discount from Envoca for recent renovations or a high credit rating.
Donegal Insurance
Donegal Insurance Group is a regional insurance carrier dedicated to homeowners for over a century. Their home insurance policies offer everything you need to protect your home in case of a covered loss, such as fire or vandalism.
Coverages range from the dwelling to other buildings, plus personal liability coverage, medical payments, and additional living expenses. You may also choose extended limits coverage, identify fraud expense coverage, and replacement cost coverage.
It's easy to find the right homeowners policy for your needs, and if you don't know what you need, Donegal Insurance is ready to help. Discounts for your safety and security devices, a combined auto-home policy, and renewals sweeten the deal.
Pennsylvania Insurance Demographics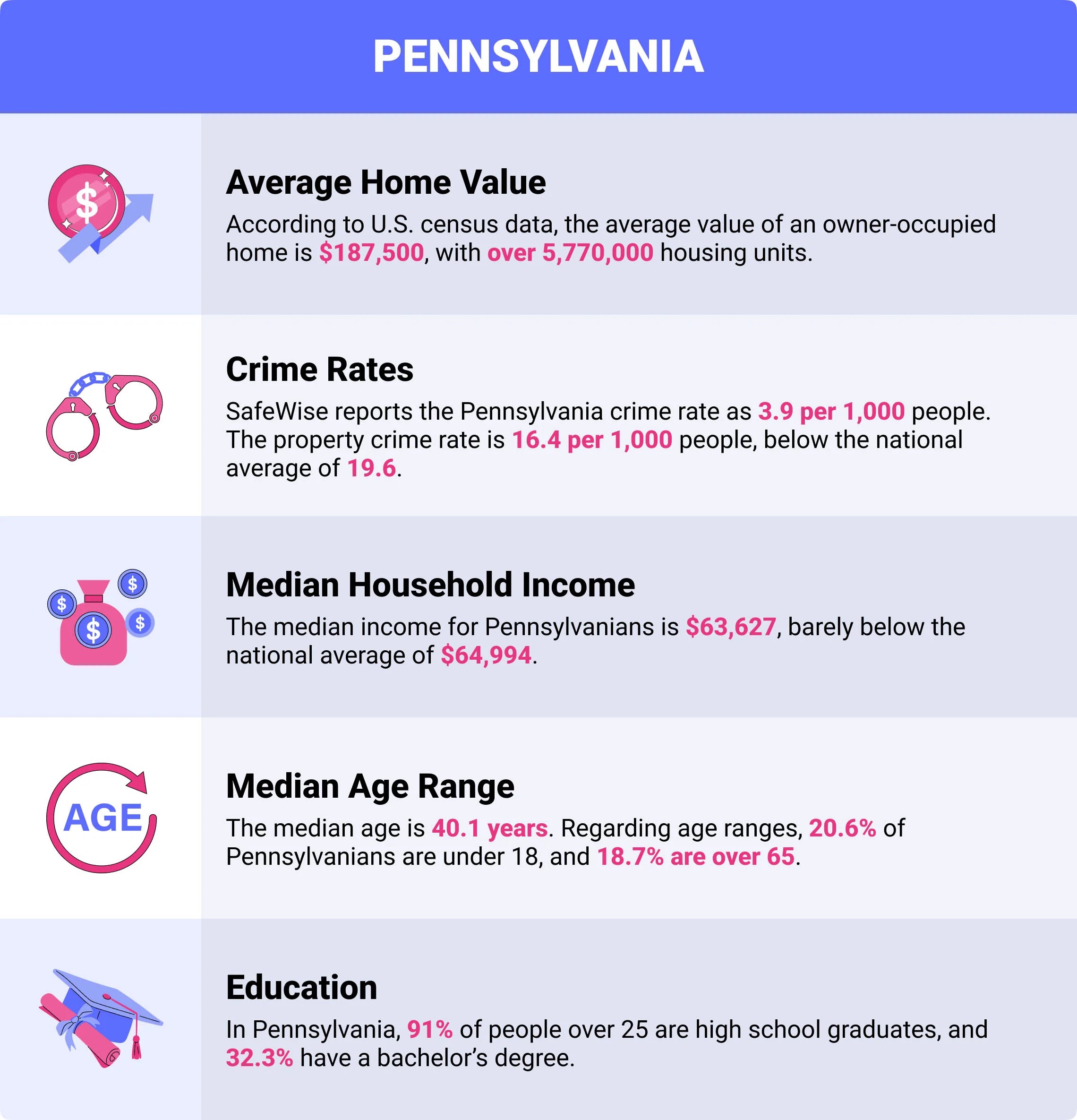 Your cost of homeowners insurance in Pennsylvania depends on several factors, including these demographics:
Average home value: According to U.S. census data, the average value of an owner-occupied home is $187,500, with over 5,770,000 housing units.
Crime rates: SafeWise reports the Pennsylvania crime rate as 3.9 per 1,000 people. The property crime rate is 16.4 per 1,000 people, below the national average of 19.6.
Median household income: The median income for Pennsylvanians is $63,627, barely below the national average of $64,994.
Median age range: The median age is 40.1 years. Regarding age ranges, 20.6% of Pennsylvanians are under 18, and 18.7% are over 65.
Education: In Pennsylvania, 91% of people over 25 are high school graduates, and 32.3% have a bachelor's degree.
Is Pennsylvania Home Insurance Required?
Pennsylvania law doesn't require residents to have homeowner's insurance, but many mortgage companies do. Even if coverage isn't mandatory under your mortgage, you should still invest in homeowner's insurance to protect your house and personal property.
What Does Pennsylvania Home Insurance Cover?
Homeowner's insurance policies in Pennsylvania can vary, but most offer standard coverage options, including:
Home repair and replacement costs
Personal property replacement costs
Personal liability
Medical payments for third-party injuries
Loss of use coverage
Most Pennsylvania insurance agencies offer add-ons, including flood, water backup, identity theft, and earthquake policies.
Common Home Risk Factors in Pennsylvania
Every year, households in Pennsylvania suffer damage from natural disasters. According to the Pennsylvania Department of Health, floods are the most common natural disaster, with hundreds occurring annually.
Fires, winter storms, hurricanes, tornadoes, sinkholes, and earthquakes are also top threats. Pennsylvania residents should consider adding these policies to their standard homeowner's insurance to provide financial protection when these disasters occur.
What Types of Homeowner's Insurance Coverage Are Recommended?
In addition to your standard homeowner's insurance coverage, Pennsylvania residents should consider purchasing add-ons for maximum protection. The best coverage options include flood, hurricane, and sinkhole insurance.
Flood Insurance
Floods can cause significant damage to your home and personal property, including general destruction, water damage, and mold. With hundreds of floods in Pennsylvania yearly, adding flood insurance to your house insurance policy is a wise investment. You can purchase flood insurance through the National Flood Insurance Policy and other private insurance agencies.
Hurricane Insurance
In September 2021, Hurricane Ida struck Pennsylvania with devastating force. The storm caused millions of dollars in damages, killed several people, and displaced countless families. Investing in hurricane insurance provides extra protection for the next storm that hits Pennsylvania.
Sinkhole Insurance
According to American Geosciences data, Pennsylvania is one of six states most susceptible to damage from sinkholes. Standard homeowners insurance policies don't provide sinkhole coverage, but you can purchase an add-on. Shop around for quotes and compare companies to find the lowest rates.
How Much Does Home Insurance in Pennsylvania Cost?
Not every city in Pennsylvania has the same homeowners insurance cost. Your rate depends on variables, including your city's location, crime rate, filed claims, home value, credit rating, etc. The average annual cost is $730, or about $60 monthly.
Below is a table with average home insurance costs by city based on a policy with $300,000 in dwelling coverage.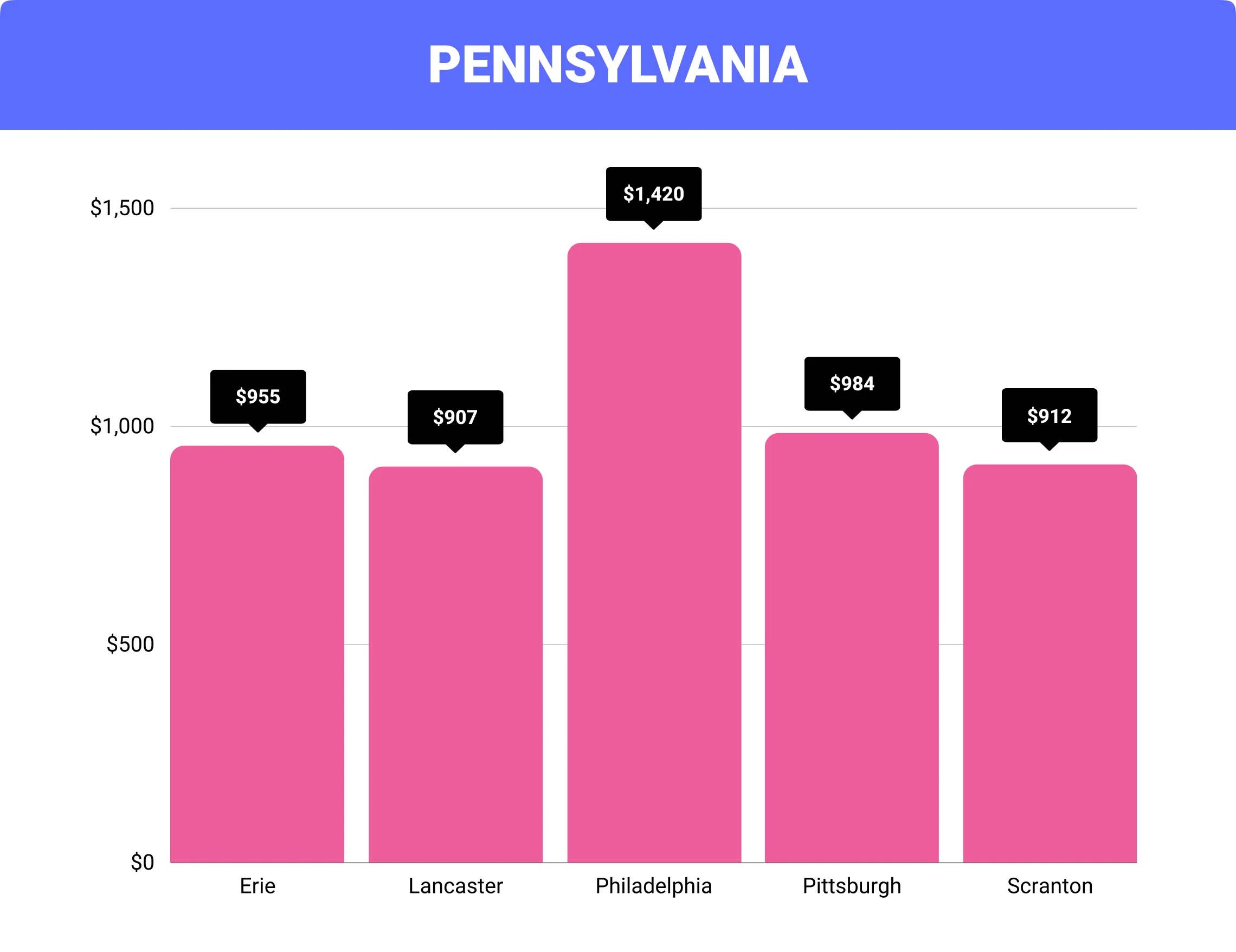 Cost of Home Insurance in Pennsylvania by City
| | | |
| --- | --- | --- |
| City | Average Pennsylvania Home Insurance Cost | Difference From Pennsylvania Average ($730/yr) |
| Erie | $955 | +23.5% |
| Lancaster | $907 | +34.5% |
| Philadelphia | $1,420 | +48.5% |
| Pittsburgh | $984 | +25.8% |
| Scranton | $912 | +19.9% |
FAQs
How much is home insurance in Pennsylvania?
The average annual cost of Pennsylvania homeowners insurance is $730, although your rate may vary based on additional factors.
Is home insurance required in Pennsylvania?
No, Pennsylvania law doesn't require residents to have homeowners insurance. However, most mortgage companies require borrowers to have a policy.
What does homeowner's insurance cover in PA?
A standard Pennsylvania home insurance policy covers loss of use, personal liability, medical payments, and repair/replacement costs for personal property and home damage.
Is Pennsylvania a matching state for home insurance?
No. Pennsylvania insurance companies don't have to pay a matching claim.
What does home insurance cost in Philadelphia?
For $300,000 in dwelling coverage, the average homeowners insurance policy costs $1,420 in Philadelphia, 48.5% higher than the state's average of $730.
Do you need homeowners insurance to rent a home in Pennsylvania?
Homeowners insurance is for the owners of the home. However, renters insurance is available to people that rent. This type of insurance helps protect your belongings.
How To Purchase Pennsylvania Home Insurance
Now that you have more information about the top homeowner's insurance companies in Pennsylvania, it's time to get a quote. We've provided a link to our rate comparison form so you can find the best coverage and rates for your needs.