UPDATED: JUNE 01, 2023 | 3 MIN READ
The average annual cost of Rhode Island homeowners insurance is $1,193 based on $250,000 in dwelling coverage, lower than the national average of $1,383. That's good news for homeowners in a state with high ownership ratings (61%) and susceptibility to floods and hurricanes.
We've gathered information on the best and cheapest homeowners insurance in Rhode Island, comparing cost, coverage options, discounts, and demographics.
Best Rhode Island Home Insurance Companies
According to J.D. Power's 2021 U.S. Home Insurance Study, the top homeowner's insurance company is USAA, scoring 882 out of 1,000. However, USAA only insures active military members, veterans, and their families.
If you don't qualify for USAA coverage, consider State Farm (834) or Narragansett Bay Insurance Company (NBIC), a local agency with low homeowner's premiums.
Overall Best Rhode Island Home Insurance Company
The best homeowner's insurance company in Rhode Island is Nationwide, with an average annual cost of $969 for $250,000 in dwelling coverage.
Nationwide offers custom insurance policies and add-ons, including Better Roof Replacement, which covers the cost of repairing your roof with safer, stronger materials after damage caused by a covered claim.
Nationwide also offers multiple discounts, including roof rating, multi-policy, claims-free, smart home, and more.
Best Value Rhode Island Home Insurance Company
If you're on a budget, the best Rhode Island home insurer is NBIC. The company's average annual homeowner's insurance premium based on $250,000 in dwelling coverage is only $551, much lower than the state's average of $1,193.
Rhode Island Home Insurance Company With the Best Customer Service
For Rhode Island residents who want exceptional customer service, NBIC is the best option. According to the National Association of Insurance Commissioners (NAIC) Complaint Index, the company scored 0.59, well below the average of 1.00. That means customers are far less likely to file a complaint against NBIC than other insurers.
Rhode Island Home Insurance Company Best for Bundling
Allstate offers the best discount for bundling your home and auto policies. By combining the two, you could save up to 28% on your annual home insurance cost. Allstate also offers custom bundles, like yard and garden, mold, and energy efficiency coverage.
Rhode Island Home Insurance Company With the Best Coverage Options
If you want to supplement your homeowner's insurance in Rhode Island with add-ons, NBIC offers a large selection. Additional policy options include:
Flood damage
Sewer and water backups
Service line
Identity theft
Food loss
Breakdown coverage for home appliances
NBIC also offers multiple discounts to save money on your annual homeowner's insurance premium. People with a claim-free history, new or renovated homes, or a security system may qualify.
Local and Regional Home Insurance Carriers In Rhode Island
Quincy Mutual Group
Quincy Mutual Group's drive for professional, attentive customer service began in 1851. Today, the insurer sells home insurance for protection against disasters, theft, and lawsuits.
Quincy Mutual Group includes dwelling, other property structures, personal property, loss of use, personal liability, medical payments, equipment breakdown, and service lines. Quincy Mutual Group offers everything you could need for the best protection for your home, condo, or apartment.
Rhode Islanders have access to discounts for homes less than 15 years old, homes with an alarm, and properties with a year without a claim. The company also discounts policies for homes constructed with non-combustible materials.
Amica Insurance
Amica Insurance's history starts in 1907 and is still solid today. Known throughout the industry for its quality insurance, efficient claims, and excellent service, Amica offers everything Rhode Islanders need for their home's protection.
Protecting your home is easy with insurance coverages from Amica, with dwelling, personal property, additional living expenses, and other standards.
The company packages several of its most valuable coverages into one easy-to-use package. Homeowners save if they have an alarm system, automatic detection device, or remodel their homes.
Nationwide Car Insurance
Nationwide Car Insurance insures more than just automobiles; they also insure your home. Their property insurance for homeowners, renters, condo owners, and specific disasters, such as floods, is a one-stop-shop of protection.
Coverages from Nationwide include dwelling, medical payments to others, personal liability, ordinance, other structures, and loss of use.
Specialty coverage for valuables, identify theft, water backup, earthquake, and high-value items give homeowners and renters everything they need for security. Policyholder discounts range from home renovation credits to savings for homes with protective devices.
Rhode Island Insurance Demographics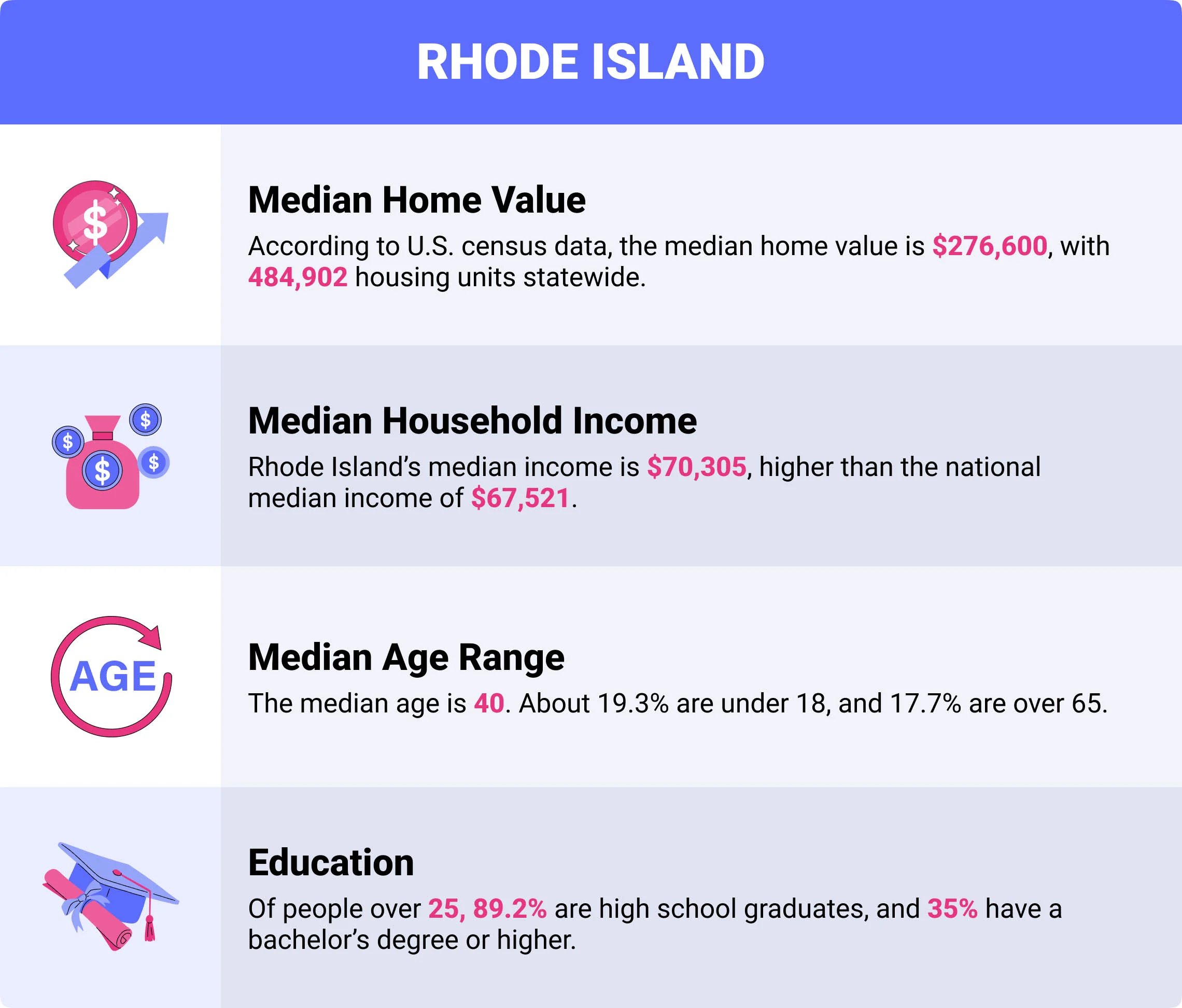 Homeowner's insurance costs vary based on consumer demographics and other factors, including crime rates, home value, median income, claims history, etc. For example, residents in a flood-prone area may have higher premiums. Below are demographics affecting Rhode Island home insurance rates:
Median home value: According to U.S. census data, the median home value is $276,600, with 484,902 housing units statewide.
Median household income: Rhode Island's median income is $70,305, higher than the national median income of $67,521.
Median age range: The median age is 40. About 19.3% are under 18, and 17.7% are over 65.
Education: Of people over 25, 89.2% are high school graduates, and 35% have a bachelor's degree or higher.
Is Rhode Island Homeowner's Insurance Required?
No, Rhode Island law doesn't require homeowners to purchase house insurance, although many mortgage lenders do. Even if your lender doesn't have mandatory coverage requirements, you should still consider getting a homeowner's insurance policy to protect your house and belongings.
What Does Rhode Island Home Insurance Cover?
A standard homeowner's policy in Rhode Island consists of these primary coverage areas:
Dwelling
Personal property
Other structures
Personal liability
Loss of use
Medical payments
Common Home Risk Factors in Rhode Island
Rhode Island's coastal location leaves it susceptible to extreme weather conditions. Risk factors include hurricanes, tropical storms, floods, and high winds. Therefore, you should add flood and hurricane insurance to your homeowner's policy, particularly if you live on or near the coast.
What Types of Homeowner's Insurance Coverage Are Recommended?
A standard homeowner's insurance policy provides adequate coverage. However, Rhode Island residents should consider policy add-ons for extra protection, including flood, hurricane, and scheduled personal property insurance.
Flood Insurance
If you live in Rhode Island, flood insurance is a wise investment. The state experiences frequent storm surges and flooding, often causing significant damage to homes and property. You can purchase flood insurance through the National Flood Insurance Program, and residents of certain towns may qualify for discounts.
Hurricane Insurance
Rhode Island is also vulnerable to hurricanes. For example, Hurricane Sandy caused major destruction to Rhode Island homes and cost the state about $62 billion. You can purchase hurricane, named storm, and windstorm insurance as additional coverage to your standard homeowner's policy.
Scheduled Personal Property
The personal property coverage on your homeowner's insurance may not cover high-value items like jewelry, collectibles, firearms, artwork, and more. Consider buying scheduled personal property (SPP) insurance to protect your valuables. SPP covers the cost of repair or replacement if your items are stolen or damaged in a covered incident.
How Much Does Home Insurance in Rhode Island Cost?
Homeowner's insurance costs in Rhode Island vary according to location, filed claims, crime rate, and demographics. For example, living in a high-risk flood zone typically raises your homeowner's insurance premium.
The table below lists average Rhode Island home insurance costs by city, based on $250,000 in dwelling coverage.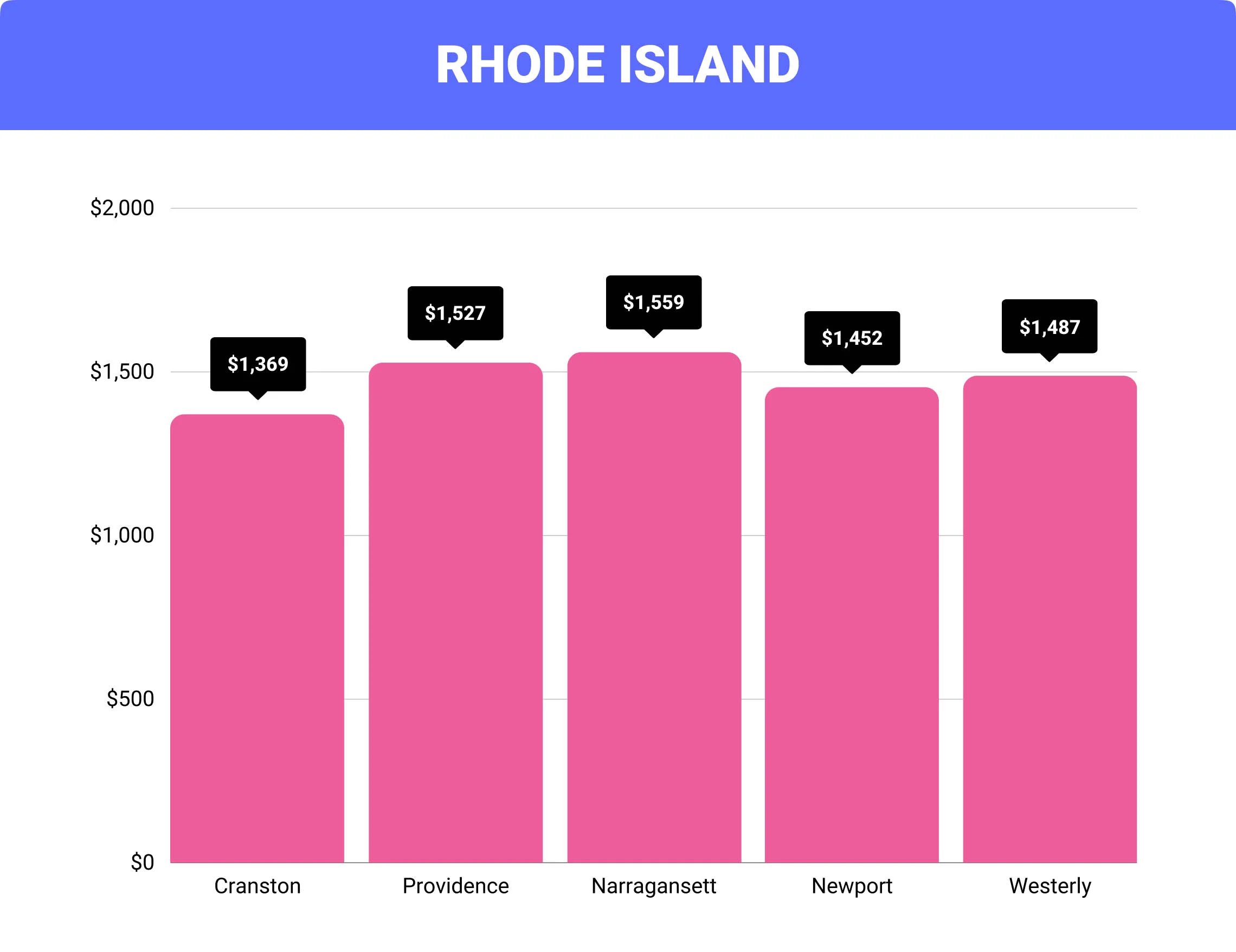 Cost of Home Insurance in Rhode Island by City
| | | |
| --- | --- | --- |
| City | Average Rhode Island Home Insurance Cost | Difference from Rhode Island Average ($1,193/yr) |
| Cranston | $1,369 | +12.8% |
| Providence | $1,527 | +21.9% |
| Narragansett | $1,559 | +23.4% |
| Newport | $1,452 | +17.8% |
| Westerly | $1,487 | +19.7% |
FAQs
What's the average cost of homeowners insurance in Rhode Island?
The average cost of Rhode Island homeowner's insurance is about $1,193 annually based on $250,000 in dwelling coverage.
What types of homeowners insurance are recommended in Rhode Island?
Rhode Islanders should consider adding flood, hurricane, and scheduled personal property insurance to their policy. Many insurers offer custom-built coastal home policies so homeowners can choose the precise coverage necessary to protect their property.
Is flood insurance required in Rhode Island?
No, Rhode Island law doesn't require flood insurance. However, individuals living in a flood zone or on the coast should purchase a flood policy for maximum protection.
What's the monthly cost of Rhode Island homeowner's insurance?
The monthly cost of homeowner's insurance for $250,000 in dwelling coverage is about $99 per month. Of course, the price varies based on your specific circumstances and coverage.
Do you need hurricane coverage in Rhode Island?
Rhode Island law doesn't require homeowners to get hurricane insurance. However, the state's coastal location leaves it vulnerable to hurricanes and tropical storms, so many residents purchase a policy for additional coverage.
How To Purchase Rhode Island Home Insurance
By gathering quotes from several reputable homeowners insurance companies, you can compare rates and coverage options to find the best policy for your home. Our rate comparison form makes it easy to get started. Simply enter your zip code and we'll connect you with top providers in your area. Protect your biggest investment by getting a quote today.