UPDATED: JUNE 01, 2023 | 3 MIN READ
Virginia has much to offer, from the expansive Blue Ridge Mountains to the quaint coastline filled with rich history, including fair homeowners insurance costs. The average Virginia homeowners insurance costs $1,341 yearly, which is only $29 above the national average.
Below, our team compares all of Virginia's top house insurance options according to coverage, bundling features, customer services ratings, and overall value.
Best Virginia Home Insurance Companies
When finding the right insurer for your home, price isn't everything. You must consider the main risks for your Virginia home and whether the company covers those damages. We reviewed the top competitors and identified the best options for each category below.
According to the J.D. Power U.S. Property Claims Study satisfaction scores, the best Virginiahomeowner'sinsurance companies are Allstate, Auto-Owners, Chubb, Farmers, and Nationwide. Each choice offers different pros and cons, so continue reading to find the right option for your needs.
Overall Best Virginia Home Insurance Company
The overall best homeinsuranceinVirginia comes from Travelers. The average policy rates from Travelers are 37% below the state's average, costing around $850 each year.
According to the National Association of Insurance Commissioners (NAIC), the company boasts low complaint rates. You'll enjoy robust coverage options and convenient online experiences when shopping with Travelers.
Best Value Virginia Homeowners Insurance Company
At an average of only $828 per year, Nationwide offers the best value for homeowner's insurance in Virginia. While the average premium is 38% less than the state's average, this company has more poor complaints and fewer online features, like instant quotes. For an extra $22, we recommend sticking with our top choice, Travelers.
Virginia Home Insurance Company With the Best Customer Service
How a company cares for its customers speaks volumes. The customer support and service team at Auto-Owners makes filing claims, setting up policies, settling, and repairing damages a breeze. Auto-Owners is a customer-first company focusing primarily on in-person support rather than digital experiences.
Virginia Home Insurance Company Best for Bundling
Virginia residents who combine their home and auto insurance policies save an average of $57 per year. The best company for bundling is State Farm. If you select this company for your homeowners insurance, consider transferring your auto policy.
Virginia Home Insurance Company With the Best Coverage Options
The purpose of purchasing homeowners insurance is to cover your potential risks. Farmers offer the best coverage options in Virginia, including homeowner's insurance, auto, renters, motorcycle, umbrella, and life insurance packages. All three of the company's tiered plans include a declining deductible, beginning at only $50, a claims-free discount, and claim forgiveness.
Local and Regional Home Insurance Carriers In Virginia
Virginia Farm Bureau
The Virginia Farm Bureau offers comprehensive home insurance products for its members, Commonwealth farmers, and those who share the nonprofit's mission. The VA Farm Bureau's home insurance products cover homeowner, condo, and renter policies.
This broad spectrum of coverage options lets customers protect their homes from windstorms, water damage, hail, fire, and other covered events no matter if they live in Chesapeake or Virginia Beach.
Rockingham Insurance
Rockingham Insurance grew from a small group of Virginia farmers to a bustling organization with over 50,000 members. With a network of agents, Rockingham offers home insurance throughout the Commonwealth, no matter the size of your home.
Their home insurance offerings encompass everything from earthquake insurance to the utility service line. With a policy with Rockingham, you can protect nearly every inch of your home.
The insurer's discounts offer savings for a new home, security equipment, and refinancing. If you purchase another policy with Rockingham, you receive valuable multi-policy discounts.
Elephant Insurance
Mighty yet compassionate, Elephant Insurance embodies the animal that shares its name. This VA insurer protects homeowners and renters against natural disasters, theft, and other events.
Elephant helps homeowners create a home insurance plan that fits their needs and home, with various coverages like damaged/destroyed property, liability, loss of use, and medical payments. plus, if they're an auto insurance customer, they get a multi-policy discount.
Trusted by thousands of homeowners throughout the Commonwealth of Virginia, Elephant always remembers to offer quality service to its customers.
Virginia Insurance Demographics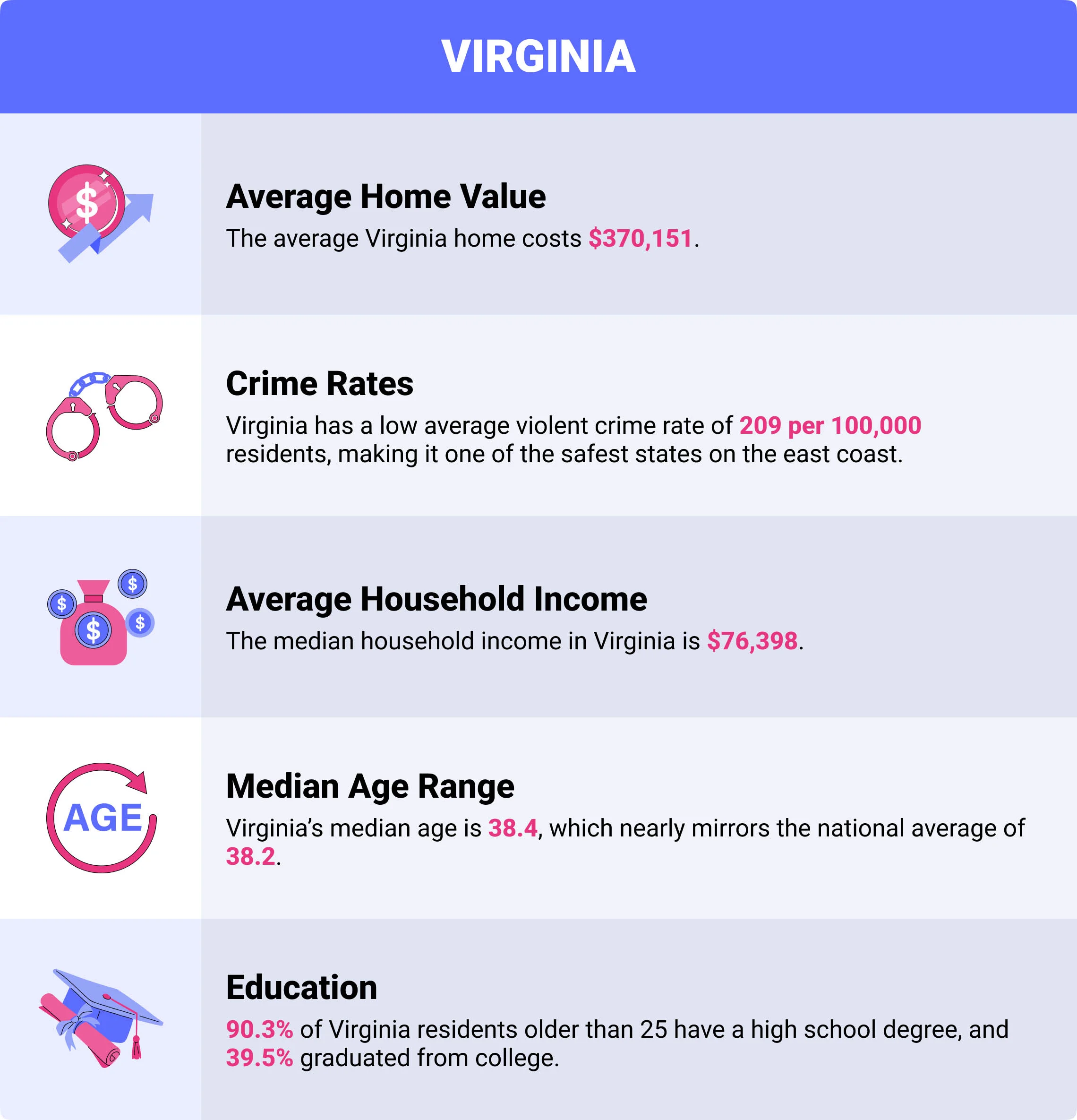 Homeowners insurance cost averages fluctuate based on where you live. Different demographics, like a high property value and crime rate, might increase your premium. Use the data below to understand your quoted rates.
Average home value: The average Virginia home costs $370,151.
Crime rates: Virginia has a low average violent crime rate of 209 per 100,000 residents, making it one of the safest states on the east coast.
Average household income: The median household income in Virginia is $76,398.
Median age range: Virginia's median age is 38.4, which nearly mirrors the national average of 38.2.
Education: 90.3% of Virginia residents older than 25 have a high school degree, and 39.5% graduated from college.
Is Virginia Home Insurance Required?
No, you don't have to purchase home insurance in Virginia. However, most lenders require you to open a policy since it protects your financial investment.
What Does Virginia Home Insurance Cover?
Each basic homeowner's insurance policy covers $250,000 worth of damage. Companies accept claims for wind damage from coastal storms but not flooding. Certain policies also cover hail and snow damage.
Common Home Risk Factors in Virginia
The biggest home risks in Virginia include hurricanes, floods, storm surges, water backups, snow, and hail. Properties near the coast suffer the strongest chances of coastal storms, while inland mountain homes might experience winter snow damage. Virginia home insurance only covers portions of these risks unless you upgrade your policy.
What Types of Homeowner's Insurance Coverage Are Recommended?
Protect your home from the dangers above by upgrading your coverage and paying an increased homeowner's insurance premium. Most Virginia home insurance companies recommend adding the following policies to your plan.
Flood Insurance
Homeowners insurance in Virginia doesn't cover water damage. If a hurricane or storm surge hits, you might accrue tens of thousands of dollars in damage or more. Purchase flood damage with your Virginia home insurance provider,so you have the funds you need to repair your home.
Windstorm Coverage
Virginia home insurance companies cover wind damage, though you must pay a separate deductible for damage from any storm identified by the National Hurricane Center. The deductible might cost 1% to 5% of your property's total insured value. We recommend receiving quotes from the National Flood Insurance Program and your private insurer to compare options.
Water Backup Insurance
Water damage doesn't only happen from storms. If a pipe or sewage drain bursts beneath your home, water might erupt from beneath, leading to costly repairs. Purchase water backup insurance from your Virginia home insurance company to cover this risk.
How Much Does Home Insurance in Virginia Cost?
Virginia home insurance costs also vary based on the city. Out of the state's most popular cities, Arlington offers the cheapest rates at 26% below state averages. The coastal town of Virginia Beach exceeds the average by 55% due to the increased hurricane damage risks.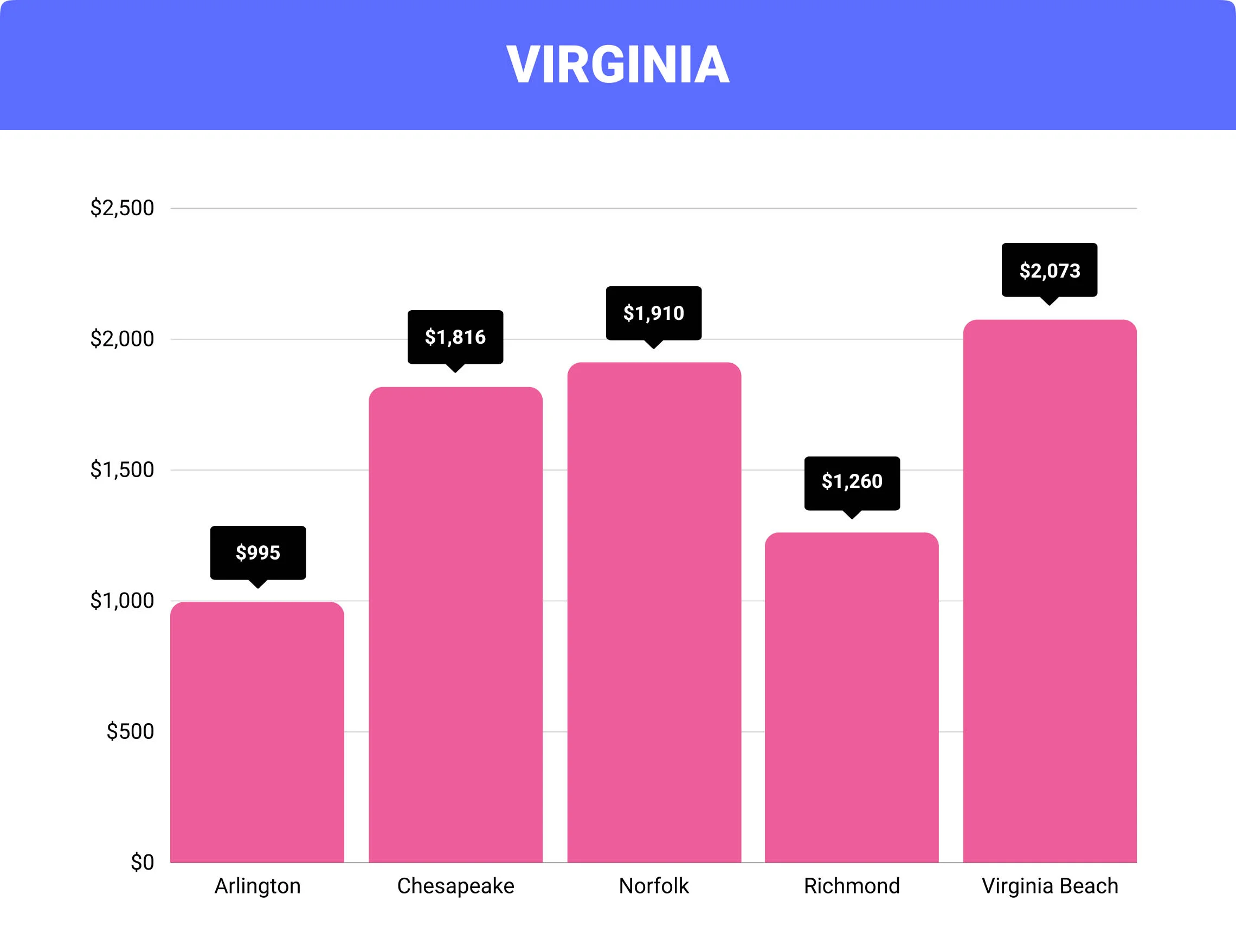 Cost of Home Insurance in Virginia by City
| | | |
| --- | --- | --- |
| City | Average Virginia Home Insurance Cost | Difference From Virginia Average |
| Arlington | $995 | -26% |
| Chesapeake | $1,816 | +35% |
| Norfolk | $1,910 | +42% |
| Richmond | $1,260 | -6% |
| Virginia Beach | $2,073 | +55% |
FAQs
How much is the average cost of home insurance in Virginia?
The average home insurance in Virginia costs $1,341 per year.
How much is homeowner's insurance per month in Virginia?
Virginia home insurance monthly payments average just under $112.
Is homeowner's insurance required in Virginia?
Virginia state laws don't require home insurance, though most lenders do. Homeowner's insurance protects your investment, and we strongly recommend it.
How much is hurricane insurance in Virginia?
The average separate hurricane insurance deductible in Virginia costs between $621 and $847, depending on the company you select. Certain plans include wind damage, so you only need to add flood coverage. Other companies require you to purchase an entirely separate hurricane policy.
Do you need flood insurance in Virginia?
Some lenders prefer flood insurance in Virginia, though we recommend all homeowners acquire the policy because of the increased hurricane and storm surge risks. Virginia home insurance companies offer separate flood policies, or homeowners may choose the National Flood Insurance Program.
How To Purchase Virginia Home Insurance
Gathering quotes from the top companies before you make a decision is the best way to ensure that you are getting the homeowners insurance policy that is right for your home and your budget. By completing our rate comparison form, you can start comparing rates today.