UPDATED: JULY 06, 2023 | 2 MIN READ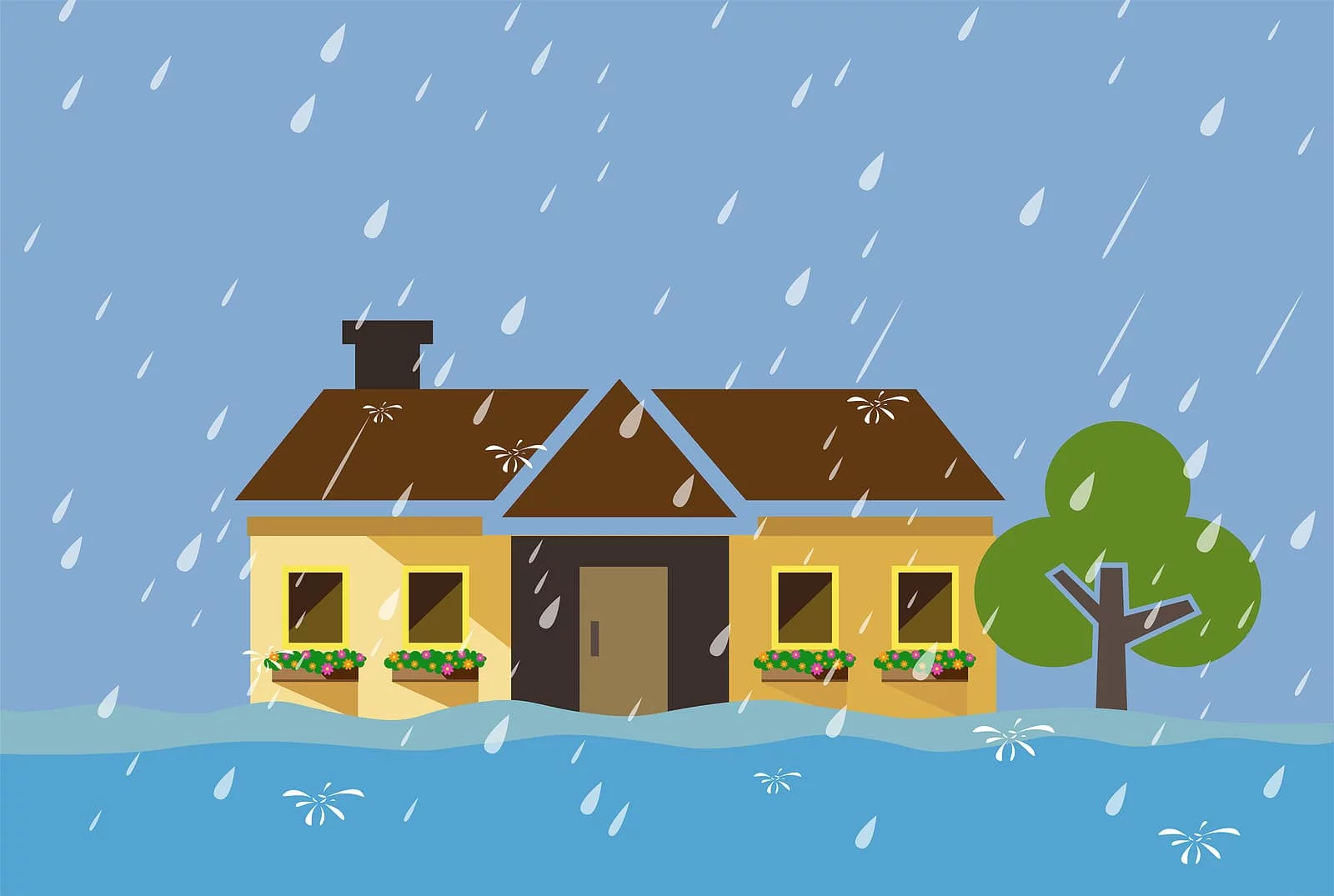 There are many things that homeowners insurance does not cover. Flooding is one of them. Homeowner insurance policies usually don't cover flooding because it's an "act of God." However, some states have passed laws requiring insurers to provide coverage for flood damage. If you get flooding, you should check with your state's Department of Insurance to see if they can assist you. Suppose your state does not have laws requiring insurers to cover flooding. In that case, you must purchase a separate flood insurance policy before any damage occurs.
How Insurance Coverage for Storm Flooding Works
Flooding is a natural disaster that can strike anytime and for any reason. Floods are the most common and costly natural disaster in the United States and are one of the most devastating.
Federal Emergency Management Agency (FEMA) runs the National Flood Insurance Program (NFIP). The NFIP offers affordable insurance to property owners living in high-risk flood zones.
The NFIP can provide coverage for types of water damage caused by sudden and unexpected inundation of land from the following:
Rain
Snowmelt
Ice jams
Waves from storms or tsunamis
High water from ice dam breakage or other obstruction in a watercourse
Heavy rainfall causing runoff or ground saturation
Landslides
Unusually high tides from any cause
Does Homeowners Insurance Cover Water Damage
Homeowners insurance policies protect against a variety of risks. As such, they typically cover water damage. The specific coverage depends on the type of policy you purchase and the deductible you choose. For example, some policies will cover water damage to your home and its contents from a burst pipe, a leaking water heater, or a broken sump pump. In contrast, others may not cover any water damage at all.
Exclusions
Homeowners insurance typically excludes flooding, and your policy will list several additional exclusions. For example, clogged gutter or loose shingles causing roof leaks can cause an exclusion.
Insurance Claims for Flooding
First, you must ensure that you and your household are safe. When the immediate flood danger passes, your first call should be to your insurance agent. They will help you understand if your coverage will pay for the damage and also recommend restoration companies that can help.
If you are covered, you may be able to claim on the following parts of your home insurance policy:
personal property coverage, to replace or repair your personal belongings
dwelling coverage to repair the damage caused to the home
additional living expenses to provide you somewhere to live while your home is uninhabitable
FAQs
What storm damage is covered by insurance?
Several different factors can cause storm damage. Wind, hail, flooding, and tornadoes are all potential storm damage causes. For instance, if you had damage due to a windstorm, that may be covered under your homeowners insurance policy. However, If your house is flooded or damaged by storm surge, that would only be covered by a flood insurance policy.
Do most homeowners insurance policies cover flood damage?
Floods are natural disasters that can cause significant property damage. Many homeowners insurance policies don't cover flood damage. For example, the National Flood Insurance Program (NFIP) only covers up to $250,000 in flood damages. Some insurers may offer flood coverage, but they will require you to pay an additional premium.
Does homeowners insurance cover storm surge?
Most standard homeowners insurance policies will not cover flood damage, including storm surges. The only way to protect your home and its contents against a storm surge is by purchasing a separate flood insurance policy.
Does homeowners insurance cover leaks from rain?
Homeowners insurance will usually cover the water damage after the rain has leaked into your home if the cause was sudden or accidental. For example, if your roof begins to leak due to storm or wind damage, that should be covered. However, rain seeping into your home's foundation due to heavy rainfall would be flood damage. It wouldn't be covered under a standard home insurance policy.
What is a flood insurance policy?
A flood insurance policy is a type of property insurance that covers the cost of damages from flooding. Homeowners and renters can purchase the policy, but it's not required by law. The Federal Emergency Management Agency (FEMA) offers flood insurance policies, which can be purchased through the National Flood Insurance Program (NFIP).
What is the difference between storm surge and flood?
Storm surge is a type of coastal flooding due to a storm's high winds and low atmospheric pressure. Storm surges can devastate coastal communities, leading to significant property damage and loss of life. Flooding is the overflow of water that covers typically dry land. Floods are most often caused by heavy rain or snowmelt in areas where the ground can't absorb all the moisture.
What does homeowners insurance cover for flooding?
Homeowners insurance cover is designed to protect you from many risks to your home. Flooding is one of those risks that your home insurance policy may not cover, but there are ways you can protect yourself from it. Flood insurance is a separate policy that protects homeowners from flood damage.
Is there any other way to get coverage for flood damage?
The first way to get coverage is through the National Flood Insurance Program (NFIP). This program provides homeowners with protection from floods and other natural disasters. The second way to get coverage is through a private insurance company in your area. The third way to get coverage is through FEMA's Individual Assistance program, which provides emergency assistance and grants for those who have suffered damages from a disaster such as flooding.
What are the signs of storm surge?
Storm surge is a sudden rise in water level during a storm. High winds, low air pressure, or other atmospheric phenomena can cause it. Storm surge is a significant threat to coastal regions because it can easily overflow sea walls and other protective structures. High waves, low air pressure, and discolored water are all signs that there could be a storm surge.
How to Get Homeowners Insurance Coverage for Flooding
Flooding is one of the most common natural disasters in any area. Floods cause a lot of damage and can make your house uninhabitable. Homeowners insurance does not cover flooding, but there are a few ways to get it covered.
The first way is to get flood insurance, which will cover you for any damage caused by flooding or other natural disasters related to floodings, like landslides and hurricanes. The second way is to purchase an additional rider on your homeowners policy that will cover you for floods and other natural disasters related to them.
We make it easy to review companies and costs associated with homeowners insurance. Fill out our online rate form, and compare your options. You can even speak with a homeowner insurance specialist.