UPDATED: AUGUST 24, 2023 | 2 MIN READ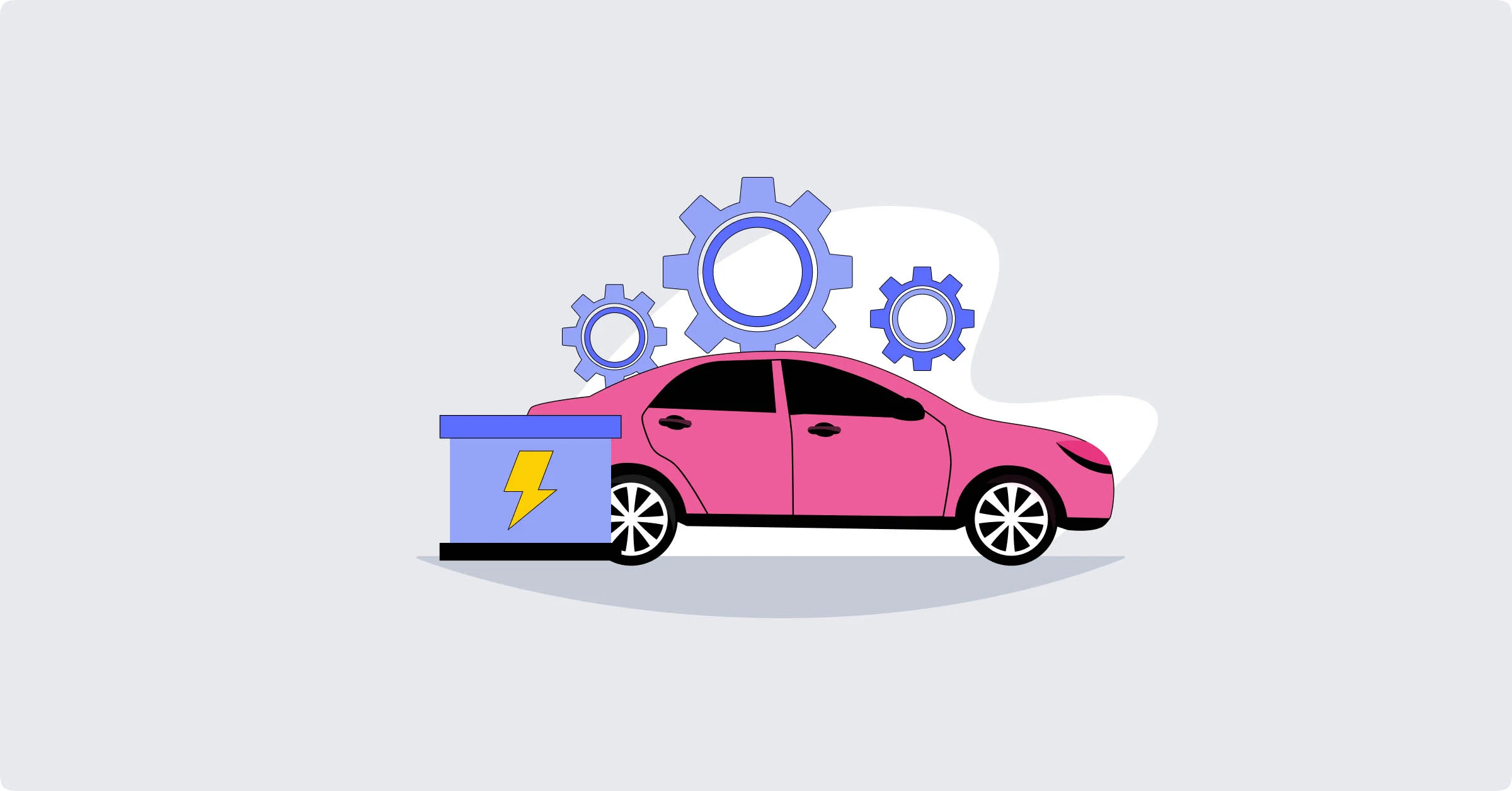 Many owners enjoy upgrading their vehicles with custom parts, like after-market window tinting, paint jobs, and more. But many people may need to understand that upgraded car equipment may not be covered under your standard auto insurance policy. This could mean you'd need to add additional insurance coverage to your policy. Let's dive further into custom equipment and parts coverage, what it means for your insurance, and how you can obtain this coverage. 
Table of contents:
Does car insurance cover modifications?
Standard auto insurance policies won't cover modifications made to your car with custom parts and equipment. Many people add after-market parts to their vehicles, adding up to hundreds, if not thousands, of dollars worth of parts.
If you don't have any custom parts on your car, your standard auto policy will work just fine to help cover any costs that should arise following an accident or damage to your vehicle. But if you have after-market parts on your car, obtaining custom parts and equipment coverage is best practice to ensure you are adequately protected.
Common modifications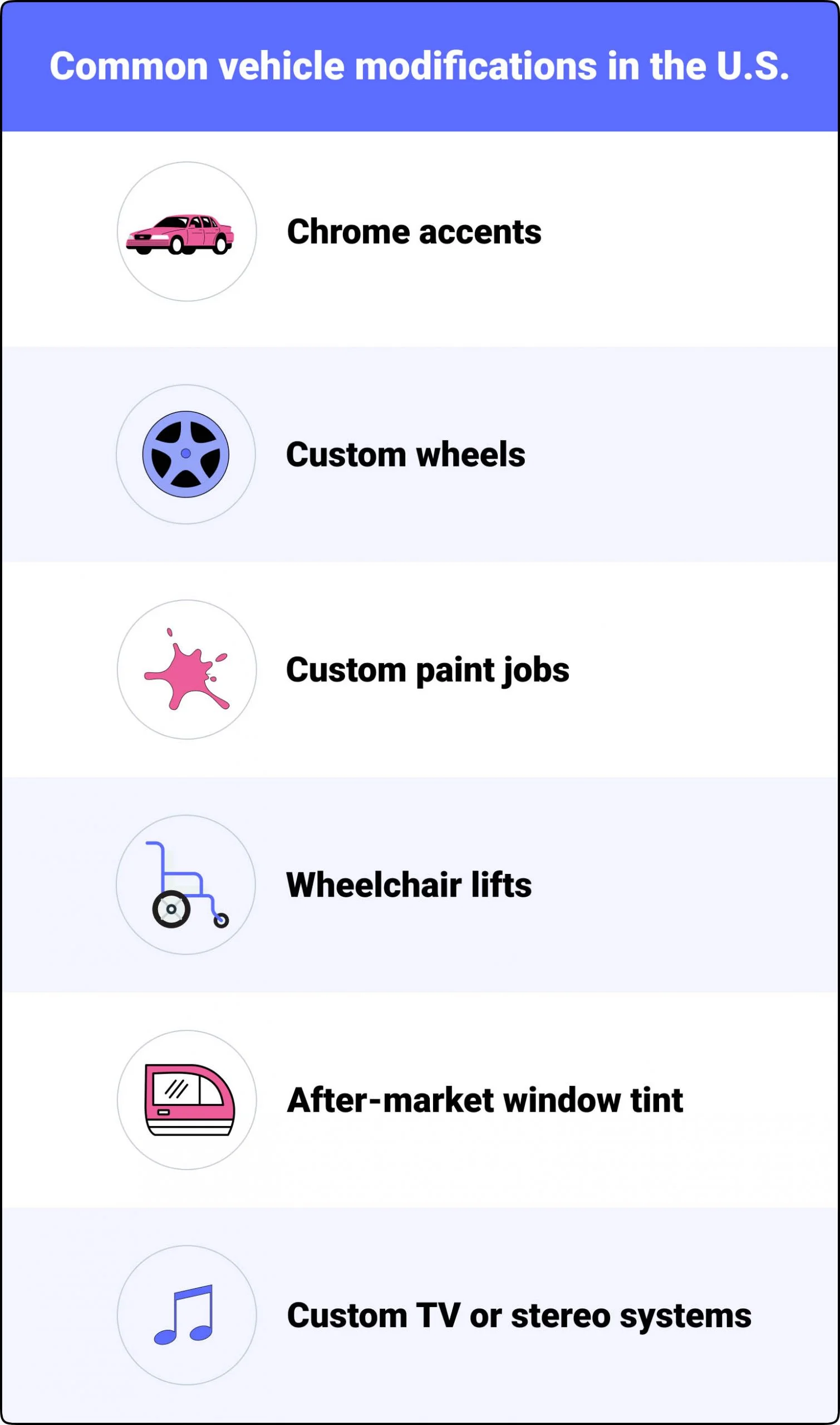 Modifications are relatively common among drivers. Some of the most popular changes include the following:
Adding chrome to your vehicle
Adding custom wheels
Customizing a paint job
Adding a wheelchair lift to your car
Adding after-market tinting to windows
Adding custom TV or stereo systems
What types of modifications need to be covered?
Although many modifications may be covered under custom equipment and parts coverage, not all changes will be. Some of the most common modifications that aren't covered include the following:
Custom parts that cost more than $20,000
Underbody lighting on your vehicle
Tint that's too dark
Equipment intended for snow plowing
Homemade altered suspensions
Suspension kits that are larger than 4 inches
Always contact your insurance carrier first to get a comprehensive list of what is and isn't covered. Coverage limits could vary depending on which state you live in and your insurance company.
What is custom equipment and parts coverage?
Custom parts and equipment coverage is an endorsement of your auto insurance policy that helps cover custom equipment or parts that have been installed permanently. The endorsement is separate from your standard auto policy but often carries the same deductibles.
This coverage doesn't extend to original manufacturer products. Custom equipment and parts affect your motor vehicle's overall appearance or performance.
What does CPE cover?

Coverage parts and equipment coverage extends quite a bit but can vary depending on your insurance policy. CPE covers, for the most part, the following features:
Custom wheels, like alloy, aluminum, or wire spoke wheels
Permanently installed electronic equipment, like stereos and TVs
Decals or custom paint jobs
Running boards, roll bars, camper shells, etc.
Performance equipment, such as spoilers or suspensions
After-market installed seats
Anti-theft devices that the manufacturer didn't install
Chrome
Dealer-installed parts not installed by the manufacturer
What doesn't CPE cover?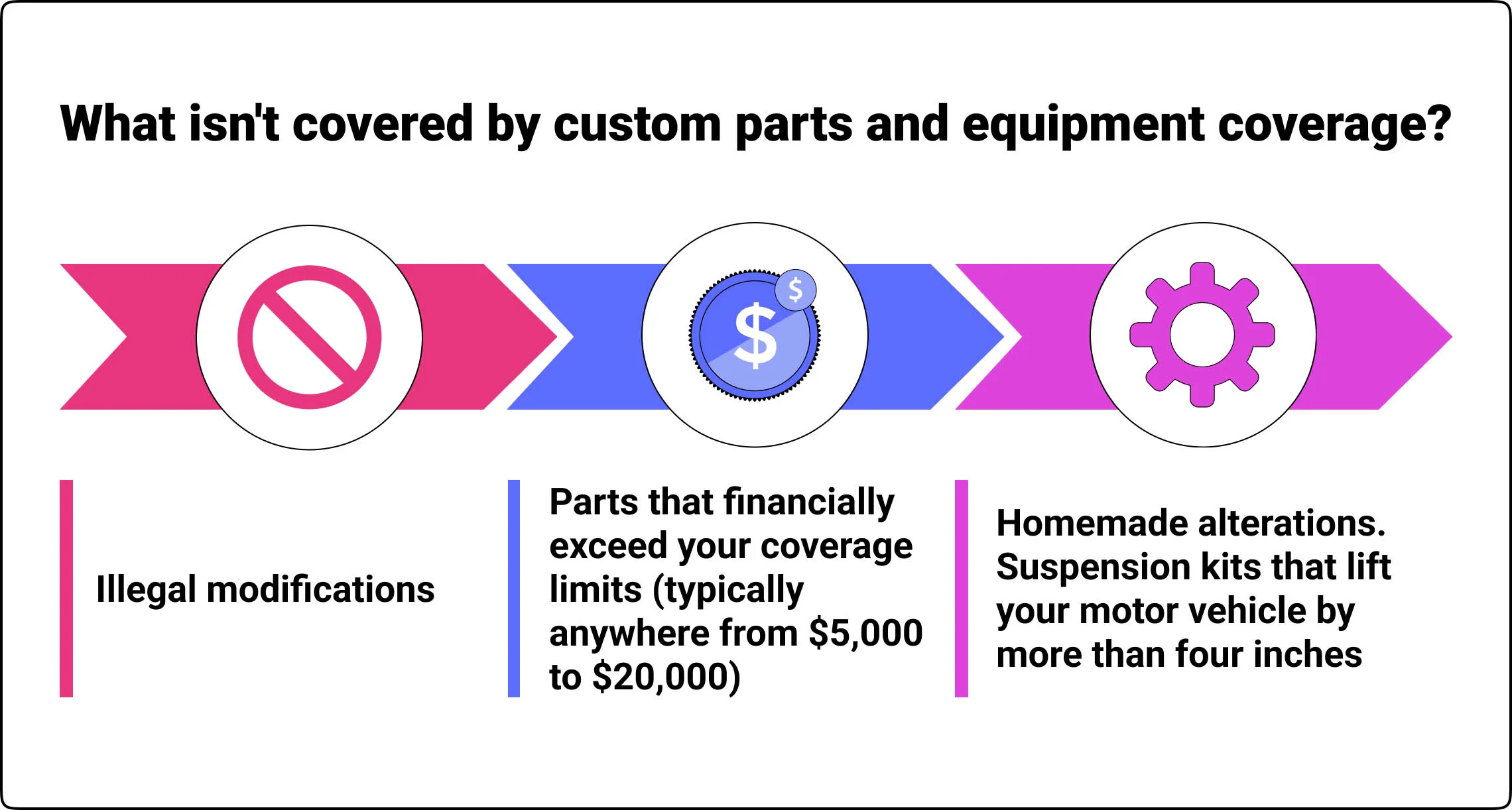 While CPE covers many custom parts, it doesn't cover all. Any illegal modifications, such as nitrous oxide, too dark of window tint, or undercarriage lighting, won't be covered. Some of the most common changes that aren't covered include the following:
Illegal modifications
Parts that financially exceed your coverage limits (typically anywhere from $5,000 to $20,000)
Homemade alterations. Suspension kits that lift your motor vehicle by more than four inches
Each company's excursions could vary, so it's best to speak directly with your auto insurance carrier.
When should you add custom equipment and parts coverage?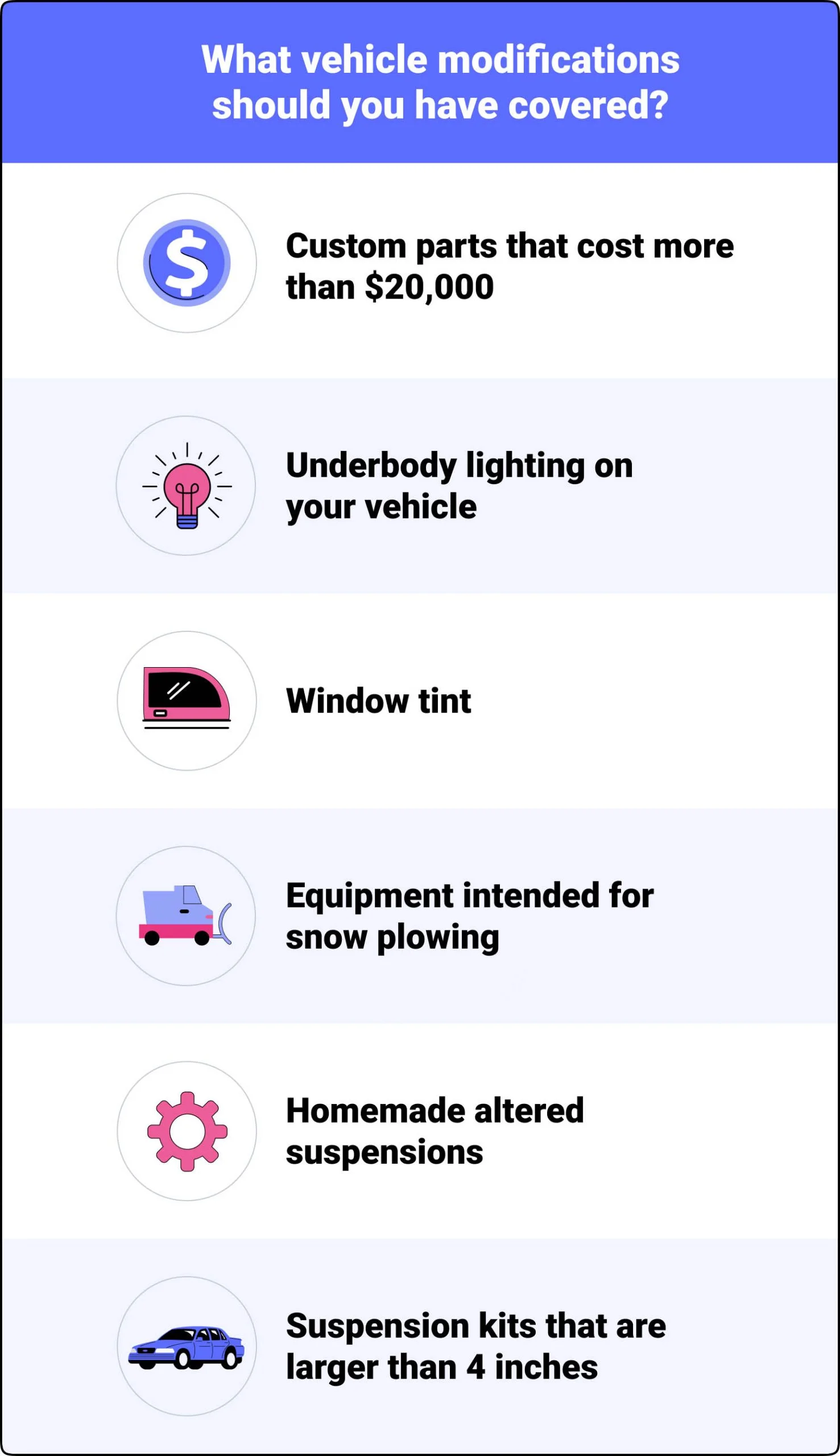 Custom parts and equipment can be added for those individuals who have invested money into after-market products for their vehicles. You should add this endorsement to your insurance if you install after-market products, like wheelchair lifts or window tint. And even though this coverage isn't required to continue your insurance coverage, it's highly advisable.
After-market products for your vehicle can range from simple items costing less than $100 to things that cost thousands of dollars. Without this coverage, you won't receive anything to replace or repair your custom equipment and parts if you're involved in a car accident.
Does CPE raise your rates?
When purchasing CPE, the first thing that comes to mind is whether it impacts your car insurance rates. This all depends on what type of modifications you make to your vehicle.
Certain pieces of equipment may deem you a high-risk driver, which could negatively impact your premium costs. If you're considered high risk, you not only could see a rise in insurance costs, but you may even find your policy at risk of cancellation. However, not all modifications lead to adverse outcomes. 
If you have after-market anti-theft devices, daytime running lights, or rearview cameras installed, you may qualify for discounts on your insurance policy. It's a good idea to keep receipts of after-market purchases and plenty of photos when the products are installed to help alleviate any potential headaches you could face should you need to file a claim.
FAQs
What does custom equipment mean on car insurance?
Custom parts and equipment coverage is an endorsement for your insurance policy. This endorsement ensures that your installed custom after-market equipment receives coverage should you get involved in an accident or your vehicle sustains damage or theft.
What is special equipment coverage?
Special equipment coverage helps cover the cost of repairs or replacement of custom equipment added to your vehicle, like stereo equipment. This isn't mandatory coverage for motorists but is highly recommended.
What is the definition of a custom part in auto insurance?
Custom parts in the auto insurance industry refer to equipment, devices like DVD players, furnishings like after-market seats, vehicle enhancements, and other changes to your car. These changes aren't installed by the original vehicle manufacturer but instead done on an after-market scale and can alter your vehicle's performance or appearance.
What does it mean when it says "Custom Equipment and Parts"?
Policies that indicate custom equipment and parts mean that it's a type of auto coverage intended for equipment that's permanently installed in or on your car. These products aren't installed via the original motor vehicle manufacturer.
What are the two types of equipment coverage?
The two types of equipment coverage refer to Original Equipment Manufacturer (OEM) coverage and Custom Parts and Equipment (CPE) coverage. OEM is additional coverage that ensures that your vehicle is only repaired with new OEM products directly from the manufacturer, and products considered after-market won't be used. CPE coverage is additional coverage that covers after-market products installed on your vehicle.
Want more information on custom parts and equipment coverage?
CPE coverage can protect your after-market products if you have an accident. And this endorsement can be added to your car insurance policy, in most cases, for a mere few dollars each month. If you're interested in finding out more information about this coverage and what it can do for you, use our online quoting tool to compare prices in minutes. 
Related content: