UPDATED: APRIL 27, 2023 | 3 MIN READ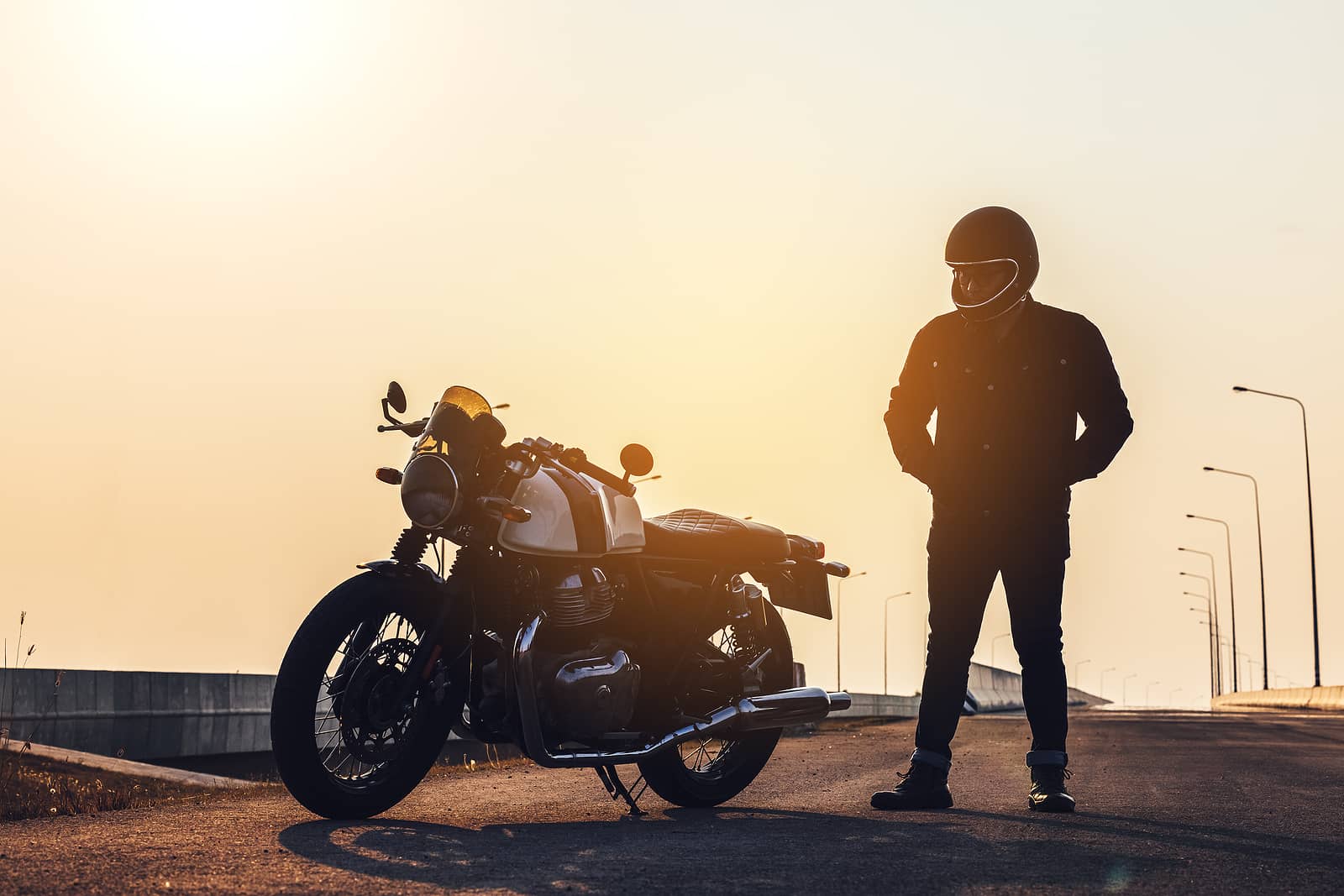 Almost every state in America requires anyone with a motorcycle to carry insurance. Here are some helpful tips to help you find cheap motorcycle insurance that fits your needs.
Affordable Motorcycle Insurance
Choosing your motorcycle insurance policy can be challenging when pricing is a priority. Of course, finding the best coverage is crucial, but you also need affordable motorcycle policy insurance.
Our insurance experts have analyzed and developed a list of the places to go for the cheapest online motorcycle insurance quotes and have listed them for you to compare below.
Best cheap motorcycle insurance overall
In general, Nationwide's motorcycle insurance offers low rates that are the cheapest across the country. Their policies average less than $600 per year.
The company consistently offers affordable motorcycle insurance. You also receive great coverage and have the ability to make your policy customizable.
Best liability-only motorcycle insurance
Liability coverage is part of your policy that covers medical and property costs for damage caused in an accident. It's the main component of your motorcycle insurance and is typically required by law. 
Progressive offers the most affordable liability-only motorcycle insurance. It's available in all 50 states, and the company offers multiple discounts. The average annual premium for liability-only motorcycle insurance through Progressive is around $100. 
Best full-coverage motorcycle insurance
A full-coverage motorcycle insurance policy includes liability insurance and comprehension and collision coverage. Therefore, it's more expensive than liability insurance alone.
For cheap motorcycle insurance, Progressive offers full-coverage policies that average just over $600 annually.
Best cheap motorcycle insurance for young drivers
New and first-time motorcycle riders typically pay higher premiums because they have less experience. For these drivers, GEICO is a great option. Their motorcycle insurance policies for new drivers average over $100 less than the national average.
Best cheap motorcycle insurance for daily riders
If you plan to ride your motorcycle daily, you may want different or additional coverage, such as rental reimbursement or emergency roadside assistance. Because Dairyland offers coverages like these, we consider their policies the best cheap motorcycle policy for daily riders. Their coverage even includes service for mechanical and electrical problems, flat tires, and batteries.
Best cheap motorcycle insurance for sports bikes
Insuring sports bikes can be tricky; they are faster than a standard motorcycle, which can cause insurance agents to consider them a higher risk for accidents. They are also more popular with younger drivers, which can cause a substantial spike in premiums. GEICO offers the lowest premiums for whole coverage policies on sports bikes.
Best cheap motorcycle insurance for custom bikes
Custom motorcycles need more coverage in case of any damage. Progressive is the best and most affordable for custom bikes because their motorcycle insurance offers discounts and coverage add-ons without paying more out-of-pocket. And all of their policies provide full replacement coverage.
Cheapest motorcycle insurance by state
Your policy coverage may vary by state, depending on where you reside. You may also see some differences in premiums per insurance company.
Top contenders for cheapest motorcycle insurance include Progressive, Dairyland, GEICO, and Nationwide. Speak to an insurance agent or compare online motorcycle insurance quotes to find the most affordable rates.
How to Find Cheap Motorcycle Insurance
To help keep costs down when searching for more affordable motorcycle insurance, follow these steps:
Get a quote from your current auto insurance company
Do some shopping around online and by making calls for free quotes to see who has the best deals
Inquire about bundling and other discounts that may be available for motorcycle insurance
Consider other ways of keeping your insurance cost down, such as buying only the mandatory liability insurance or choosing a higher deductible. You may also consider purchasing a more basic bike than a vintage motorcycle, which raises your premiums.
What kind of motorcycle insurance discounts are available?
When shopping for an affordable rate, asking about what motorcycle discounts are available is a must. Here are some of the typical discounts you may acquire when purchasing motorcycle insurance:
Anti-theft device and safety features on your bike
Bundling other insurance policies with your motorcycle insurance, such as your home and another vehicle
Safe driver discounts are available if you have a clean driving history
Discounts for completing a motorcycle safety course or other types of motorcycle classes available to you
Some insurance companies may also offer a discount if you transfer to their insurance from another provider.
Finding Cheap Classic Motorcycle Insurance
Insuring classic bikes can be challenging since some are vintage motorcycles and can be highly valuable, making them more expensive to repair and replace. On the other hand, antique motorcycles are older but in pristine condition.
Consider insurance policies that include comprehensive and collision to cover damage to classic bikes.
What's considered an antique motorcycle?
Bikes that are at least 25 years of age and look the way they did when first manufactured are considered antiques. They are usually stored and not utilized for daily riding, only seasonally or rarely. Because these bikes are stored for long periods, they often need inspection before riding. Use our motorcycle inspection checklist to keep your bike in tip-top shape.
Do you need classic motorcycle insurance?
Check to determine the insurance requirements for your state regarding classic motorcycle insurance. Many states require proof of insurance before you can even register your bike.
What does vintage motorcycle insurance cover?
You may be required to have a full-coverage policy for a vintage motorcycle. However, even if your location doesn't need it, it would be wise to consider insurance policies that include comprehensive and collision to cover any damage to classic bikes since the cost of repairs can be very high.
FAQs
Should I cancel my motorcycle insurance in the winter?
Even if you don't use your motorcycle in the winter, you still need to have an insurance policy to ride legally. So do not cancel insurance during the winter months.
Do I need motorcycle insurance while my bike is in storage?
Speak to a licensed insurance agent regarding what you can do during winter or when your bike is in storage. For example, there may be coverages or limits within your policy that you can drop for a cheaper premium or a separate temporary policy you can switch to while storing your motorcycle.
Why is full-coverage motorcycle insurance more expensive?
Motorcycle riders tend to risk more accidents and claims than ordinary vehicles. The insurance company may also require you to add more coverage to your standard liability policy, and the more coverage you have, the more expensive your premium becomes.
Do I have to carry motorcycle insurance?
Most states require bike riders to have a motorcycle insurance policy. If caught without the required insurance, you could face fines, tickets, court appearances, and fees and even have your license suspended.
What does classic motorcycle insurance cover?
Bodily injury and property damage liability insurance cover any expenses or damage to others and their property if you are at fault for an accident. Classic motorcycle insurance involves comprehensive and collision as two additional and essential forms of coverage, which provide payment for repairs and replacing your motorcycle in the event of damage or theft.
Finding the Best Motorcycle Insurance for You
Finding cheap motorcycle insurance depends on many factors, including the type and age of your motorcycle, location, age, and driving history. To find cheap motorcycle insurance, get multiple quotes for your specific needs.