UPDATED: MAY 08, 2023 | 2 MIN READ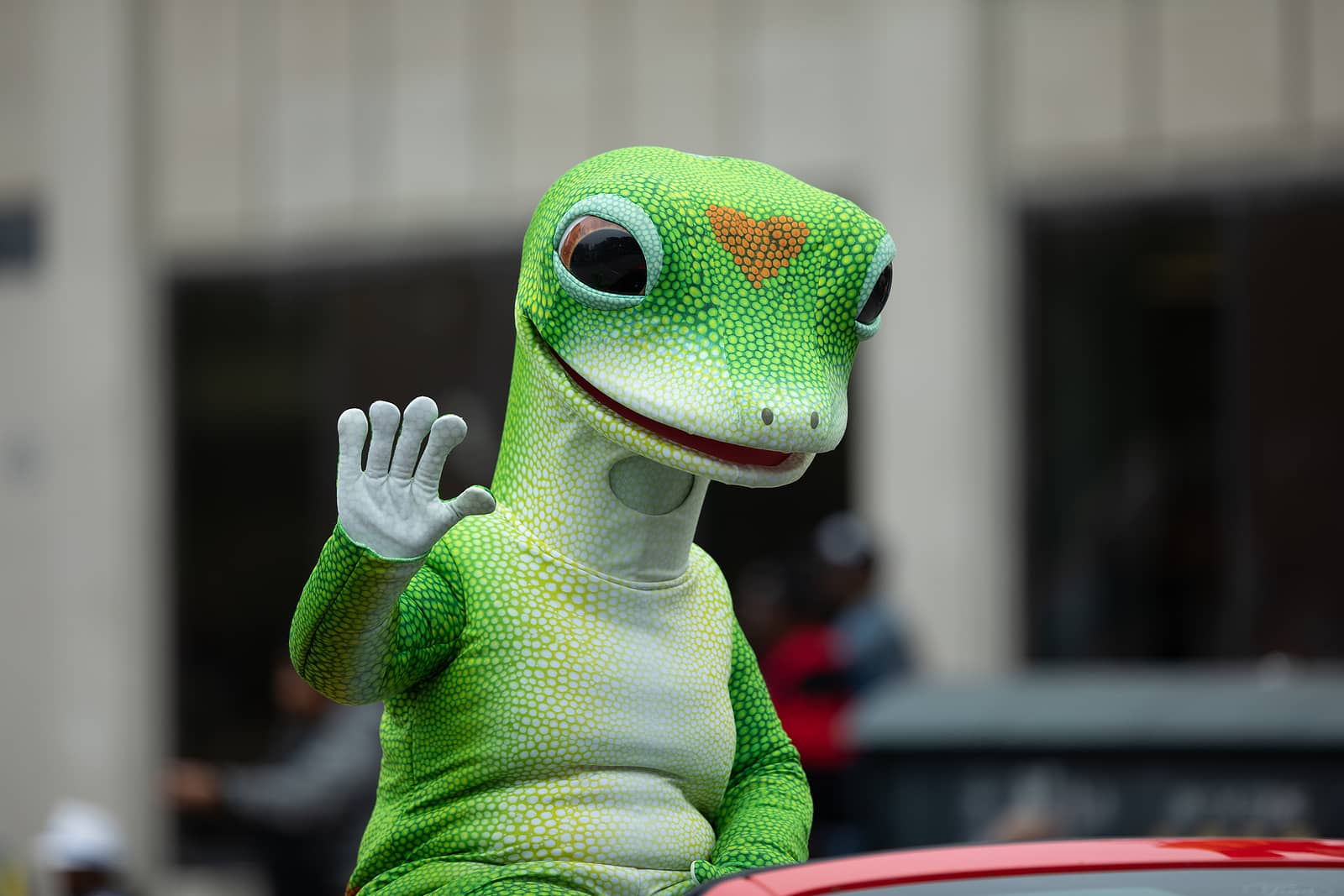 About GEICO
The Government Employees Insurance Company, better known as GEICO auto insurance, was founded in 1936 in Fort Worth, Texas. The headquarters has moved from Texas to Chevy Chase, Maryland in the eighty years since.
It is currently the second-largest auto insurance company in the United States. Bill Roberts, the current CEO, is taking over for the now-retired Tony Nicely. Nicely had been with the company since he was just 18 years old and has stayed on as a chairman. GEICO is owned by the parent company Berkshire Hathaway.
Satisfaction ratings
BBB Rating: A+
Consumer Reports Rating: Satisfied
JD Power Rating: 4 / 5
GEICO auto insurance pros and cons
PROS
Sales and Service are available 24 hours a day.

In-depth online quoting tool.

Military retirees tend to military policies.
CONS
Lack of local agents available for help.

GEICO does not write and create their home policies.

It doesn't offer a telematics discount that encourages good driving habits.

Policies only last six months.
GEICO car insurance review
GEICO is a great insurance option backed by a 4.5/5 rating from AgileRates editors, drawing on quotes and reviews collected across organizations such as J.D Power and the NAIC. Many customers have expressed satisfaction with GEICO's services; however, some frequent issues are rate hikes over time in auto coverage and delays when filing claims – something worth bearing in mind before signing up!
Policies offered by GEICO auto insurance
Here are some of the types of coverages offered by GEICO:
Bodily Injury: This coverage is also called 'Liability,' and it's mandatory in every state. GEICO offers state minimums but also a wealth of other customized combos. Seeing the price difference is as easy as choosing from a dropdown menu.
Property Damage: This coverage is for any damage done to or by your vehicle. GEICO offers a full range of options from the state minimum to one hundred thousand dollars. This is often accompanied by a deductible, though those options exist.
Uninsured Motorist: What happens if you get in an accident, but the other party doesn't have insurance? Hopefully, you have this coverage, which pays for your car if the other party can't.
Upgrades and addons
Here are some of the upgrades and extra features you can add to your policy:
Emergency Roadside Service: Although many insurance companies offer at least a few varieties for this service, GEICO only offers one choice. If you choose to have it included in your policy, they will pay a flat $100 maximum per incident.
Rental Reimbursements: Like the above program, GEICO differs from what most companies offer. Rather than a sliding scale of choices, they offer only one, varying from state to state.
Accident Forgiveness: GEICO rewards its loyal customers by offering anyone who has been with them for more than two years this upgrade for free. If you don't want to wait, you can purchase it for a charge.
Available discounts through GEICO auto insurance
You can earn discounts with the following GEICO programs:
Airbags: Standard equipment nowadays, but the functions and features vary from vehicle to vehicle. Depending on your airbag system's evolution, you can get large discounts on medical-related premiums.
Seat Belt Use: Sign a disclaimer promising to wear a seatbelt — and waive coverage if you're in an accident in which you don't — and GEICO will give you a discount.
Driver's Ed: If you have a certificate from your driver's education and can prove that you passed, GEICO will give you a discount. Have you got student drivers? The same applies to them!
Military: Has you or your family served in the US armed forces? GEICO would like to thank you for the discount.
Accident-Free: If you haven't had a car accident in the last five years, GEICO rewards you with a discount of up to 25% off your total policy premium.
Special programs
These special programs and benefits are available from GEICO:
Federal Employee: If you are a federal employee, you can enroll in GEICO's special program by answering simple questions about your job.
Selected Membership: Are you a member of a credit union? Did you graduate from a large university? Ask GEICO if they are an affiliate; if so, you may qualify for this program and the additional discounts it can offer.
What you need to apply
Have this information on hand to get a fast, accurate quote:
Personal Info: Just the basics, like your name, age, and gender, so that GEICO can save your online quote under a custom profile. If you buy the quote, you'll need more personal information, like your birth date and Social Security number.
Location: Your address makes a difference in your car insurance. Think about where you drive. Is it a big city? Small town? These things change risk, so they matter.
Vehicle ID Number: This is also known as a VIN, and it's on several places in your car. You can get a quote without using the year, make, and model, but the most accurate quote will always need a VIN.
Email Address: To start a quote online, you need an email address to communicate with GEICO representatives and a place to send any electronic documents if you choose to buy a policy.
FAQs
Is GEICO or Progressive cheaper?
Both Progressive and GEICO are known for having competitive car insurance rates. Overall, GEICO tends to be cheaper than Progressive. However, drivers with DUIs or a lot of traffic violations might find Progressive to be the cheaper option.
Is GEICO car insurance always the cheapest?
GEICO offers competitive car insurance rates but isn't always the cheapest option. A lot of different factors go into determining your car insurance rates, including the type of car you drive, your driving record, and your location. Because of this, it's always best to compare quotes from several companies before choosing a policy.
Is GEICO good at paying claims?
GEICO's claims satisfaction ratings are slightly above average, according to the latest J.D. Power claims satisfaction survey. The company scored 881 out of 1,000, and the national average for the industry is 880 out of 1,000.
Compare GEICO auto insurance policies
GEICO is a well-known car insurance company with a long history of providing quality coverage for drivers. In this review, we've taken an in-depth look at what the company offers and how it compares to other providers on the market.
We've also uncovered some great discounts you can take advantage of as a GEICO customer. If you're looking for car insurance, it pays to compare rates – so compare auto insurance quotes online today and see how much you could save.