UPDATED: JULY 18, 2023 | 3 MIN READ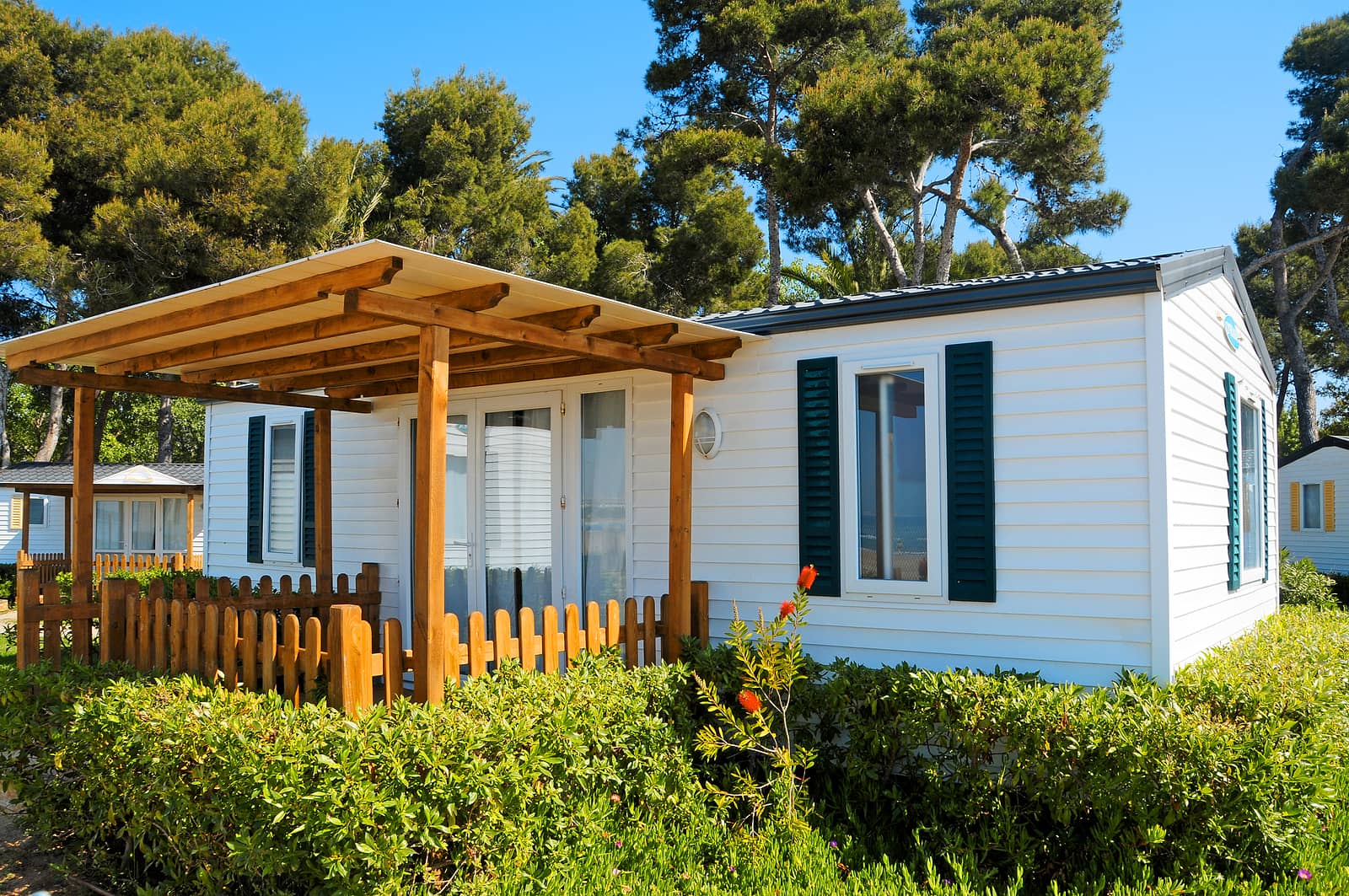 Mobile homes are a popular path to affordable homeownership because they are more cost-effective per square foot. However, homeowners insurance and mobile home insurance aren't the same. If you own a mobile home or are considering one, you need to understand exactly what your insurance is and what it covers.
What Is Mobile Home Insurance?
Whether you own your mobile home or rent it, you will want to consider insurance. This protects you in several ways.
What does it cover?
Mobile home insurance covers accidental damage to the structure and your belongings. Most insurance policies will also reimburse you for living expenses incurred by not being able to live at the property while repairs are being carried out.
It also protects you if someone is hurt on your property and sues you. Finally, it can help you if you're sued for damage to someone else's property.
What doesn't it cover?
There are quite a few things that even the best mobile home insurance won't cover, and it's important to check your policy carefully so you're aware of these limitations.
Typically, it won't cover:
Flood damage
Earthquakes
General wear and tear
Pest infestations
The mobile home in transit
You should discuss your requirements with your insurance company to see if there are additional policies you can take out. For example, if you live in an earthquake zone, you may wish to consider taking out separate earthquake insurance.
Is mobile home insurance required?
Unlike normal home insurance, mobile home insurance isn't a legal necessity. Mortgage providers might require you to purchase mobile home insurance as they lend to you.
It also gives you peace of mind that you're not liable for hundreds of thousands of dollars should the worst happen.
Does it cover water leaks?
This depends on the individual policy you take out. Mobile home insurance often covers things like a burst pipe, but it usually doesn't cover flood or storm damage. You may need to take out extra insurance to cover those.
Mobile Home Insurance For Older Mobile Homes
If your mobile home was built before 1976, you might find that quotes are higher than expected. You may even struggle to get a quote for insurance for it at all.
U.S. Department of Housing and Urban Development Standards
You may be unable to find mobile home insurance for your older mobile home because it would not have been built to the Manufactured Home Construction and Safety Standards (HUD Code). This code ensures that they are all built to a certain standard. Homes built before this were largely unregulated; therefore, insurers don't necessarily know the risk to them.
Compare Mobile Home Insurance Quotes
You may still be able to find a company to insure your older mobile home. Always compare quotes to ensure you get the best deal and see which companies offer the right coverage.
How Much Does Mobile Home Insurance Cost?
These homes usually cost more to insure than standard homes. This is for several reasons. Fires may spread more quickly and easily through a pre-fab home. If not strapped to the ground, mobile homes may also be more susceptible to wind damage.
What factors affect the cost of mobile home insurance?
A variety of things can affect the price of your insurance.
They include the homes:
Age
Value
Location
Size
Type
Condition
Additionally, there are some factors relating to you that influence the price.
These may include:
Your credit score
Any existing policies that you hold
The deductible you're willing to pay
The type of insurance you're looking to take out
With regards to location – this is a big factor. Mobile homes are often situated in special mobile home parks. Unfortunately, these areas tend to have reputations for attracting thieves.
What to Consider Before Buying Mobile Home Insurance
Read on to learn what you should think about before purchasing a policy.
How much insurance do you need?
It's important to have enough coverage to repair and replace the structure and all of your belongings. You may not think you own much, but you may be surprised at how much coverage you need if you do a room-by-room inventory.
Other types of mobile home insurance to consider
As well as physical damage coverage and personal liability coverage, there is a type of mobile home insurance called a peril policy.
Perils are specific events that may cause damage to your home, for example, a break-in or a fire.
Peril policies are typically a lot cheaper than other types of insurance but the big drawback is they do only cover the named perils. If anything unforeseen happens to cause damage? You're on your own.
Who are the best carriers for mobile home coverage?
Finding the best policy for you doesn't need to be a struggle, so we've chosen the best providers to look into.
Overall best: Foremost
The overall best provider to cover your mobile home is Foremost. They provide coverage for many things that most insurers don't, including coverage in transit, earthquakes, and business liability.
They're also happy to consider providing coverage for people with credit issues.
Best for older homes: American Modern
Mobile homes built before 1976 are more difficult to insure, as they were built before the Manufactured Home Construction and Safety Standards (HUD Code) came into effect.
American Modern offers coverage for older homes built before the code was implemented. It may not be as inexpensive as others, but it's much better than not having coverage.
Best for new mobile homes: Progressive
Progressive offers discounts for new mobile homeowners. They also offer many other discounts, such as installing safety devices, paying your premium in full, and choosing to go paperless with electronic policy documents.
FAQs
What's the difference between mobile and manufactured homes?
This depends on the year the home was built. For homes built since 1976, there is no difference. According to the HUD, any pre-fab home built before June 15, 1976, is a mobile home, and any built since June 15, 1976, are technically manufactured homes.
How can I buy mobile home insurance?
You can buy it the same way as any other insurance policy. This can be in person, by phone, or online. Shop around before you buy to make sure you get the best deal.
Can I buy mobile home insurance online?
Yes, usually. Not all insurance companies offer this type of insurance in all states, so you might want to consider using a comparison website to check all available policies for your state.
Are there discounts available for mobile home insurance?
Different providers may be able to give you discounts on your insurance. They won't always, but you should make sure to inquire. If you don't ask, they definitely won't offer.
What type of damage isn't covered by mobile home insurance?
Mobile home insurance won't cover anything that isn't specified in your policy. This could be things like damage caused by flooding or pests.
Does my mobile home insurance cover my mobile home while in transit?
Typically, no. Your insurance will only cover the home when it's stationary. However, there may be add-ons you can purchase to temporarily cover your home while it's moving from place to place. Ask your insurance provider what they can offer you.
Finding Good Mobile Home Insurance
Mobile home insurance is not a legal requirement like any home insurance. However, it can give you peace of mind if anything goes wrong. Compare home insurance policies to ensure you get the best possible deal for your circumstances.
---
Related Content
---