UPDATED: MAY 02, 2023 | 3 MIN READ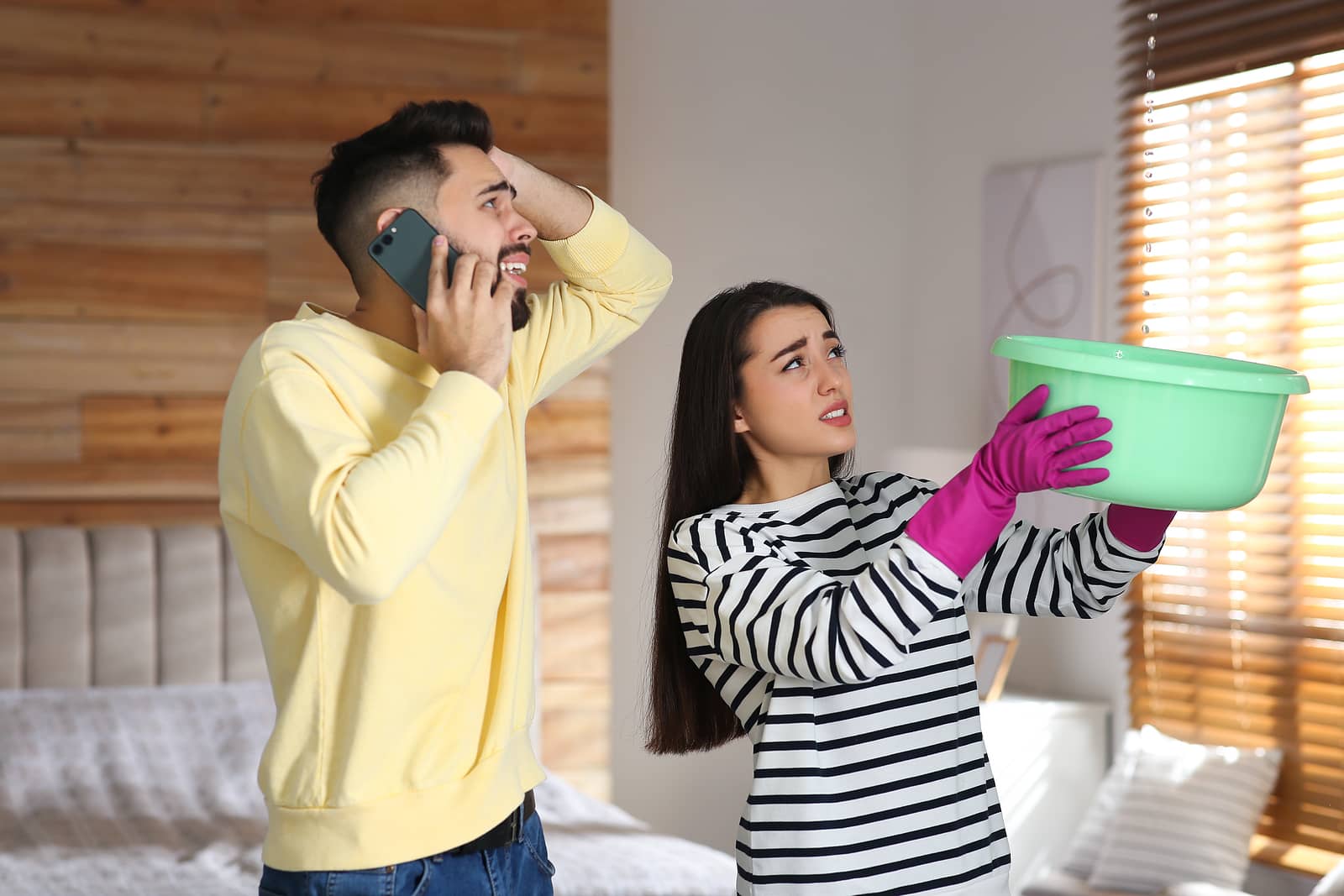 Roof leaks often come with a tell-tale ceiling stain or water dripping down. When this happens, you need to take immediate action to minimize water damage, wood rot, and the potential for mold growth.
Roof leaks don't get better over time and lead to significant problems like rotting framing and sheathing, destroyed insulation, and damaged ceilings. If your roof is leaking, it could be time to contact a roof repair company, but there are a few things you need to do immediately.
Common Causes of Roof Leaks
Your roof could start leaking for any number of reasons, including:
Ice dams
Cracked roof flashing
Heavy rain
Clogged roof vents
Clogged gutters
Roof age
Roof Leaks: What To Do Immediately
If you have water continuously dripping, the ceiling will likely be discolored, and the paint may be bubbling or bulging a bit. This doesn't necessarily mean you need a new roof, but you must fix a leaky roof as soon as possible.
Here's what to do to minimize the damage until your bad roof is fixed.
Step 1: Assess the Situation
If you have a leaking roof, you need to determine the source of the leak. Take a quick look at the damaged area. Do you have roof shingles missing? Is the caulk around your skylights deteriorating? It would help if you also looked for water stains and mildew. This allows you to pinpoint the problem.
Step 2: Catch the Drip
Put a bucket or trashcan under the drip to catch the water. If you place a board in the bucket so the drip hits it instead of the water, you'll eliminate the dripping sound.
Step 3: Protect Your Ceiling
If the ceiling is bulging, take a screwdriver, and punch a hole in the center of the bulge. The water that accumulated drains to relieve the pressure. You provide a clear path for the water, which helps prevent further damage.
Step 4: Protect Your Stuff
If possible, cover furniture and other property near the leak with plastic or a painter's drop cloth. If you don't have access to a waterproof covering, move your belongings out of the area. The last thing you want is to replace your household belongs because you have roof problems.
Step 5: Plug The Leak (If You Can)
Plugging the link is a priority and requires a trip to the attic. When you find the leak, safely plug it by taking a piece of scrap wood, duct tape, or heavy-duty plastic film. It just needs to hold until the storm is over.
Step 6: Protect Your Roof with a Blue Tarp
If you don't locate the leak, call a reputable roofer specializing in roof leak repair. Putting up a "blue roof" after the storm doesn't fix your problem but stops the immediate damage.
Step 7: Call a Professional
Once the weather has passed, you'll need to have the roof professionally inspected. Minor problems on roofs that are less than 15 years old are patchable. Older roofs may need to be re-roofed.
Does Your Home Insurance Cover Your Roof Leak?
Your homeowner's insurance typically covers roof leaks and damages to your roof. However, it won't be covered if the leak occurred due to a lack of maintenance on your roof. Before filing a claim, ensure that the deductible isn't going to cost more than the repairs themselves.
Dealing with Roofing Companies
After the storm, you need to call a roofer to perform an inspection. If you don't have a roofer, you want to be careful who you choose.
Here's a quick checklist to follow for selecting a reputable roofing contractor:
Get at least three bids. Get references from friends and coworkers, or use a reputable service directory to identify potential contractors.
Make sure you choose a licensed roofer with insurance who pulls all required permits.
Have the contractor agree to locate and repair all damaged wood before repairing or re-roofing.
Ask for details on any warranty offered.
Be sure the contractor agrees that the job has to pass municipal inspection before being completed.
Get a written estimate detailing all work involved, estimated completion time, and terms.
Preventing Further Roof Leaks
After the repair, ensure you keep up maintenance to prevent a reoccurrence. Trim overhanging trees, keep gutters and downspouts clean and functional, and inspect the flashing. Choosing the right contractor and maintaining good maintenance keeps roof leaks out of your life for years to come.
Roof Leak FAQs
How do I know if my homeowner's insurance covers roof leaks?
It's best to check your policy or call your insurance agent to confirm your coverage.
What are the symptoms of a roof leak?
Missing shingles
Cracked or damaged shingles
Water spots on your ceiling or walls
Water spots or wet roof decking
Missing or damaged flashing or boot covers to roof penetrations
Does homeowner's insurance cover ceiling damage from a roof leak?
Homeowner's insurance typically covers roof leaks. However, your insurance company won't cover roof leaks caused by bad maintenance.
Will insurance cover a 15-year-old-roof?
Yes, coverage is available for a 15-year-old roof. They won't replace your roof if it's old, but if it's damaged due to a storm, there is coverage for the repairs or replacement.
What kind of roof damage is covered by insurance?
Homeowner's insurance covers damage to your home's structure. If damage to your roof is caused by wind, fire, hail, or falling debris like trees, your dwelling coverage covers the repairs.
Finding Home Insurance To Cover Roof Leaks
Finding home insurance to cover roof leaks is as easy as picking up the phone. Call a few different companies to ensure you get the best rates.
Related Articles: