UPDATED: JANUARY 30, 2023 | 1 MIN READ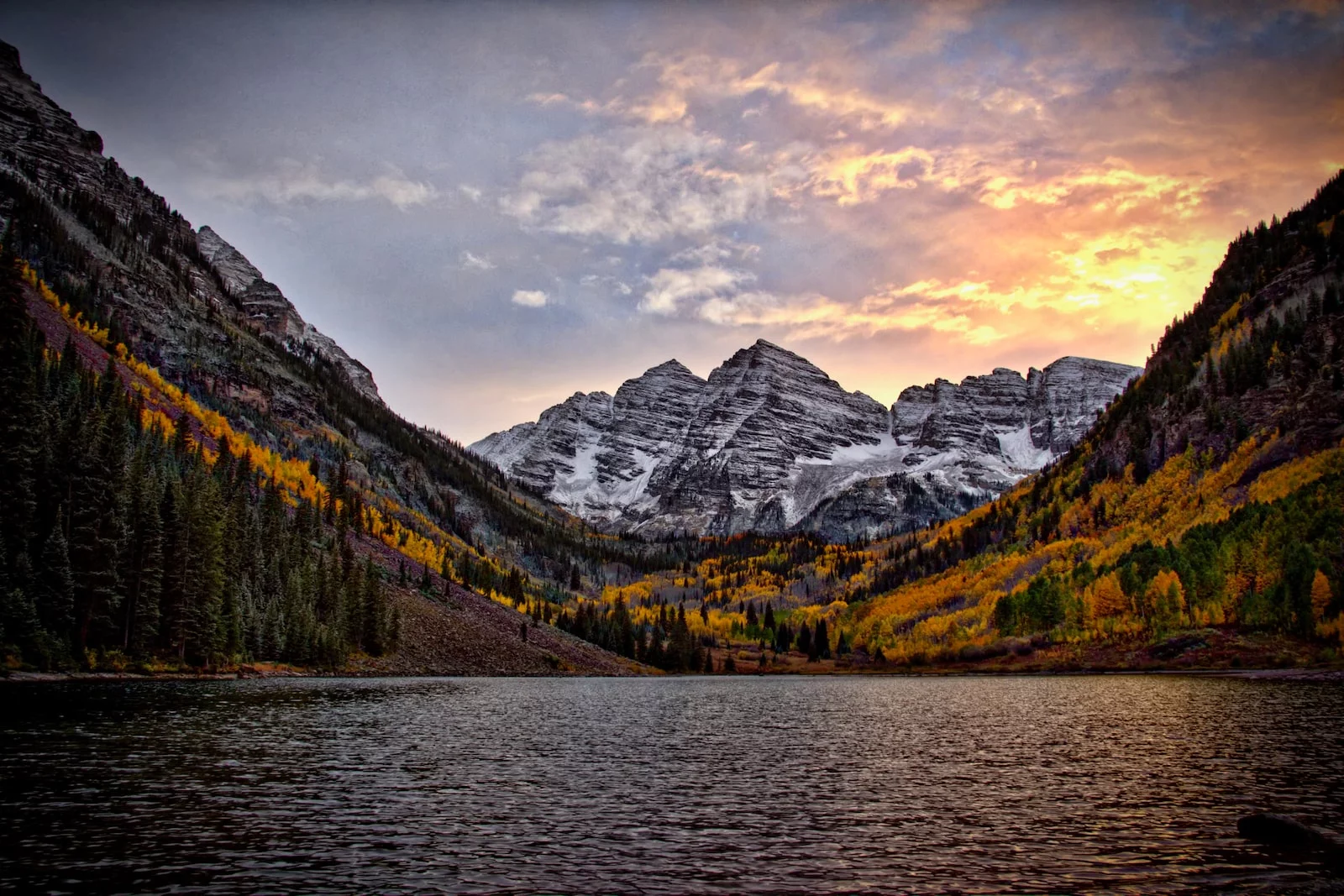 Before you get on the road in Colorado, ensure your vehicle is protected. Colorado insurance requirements outline liability limits for each driver and the proper coverage required for insurance. Here we break down everything you need to know about Colorado car insurance, how much it costs, and how to save on premiums.
Best Colorado Car Insurance Companies
With so many Colorado car insurance companies to choose from, you may wonder which agency is best. We've done the legwork for you and figured out Colorado's best car insurance. Each company stands out for its customer service, premiums, and discounts.
Cheapest Colorado Car Insurance Company: State Farm
If you want a policy that meets Colorado car insurance requirements, State Farm is the prime choice. The average State Farm policy is $452 a year, or $38 a month for minimum coverage. If you want full coverage, State Farm is still the best deal, with an average annual rate of $1,275. If you're a current or former military member, you may find a better rate with USAA. The average minimum policy rate is $381 for eligible customers.
PROS
High customer satisfaction ratings from J.D. Power

A++ Financial Strength rating from AM Best

Lots of discounts and coverage options available
CONS
No option to add gap insurance to your policy

Premiums are on the higher side
Colorado Car Insurance Company With the Best Customer Service: GEICO
GEICO features the best customer service among the big corporate car insurance companies. GEICO scores 827 out of 1000 on the JD Power Customer Satisfaction survey for the Southeast Region in car insurance. Colorado drivers appreciate GEICO's round-the-clock access to agents, easy claim file process, and communication regarding their car insurance.
PROS
Many savings options available

Affordable rates for drivers with poor credit and speeding tickets on their record

Good customer satisfaction ratings

Offers accident forgiveness
CONS
Above-average rates for drivers with DUIs

Doesn't offer new car replacement, rideshare coverage, or a vanishing deductible

Lower-than-average bundling discount for people with GEICO auto and home policies
Colorado Car Insurance With the Best Discounts: Progressive
If you're a budget-conscious consumer, Colorado car insurance companies have a variety of discounts to help you save on your premium. It's possible to save up to hundreds of your policy each year. Typical insurance discounts include savings on safety equipment, a good student discount, and multi-policy savings. Progressive offers the most discounts in the state, with 16 available, and features driving-based savings.
PROS
Favorable rates for high-risk drivers

Snapshot program helps unlock safe driving discounts

Wide range of discounts available
CONS
Higher-than-average insurance costs for some good drivers

Doesn't offer new car replacement coverage

Snapshot program could increase rates if your driving score is low
Local and Regional Car Insurance Carriers In Colorado
Colorado has several options if you prefer to insure your vehicle with a local or regional carrier.
Acuity Insurance
Acuity Insurance offers drivers the coverages that Colorado policies must have, including liability, medical payments or personal injury, uninsured and underinsured motorists, comprehensive, and collision.
Since Colorado drivers may need more protection, Acuity offers vehicle replacement, replacement of full safety glass, medical payments (limits are automatically increased if wearing a seat belt), and uninsured motorist property damage coverage.
Colorado drivers can get discounts based on customer loyalty (including multi-policy and multi-vehicle) or for good driving, honor student, and accident prevention course enrollment.
American National Insurance
Automobile owners in Colorado are required to carry liability insurance, which covers bodily injury or property damage if the insured is at fault.
American National Insurance also offers Colorado drivers comprehensive, collision, gap, and uninsured motorist coverage. Additional endorsements are available for Colorado drivers, such as 24-hour roadside assistance, gap insurance, and added coverage endorsement (for replacement parts to damaged vehicles).
American National offers a variety of unique discounts to its customers, like completely waiving your deductible if you're involved in an accident with another vehicle insured by the company.
Colorado Farm Bureau
Colorado Farm Bureau is part of the Farm Bureau network of companies. It offers drivers the following coverages:
Personal liability
Medical payments
Uninsured/underinsured motorist bodily injury
Uninsured/underinsured motorist property damage
Physical damage
Collision
Comprehensive
Colorado Springs, Denver, and Aurora drivers can save money through discounts for good students, low mileage drivers, multiple vehicles, and drivers with good driving records. If you bundle your home and auto policies, there are additional savings.
Colorado Insurance Demographics
Colorado has a high average income which correlates with higher Colorado auto insurance prices. Unfortunately, the state's crime also plays a factor, and vehicle theft is rampant. Colorado's median age range of 15-19 consists of inexperienced drivers who have higher insurance rates due to their age.
Crime Rates: Colorado ranks first in vehicle thefts in the country. In 2019, the state saw a reported $189 million in losses. It's also the third-highest state for property theft.
Average Household Income: The average household income for Colorado is $100,933.
Median Age Range: The median age in Colorado is 36.9, while the median age range is 15-19.
Education: Colorado has an educated population, as 26.05% of its residents hold a Bachelor's degree.
Common Risk Factors In Colorado
Colorado drivers have several risks that affect their insurance rates. Of all of the drivers on Colorado roads, a high 16.3% are uninsured, more than the national average of 12.6%. Colorado also features its share of natural disasters, including fires, floods, and hailstorms. It's one of the states most at risk for natural disasters and sees damages of $464 million on average each year.
Auto Insurance Laws In Colorado
Colorado has strict car insurance laws and heavily penalizes drivers failing to follow their requirements. The state requires every driver to carry liability insurance and mandates specific amounts for minimum coverage. A variety of optional Colorado car insurance coverages can help protect your vehicle in case of an accident
What are the minimum car insurance requirements in Colorado?
The minimum Colorado car insurance laws require all drivers to carry $25,000 per person and $50,000 per accident in bodily injury. Property damage requirements are $15,000 per accident. If you finance your car, your lender may require full coverage.
Am I required to carry uninsured motorist coverage in Colorado?
No. Uninsured motorist coverage is optional in Colorado. Your insurer must offer this coverage to you, but you aren't obligated to buy it.
Colorado SR-22 policies
Colorado requires an SR-22 for license reinstatement. If your license was suspended or revoked, you must file an SR-22 with the Colorado Division of Motor Vehicles. The SR-22 certifies you meet the minimum requirements for Colorado car insurance.
What happens if my vehicle isn't properly insured in Colorado?
You may face harsh penalties if you don't meet the minimum requirements for Colorado auto insurance. Driving in Colorado without insurance is subject to a misdemeanor for "Failure to Hold Insurance. " The charge may include up to $1,000 in fees, jail time, and an eight-month license suspension. Other penalties include four points on your license and up to 40 hours of community service. 
Does Colorado accept digital insurance cards?
Yes. Colorado accepts digital insurance cards as proof of insurance.
How Much Does Car Insurance In Colorado Cost?
The average annual Colorado car insurance rate is $1,435 for minimum coverage and $2,198 for full coverage. Your policy rate will vary based on age, gender, location, and the insurance company. The high-density cities such as Boulder and Denver typically have higher insurance rates due to the increased risk of vehicle theft and damage. However, smaller Colorado cities like Fruitvale offer cheap rates under $200 a year.
Average Cost of Car Insurance In Colorado By City
The most expensive areas in Colorado for car insurance are also popular vacation destinations. Drivers in areas such as Aurora and Colorado Springs see more vehicle theft and accidents overall, which increases insurance rates.
| City | Average Colorado Car Insurance Cost | Difference From Colorado Average |
| --- | --- | --- |
| Aurora | $2,260 | 13% |
| Colorado Springs | $2,135 | 7% |
| Denver | $2,170 | 8% |
| Fort Collins | $1,755 | -14% |
| Pueblo | $2,225 | 11% |
Average Cost of Car Insurance In Colorado By Company
You should shop around and compare rates for the best deal. Rates for Colorado car insurance from consumer favorites like Geico, State Farm, and AllState may differ widely. Look at all of your options for minimum and full coverage.
| Car Insurance Company | Average Liability-Only Premium (Annually) | Average Full-Coverage Premium (Annually) |
| --- | --- | --- |
| Colorado Farm Bureau Insurance | $275 | $1,415 |
| Geico | $250 | $1,055 |
| Progressive | $605 | $2,560 |
| State Farm | $410 | $1,520 |
Average Cost of Car Insurance In Colorado By Age
Coloradans aged 16 to 20 can expect to pay higher rates than older drivers. Insurers consider young drivers a higher risk for accidents, so young motorists will pay as much as $6,955 a year for full-coverage insurance in Colorado. Your premium drops with age.
| Age | Average Full-Coverage Premium (Annually) |
| --- | --- |
| Age 18 | $4,030 |
| Age 19 | $3,640 |
| Age 20 | $3,400 |
| Age 22 | $3,085 |
| Age 25 | $2,470 |
| Age 40 | $2,020 |
Average Cost of Car Insurance In Colorado By Gender
Insurance companies consider gender when they calculate your Colorado auto insurance premium. It's common for male drivers to pay slightly higher rates, as men are viewed as riskier drivers.
| Gender | Average Full-Coverage Premium (Annually) |
| --- | --- |
| Male | $1,425 |
| Female | $1,450 |
Average Cost of Car Insurance In Colorado By Credit Score
There's a correlation between low credit drivers and their likelihood of filing claims. Many insurers consider driver credit scores to determine a premium.
| Credit Score | Average Annual Premium |
| --- | --- |
| Poor | $2,800 |
| Fair | $2,325 |
| Good | $1,875 |
| Very Good | $1,510 |
| Great | $1,245 |
Average Cost of Car Insurance In Colorado By Driving Record
How you drive influences your rates for car insurance in Colorado. Careful drivers typically enjoy lower premiums than drivers with poor driving records. A single speeding ticket may increase your premium by 20%, while an accident may increase it by 39%.
| Driving Incident | Average Full-Coverage Premium (Annually) |
| --- | --- |
| Speeding ticket | $2,415 |
| Accident | $2,805 |
| DUI | $3,325 |
What Optional Colorado Auto Insurance Coverages Should You Consider?
Several policy options are available for Colorado car insurance drivers. These coverages expand your protection in case of an accident or injury while driving.
Collision Coverage: If you collide with a vehicle or object, which damages your car, this coverage pays for the repair.
Comprehensive Coverage: When Colorado's severe weather or natural disasters damages your vehicle, Comprehensive coverage protects you.
Uninsured/Underinsured Motorist Coverage: If you're involved in a hit-and-run or get in an accident with an uninsured/underinsured driver in Colorado, this insurance offers protection.
Medical Payments Coverage: Medical Payments helps with copays and deductibles for drivers and passengers if you're in an accident.
What Auto Insurance Discounts To Look For In Colorado
If you're a driver in Colorado, auto insurance discounts may be available based on your vehicle's safety features or mileage. Colorado insurers offer a variety of discounts. However, you may need to request them. Typical discounts in Colorado include a good student discount, mileage-based savings, and reduced premiums after a defensive driving class.
Colorado Car Insurance FAQs
Are car insurance rates high in Colorado?
Car insurance rates in Colorado are slightly higher than the national average.
How much is car insurance a month in Colorado?
Minimum car insurance costs an annual $1,435 for minimum coverage and $2,198. Rates vary by driver and insurance company.
What is the average cost of car insurance in Colorado Springs?
Colorado Springs has some of the most expensive insurance rates in the state. The average cost is $1,903 a year.
What is considered full-coverage in Colorado?
Full coverage car insurance in Colorado is any policy that offers more than the state's minimum requirement of $25,000 in bodily injury coverage per person, up to $50,000 per accident, and $15,000 in property damage coverage. Comprehensive and collision insurance is included in full coverage.
Is Denver car insurance expensive?
Denver car insurance is nearly $2,000 a year and is much higher than the state's average annual cost of $1,757.
How To Find Cheap Car Insurance In Colorado
Before you buy Colorado car insurance, research the insurers available in your area. Make sure you look at policies that meet the minimum requirements for Colorado and compare rates from several providers to find the best deal.