UPDATED: APRIL 14, 2023 | 3 MIN READ
Colorado offers some of the best healthcare in the country and provides various healthcare options for its residents. Learn more about Colorado's health insurance offerings plus its new private option.
Colorado Open Enrollment Dates For Health Insurance
Health insurance Open Enrollment dates in Colorado run annually from November 1st to January 15th.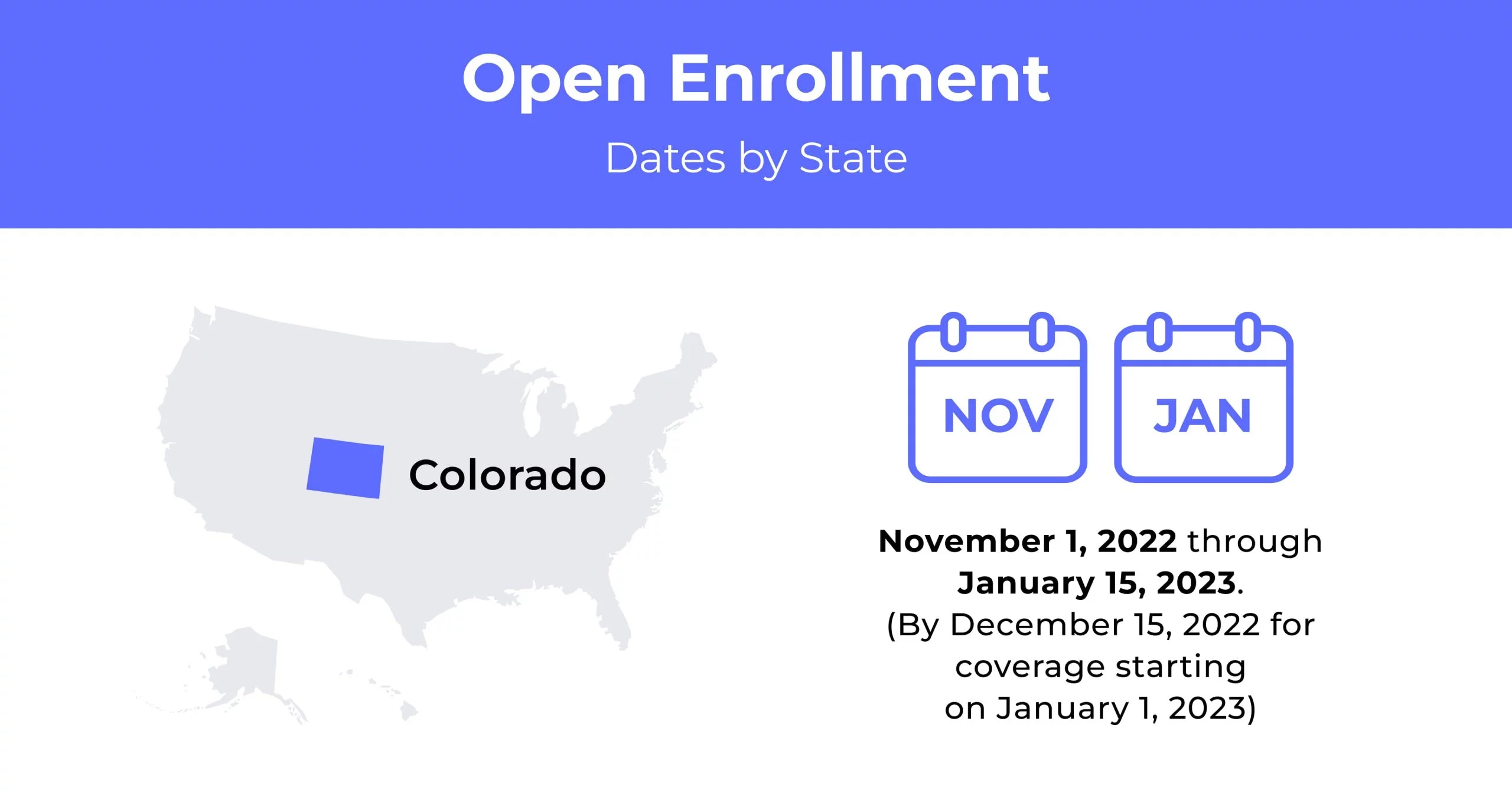 Colorado Health Insurance Demographics
Colorado is an affluent state. Its high average income and college-educated residents mean more residents have health insurance than in other states. Demographics such as education influence Colorado's individual and family health insurance premiums, especially as people with a college degree will likely have higher incomes.
Average Household Income: Colorado has an average household income of $86,829.
Median Age Range: The median age in Colorado is 37.5. Individuals aged 34-54 represent 26.3% of the state.
Education: Of Colorado residents, 41.6% of adults have a college degree, and 5.3% attend college.
What Type Of Health Insurance Marketplace Does Colorado Have?
Connect for Health Colorado is Colorado's health insurance marketplace. The state-run marketplace features eight insurance companies. Colorado became the second state with a public health option as of 2022. In 2023, the marketplace will include Colorado Option, the public plan. Every insurer with an ACA plan must also offer a Colorado Option plan for small-group and individual health coverage.
How many people are insured through the marketplace?
Over 1 million Colorado residents have insurance through Colorado's health insurance exchange.
Did Colorado implement the ACA's Medicaid expansion?
Colorado's Medicaid program, Health First Colorado, expanded in 2013. After the expansion, the program covers around 8% of the state's residents. The rate for uninsured Coloradans sank from 2011's 15.8% to 6.5% by 2019. The expansion gives low-income individuals improved access to preventative care and less medical debt.
When can you purchase ACA health insurance in Colorado?
The marketplace for Colorado health insurance has an Open Enrollment timeline that runs from November 1 through January 15. The exception is Colorado residents who are members of a federally-recognized tribe can opt for health insurance anytime throughout the year. Residents with a qualifying life event, or change in circumstances, may be eligible for Special Enrollment. Such life changes can include
The birth, adoption, or foster placement of a child
The death of a spouse, partner, or family member insured through the exchange
Getting married
Divorce with the loss of a partner's health insurance
The loss of an employer's health insurance or COBRA insurance
Qualification change in Medicaid or Medicare
Change in income status
Moving to Colorado or moving to a new Colorado address (situations vary)
Loss of student health plan or access to parent's insurance
Special Enrollment eligibility is available up to 60 days before and no longer than 60 days after the event. You will need to provide proof of the life change to your insurance agency.
Types of ACA Plans In Colorado
Colorado health insurance plans through the ACA feature three tiers: Bronze, Silver, and Gold.
Bronze plans feature a lower monthly premium but higher care costs.
Silver plans have a higher premium with moderate care costs. It's only good if you receive Cost-Sharing Reductions, a discount that reduces your premium costs.
Gold plans have a high deductible but offer the lowest care costs. Catastrophic plans are also available through the ACA for individuals 30 and under.
What carriers offer ACA health insurance in Colorado?
ACA health insurance in Colorado features eight carriers. Plan coverage and options differ by carrier. Denver, Arapahoe, Adams, and Jefferson counties feature coverage by all eight carriers. Coloradans have access to at least two of these carriers throughout the state, with Jackson County the only area with a single insurance carrier,
Bright
Denver Health
Friday Health Plans
Kaiser
Rocky Mountain Plans
The health insurance carrier Oscar currently offers Colorado plans but will exit the state by December 2022.
How Much Does Health Insurance Cost In Colorado?
Health insurance in Colorado varies by carrier and individual. On average, it costs $387 for residents without financial help. Rates vary by location and plan tier. Your individual rate may be different than the average.
Cheapest Health Insurance By Metal Tier In Colorado
With four metal tier plans available in Colorado, residents have a lot of great options. Bronze plans are the lowest-level plans. These start out at an average monthly premium of $235 per month. The highest tier plan, Gold, costs an average of $325 per month. The lower the cost, the higher out-of-pocket expense you'll have each year.
| Metal Tier | Plan | Monthly Premium | Maximum Out-Of-Pocket Expense |
| --- | --- | --- | --- |
| Bronze | Bright Health Bronze | $235 | $8,700 |
| Bronze Expanded | Bright Health Bronze | $270 | $8,550 |
| Silver | Bright Health Peak Silver | $260 | $8,700 |
| Gold | Denver Health Gold Select | $325 | $7,000 |
Cheapest Silver Health Insurance By County
Silver health plans offer lower out-of-pocket maximums and deductibles than Bronze and Bronze Expanded plans, but they cost a bit more. When compared to Gold plans, Silver plans cost less but have higher deductibles and out-of-pocket maximums.
| County Name | Cheapest Plan | Individual | Couple |
| --- | --- | --- | --- |
| Adams | Rocky Mountain Health Silver | $320 | $645 |
| Arapahoe | Rocky Mountain Health Silver | $320 | $645 |
| Denver | Rocky Mountain Health Silver | $320 | $645 |
| El Paso | Bright Health Silver | $320 | $635 |
| Jefferson | Rocky Mountain Health Silver | $320 | $645 |
Health Insurance Subsidies Available In Colorado?
Colorado offers health insurance subsidies with premium tax credits for premium costs and cost-sharing reductions. You may be eligible for lower premium or cost-sharing reductions and lower premiums based on your income and household size.
If eligible for Colorado health insurance through a job, Medicare, Tricare, or Medicaid, you're ineligible for financial help from a marketplace plan. Colorado residents enjoy valuable federal tax credits through the exchange. For 2021, Colorado residents received over $504 million in financial assistance.
Can You Purchase Off-Exchange Health Insurance Coverage In Colorado?
Yes. You can purchase off-exchange Colorado health insurance. By 2023, every carrier must offer the new Colorado Option plan, a standard 6% less than the 2022 premium cost.
Can You Purchase Short-Term Health Insurance In Colorado?
No, Colorado doesn't allow short-term health insurance plans. The state revised its guidelines for short-term coverage in 2019, and you can't buy a short-term insurance plan. These short term-plans are great for traveling nurses and people between employer coverage.
Health Insurance Options For Low-Income People In Colorado
Colorado invests heavily in low-income health insurance options. The state features a Medicaid program and Medicare in addition to Colorado's marketplace. Colorado's Child Health Plan Plus (CHP+) is for children 18 and younger and pregnant women needing healthcare. All of these programs have specific income requirements for eligibility.
What Medicare Options Are Available In Colorado?
Colorado's Medicare options include Original Medicare, Medicare Advantage, and Medicare prescription plans. Original Medicare consists of Part A and Part B.
Part A: Hospital insurance for inpatient care, home health care, hospice, and nursing care.
Part B: Medical insurance for doctor visits, outpatient care, medical equipment, preventative care, and more.
Medicare Advantage offers the same care level as Original Medicare but in one plan. Colorado residents eligible for Medicare may also purchase Medigap Insurance, also known as Medicare Supplement Insurance. This is a separate policy that covers services where Original Medicare doesn't.
Residents of Colorado that are too young for Medicare, can review plans on the ACA Marketplace.
Medicaid In Colorado
Colorado's Medicaid program is Health First Colorado. Health First Colorado has around 1.57 million enrollees. Coloradoans may qualify for Medicaid if they meet specific guidelines. Health First offers a range of healthcare options with provider visits, dental exams, maternity care, physical therapy, and other needs. Applicants must be one of the following:
65 years or older
Pregnant or the guardian of a child 18 or younger
Blind or disabled, or living with a disabled family member
The maximum annual income level for a household of one is $18,075 for Medicaid eligibility. A household of two is $24,353.
If pregnant, members receive health coverage 12 months after giving birth if they notify Health First Colorado or Child Health Plan Plus about their pregnancy.
Cheapest Health Insurance Plans In Colorado
You can find an affordable plan when you buy from the Colorado health insurance marketplace. The marketplace has six metal tiers to choose from, each varying with coverage options.
You should look at the tiers, their coverage, and costs, then determine which best fits your needs. If price is the only consideration, the Bronze and Expanded Bronze plans will be the cheapest at $257 monthly.
Cheapest health insurance plan in Colorado with low out-of-pocket maximums
Health insurance marketplace plans may offer low out-of-pocket maximums with a higher monthly premium. You can reach the out-of-pocket faster with higher premiums, then have your costs covered sooner.
The lowest out-of-pocket maximum in Colorado is the Monument ONE Gold 2500 RX Copay by Rocky Mountain Health at $5,000.
Oscar Gold Simple EPO is another good choice with a $6,500 out-of-pocket maximum. Other plans on the marketplace feature out-of-pockets of $8,000 or more.
Cheapest health insurance plan in Colorado with high out-of-pocket maximums
If you don't anticipate visiting the doctor often and don't have any excessive health needs or prescription costs, look into health insurance plans with high out-of-pocket maximums. Your monthly premium for health insurance in Colorado will be lower overall. However, if you have an emergency, the out-of-pocket is higher.
The Bronze 8550 Rx Copay plan from Bright Health is a good option at $214 a month and an out-of-pocket maximum of $8,250. Most plans on the Colorado health insurance marketplace have similar out-of-pockets.
Cheapest health insurance plan in Colorado with an HSA option
A health savings account (HSA) for a Colorado health insurance plan might be a good option for healthy people who want to save money on healthcare.
With HSA options, you have a low monthly premium, a high deductible, and the ability to have deductions for healthcare into a savings account.
HSA plans are for Expanded Bronze and Silver tiers only. Bright Health's Bronze 6850 HSA is around $300 a month, while Silver 3500 USA is $348.
Cheapest HMO/PPO/POS health insurance plans in Colorado
Colorado residents have various Health Maintenance Organization (HMO) plans to choose from in the marketplace. The marketplace also has Preferred Provider Organization (PPO) and Point of Service (POS) plans.
These plans differ in costs, referral needs, and networks. HMO plans only cover expenses for providers in-network and requires specialist referrals.
PPOs use a network as well but don't require a referral. POS plans let you pay less when you stay within the network and need a referral for any specialist visits.
Rocky Mountain Health's Colorado Doctors Plan Silver 3 Free Visits 400 is the cheapest HMO plan within Colorado's health insurance marketplace.
At $353 a month on average, it offers the first three in-network primary care visits free with a $25 copay for subsequent visits.
Anthem's Bronze PPO 7500 30% RxCopay is the cheapest PPO at an average monthly premium of $421. The Kaiser Permanente POS 3000 is the most affordable POS plan, costing an average of $395.
FAQs
What's the average cost of healthcare in Colorado?
The average cost of healthcare in Colorado is $383. This figure is for a 40-year-old individual.
Is healthcare free in Colorado?
Healthcare isn't free for every individual in Colorado. Many residents are eligible for free or reduced care through Health First Colorado, the state's Medicaid program.
What's the income limit for Colorado Medicaid?
You're eligible for Colorado Medicaid if between the ages of 19 and 65, with a monthly income of up to $1,507. If pregnant, the income limit increases to $2,209. A family of two has an income limit of $2,030 a month. The state has additional guidelines for children aged 0 to 18 and larger families.
Does Colorado have good healthcare?
According to U.S. News and World Report, Colorado ranks as the 10th best state for health care.
Can adults qualify for Medicaid in Colorado?
Adults may qualify for Medicaid in Colorado if they are residents, citizens, or legal aliens who meet the income requirements.
How To Buy Affordable Individual and Family Health Insurance Plans In Colorado?
The best way to find affordable individual and family health insurance in Colorado is to start with the marketplace. You may be eligible for tax credits that help offset the monthly premium costs.
Multiple quotes for Colorado health insurance lets you compare and contrast plan offerings, including prescription drug coverage, copay charges, out-of-pocket limits, and deductibles.