UPDATED: JULY 10, 2023 | 3 MIN READ
Homeowners insurance in Alabama varies depending on where you live. Choosing an insurance company doesn't need to be stressful. We have researched the best Alabama homeowners insurance, so you don't have to.
Best Alabama Home Insurance Companies
Alabama suffers from natural disasters regularly, such as floods and category-five tornados. It's a great reason to have insurance when significant damage is caused. Below is the best home insurance in Alabama to protect your home.
Overall Best Alabama Home Insurance Company
The best overall homeowners insurance in Alabama is Country Financial. They have a wide selection of features, including identity theft coverage, water backup protection, and replacement cost coverage for your home and property. They even offer renters insurance in Alabama. The average cost of home insurance with them is $940 per year.
Best Value Alabama Homeowners Insurance Company
The best value in Alabama home insurance is with Cincinnati Insurance. Their policies, on average, cost $821 yearly, which is 56% cheaper than other Alabama companies. In addition, there are many opportunities with Cincinnati Insurance to get a discount by bundling, owning a home for ten years, or installing an alarm system.
Alabama Homeowners Insurance Company With the Best Customer Service
In 2021, J.D Power Property Claims Satisfaction Study ranked Auto-Owners high in having superior customer service and a smooth claims process. They also offer special coverage to high-value homes if your current policy doesn't provide replacement costs for your possessions.
Alabama Home Insurance Company Best For Bundling
If you book all your policies with the same company, you receive a discount for bundling. You save roughly 35% by bundling car, and home insurance with Allstate, and State Farm provides you a 15% discount.
Alabama Home Insurance Company With the Best Coverage Options
MetLife offers the best homeowner's insurance in Alabama.. It provides coverage for the industry-standard perils that Alabama homeowners face while offering affordable rates. In addition, they provide MetLife's Premium insurance which offers water backup protection and comprehensive perils protection.
Local and Regional Home Insurance Carriers In Alabama
Liberty Mutual
Liberty Mutual is a national home insurance product for Alabama homes, condos, and other properties. Their variety of home insurance products includes the standard policy protection with Dwelling, Personal Property, and Liability. Liberty Mutual also features additional cover options, such as Hurricane and Water Damage.
If you want to ensure you have the best protection, Liberty Mutual features extra coverage called Inflation Protection. You may customize your policy with Inflation Protection and other coverages, plus discounts from Liberty Mutual may lower your premium.
The insurer features discounts for military members, early quotes, homes with new roofs, and claims-free years with prior insurance.
Country Financial Insurance
Country Financial Insurance offers three types of home insurance for Alabama residents: Standard, Combination, and Premier. Alabama residents who want more comprehensive protection can purchase umbrella coverage, which is additional coverage that stretches over home and auto policies to cover some risks that could exceed those policy limits. Umbrella coverage can also include things that auto and home policies exclude.
Donegal Insurance
Alabama homeowners have many options for insuring their home and property with Donegal Insurance. In the event of a loss due to theft, fire, wind, or weather damage, the company's policy protects the house and the things in it.
Donegal Insurance offers policies to ensure Alabama homeowners get the right home and property coverage. If you have jewelry, special collections of art or collectibles, furniture, or special business needs, Donegal will tailor a policy that meets all of your needs.
Demographics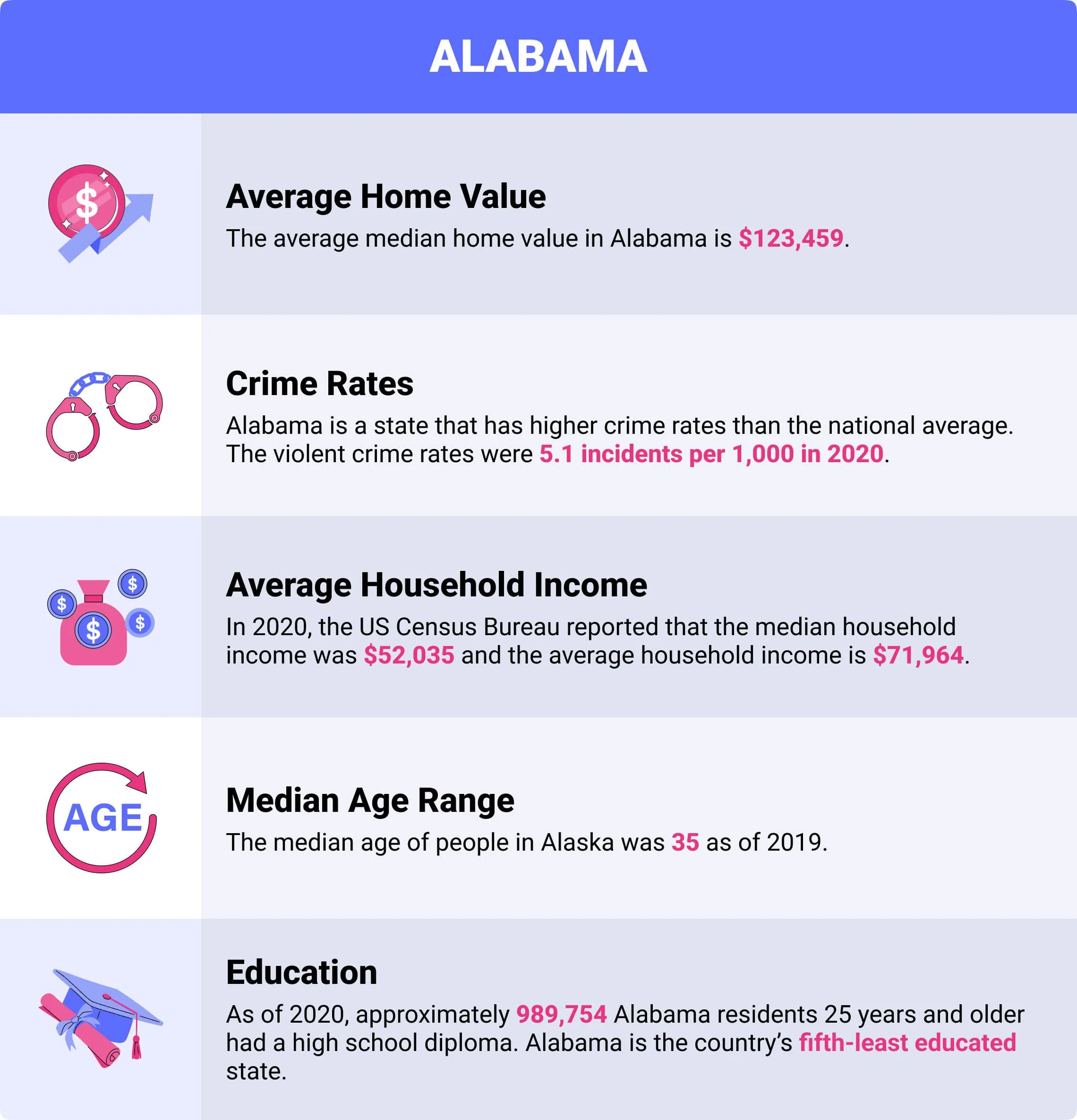 Alabama has a population of 5,039,877 residents. It's considered one of the largest states in the country. Below are demographics that will determine the rates you pay with homeowners insurance in Alabama.
Average Home Value: The average median home value in Alabama is $123,459.
Crime Rates: Alabama is a state that has higher crime rates than the national average. The violent crime rates were 5.1 incidents per 1,000 in 2020.
Average Household Income: In 2020, the US Census Bureau reported that the median household income was $52,035 and the average household income is $71,964.
Median Age Range: The median age of residents in Alabama is 39.
Education: As of 2020, approximately 989,754 Alabama residents 25 years and older had a high school diploma. Alabama is the country's fifth-least educated state.
Is Alabama Home Insurance Required?
Homeowners insurance in Alabama is not required. However, many banks need it to offer you a mortgage. Regardless, it's always best to have protection for your home.
What Does Alabama Home Insurance Cover?
Home insurance in Alabama covers six standard areas – dwelling. Personal property, structures on your property, personal liability, and loss of use.
Common Home Risk Factors In Alabama
The most common risk factors in Alabama are hurricanes, tornados and flooding. Category 5 tornados have happened at least five times in Alabama, and the annual number of tornadoes they experience is 44. Therefore, ensuring that your home insurance in Alabama covers you when disaster strikes is important.
What Type of Homeowners Insurance Coverages Are Recommended?
With the risk of hurricanes, tornadoes, and possible flooding, you want to ensure you're fully covered. Below is a breakdown of which parts are covered by standard home insurance.
Tornado Coverage
Your homeowner's insurance in Alabama typically covers wind damage from tornados. Replacement cost coverage is a great option to ensure you get the true value of your personal possessions if they are damaged or destroyed.
In addition, some companies offer high-value protection for your home. High-value protection protects homes that are more costly than the average home. Homes of architectural significance, historic properties, and ones with expensive materials would require it.
Hurricane Coverage
Alabama homeowners insurance typically covers all wind damage caused by hurricanes. However, it's important to check your homeowner's policy for something called a hurricane deductible.
If you live in a high-risk area, you won't be paying a flat fee any longer for your deductible. Instead, it is a percentage of your home's value, and that can be a significant burden if your home is damaged.
Flooding Coverage
Although your Alabama home insurance policy typically covers wind damage, it does not automatically cover flooding. Therefore, additional coverage is needed to protect your home from flooding. This prevents you from experiencing a significant financial burden if a hurricane causes your home to flood.
How Much Does Home Insurance In Alabama Cost?
Alabama homeowners insurance rates vary depending on the city you live in. Your rate is determined by your claims history and where you live, which are only a few ways to determine your rate. Below are some different rates for homeowners insurance in Alabama.
Cost of Home Insurance In Alabama By City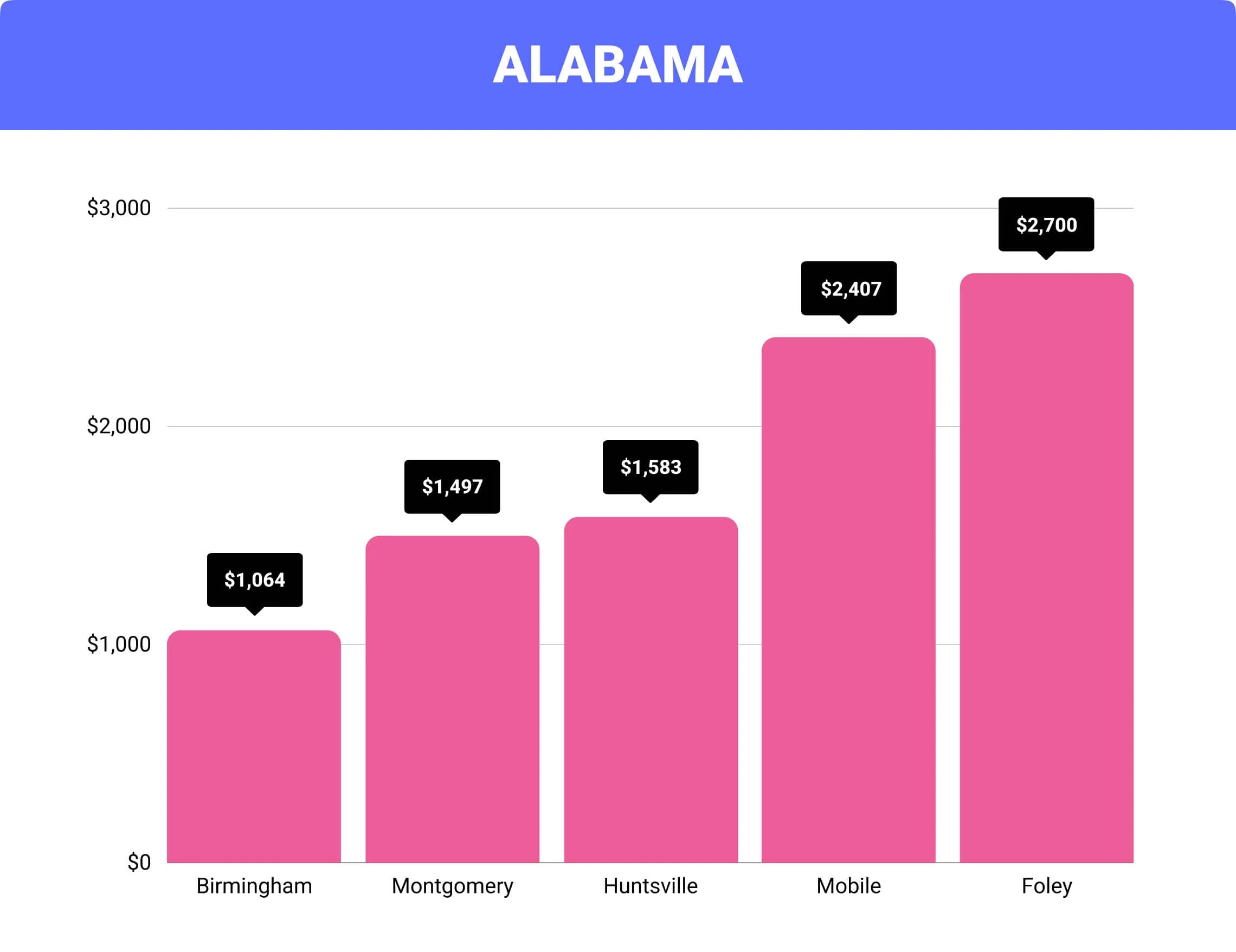 | City | Average Alabama Home Insurance Cost | Difference From Alabama Average |
| --- | --- | --- |
| Birmingham | $1,604 | -13% |
| Montgomery | $1,497 | -19% |
| Huntsville | $1,583 | -14% |
| Mobile | $2,407 | 30% |
| Foley | $2,700 | 34% |
FAQs
How much is house insurance in Alabama?
On average, the yearly cost of homeowner's insurance in Alabama is $1,624.
How much is hurricane insurance in Alabama?
There is technically no hurricane insurance. You would just purchase homeowner's insurance and flood insurance to have full hurricane coverage.
Is hurricane insurance required in Alabama?
No, hurricane insurance is not a requirement in Alabama.
What is a normal hurricane deductible in Alabama?
The Hurricane deductible is based on the value of your home. So, for example, if your home has a value of $300,000, you can end up paying the first $15,000 of insured damages.
Who has the best homeowner's insurance in Alabama?
The best Alabama home insurance is with Cincinnati Insurance. Their policies, on average, cost $821 yearly, which is 56% cheaper than other Alabama companies.
How To Lower Your Home Insurance Premium in Alabama
Alabama homeowners looking to lower their insurance premiums can:
Contact their carrier to make sure they're getting every discount they qualify for

Use the same carrier for both auto and home insurance to get a "bundled" discount
Update the safety features on their home to qualify for anti-theft discounts
Review their policy coverage to make sure they aren't over-insured
Get quotes from several other home insurance companies to ensure they're getting the best possible rates
Homeowners insurance in Alabama varies depending on where you live. Choosing an insurance company doesn't need to be stressful. We have researched the best Alabama homeowners insurance, so you don't have to. Compare rates in just three easy steps using our rate form.