UPDATED: JULY 06, 2023 | 2 MIN READ
Homeowners insurance in Alaska always comes down to price. Annually, homeowner's insurance in Alaska costs $1,307. However, different factors come into play when companies offer you a quote for homeowner's insurance in Alaska.
Best Alaska home insurance companies
Many issues plague homeowners in Alaska, such as freezing temperatures and earthquakes. However, there are so many great Alaska home insurance companies that can offer the coverage that you need. Below are some of the best companies available to you.
Overall best Alaska home insurance company
The best Alaska homeowners insurance is Country Financial, as it's affordable, has good customer service, and has many coverage options. The company offers customers a variety of discounts which helps with the cost. In addition, they provide you with an agent so that you get personalized service every time.
Best value Alaska homeowners insurance company
The best value for Alaska home insurance is State Farm or USAA, as they offer cheap rates and the best customer service. Expect strong customer support and good coverage with either of these companies.
Alaska home insurance company with the best customer service
The best Alaska homeowner's insurance company for customer support is State Farm. They don't offer discounts as their rates are cheaper already. They have 12% savings compared to Alaska's statewide average. With affordable rates, you can take advantage of the add-ons to your policy.
Alaska homeowners insurance company best for bundling
Most companies give you discounts if you bundle your insurance policies. But Country Financial is the best company to work with for homeowner's insurance in Alaska. They have plenty of great coverage options for residents, low rates, reliable customer service, and personalized service.
Alaska home insurance company with the best coverage options
Choosing Alaska homeowners insurance depends on the type of coverage you want. State Farm and USAA have the cheapest rates, especially if you are in the military. They consistently rate high when it comes to customer service and cheap quotes. If you are looking for more rounded coverage, Country Financial is the best for value.
Local and regional home insurance carriers in Alaska
Western National Insurance
Western National Insurance offers Alaska homeowners and renters affordable and comprehensive property insurance. For 50 years, the company's policy has been that it does not raise policyholders' rates because of their claims.
Western National offers unique benefits without extra fees, like a standard loss deductible, watercraft liability, personal injury coverage, identity fraud expense coverage, and water backup coverage.
Homeowners can save by installing burglar and fire alarms in the home, insuring a new or remodeled house, or holding more than one policy with Western National.
Umialik Insurance
Umialik Insurance specializes in insurance policies for Alaska homeowners, condo owners, and renters. They offer coverage for all the unique risks faced by Alaska homeowners, including earthquakes and dangerous animals.
Its standard policies cover problems like storm damage, water, or fire. Its optional offerings include Equipment Breakdown coverage that will assist homeowners when something breaks down or needs replacing.
This includes HVAC, refrigerators, dishwashers, computers, washers, dryers, and even lawnmowers.  
PURE Insurance
Alaska residents with high net worth and many assets trust PURE Insurance policies. PURE stands for Privilege Underwriters Reciprocal Exchange.
In addition to the standard homeowner policy coverages, PURE offers guaranteed replacement costs if a home with custom features is destroyed. With the guaranteed replacement cost promise, the home can be rebuilt just as before the incident, even if the cost exceeds the coverage limits.
PURE policies also give homeowners the choice of rebuilding, replacing, or receiving a cash settlement if a home suffers severe damage.
Demographics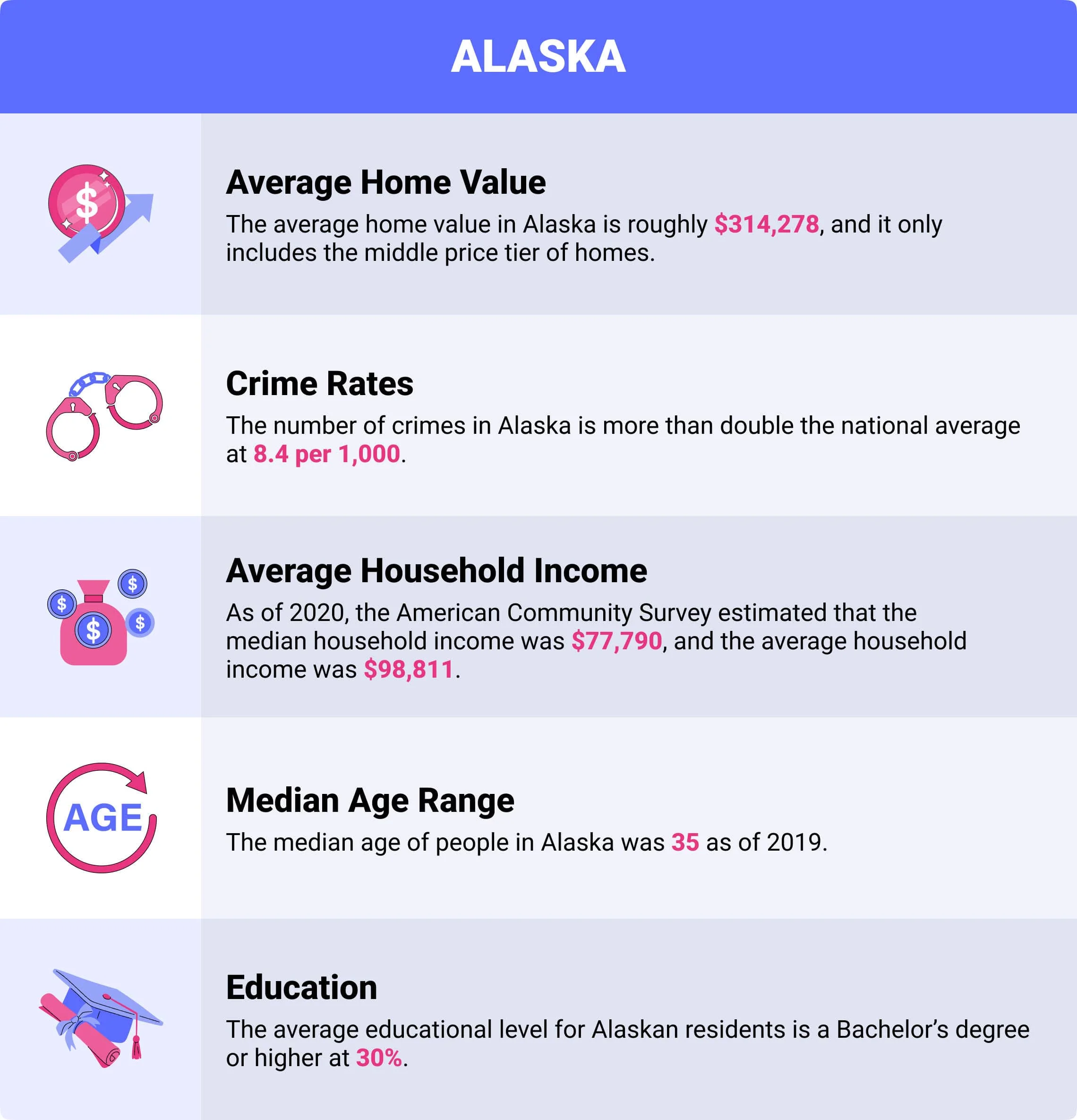 The United States, as of 2021, had a population of 331,449,281. The population of Alaska sits at 735,951 residents, one of the smallest in the country. Wyoming and Vermont are the only other states that are smaller than Alaska. Below are some demographics to consider when looking for Alaska home insurance.
Average Home Value: The home value in Alaska is roughly $314,278, and it only includes the middle price tier of homes.
Crime Rates: The number of crimes in Alaska is more than double the national average at 8.4 per 1,000.
Average Household Income: As of 2020, the American Community Survey estimated that the median household income was $77,790, and the average household income was $98,811.
Median Age Range: The median age of people in Alaska was 35 as of 2019.
Education: The average educational level for Alaskan residents is a Bachelor's degree or higher at 30%.
Is Alaska home insurance required?
Alaska homeowners insurance is not required by law, but you might need it to obtain a mortgage. Also, considering the high risks of earthquakes and freezing temperatures, you should get insurance to protect your home.
What does Alaska home insurance cover?
Alaska home insurance may not cover extreme conditions, so you need to be aware of add-ons to your policy. To have complete home coverage, residents of Alaska should consider getting these coverages: Additional living expenses protection, dwelling coverage, guest medical protection, liability protection, and personal property coverage.
Common home risk factors in Alaska
Freezing pipes are a major risk factor in Alaska because of the occurrence of freezing pipes. It's one of the coldest states in the country, so protecting your home is essential. There was also an estimated 250,000 earthquakes in the past year in Alaska.
What type of homeowners insurance coverages are recommended in Alaska?
It is recommended to get additional coverage for your home if you have damage to your home due to freezing temperatures. Earthquakes are another major risk in Alaska that requires extra insurance.
Freezing temperatures coverage
Alaska is the only state that has a subarctic climate, so homeowner's insurance in Alaska protects against damage to your home from frozen pipes and water damage. You usually have coverage on your policy if you try to heat the location where the damage occurred and shut off the water.
Earthquakes coverage
Alaska has the most earthquakes of anywhere else in the country. Therefore, earthquake insurance is something you want to consider as it's not covered by standard Alaska home insurance.
How much does home insurance in Alaska cost?
The cheapest home insurance in Alaska is in the town of Sitka at $914 per year. Check out the price of home insurance based on the city you live in.
Cost of home insurance in Alaska by city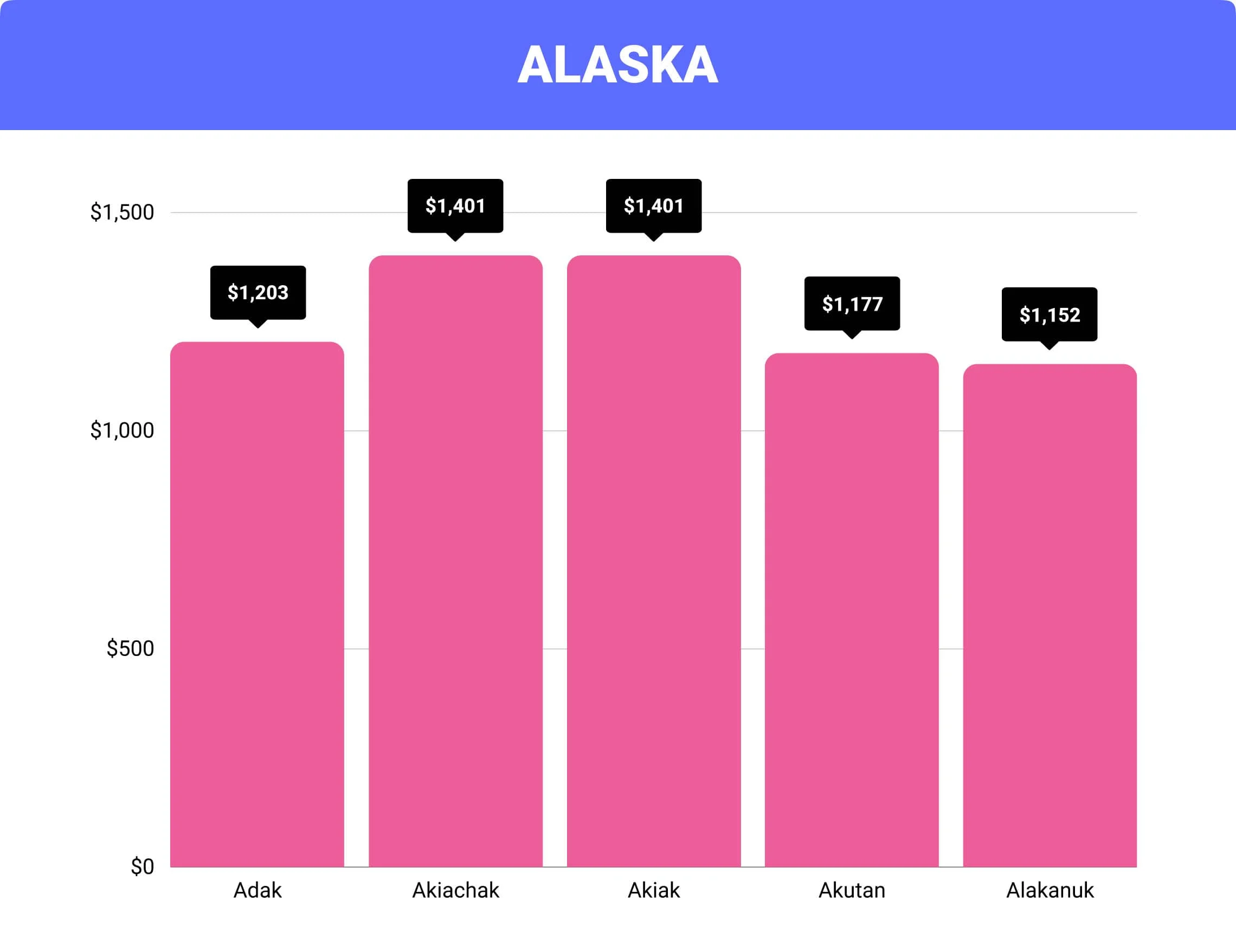 | City | Average Alaska Home Insurance Cost | Difference From Alaska Average |
| --- | --- | --- |
| Adak | $1,203 | -8% |
| Akiachak | $1,401 | 7% |
| Akiak | $1,401 | 7% |
| Akutan | $1,177 | -10% |
| Alakanuk | $1,152 | -12% |
FAQs
What is the best home insurance company in Alaska?
Country Financial is considered the best home insurance in Alaska because of their superior customer service and affordable rates.
How does Alaska compare to all other states for homeowner's insurance premiums?
The average annual rate for homeowners insurance in Alaska is $1,307, which is 14% higher than the national average cost of $1,516.
What's the most basic homeowner's insurance coverage in Alaska?
State Farm offers basic coverage that offers cheap rates but has few discounts and limited coverage add-ons.
How much is the average homeowners in Alaska insured for?
The average cost of home insurance in Alaska is $1,059 compared to the national average of $1,445.
How much is homeowner's insurance in Alaska?
Country Financial is the cheapest home insurance in Alaska with a yearly rate of $948.
How to purchase Alaska homeowners insurance
Home insurance is a necessary purchase, and it's crucial that you find the right company to protect your home. We've provided a list of some of the best Alaska home insurance companies available, but it's vital that you compare rates to find the best deal for you. Use our rate comparison form to get started.