UPDATED: JUNE 01, 2023 | 3 MIN READ
On average, Wyoming homeowners pay $1,263 per year for home insurance, which is close to the national average. Snow storms, wildfires, and floods are the main hazards threatening Wyoming homes. The information below will help you choose the best Wyoming home insurance.
Best Wyoming Home Insurance Companies
Compared to some other states, home insurance prices in Wyoming are affordable because the state has a lower incidence of extreme weather events like hurricanes. Allstate, Nationwide, State Farm, and USAA are some of the highest-rated insurance companies in Wyoming regarding reliability, price, and service.
Overall Best Wyoming Home Insurance Company
Of all major insurance providers in Wyoming, State Farm offers the best balance of pricing, service, and overall value. State Farm boasts high customer satisfaction ratings and provides access to the Premier Service Program, a contractor network homeowners can use for affordable, high-quality emergency services.
State Farm's standard home insurance policy prices range from $1,125 to $1,497. Homeowners may pay slightly less if they install a security system, reinforce their roof, or bundle their home insurance with another State Farm policy.
Best Value Wyoming Home Insurance Company
Nationwide offers some of the lowest homeowner's insurance premiums in Wyoming. Homeowners with newer homes, new roofs, protective devices, and renovated plumbing and electrical systems may enjoy lower premiums. Nationwide's clients typically pay $911-$940 per year for a homeowner's insurance policy.
Additionally, Nationwide's discounts and bundling options allow clients to add coverage for sewer and water backup, high-value items, identity theft, and more.
Wyoming Home Insurance Company With the Best Customer Service
USAA has outstanding customer service scores in Wyoming with a 5/5 J.D. Power rating, an A++ AM Best score, and a 0.14 NAIC value. However, USAA only serves active and retired military personnel and eligible family members.
Homeowners who don't qualify for USAA will likely get the best service with State Farm. This provider's customer service ratings fall just slightly short of USAA.
Wyoming Home Insurance Company Best for Bundling
Bundling insurance policies—for instance, purchasing home and auto insurance from the same provider—helps Wyoming homeowners save money. Nationwide offers some of the most attractive bundling options in Wyoming.
Wyoming Home Insurance Company With the Best Coverage Options
Nationwide also takes first place in its scope of coverage. This provider's customers can purchase various coverage options, including earthquake coverage, credit card coverage, and ordinance insurance.
Local and Regional Home Insurance Carriers In Wyoming
Mountain West Farm Bureau
Mountain West Farm Bureau covers Wyoming residents' homes and property with various home protection plans. property coverage, liability insurance, other structures, and loss of use are part of their coverages, so you have the maximum protection for your home or rental.
If you live in the rural areas of Wyoming, their special Country Home Insurance meets the unique needs of your farm or ranch property. You receive a new home discount if your home is less than 12 years old, plus you can save if you bundle it with your auto insurance policy.
Stillwater Insurance Group
The moment you put your key in your door, you should know that you're protected, and that's why Wyoming homeowners trust Stillwater Insurance Group. For 20 years, Stillwater has offered home insurance.
They provide standard policies for dwelling, other structures, personal property, medical payments, personal liability, and loss of use. Stillwater also offers extended home replacement costs and personal property replacement cost coverage to help you rebuild your life after a covered event.
Generous discounts are available for a newly-purchased home, an alarm system, and living in a gated community. You might also get a discount based on your roof type, going years without a claim, and if you have upgraded utilities or an automatic sprinkler.
Safeco Insurance
A Liberty Mutual company, Safeco Insurance offers a broad selection of home coverages, with comprehensive options that cover you at any budget. Wyoming's weather can be unpredictable, but Safeco offers protection.
Dwelling coverage, personal liability coverage, valuable articles coverage, and equipment breakdown coverage create the shield you need for maximum protection. Customers have the chance to save with a bundle discount or by adding protective devices.
Wyoming Insurance Demographics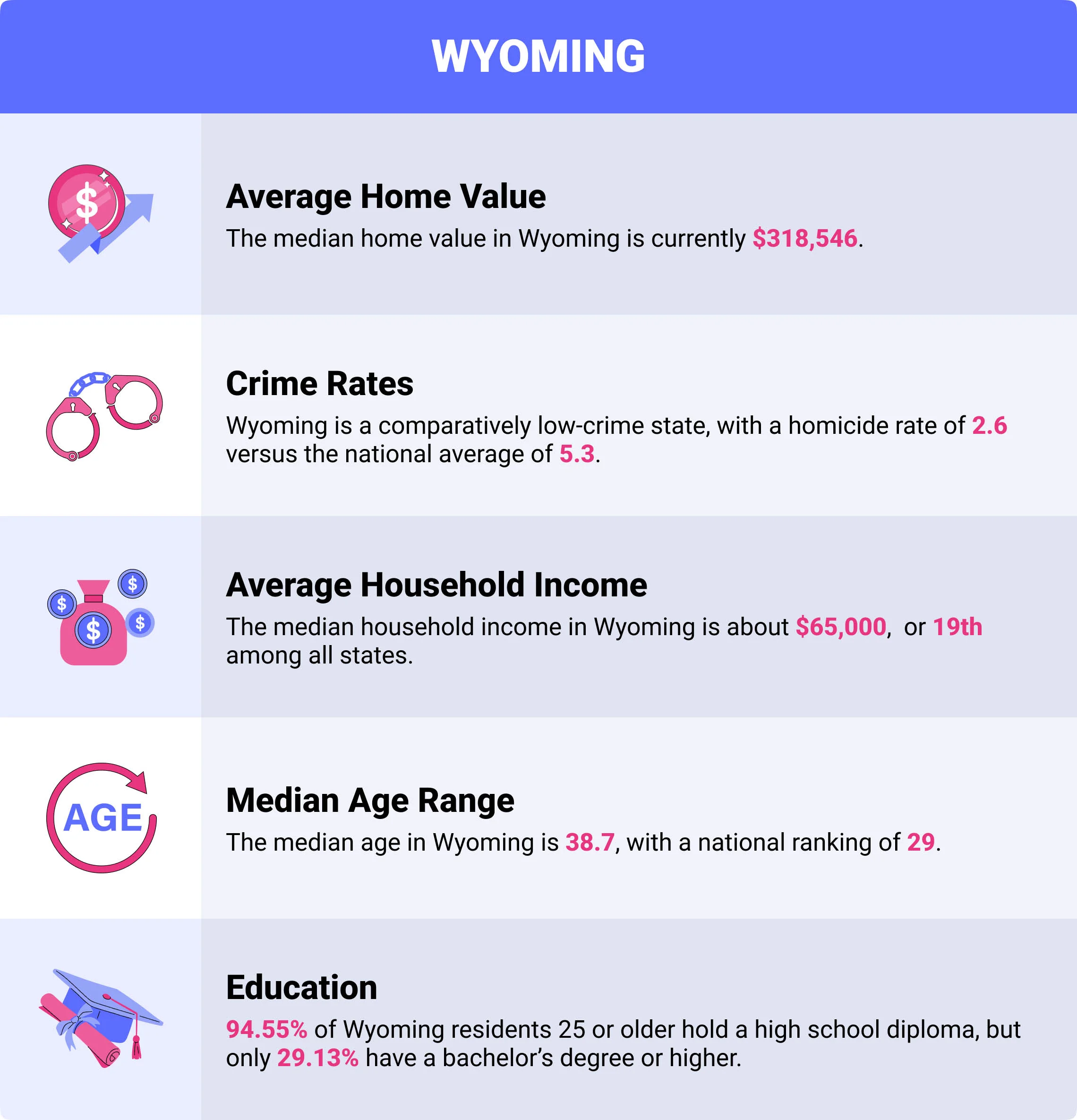 Home insurance prices vary widely, even in the same state, across metrics like property value, local crime rates, the client's age and marital status, and specific company policies. Homeowners should shop for the best deal and compare insurance plans from different providers.
Here are a few demographics that may influence homeowner's insurance premiums in Wyoming:
Average home value: The median home value in Wyoming is currently $318,546.
Crime rates: Wyoming is a comparatively low-crime state, with a homicide rate of 2.6 versus the national average of 5.3.
Average household income: The median household income in Wyoming is about $65,000, or 19th among all states.
Median age range: The median age in Wyoming is 38.7, with a national ranking of 29.
Education: 94.55% of Wyoming residents 25 or older hold a high school diploma, but only 29.13% have a bachelor's degree or higher.
Is Wyoming Home Insurance Required?
Although home insurance isn't mandatory in Wyoming, insurance coverage helps homeowners reduce out-of-pocket costs for property loss, theft, or natural disasters. Additionally, many mortgage lenders require borrowers to purchase homeowner's insurance.
What Does Wyoming Home Insurance Cover?
Homeowner's insurance in Wyoming typically covers weather damage, theft, fire, and lawsuits. Standard policies usually don't include flood and earthquake damage, identity theft, or loss of valuables like jewelry or artwork.
Property owners may consider purchasing broader coverage if, for example, they live in a flood-prone area or keep high-value possessions in their homes.
Common Home Risk Factors in Wyoming
Natural disasters account for the majority of property losses in Wyoming. Common causes of property damage include flooding, severe storms, earthquakes, wildfires, and sinkholes or landslides. Specific risk factors will depend on the location within the state: for example, landslides occur more often in mountainous regions.
What Type of Homeowner's Insurance Coverages Are Recommended in Wyoming?
Apart from standard Wyoming home insurance coverage, many homeowners opt to expand their policies to cover earthquake and flood damage. Homeowners in flatter and more tornado-prone eastern Wyoming may prefer policies that offer replacement cost coverage for wind damage rather than just compensation for depreciated property value.
Flood Coverage
Although severe floods often occur in the state due to snowmelt and heavy spring rains, standard Wyoming home insurance policies don't cover flood damage. The NFIP (National Flood Insurance Program) provides flood coverage for homes worth up to $250,000. Homeowners whose property's worth exceeds this threshold might consider flood coverage from a private insurance provider.
Earthquake Coverage
Around 2,500 land tremors occur in Wyoming each year. Some insurance policies offer earthquake coverage as an optional addition to homeowner's insurance. Many homeowners in high-risk areas purchase a separate earthquake insurance policy.
Other Structural Coverage
Most homeowner's insurance policies focus on house insurance and only provide limited coverage for other structures on the property, like sheds and garages. Rural properties often include other high-value buildings, like greenhouses or barns, and homeowners may consider purchasing additional coverage for these structures.
How Much Does Home Insurance in Wyoming Cost?
Home insurance costs in Wyoming differ by location within the state, demographic factors, area-specific hazards, and more. For example, Cheyenne residents will pay higher home insurance premiums than Rock Springs or Green River homeowners.
The table below lists insurance costs for key cities in Wyoming.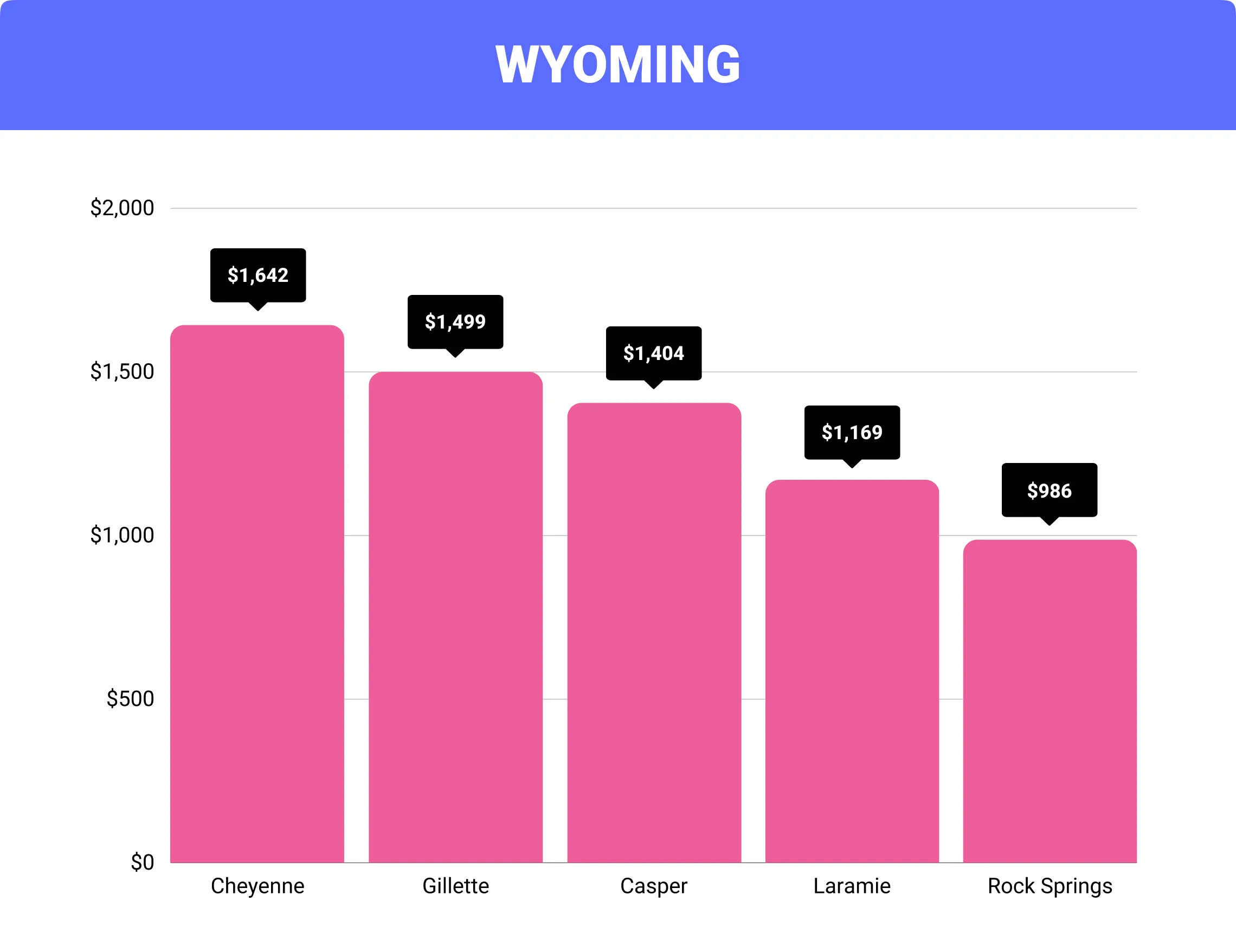 Cost of Home Insurance in Wyoming by City
| | | |
| --- | --- | --- |
| City | Average Wyoming Home Insurance Cost | Difference From Wyoming Average |
| Cheyenne | $1,642 | +30% |
| Gillette | $1,499 | +20% |
| Casper | $1,404 | +11% |
| Laramie | $1,169 | -7.44% |
| Rock Springs | $986 | -22% |
FAQs
How much does home insurance cost in Wyoming?
Home insurance premiums in Wyoming depend on several factors, such as the property's value, location-specific risk factors like weather and crime levels, the homeowner's credit score, and more.
What types of homeowner's insurance coverage are recommended in Wyoming?
Wyoming homeowners should consider purchasing earthquake and flood coverage and standard homeowner's insurance. Homeowners may also want to buy expanded coverage for valuables, identity theft, or non-residential buildings.
Is it mandatory to have homeowner's insurance in Wyoming?
While homeowner's insurance isn't a legal requirement in Wyoming, homeowners should carry insurance coverage to protect their property against damage and loss. Major lenders often require homebuyers to purchase homeowner's insurance as a condition for mortgage approval.
Do you need tornado insurance in Wyoming?
Most Wyoming homeowners insurance policies cover wind damage, including tornadoes. However, the maximum amount of coverage may differ between policies.
How To Purchase Wyoming Home Insurance
Homeowners looking for insurance coverage should compare policy options and rates by different providers. Every insurance company calculates premiums differently based on risk factors, credit score, claim history, etc. Also, it's essential to read the fine print of every policy to understand what it covers.
Our team can help you compare quotes and find the best option for you. By completing our rate comparison form, you can get started finding the perfect plan for your needs. With so many providers to choose from, it's essential to do your research and find the right one for you.